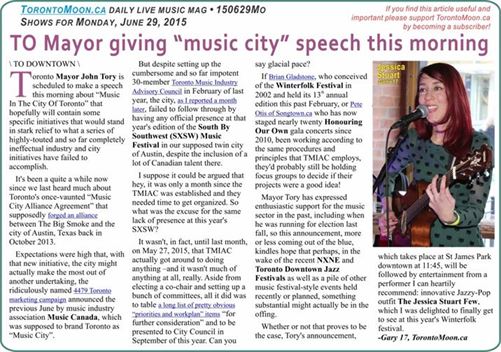 \ TO DOWNTOWN \
Toronto Mayor John Tory is scheduled to make a speech this morning about "Music In The City Of Toronto" that hopefully will contain some specific initiatives that would stand in stark relief to what a series of highly-touted and so far completely ineffectual industry and city initiatives have failed to accomplish.
It's been a quite a while now since we last heard much about Toronto's once-vaunted "Music City Alliance Agreement" that supposedly forged an alliance between The Big Smoke and the city of Austin, Texas back in October 2013.
Expectations were high that, with that new initiative, the city might actually make the most out of another undertaking, the ridiculously named 4479 Toronto marketing campaign announced the previous June by music industry association Music Canada, which was supposed to brand Toronto as "Music City".
But despite setting up the cumbersome and so far impotent 30-member Toronto Music Industry Advisory Council in February of last year, the city, as I reported a month later, failed to follow through by having any official presence at that year's edition of the South By Southwest (SXSW) Music Festival in our supposed twin city of Austin, despite the inclusion of a lot of Canadian talent there.
I suppose it could be argued that hey, it was only a month since the TMIAC was established and they needed time to get organized. So what was the excuse for the same lack of presence at this year's SXSW?
It wasn't, in fact, until last month, on May 27, 2015, that TMIAC actually got around to doing anything –and it wasn't much of anything at all, really. Aside from electing a co-chair and setting up a bunch of committees, all it did was to table a long list of pretty obvious "priorities and workplan" items "for further consideration" and to be presented to City Council in September of this year. Can you say glacial pace?
If Brian Gladstone, who conceived of the Winterfolk Festival in 2002 and held its 13th annual edition this past February, or Pete Otis of Songtown.ca who has now staged nearly twenty Honouring Our Own gala concerts since 2010, been working according to the same procedures and principles that TMIAC employs, they'd probably still be holding focus groups to decide if their projects were a good idea!
Mayor Tory has expressed enthusiastic support for the music sector in the past, including when he was running for election last fall, so this announcement, more or less coming out of the blue, kindles hope that perhaps, in the wake of the recent NXNE and Toronto Downtown Jazz Festivals as well as a pile of other music festival-style events held recently or planned, something substantial might actually be in the offing.
Whether or not that proves to be the case, Tory's announcement, which takes place at St James Park downtown at 11:45, will be followed by entertainment from a performer I can heartily recommend: innovative Jazzy-Pop outfit The Jessica Stuart Few, which I was delighted to finally get to see at this year's Winterfolk festival.
-Gary 17, TorontoMoon.ca
SHOW LISTINGS for Monday, June 29, 2021
Listings are organized by area in which the shows occur and within each area field shows are listed chronologically.
Listings preceded by an asterisk (*) are repeating weekly events. (Double asterisk indicates repeating event with different hosts/guest/etc.). Admission prices followed by a slash and minus (/-) after the amount indicates door charge with availability of cheaper rates for some purchases. /+ indicates stated price is minimum.
Names of subscribers appear in bold, are underlined and, where applicable, include a live link to their websites. Advertisers' listings are in larger highlighted type, include live link to website and also have ad icon included in listings.
416 - Toronto Central
11:45 a.m.> Mayor John Tory speech re Toronto's status as a Music City with entertainment following by The Jessica Stuart Few @ St. James Park, 120 King St. E., TO
6> Mark Martyre @ Cameron House (front), 408 Queen St. W., TO ~indie Roots-Pop
*6-9> Calliope's Nest open stage/jam for women @ Lola Pub, 40 Kensington Ave., TO
6:30> Jake Koffman Group @ The Rex, 194 Queen St. W., TO ~Jazz
7:30> Mega City Swing Band @ Seven44, 744 Mount Pleasant Road, TO North ~R&B/Swing
8> Ukulele jam @ Tranzac Lounge (Main Hall), 292 Brunswick Ave., TO
**8-1> open stage with host Michael Burton @ Free Times Café, 320 College St., TO
8:30> Alt Dot Comedy Lounge @ The Rivoli, 334 Queen St. W., TO ~comedy; $5
8:40> The Three People; Darkstone Crows; Social Hysteria @ Horseshoe Tavern, 370 Queen St. W., TO ~indie; free
**9-1:30> jam with No Band Required @ Grossman's, 379 Spadina Ave., TO
9> C&C Surf Factory @ Cameron House (front), 408 Queen St. W., TO ~Surf Rock
*9-1> Hamstrung Stringband @ The Local, 396 Roncesvalles Ave., TO West ~Bluegrass
*9:30> open mic night at Amsterdam Bicycle Club, 54 The Esplanade, TO
9:30> Banda Magda @ The Rex, 194 Queen St. W., TO ~NYC Jazz
10> Jordan John @ The Orbit Room, 580 College St., TO ~R&B/Blues
*10> jam night hosted by Phill Hood & Jon McCann @ The Cage 292, 292 College St., TO
*10> open mic (2 songs; sign-up starts 8 p.m.) @ Tranzac Lounge (Southern Cross), 292 Brunswick Ave., TO
10> Conor Gains @ Cameron House (front), 408 Queen St. W., TO ~Blues
10:30> Big Otter Creek Unplugged @ The Hideout, 484 Queen St. W., TO ~indie Rock
416 - Toronto East
*7-11> Jerome Godboo & Frank Wilks @ The Duke Live, 1225 Queen St. E., TO East ~Blues/Pop
**7:30> M Factor Mondays with host Elana Harte & features Melanie Peterson; Patrick Balantyne @ The Old Nick, 123 Danforth Ave., TO East
8-11> Abigail Lapell @ Relish, 2152 Danforth Ave., Toronto East ~songwriter
8-12> open stage with Julian Taylor @ Dora Keogh, 141 Danforth Ave. TO East
*8-12> open mic with host Chris Scian @ Breakwall, 1910 Queen St. E., TO East
8:30> Boxcar Boys @ Castro's, 2116 Queen St. E., TO East ~Bluegrass
*9:30-2> Sebastian Agnello & friends @ Black Swan (ground floor), 154 Danforth Ave., TO East
416 – Toronto West
5-8> Dan Pitt Duo @ Gate 403, 403 Roncesvalles Ave., TO West ~Jazz
*9-1> eclectic open stage/jam @ The Painted Lady, 218 Ossington Ave., TO West
9-1> Kalya Ramu Band @ Gate 403, 403 Roncesvalles Ave., TO West ~Jazz
416 - SCARBOROUGH
*8-11> open stage @ McGradie's, 2167 Victoria Park Ave., Scarborough
9> Uke jam @ Stone Cottage Pub, 3750 Kingston Rd., Scarborough ~Pop Rock
705
*7> Hard Time Mondays with Rick & Gailie @ Black Horse Pub, 452 George St. N., Peterborough
905 West
**8-12> BBQ & jam night with Dale Roossien @ Moonshine Café, 137 Kerr St., Oakville; ($8.95 with BBQ dinner special starts at 6)
*9-1> jam with Tom Barlow @ Shore Grill, 71 Lakeshore Rd. E., Port Credit
9-1> Alexander Quail @ Roc'n Doc's, 105 Lakeshore E., Port Credit ~acoustic Pop
905 East
*8-12> open stage @ Simcoe Blues & Jazz, 926 Simcoe St. N., Oshawa
Online/On The Air