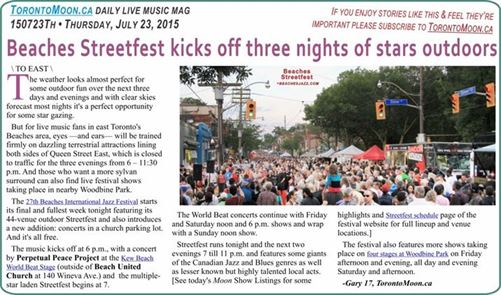 \ TO EAST \
The weather looks almost perfect for some outdoor fun over the next three days and evenings and with clear skies forecast most nights it's a perfect opportunity for some star gazing.
But for live music fans in east Toronto's Beaches area, eyes —and ears— will be trained firmly on dazzling terrestrial attractions lining both sides of Queen Street East, which is closed to traffic for the three evenings from 6 – 11:30 p.m. And those who want a more sylvan surround can also find live festival shows taking place in nearby Woodbine Park.
The 27th Beaches International Jazz Festival starts its final and fullest week tonight featuring its 44-venue outdoor Streetfest and also introduces a new addition: concerts in a church parking lot. And it's all free.
The music kicks off at 6 p.m., with a concert by Perpetual Peace Project at the Kew Beach World Beat Stage (outside of Beach United Church at 140 Wineva Ave.) and  the multiple-star laden Streetfest begins at 7.
The World Beat concerts continue with Friday and Saturday noon and 6 p.m. shows and wrap with a Sunday noon show.
Streetfest runs tonight and the next two evenings 7 till 11 p.m. and features some giants of the Canadian Jazz and Blues genres as well as lesser known but highly talented local acts. [See today's Moon Show Listings for some highlights and Streetfest schedule page of the festival website for full lineup and venue locations.]
The festival also features more shows taking place on four stages at Woodbine Park on Friday afternoon and evening, all day and evening Saturday and afternoon.
-Gary 17, TorontoMoon.ca
SHOW LISTINGS for Thursday, July 23, 2021
Listings are organized by area in which the shows occur and within each area field shows are listed chronologically.
Listings preceded by an asterisk (*) are repeating weekly events. (Double asterisk indicates repeating event with different hosts/guest/etc.). Admission prices followed by a slash and minus (/-) after the amount indicates door charge with availability of cheaper rates for some purchases. /+ indicates stated price is minimum.
Names of subscribers appear in bold and underlined and, where applicable, include a live link to their websites or event page. Advertisers' listings are in larger type and highlighted, include a live link to their website and also have a copy of the ad included in listings.
416 - Toronto Central
6:30> Kevin Quain @ The Rex, 194 Queen St. W., TO ~moody Blues
*7> open mic with Derek Mok @ Kensington Lodge, 21 Kensington Ave., TO
7> Ion-Mic; Sitty Spitta; more @ Seven44, 744 Mount Pleasant Road, TO North
7> Two For The Show @ Drums N Flats, 1980 Avenue Rd., TO North ~Pop/comedy
*7:30-9:30> Bluegrass Thursdays with Houndstooth @ Tranzac Lounge (Southern Cross), 292 Brunswick Ave., TO
*8-1> open mic with Alicia Porter @ The Local Gest, 424 Parliament St., TO
8-12> R&B/Blues @ Nawlin's, 299 King St. W. TO
8:30> Freedubstar; Rooftop Love Club @ The Rivoli, 334 Queen St. W., TO ~$5
8:30> Lodan @ Free Times Café, 320 College St. TO ~acoustic duo/trio
8:30> Gene Pool; Honeymoon Suite @ Phoenix Concert Centre, 410 Sherbourne Ave., TO ~original CanRock; $40
8:30> Raglax @ Fionn MacCool's Uptown, 1867 Yonge St., TO North
9> Rotary Dial; Kinetik; Esteem; Julian Kelland @ Horseshoe Tavern, 370 Queen St. W., TO ~indie; $20
9> Skaface; Toonice @ Lee's Palace, 529 Bloor St. W., TO; $10
9-1> Don River Blues Band @ Monarchs Pub (Eaton Chelsea Hotel), 33 Gerrard St. W., TO ~Blues
*9-1> Blackburn @ Jo Mamas, 317 King St. W., TO ~Blues
9:45> Grooveyard @ The Rex, 194 Queen St. W., TO ~Jazz
*9:45> Robin Banks @ Reservoir Lounge, 52 Wellington St. E., TO ~Jazz/Blues
10> jam @ Grossman's, 379 Spadina Ave., TO
10> Loud City Streets @ Tranzac Lounge (Southern Cross), 292 Brunswick Ave., TO
10> Chicken and Waffles Band @ Orbit Room, 480 College St. TO; $10
10:30> The Pixo Control; The Exlamation @ The Hideout, 484 Queen St. W., TO ~indie Rock
416 - Toronto East
6> Perpetual Peace Project for Beaches International World Beat Stage in Bach United Church parking lot, 140 Wineva Ave., TO East
6-11:30> Beaches International Jazz Festival StreetFest with 44 outdoor acts including George Olliver; Laura Cole; Brownman Electryc Trio; Johnny Max Band; Neil Chapman; Samba Squad; Blackboard Blues Band; Arsenal; Paul James at many venues along Queen St. E. between Woodbine Ave. and Beech Ave., TO East
7:30-9:30> Los Dobros featuring Arthur Renwick @ Relish, 2152 Danforth Ave., TO East ~Roots/Country-Blues
*8:30-10:30> Jerry Leger & The Situation @ Castro's, 2116 Queen St. E., TO East ~Folk-Rock/Country
8> Russ Macklem Jazz jam @ Linsmore Tavern, 1298 Danforth Ave., TO East
*10-2> karaoke with Shane Taylor @ Relish, 2152 Danforth Ave., TO East
416 - Toronto West
5-8> G Street Jazz Trio @ Gate 403, 403 Roncesvalles Ave., TO West ~Jazz
6-9> Samantha Crain @ Dakota Tavern, 249 Ossington Ave., TO West; $10
7> The Bettys @ The Painted Lady, 218 Ossington Ave., TO West
*8-11> Tinderbox Thursdays open stage with Michael Keith @ La Revolucion, 2848 Dundas St. W., TO West ~eclectic
8> SongStudio student showcase @ Hugh's Room, 2261 Dundas St. W., TO West ~free
*9-12> open mic night @ DeSoto's, 1079 St. Clair Ave. W., TO West
9> Kirt Goodwin @ The Roncy, 390 Roncesvalles Ave., TO West
*9-1:30> open stage with Jay Pennell @ Dave's On St. Clair, 730 St. Clair West, TO West ~eclectic
9-12> Cyndi Carleton @ Gate 403, 403 Roncesvalles Ave., TO West ~smooth Jazz/Pop
9> The Cox; The Horned @ The Tennessee, 1554 Queen St. W., TO West
9> Duane Rutter @ The Local, 396 Roncesvalles Ave., TO West ~songwriter
10> Freeman Dre & The Kitchen Part @ Dakota Tavern, 249 Ossington Ave., TO West ~original Roots-Pop; $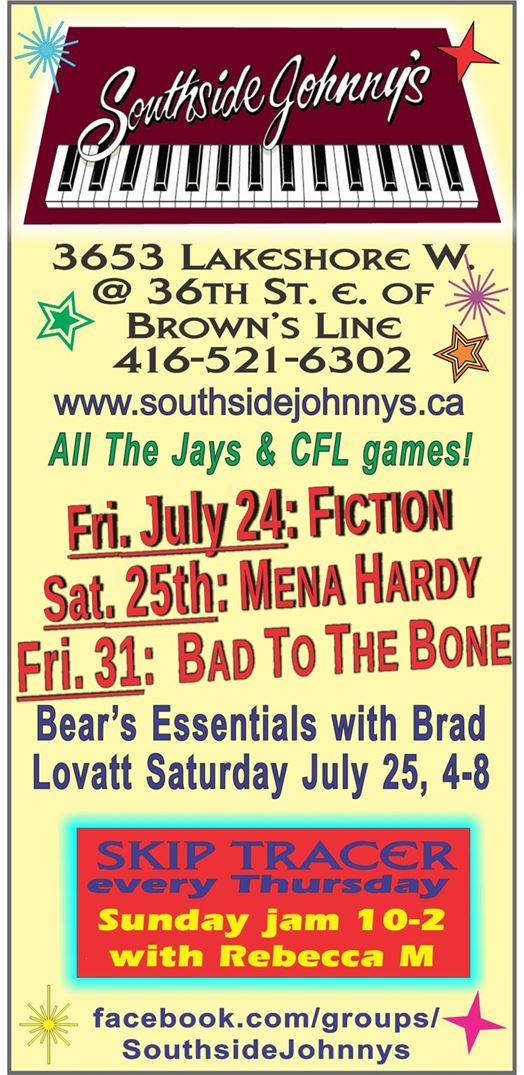 416 - Etobicoke
9> jam with Kimberley Wetmore band featuring Dave Girdlestone on guitar @ Timothy's Pub, 344 Brown's Line, Etobicoke South ~Pop Rock
*9:30-2> Skip Tracer @ Southside Johnny's, 3653 Lakeshore Blvd., Etobicoke South ~Rock/Pop
416 – Scarborough
*7-11> Johnson & Cornell (Earl Johnson & Jim Cornell) on the patio @ The Loaded Dog, 1921 Lawrence Ave. E., Scarborough ~acoustic Blues-Rock duo
*9> Tommy Rocker's Classic Rock Band host jam @ Centro Pizza, 3406 Kingston Rd., Scarborough
9:30> Scott Driscoll @ Black Dog Pub, 87 Island Rd., Scarborough ~Pop Rock
519
*7:30-12> open mic with K.M. Smith @ Molly Bloom's Guelph, 91 Wyndham St. N., Guelph
*8-11> open mic with Sandy MacDonald @ Williamsburg Arms, 1187 Fischer Hallman Rd., Kitchener
705
*7:30> open stage with Rob Phillips Band and Chelsea Bennett @ Black Horse Pub, 452 George St. N., Peterborough
*9> jam with Ted Rusk @ The Sauble Dunes, 11 Southampton Parkway, Sauble Beach
10> Christian Hansen; Severed Feathers @ The Garnet, 231 Hunter St. W., Peterborough
905 - East
*5-8> Nelson Denis @ Frank's Pasta, 42 King Street E., Cobourg ~eclectic mix (Folk, Jazz, soft Rock, Latin)
8> Boris Buhot; Tony Newman; Colin Campbell @ Simcoe Blues & Jazz, 926 Simcoe St. N., Oshawa ~songwriters in the round
8-12> Mauir Daysdeaf @ Fionn MacCool's Ajax, 32 Kingston Rd. E. Ajax ~Pop
*?> jam with Darren Smith & Shayne Thomas @ The Corner Pocket, 45 Prince St., Oshawa
*9> jam @ The Wee Pub, 371 Wilson Rd. South, Oshawa
*9:30> jam with Billick @ Harp & Crown, 300 Kingston Rd., Pickering
905 - North
**7-11> Rebelljo Band & guests @ Fionn MacCool's Brampton, 11 Ray Lawson Blvd., Brampton ~Pop Rock
*8> open mic with Kevin Ker @ Duchess of Markham, 53 Main St., Markham
905 - South
*9> Havin Party feat. Haolin Munk; Motem; Altobeelays; Winter @ This Ain't Hollywood, 345 James St. N., Hamilton ~indie
*9> open mic night with rotating hosts @ Coach & Lantern, 384 Wilson St E., Hamilton
10> tba @ Slainte Irish Pub, 33 Bowen St., Hamilton ~acoustic Pop
905 – West
8-12> Freedom Train @ Roc'n Doc's, 105 Lakeshore Rd. E., Port Credit ~Rock/Pop
*8-12> open mic & jam @ Black Swan Pub Burlington, 4040 Palladium Way, Burlington
*8-12> jam hosted by The Personics @ Carrigan Arms, 2025 Upper Middle Rd., Burlington
8:30> Nicole Rayy & Billy J. White @ Moonshine Café, 137 Kerr St. Oakville ~Country Pop songwriters; $7
*8:45> open mic with Matt Zady @ Failte, 201 City Centre Dr., Mississauga
9:30> Glenn Groves @ Shore Grill, 71 Lakeshore Rd. E., Port Credit ~Pop Rock
*9:30> jam with Jack B Nimble @ Abbey Road Pub, 3200 Erin Mills Parkway, Mississauga
Copyright © 2015 Toronto Moon Magazine. All Rights Reserved