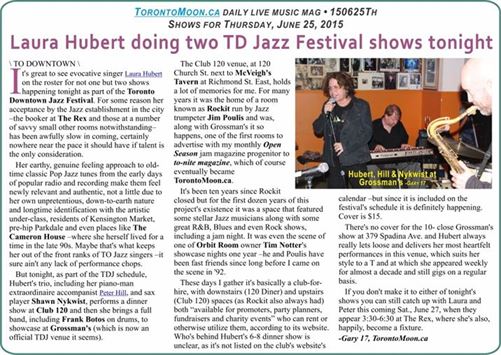 \ TO DOWNTOWN \
It's great to see evocative singer Laura Hubert on the roster for not one but two shows happening tonight as part of the Toronto Downtown Jazz Festival. For some reason her acceptance by the Jazz establishment in the city –the booker at The Rex and those at a number of savvy small other rooms notwithstanding– has been awfully slow in coming, certainly nowhere near the pace it should have if talent is the only consideration.
Her earthy, genuine feeling approach to old-time classic Pop Jazz tunes from the early days of popular radio and recording make them feel newly relevant and authentic, not a little due to her own unpretentious, down-to-earth nature and longtime identification with the artistic under-class, residents of Kensington Market, pre-hip Parkdale and even places like The Cameron House –where she herself lived for a time in the late 90s. Maybe that's what keeps her out of the front ranks of TO Jazz singers –it sure ain't any lack of performance chops.
But tonight, as part of the TDJ schedule, Hubert's trio, including her piano-man extraordinaire accompanist Peter Hill, and sax player Shawn Nykwist, performs a dinner show at Club 120 and then she brings a full band, including Frank Botos on drums, to showcase at Grossman's (which is now an official TDJ venue it seems).
The Club 120 venue, at 120 Church St. next to McVeigh's Tavern at Richmond St. East, holds a lot of memories for me. For many years it was the home of a room known as Rockit run by Jazz trumpeter Jim Poulis and was, along with Grossman's it so happens, one of the first rooms to advertise with my monthly Open Season jam magazine progenitor to to-nite magazine, which of course eventually became TorontoMoon.ca.
It's been ten years since Rockit closed but for the first dozen years of this project's existence it was a space that featured some stellar Jazz musicians along with some great R&B, Blues and even Rock shows, including a jam night. It was even the scene of one of Orbit Room owner Tim Notter's showcase nights one year –he and Poulis have been fast friends since long before I came on the scene in '92.
These days I gather it's basically a club-for-hire, with downstairs (120 Diner) and upstairs (Club 120) spaces (as Rockit also always had) both "available for promoters, party planners, fundraisers and charity events" who can rent or otherwise utilize them, according to its website. Who's behind Hubert's 6-8 dinner show is unclear, as it's not listed on the club's website's calendar –but since it is included on the festival's schedule it is definitely happening. Cover is $15.
There's no cover for the 10- close Grossman's show at 379 Spadina Ave. and Hubert always really lets loose and delivers her most heartfelt performances in this venue, which suits her style to a T and at which she appeared weekly for almost a decade and still gigs on a regular basis.
If you don't make it to either of tonight's shows you can still catch up with Laura and Peter this coming Sat., June 27, when they appear 3:30-6:30 at The Rex, where she's also, happily, become a fixture.
-Gary 17, TorontoMoon.ca
SHOW LISTINGS for Thursday, June 25, 2021
Listings are organized by area in which the shows occur and within each area field shows are listed chronologically.
Listings preceded by an asterisk (*) are repeating weekly events. (Double asterisk indicates repeating event with different hosts/guest/etc.). Admission prices followed by a slash and minus (/-) after the amount indicates door charge with availability of cheaper rates for some purchases. /+ indicates stated price is minimum.
Names of subscribers appear in bold and underlined and, where applicable, include a live link to their websites or event page. Advertisers' listings are in larger type and highlighted, include a live link to their website and also have a copy of the ad included in listings.
TDJ: Toronto Downtown Jazz Festival –for today's full listing see calendar on website.
416 - Toronto Central
2> TDJ: Big Band Slam @ The Rex, 194 Queen St. W., TO ~Jazz; free
5> TDJ: PRAM Trio @ The Rex, 194 Queen St. W., TO ~Jazz; free
6> Corin Raymond @ Cameron House (front), 408 Queen St. W., TO ~original Country-Roots Pop
*7> open mic with Derek Mok @ Kensington Lodge, 21 Kensington Ave., TO
*7:30-9:30> Bluegrass Thursdays with Houndstooth @ Tranzac Lounge (Southern Cross), 292 Brunswick Ave., TO
*8-1> open mic with Alicia Porter @ The Local Gest, 424 Parliament St., TO
8> TDJ: Eli Bennett Quartet @ The Rex, 194 Queen St. W., TO ~Jazz
8-12> TDJ: Norhin' But The Blues @ Nawlin's, 299 King St. W. TO ~Blues' free
8-12> TDJ: Gary Kendall Band @ Monarchs Pub (Eaton Chelsea Hotel), 33 Gerrard St. W., TO ~Blues; free
8> Two For The Show @ Drums N Flats, 1980 Avenue Rd., TO North ~Pop Rock
8:30> Carly Tomas Band; Ken Yates; Darrell London; Gavin Slate @ The Rivoli, 334 Queen St. W., TO ~indie; $
8:30> Jazzy Jam with Asha Pieper, Sam Sundar-Singh @ Free Times Café, 320 College St. TO ~Jazz
8:30> Brendon Gomez @ Fionn MacCool's Uptown, 1867 Yonge St., TO North
9> Signe Miranda birthday party with Matt & Ryan; Sarah Segal-Lazar; The Jem; Joshua Doherty @ Del Ray So-Cal Cantina, 620 Queen St. W., TO ~original Pop; $5
9:30> Shawn Brady & Herve Basset @ McSorley's, 1544 Bayveiw Ave., TO North ~Pop
9:30> TDJ: The Jessica Stuart Few @ Musideum, 401 Richmond St. W., TO ~Jazzy original Pop; free
10> TDJ: Garland Jeffreys @ Horseshoe Tavern, 370 Queen St. W., TO; $24/50
9> TDJ: Jazz Biscuit @ Alleycatz, 2409 Yonge St., TO North ~Jazz; free
*9-1> TDJ: Blackburn @ Jo Mamas, 317 King St. W., TO ~Blues; free
9> Jay Swinnterton @ C'est What, 67 Front St. E., TO ~songwriter; $pwyc
*9:45> TDJ: Mary Mckay @ Reservoir Lounge, 52 Wellington St. E., TO ~Jazz/Blues; $
10> TDJ: Dan Weiss Trio @ The Rex, 194 Queen St. W., TO ~Jazz
10> Luke Bill @ Cameron House (front), 408 Queen St. W., TO
10> Jim Sexton & special guests @ Tranzac Lounge (Southern Cross), 292 Brunswick Ave., TO
10> Sisters Euclid/Pretzel Logic @ Orbit Room, 480 College St. TO ~Steely Dan tribute; $
10:30> Paige Amstrong @ The Hideout, 484 Queen St. W., TO ~indie & cover Rock/Blues
Midnight> TDJ: late night Jazz jam with Chris Gale @ Jazz Bistro, 251 Victoria St., TO; $10
416 - Toronto East
6> TDJ: Jazz Response Unit @ Whistler's Grill, 995 Broadview Ave, TO East ~Jazz; free
7> Paul Churchill's Bonfire @ Eton House, 710 Danforth Ave., TO East
7:30-9:30> TDJ: Joanne Morra @ Relish, 2152 Danforth Ave., TO East ~Jazz/Blues/Funk; pwyc
*8:30-10:30> Jerry Leger & The Situation @ Castro's, 2116 Queen St. E., TO East ~Folk-Rock/Country
8> Trace Minerals @ The Only Café, 972 Danforth Ave., TO East
8> TDJ: Russ Macklem's Jazz Jam @ Linsmore Tavern, 1298 Danforth Ave., TO East ~Jazz; free
*10-2> karaoke with Shane Taylor @ Relish, 2152 Danforth Ave., TO East
416 - Toronto West
5-8> TDJ: Kathleen Gorman Jazz Band @ Gate 403, 403 Roncesvalles Ave., TO West ~Jazz; free
*8-11> TDJ: Tinderbox Thursdays open stage with Michael Keith @ La Revolucion, 2848 Dundas St. W., TO West ~eclectic; pwyc/$10
8> TDJ: Junik featuring Richard Underhill @ The Painted Lady, 218 Ossington Ave., TO West ~Jazz; $8
8:30> Kevin Breit album release for Ernesto & Delilah @ Hugh's Room, 2261 Dundas St. W., TO West ~Jazz/Blues Rock/fusion; $25/-
*9-1:30> open stage with Jay Pennell @ Dave's On St. Clair, 730 St. Clair West, TO West ~eclectic
9-12> TDJ: Whitney Ross Barris @ Gate 403, 403 Roncesvalles Ave., TO West ~Jazz; free
9> The Vaudevillian @ The Local, 396 Roncesvalles Ave., TO West ~Country Blues
10> The Honeyrunners; The Rathburns @ Dakota Tavern, 249 Ossington Ave., TO West
10> Julian Fauth trio also featuring Dave McManus on bass @ The Hole In The Wall, 2867 Dundas St. W., TO West ~Blues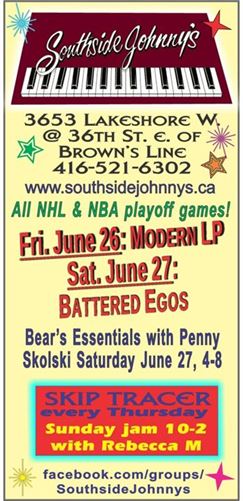 10> TDJ: OTB featuring Rebel Hero, Morta, Jim Dan Dee, guests @ The Painted Lady, 218 Ossington Ave., TO West ~alt Pop Funk; $10
416 - Etobicoke
9> jam with Kimberley Wetmore band featuring Dave Girdlestone on guitar @ Timothy's Pub, 344 Brown's Line, Etobicoke South
*9:30-2> Skip Tracer @ Southside Johnny's, 3653 Lakeshore Blvd., Etobicoke South ~Rock/Pop
416 – Scarborough
*7-11> Johnson & Cornell (Earl Johnson & Jim Cornell) on the patio @ The Loaded Dog, 1921 Lawrence Ave. E., Scarborough ~acoustic Blues-Rock duo
*9> Tommy Rocker's Classic Rock Band host jam @ Centro Pizza, 3406 Kingston Rd., Scarborough
*9-1> jam with Frank Wilks & Freedom Express @ The Birchmount, 462 Birchmount Rd., Scarborough
9:30> The High Rollers @ Black Dog Pub, 87 Island Rd., Scarborough ~Pop Rock
519
*7:30-12> open mic with K.M. Smith @ Molly Bloom's Guelph, 91 Wyndham St. N., Guelph
*8-11> open mic with Sandy MacDonald @ Williamsburg Arms, 1187 Fischer Hallman Rd., Kitchener
705
*7:30> open stage with Rob Phillips Band and Chelsea Bennett @ Black Horse Pub, 452 George St. N., Peterborough
*9> jam with Ted Rusk @ The Sauble Dunes, 11 Southampton Parkway, Sauble Beach
9:30> Burlesque Show @ Red Dog Tavern, 189 Hunter St. W., Peterborough
10> Patrick Lac; Severed Feathers @ The Garnet, 231 Hunter St. W., Peterborough
905 - East
*5-8> Nelson Denis @ Frank's Pasta, 42 King Street E., Cobourg ~eclectic mix (Folk, Jazz, soft Rock, Latin)
7> Derek Lion & friends @ Simcoe Blues & Jazz, 926 Simcoe St. N., Oshawa
8-12> David Leask @ Fionn MacCool's Ajax, 32 Kingston Rd. E. Ajax ~Pop
*?> jam with Darren Smith & Shayne Thomas @ The Corner Pocket, 45 Prince St., Oshawa
*9> jam @ The Wee Pub, 371 Wilson Rd. South, Oshawa
*9:30> jam with Billick @ Harp & Crown, 300 Kingston Rd., Pickering
905 - North
7-11> tba @ Fionn MacCool's Vaughan, 6110 Hwy #7, Vaughan ~acoustic Pop
*8> open mic with Kevin Ker @ Duchess of Markham, 53 Main St., Markham
905 - South
*9> Ingrid with members of Bogmaster & Burn The Louvre @ This Ain't Hollywood, 345 James St. N., Hamilton
*9> open mic night with rotating hosts @ Coach & Lantern, 384 Wilson St E., Hamilton
10> Benson @ Slainte Irish Pub, 33 Bowen St., Hamilton ~acoustic Pop
905 – West
8-12> Freedom Train @ Roc'n Doc's, 105 Lakeshore Rd. E., Port Credit ~Rock/Pop
*8-12> open mic & jam @ Black Swan Pub Burlington, 4040 Palladium Way, Burlington
*8-12> jam hosted by The Personics @ Carrigan Arms, 2025 Upper Middle Rd., Burlington
8:30> The Weber Brothers @ Moonshine Café, 137 Kerr St. Oakville ~Blues; $
9:30> Glenn Groves @ Shore Grill, 71 Lakeshore Rd. E., Port Credit ~Pop Rock
*9:30> jam with Jack B Nimble @ Abbey Road Pub, 3200 Erin Mills Parkway, Mississauga
Copyright © 2015 Toronto Moon Magazine. All Rights Reserved