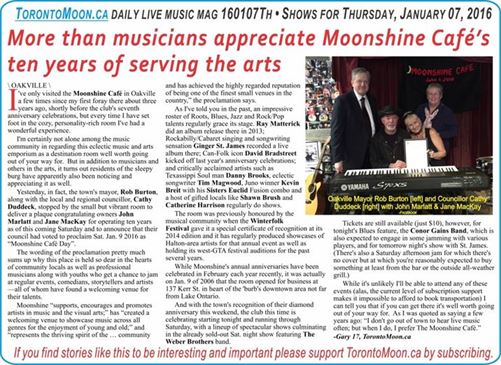 \ OAKVILLE \
I've only visited the Moonshine Café in Oakville a few times since my first foray there about three years ago, shortly before the club's seventh anniversary celebrations, but every time I have set foot in the cozy, personality-rich room I've had a wonderful experience.
I'm certainly not alone among the music community in regarding this eclectic music and arts emporium as a destination room well worth going out of your way for. But in addition to musicians and others in the arts, it turns out residents of the sleepy burg have apparently also been noticing and appreciating it as well.
Yesterday, in fact, the town's mayor,
Rob Burton
, along with the local and regional councillor,
Cathy Duddeck
, stopped by the small but vibrant room to deliver a plaque congratulating owners
John Marlatt
and
Jane MacKay
for operating ten years as of this coming Saturday and to announce that their council had voted to proclaim Sat. Jan. 9 2016 as "Moonshine Café Day".
The wording of the proclamation pretty much sums up why this place is held so dear in the hearts of community locals as well as professional musicians along with youths who get a chance to jam at regular events, comedians, storytellers and artists —all of whom have found a welcoming venue for their talents.
Moonshine "supports, encourages and promotes artists in music and the visual arts;" has "created a welcoming venue to showcase music across all genres for the enjoyment of young and old;" and "represents the thriving spirit of the … community and has achieved the highly regarded reputation of being one of the finest small venues in the country," the proclamation says.
As I've told you in the past, an impressive roster of Roots, Blues, Jazz and Rock/Pop talents regularly grace its stage. Ray Matterick did an album release there in 2013; Rockabilly/Cabaret singing and songwriting sensation Ginger St. James recorded a live album there; Can-Folk icon David Bradstreet kicked off last year's anniversary celebrations; and critically acclaimed artists such as Texassippi Soul man Danny Brooks, eclectic songwriter Tim Magwood, Juno winner Kevin Breit with his Sisters Euclid Fusion combo and a host of gifted locals like Shawn Brush and Catherine Harrison regularly do shows.
The room was previously honoured by the musical community when the Winterfolk Festival gave it a special certificate of recognition at its 2014 edition and it has regularly produced showcases of Halton-area artists for that annual event as well as holding its west-GTA festival auditions for the past several years.
While Moonshine's annual anniversaries have been celebrated in February each year recently, it was actually on Jan. 9 of 2006 that the room opened for business at 137 Kerr St. in heart of the 'burb's downtown area not far from Lake Ontario.
And with the town's recognition of their diamond anniversary this weekend, the club this time is celebrating starting tonight and running through Saturday, with a lineup of spectacular shows culminating in the already sold-out Sat. night show featuring The Weber Brothers band.
Tickets are still available (just $10), however, for tonight's Blues feature, the Conor Gains Band, which is also expected to engage in some jamming with various players, and for tomorrow night's show with St. James. (There's also a Saturday afternoon jam for which there's no cover but at which you're reasonably expected to buy something at least from the bar or the outside all-weather grill.)
While it's unlikely I'll be able to attend any of these events (alas, the current level of subscription support makes it impossible to afford to book transportation) I can tell you that if you can get there it's well worth going out of your way for. As I was quoted as saying a few years ago: "I don't go out of town to hear live music often; but when I do, I prefer The Moonshine Café."
-Gary 17, TorontoMoon.ca
SHOW LISTINGS for Thursday, January 07, 2022
Listings are organized by area in which the shows occur and within each area field shows are listed chronologically.
Listings preceded by an asterisk (*) are repeating weekly events. (Double asterisk indicates repeating event with different hosts/guest/etc.). Admission prices followed by a slash and minus (/-) after the amount indicates door charge with availability of cheaper rates for some purchases. /+ indicates stated price is minimum.
Names of subscribers appear in bold and underlined and, where applicable, include a live link to their websites or event page. Advertisers' listings are in larger type and highlighted, include a live link to their website and also have a copy of the ad included in listings.
416 - Toronto Central
6> Corin Raymond @ Cameron House (front), 408 Queen St. W., TO ~Country/Roots
6-8> Ryley Murray @ 120 Diner, 120 Church St., TO ~Jazz; $10
6:30> Kevin Quain @ The Rex, 194 Queen St. W., TO ~moody Blues
7> Alex Pangman Band featuring Peter Hill @ Reservoir Lounge, 52 Wellington St. E., TO ~Jazz/Blues; $
*7> open mic with Derek Mok @ Kensington Lodge, 21 Kensington Ave., TO
*7:30-9:30> Bluegrass Thursdays with Houndstooth @ Tranzac Lounge (Southern Cross), 292 Brunswick Ave., TO
*8-1> open mic with Alicia Porter @ The Local Gest, 424 Parliament St., TO
8-12> R&B/Blues @ Nawlin's, 299 King St. W. TO
8> T-Stylez; Theatre Crisp; Ellevan @ Rivoli, 334 Queen St. W., TO ~$10
9> Ryerson Talent Night @ 120 Diner, 120 Church St., TO ~Jazz; $10
9> Jeff Martin @ Horseshoe Tavern, 370 Queen St. W., TO ~indie Pop
*9-1> Blackburn @ Jo Mamas, 317 King St. W., TO ~Blues
9:30> Stephen Stanley Band @ C'est What, 67 Front St. E., TO ~songwriter; $?
9:30> Brad Cheeseman Group @ The Rex, 194 Queen St. W., TO ~Jazz; $
*9:45> Stacey Kaniuk @ Reservoir Lounge, 52 Wellington St. E., TO ~Jazz/Blues; $

10> Brendt Diabo @ Cameron House (front), 408 Queen St. W., TO
10> Arnd Jurgensen & guests @ Tranzac Lounge (Southern Cross), 292 Brunswick Ave., TO
10> Astronomer; The Critical @ Lee's Palace, 529 Bloor St. W., TO ~indie; $6
10> Pretzel Logic @ Orbit Room, 480 College St. TO ~Steely Dan tribute; $
10:30> Big Otter Creek @ The Hideout, 484 Queen St. W., TO ~indie Rock
416 - Toronto East
7-10> Ike Cedar & The Day Drinkers @ Relish, 2152 Danforth Ave., TO East ~Rockabilly Surf Rock
8> In Between Sounds @ The Only Café, 972 Danforth Ave., TO East ~psych soundscapes
*8:30-10:30> Jerry Leger & The Situation @ Castro's, 2116 Queen St. E., TO East ~Folk-Rock/Country
9> Spacegrass (The Elephant Riders) @ Linsmore Tavern, 1298 Danforth Ave., TO East ~Clutch tribute; no cover
*9:30> open jam @ Sportsters, 1430 Danforth Ave., TO East
*10-2> karaoke with Shane Taylor @ Relish, 2152 Danforth Ave., TO East
416 – Toronto Etobicoke

7:30> Wendy Lands Quartet @ Old Mill Inn, 21 Old Mill Rd., Etobicoke ~Jazz; min table charge
8> 24th Street Wailers @ Timothy's Pub, 344 Brown's Line, Etobicoke South ~Roots-Rock; $
8> Obie Trice; more @ The Rockpile, 5555 Dundas St. W., Etobicoke; $?
*9:30-2> Skip Tracer @ Southside Johnny's, 3653 Lakeshore Blvd., Etobicoke South ~Rock/Pop
416 – Toronto Scarborough
7-11> jam night @ The Birchmount, 462 Birchmount Rd., Scarborough
9:30> The High Rollers @ Black Dog Pub, 87 Island Rd., Scarborough ~Pop Rock
416 - Toronto West
5-8> Bruce Chapman Blues Duo with guests @ Gate 403, 403 Roncesvalles Ave., TO West ~Blues
*8-11> Tinderbox Thursdays open stage with Michael Keith @ La Revolucion, 2848 Dundas St. W., TO West ~eclectic
8> Dan Monologue @ The Tennessee, 1554 Queen St. W., TO West
8> Eric & The Soo @ Junction City Music Hall, 2907 Dundas St. W., TO West
8:30> Aimée Butcher; The Wind and the Water; Mermaid & The Bear @ Burdock, 1184 Bloor St. W., TO West ~indie; $
*9-12> open mic night @ DeSoto's, 1079 St. Clair Ave. W., TO West
*9-1:30> open stage with Jay Pennell @ Dave's On St. Clair, 730 St. Clair West, TO West ~eclectic
9-12> Darcy Windover Band @ Gate 403, 403 Roncesvalles Ave., TO West ~Blues/Jazz
9> Parkdale Rebels @ The Local, 396 Roncesvalles Ave., TO West ~Honky TOnk
9:30> Tyler Yarema & The Fat Boys @ Fat City Blues, 890 College St., TO West ~Blues; $
10> Freeman Dre & The Kitchen Party @ Dakota Tavern, 249 Ossington Ave., TO West ~Roots-Rock; $
519
*7:30-12> open mic with K.M. Smith @ Molly Bloom's Guelph, 91 Wyndham St. N., Guelph
7:30> Tony Paglia @ Fionn MacCool's Orangeville, 75 Fourth Ave., Orangeville ~Pop Rock
*8-11> open mic with Sandy MacDonald @ Williamsburg Arms, 1187 Fischer Hallman Rd., Kitchener
705
*7:30> open stage with Rob Phillips Trio and Marsala Lukianchuk @ Black Horse Pub, 452 George St. N., Peterborough
*9> jam with Ted Rusk @ The Sauble Dunes, 11 Southampton Parkway, Sauble Beach
905 - East
*5-8> Nelson Denis @ Frank's Pasta, 42 King Street E., Cobourg ~eclectic mix (Folk, Jazz, soft Rock, Latin)
8> In The Round with Boris Buhot & guests Sebastian Agnello & Peter Verity @ Simcoe Blues & Jazz, 926 Simcoe St. N., Oshawa ~songwriters in the round;
8-11> A.J. Estridge @ Rum Diaries, 368 Bayly St. W., Ajax
*?> jam with Darren Smith & Shayne Thomas @ The Corner Pocket, 45 Prince St., Oshawa
*9> jam @ The Wee Pub, 371 Wilson Rd. South, Oshawa
*9:30> jam with Billick @ Harp & Crown, 300 Kingston Rd., Pickering
*10> Karaoke with Rob MacArthur @ St. Louis Ajax, 11 Harwood Ave., Ajax
10> Deuce @ Tartan Tavern, 555 Rossland Rd. E., Oshawa ~Pop Rock
905 - North
*8> open mic with Kevin Ker @ Duchess of Markham, 53 Main St., Markham
*9> open stage jam night @ Memphis North, 18947 Woodbine Ave., East Gwillimbury
9> Tyler Schwende @ Fionn MacCool's Newmarket, 17315 Leslie St., Newmarket ~Pop Rock
905 - South
9> LMT Connection @ Doc Magilligan's Irish Pub, 6400 Lundy's Lane, Niagara Falls ~R&B/Funk
*9> open mic night with rotating hosts @ Coach & Lantern, 384 Wilson St E., Hamilton
905 – West
*7-10> Michael Keys & George Baumann @ Black Bull Burlington, 1124 Guelph Line, Burlington ~easy listening Swing/Boogie Woogie
8-12> Freedom Train @ Roc'n Doc's, 105 Lakeshore Rd. E., Port Credit ~Rock/Pop
*8-12> open mic & jam @ Black Swan Pub Burlington, 4040 Palladium Way, Burlington
*8-12> jam hosted by The Personics @ Carrigan Arms, 2025 Upper Middle Rd., Burlington
*8> Celtic Night @ Fionn MacCool's Burlington, 2331 Appleby Line
8:30> Conor Gains Band and jam for start of club's 10th anniversary celebrations @ Moonshine Café, 137 Kerr St. Oakville ~Blues; $10
*8:45> open mic with Matt Zady @ Failte, 201 City Centre Dr., Mississauga
9> Matt Sprague @ Fionn MacCool's Clarkson, 970 Southdown Rd., Mississauga
9:30> Glenn Groves @ Shore Grill, 71 Lakeshore Rd. E., Port Credit ~Honky Tonk
*9:30> jam with Jack B Nimble @ Abbey Road Pub, 3200 Erin Mills Parkway, Mississauga
Copyright © 2016 Toronto Moon Magazine. All Rights Reserved