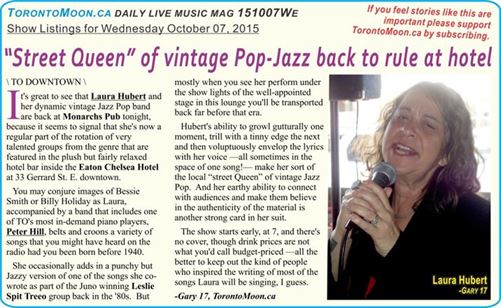 \ TO DOWNTOWN \
It's great to see that Laura Hubert and her dynamic vintage Jazz Pop band back are at Monarchs Pub tonight, because it seems to signal that she's now a regular part of the rotation of very talented groups from the genre that are featured in the plush but fairly relaxed hotel bar inside the Eaton Chelsea Hotel at 33 Gerrard St. E. downtown.
You may conjure images of Bessie Smith or Billy Holiday as Laura, accompanied by a band that includes one of TO's most in-demand piano players, Peter Hill, belts and croons a variety of songs that you might have heard on the radio had you been born before 1940.
She occasionally adds in a punchy but Jazzy version of one of the songs she co-wrote as part of the Juno winning Leslie Spit Treeo group back in the '80s.  But mostly when you see her perform under the show lights of the well-appointed stage in this lounge you'll be transported back far before that era.
Hubert's ability to growl gutturally one moment, trill with a tinny edge the next and then voluptuously envelop the lyrics with her voice —all sometimes in the space of one song!— make her sort of the local "Street Queen" of vintage Jazz Pop.  And her earthy ability to connect with audiences and make them believe in the authenticity of the material is another strong card in her suit.
The show starts early, at 7, and there's no cover, though drink prices are not what you'd call budget-priced —all the better to keep out the kind of people who inspired the writing of most of the songs Laura will be singing, I guess.
-Gary 17, TorontoMoon.ca
SHOW LISTINGS for Wednesday, October 07, 2021
Listings are organized by area in which the shows occur and within each area field shows are listed chronologically.
Listings preceded by an asterisk (*) are repeating weekly events. (Double asterisk indicates repeating event with different hosts/guest/etc.) Admission prices followed by a slash and minus (/-) after the amount indicates door charge with availability of cheaper rates for some purchases. /+ indicates stated price is minimum.
Names of subscribers appear in bold and underlined and, where applicable, include a live link to their websites. Advertisers' listings are in larger, highlighted type, include live link to website and also have ad icon included in listings.
416 – Toronto Central
6:30> Myriad 3 @ The Rex, 194 Queen St. W., TO ~Jazz; $
7:30> Troubleshooting and guests @ Tranzac Club (Southern Cross), 292 Brunswick Ave. TO
7:30> Grownup Read Things They Wrote As Kids @ Tranzac Club (Main Hall), 292 Brunswick Ave. TO
**8 (7 p.m. sign-up)> open stage with 9 p.m. feature by tba @ Fat Albert's, 25 Cecil St. (Steelworkers Hall), TO ~Roots
*8-1> open jam with Wednesday's Child feat. Johnny Bootz Hutt @ Lola, 40 Kensington Ave., TO
8> Solid Gold Wednesday @ Cameron House (front), 408 Queen St. W., TO
8> MEW, The Dodos @ Lee's Palace, 529 Bloor St. W., TO ~$15
8:30> Jon Travis; Jessica Bundy & friends @ Free Times Cafe, 320 College St., TO ~songwriters
*8:30> Crazy Strings host High Lonesome Wednesdays with opening acoustic act @ Silver Dollar 486 Spadina Ave., TO ~Bluegrass
8:30> The Honest Heart Collective; Valley; Sean Sroka @ Horseshoe Tavern, 370 Queen St. W., TO ~indie; $7
9> The Digs @ Reservoir Lounge, 52 Wellington St. E., TO ~Funk/Soul/Hip Hop; $

9> Norm Macdonald @ Cameron House (rear), 408 Queen St. W., TO
*9-2> What's Poppin' indie jam @ Sneaky Dee's, 431 College St., TO
9> Jonesin and the Hurt; The Corsets; Numb Tongues; John Boom Blues @ The Paddock, 178 Bathurst St., TO ~indie Rock/Blues showcase; $6
*9> open mic with Sean Barker @ Monarch Tavern, 12 Clinton St., TO
9:30> Blues & Troubles @ The Cloak & Dagger Irish Pub, 384 College St. ~Blues
9:30> David Pollack @ C'est What, 67 Front St. E., TO
9:30> Kandinsky Effect @ The Rex, 194 Queen St. W., TO ~Jazz; $
10> Graham Nicholas @ Cameron House (front), 408 Queen St. W., TO
10> Claire Lee Quartet @ Tranzac Club (Southern Cross), 292 Brunswick Ave. TO
*10-2> Blues-Rock jam with Bruce Domoney @ Grossman's, 379 Spadina Ave. TO
10:30> The Undercovers @ The Hideout, 484 Queen St. W., TO ~indie Rock
*10:30> The LMT Connection @ Orbit Room, 580 College St. TO ~Funk/R&B; $10
416 – Toronto East
*7:30-10:30> The BTBs @ Relish, 2152 Danforth Ave., TO East ~Jazz
8> acoustic jam @ The Only Café, 972 Danforth Ave., TO East
8:30-10:30> blueVenus @ Castro's, 2116 Queen St. E., TO East ~indie Pop
*9:30> open stage with Nicola Vaughan @ Black Swan (downstairs), 154 Danforth Ave., TO East
416 – Toronto Etobicoke
8-1> Marshall Dane @ Timothy's Pub, 344 Brown's Line, Etobicoke South ~cover & original Country Rock/Pop
416 – Toronto Scarborough
* 7> jam with Tommy Rocker's Classic Rock Band @ Fox at Scarborough Junction, 646 Danforth Rd., Scarborough
*8:30> Al Reilly's Catalyst @ Centro Pizza, 3408 Kingston Rd., Scarborough ~classic Rock
*8:30> open mic with Jadzia Skye & Michael Oesch @ Chez Helene's, 1437 Kingston Rd., Scarborough
416 – Toronto West
5-8> Robert Chapman Band @ Gate 403, 403 Roncesvalles Ave., TO West ~Jazz
**8-10:30> Hump Night Blues with Dave McManus & Cleave Anderson + special guest Jake Chisholm @ On Cue Billiards, 349 Jane St., TO West ~Blues
8:30> Dan Bern @ Hugh's Room, 2261 Dundas St. W., TO West ~young Folk songwriter; $25
9-12> Blues Night with Julian Fauth & guests @ Gate 403, 403 Roncesvalles Ave., TO West ~original Juno-winning Blues
9> Angie Gunn @ The Local, 396 Roncesvalles Ave., TO West ~Honky Tonk
9> Joshua Jlatte Lopez; @ The Painted Lady, 218 Ossington Ave., TO West
9> Paul Reddick @ Dakota Tavern, 249 Ossington Ave., TO West ~Blues; $
*10-1> Michael Keith @ The Hole In The Wall, 2867 Dundas St. W., TO West ~Blues/Rock/Jazz
519
9> The Phil & John Show feat. Phil Naro @ Molly Bloom's Waterloo, 170 University Ave., Waterloo ~acoustic Pop Rock
705
*7-11> open jam with Wayne Buttery Band @ The Beacon, 146 45th St., Wasaga Beach
7> Rick & Gailie; Randy Dawson @ Black Horse Pub, 452 George St. N., Peterborough
7> Vampires; Nick Ferrio @ The Garnet, 231 Hunter St. W., Peterborough
905 East
*8> Howard Ross & Full Count Blues hosts "Big Mojo" Blues jam with guest performer tba @ Corner Pocket, 45 Prince St., Oshawa
8> Frank Zircone @ Simcoe Blues & Jazz, 926 Simcoe St. N., Oshawa
*8-11> open mic @ Frank's Pasta, 426 King St. E., Cobourg
*9-12> jam with Damage Control @ St. Louis Bar & Grill Ajax, 11 Harwood Ave. S., Ajax
905 North
*7> open mic night with Tanya Joy Senior @ Col. McGrady's Pub, 44 Brock St. W., Uxbridge
*8:45> open mic jam with Matt Zady @ Magnums, 21 McMurchy Ave. N., Brampton
*9-1> open mic jam with Whiskey Birds @ Sweetz Lounge, 5289 Hwy 7, Woodbridge-Vaughan
*9:30> open mic with The Villagers @ Main's Mansion, 144 Main St., Markham
905 South
*7> open mic night @ Donnelley's Pub, 54 Front St., Thorold ~Blues
**8-1> "Country Pubkin" Night with Country artists tba @ Corktown Pub, 175 Young St., Hamilton
8> East of Avenue @ Casbah Lounge, 306 King St. W., Hamiltonl $10
*8:30> Something Country @ The Endzone, 1900 King St. E., Hamilton ~Country
9> Bump City @ This Ain't Hollywood, 345 James St. N., Hamilton
905 West
*8-12> All-ages jam with band & host Kevin Reid @ Sixth Line Pub, 1500 Sixth Line, Oakville
8-1> Twin Kennedy @ Moonshine Café, 137 Kerr St., Oakville ~west coast Country/Roots sisters duo; $10
8:30> The Carson Freeman Diversion @ Shore Grill, 71 Lakeshore Rd. E., Port Credit ~Pop Rock
9-1> Liquid Sun @ Roc'n Doc's, 105 Lakeshore Rd. E., Port Credit ~Rock/Pop; $
*9> open mic jam with Jack B Nimble @ Blarney's Gate, 1151 Dundas St. W., Mississauga
*9?> jam with Michael Zane or Pat Dowds @ Shakers, 580 Kerr St., Oakville