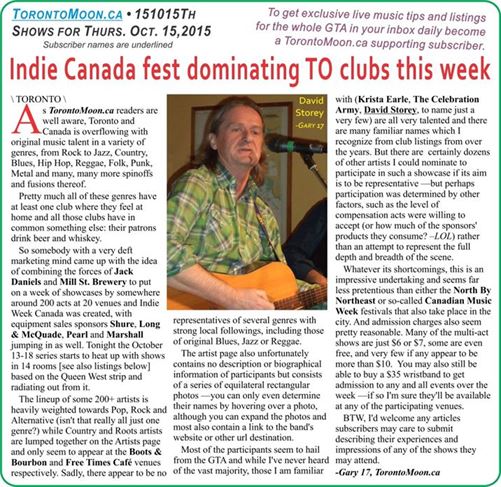 \ TORONTO \
As TorontoMoon.ca readers are well aware, Toronto and Canada is overflowing with original music talent in a variety of genres, from Rock to Jazz, Country, Blues, Hip Hop, Reggae, Folk, Punk, Metal and many, many more spinoffs and fusions thereof.
Pretty much all of these genres have at least one club where they feel at home and all those clubs have in common something else: their patrons drink beer and whiskey.
So somebody with a very deft marketing mind came up with the idea of combining the forces of Jack Daniels and Mill St. Brewery to put on a week of showcases by somewhere around 200 acts at 20 venues and Indie Week Canada was created, with equipment sales sponsors Shure, Long & McQuade, Pearl and Marshall jumping in as well. Tonight the October 13-18 series starts to heat up with shows in 14 rooms [see also listings below] based on the Queen West strip and radiating out from it.
The lineup of some 200+ artists is heavily weighted towards Pop, Rock and Alternative (isn't that really all just one genre?) while Country and Roots artists are lumped together on the Artists page and only seem to appear at the Boots & Bourbon and Free Times Café venues respectively. Sadly, there appear to be no representatives of several genres with strong local followings, including those of original Blues, Jazz or Reggae.
The artist page also unfortunately contains no description or biographical information of participants but consists of a series of equilateral rectangular photos —you can only even determine their names by hovering over a photo, although you can expand the photos and most also contain a link to the band's website or other url destination.
Most of the participants seem to hail from the GTA and while I've never heard of the vast majority, those I am familiar with (Krista Earle, The Celebration Army, David Storey, to name just a very few) are all very talented and there are many familiar names which I recognize from club listings from over the years. But there are  certainly dozens of other artists I could nominate to participate in such a showcase if its aim is to be representative —but perhaps participation was determined by other factors, such as the level of compensation acts were willing to accept (or how much of the sponsors' products they consume? –LOL) rather than an attempt to represent the full depth and breadth of the scene.
Whatever its shortcomings, this is an impressive undertaking and seems far less pretentious than either the North By Northeast or so-called Canadian Music Week festivals that also take place in the city. And admission charges also seem pretty reasonable. Many of the multi-act shows are just $6 or $7, some are even free, and very few if any appear to be more than $10.  You may also still be able to buy a $35 wristband to get admission to any and all events over the week —if so I'm sure they'll be available at any of the participating venues.
BTW, I'd welcome any articles subscribers may care to submit describing their experiences and impressions of any of the shows they may attend.
-Gary 17, TorontoMoon.ca
SHOW LISTINGS for Thursday, October 15, 2021
Listings are organized by area in which the shows occur and within each area field shows are listed chronologically.
Listings preceded by an asterisk (*) are repeating weekly events. (Double asterisk indicates repeating event with different hosts/guest/etc.). Admission prices followed by a slash and minus (/-) after the amount indicates door charge with availability of cheaper rates for some purchases. /+ indicates stated price is minimum.
Names of subscribers appear in bold and underlined and, where applicable, include a live link to their websites or event page. Advertisers' listings are in larger type and highlighted, include a live link to their website and also have a copy of the ad included in listings.
NOTE: ICW = Indie Week Canada, which runs till October 18 in several venues. For more details visit schedule page.
416 - Toronto Central
6> Corin Raymond @ Cameron House (front), 408 Queen St. W., TO
6:30> Travelling Wall-Berry's @ The Rex, 194 Queen St. W., TO ~Jazz
7> Indie Week showcases with Urvah Khan; Ginger Fox; The Cunninghams; High Holy Days; Mike Golden & Friends @ The Hideout, 484 Queen St. W., TO ~indie Rock; $10
*7> open mic with Derek Mok @ Kensington Lodge, 21 Kensington Ave., TO
*7:30-9:30> Bluegrass Thursdays with Houndstooth @ Tranzac Lounge (Southern Cross), 292 Brunswick Ave., TO
8> IWC showcase with Liam Kinnon; Jules; Joni Fuller; Akim; Jonathan Leon; Amy Bronson; David Storey (11:45); Tristan Avakian; @ Free Times Café, 320 College St. TO ~indie Roots; $10
*8-1> open mic with Alicia Porter @ The Local Gest, 424 Parliament St., TO
8> IWC showcase with The Bleeding Lights; Grown Up Avenger Stuff; The Reed Effect; The Fandemics; Vicious Cycle; The Luka State; Sassy Kraimspri @ Bovine Sex Club, 542 Queen St. W., TO ~indie; $10
8> IWC showcase with Midday Swin; The Proud Sons; Thrifty Kids; The Honest Heart Collective; Spells of Vertigo @ Adellaide Hall, 250 Queen St. W., TO ~indie; $12
8> IWC showcase with Devan & Khalid; The Bootleggers; The Modern Hearts; Common Deer; Bad Girls; The Proud Sons @ Silver Dollar, 486 Spadina Ave. ~indie; $7
8> IWC showcase with The Celebration Army; Wyland; Final Sight; The Wormwood Scrubs; The Faceplants @ UG3 Live, 77 Peter St., TO ~indie; $7
8> IWC showcase with Orangabang; Maybe May; CRAWL; The Ocean Cure; The Failing; Three Quarter Stone; Numb Tongues; @ Supermarket, 282 Augusta Ave., TO ~indie; $10
8-12> R&B/Blues @ Nawlin's, 299 King St. W. TO
8> IWC showcase with TEZA; T-Stylez; Crossword; Q Like The Letter; Ms. Charm Taylor; Maurice Moor @ Studio Bar, 824 Dundas St. W.
8> Cynthia Tauro @ Musideum, 401 Richmond St. W., #133, TO ~Jazz songwriter; $20
8> IWC showcases with Cal Goodbomb; Black Suit Devil; Discover Atlantic; Josh Taerk; Gretchen Pleuss; Dylan Maclem; Owen Stahn; Skyler & The Brit @ Lou Dawgs, 589 King St. W., TO ~indie; $8
8> IWC showcases with Featurette; Mesa Jane; Mayor; Lost In Film; Conrad Clifton; Ensh @ Nocturne, 550 Queen St. W., TO ~indie; $8
8> IWC showcases with About; Beach Fox; Employees Only; LadyFace; Ghost Town Orchestra; Lost In Film; Conrad Clifton @ Rivoli, 334 Queen St. W., TO ~indie Rock; $10
8> IWC showcase with The Rip Nancies; The Manvils; Texas King; Classic Roots; The Muso Project; Eli & The Strawman @ Horseshoe Tavern, 370 Queen St. W., TO ~indie; $10
8:30> Sidewalk Chalk Tour @ May Café, 876 Dundas St. W., TO
8:30> Lucero @ Lee's Palace, 529 Bloor St. W., TO ~$29.50
9> Wool & Howl; The Hope State @ Cameron House (rear), 408 Queen St. W., TO
9-1> Wicked Grin @ Monarchs Pub (Eaton Chelsea Hotel), 33 Gerrard St. W., TO ~Blues
*9-1> Blackburn @ Jo Mamas, 317 King St. W., TO ~Blues
9:30> The DoneFors; Linsey White; Claire Bestland @ C'est What, 67 Front St. E., TO ~indie; pwyc
9:45> Brian Charette & Ted Quinlan Trio @ The Rex, 194 Queen St. W., TO ~Jazz
*9:45> Stacey Kaniuk @ Reservoir Lounge, 52 Wellington St. E., TO ~original Soul/Folk/Jazz; $
10> Janes Party @ Cameron House (front), 408 Queen St. W., TO
10> Mz Debbie & The Xtra Lite @ Grossman's, 379 Spadina Ave., TO
10> The Special Interest Group @ Tranzac Lounge (Southern Cross), 292 Brunswick Ave., TO
10> Dixie Chicken @ Orbit Room, 480 College St. TO ~Little Feat tribute; $
416 - Toronto East
7:30-10:30> The BTBs @ Relish, 2152 Danforth Ave., TO East ~Jazz
7:30> Duke Dumont @ The Danforth Music Hall, 147 Danforth Ave., TO East ~$32.25-40.50
8> IWC showcase with Katia Zuaccarelli; Hank Ward; Win Kennedy; Dick Rodan; Jessica Mitchel; Kate Todd; Carly Thomas @ Boots & Bourbon Saloon, 725 Queen St. E., TO East ~original Country; free
*8:30-10:30> Jerry Leger & The Situation @ Castro's, 2116 Queen St. E., TO East ~Folk-Rock/Country
9> Anthony Bottling's A Book For Wanderers @ Linsmore Tavern, 1298 Danforth Ave., TO East ~indie Rock; free
*10-2> karaoke with Shane Taylor @ Relish, 2152 Danforth Ave., TO East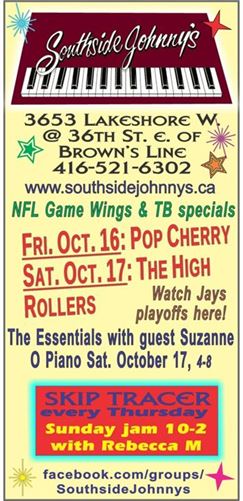 416 – Toronto Etobicoke
7:30> Alistair Kay Trio @ Old Mill Inn, 21 Old Mill Rd., Etobicoke ~Jazz; min table charge
9> jam with Kimberley Wetmore band featuring Dave Girdlestone on guitar @ Timothy's Pub, 344 Brown's Line, Etobicoke South ~Pop Rock
*9:30-2> Skip Tracer @ Southside Johnny's, 3653 Lakeshore Blvd., Etobicoke South ~Rock/Pop
416 – Toronto Scarborough
*9> Tommy Rocker's Classic Rock Band host jam @ Centro Pizza, 3406 Kingston Rd., Scarborough
9:30> Harvest @ Black Dog Pub, 87 Island Rd., Scarborough ~Pop Rock
416 - Toronto West
5-8> Toronto Jazz Collective @ Gate 403, 403 Roncesvalles Ave., TO West ~Jazz
*8-11> Tinderbox Thursdays open stage with Michael Keith @ La Revolucion, 2848 Dundas St. W., TO West ~eclectic
8> Jessica Stuart Few for Ontario Council of Folk Festivals conference @ Westin Bristol Place, 950 Dixon Rd., TO Northwest ~Roots
8> IWC showcase with Raycroft; Avery Florence; The Naked wild; The Killing Floor; Rosk; Good Ghost @ Brooklyn, 1186 Queen St. W., TO West ~indie; $6
8> IWC showcase with Crisis Ctrl Club; viseMenn; Midwest; The Cardinal Dream; REND; Peludo @ Cherry Colas, 200 Bathurst St., TO ~indie; $6
8:30> Van Django @ Hugh's Room, 2261 Dundas St. W., TO West ~acoustic string quartet; $25
*9-12> open mic night @ DeSoto's, 1079 St. Clair Ave. W., TO West
9> Kirt Godwin @ The Roncy, 390 Roncesvalles Ave., TO West
*9-1:30> open stage with Jay Pennell @ Dave's On St. Clair, 730 St. Clair West, TO West ~eclectic
9-12> Annie Bonsignore @ Gate 403, 403 Roncesvalles Ave., TO West ~Jazz
9> Bruce Domoney & The Responsables @ The Painted Lady, 218 Ossington Ave., TO West ~Blues/Rock; $
9> Ray Whisey @ The Local, 396 Roncesvalles Ave., TO West
10> Monkey Junk @ Dakota Tavern, 249 Ossington Ave., TO West ~Blues; $
519
7:30> Lenka Lichtenberg @ Beth Isaiah Synagogue, 47 Surrey St. W., Guelph ~original Babylonian Yiddish-Czech Fusion; $
*7:30-12> open mic with K.M. Smith @ Molly Bloom's Guelph, 91 Wyndham St. N., Guelph
7:30> Ryan Hancock @ Fionn MacCool's Orangeville, 75 Fourth Ave., Orangeville
*8-11> open mic with Sandy MacDonald @ Williamsburg Arms, 1187 Fischer Hallman Rd., Kitchener
705
*9> jam with Ted Rusk @ The Sauble Dunes, 11 Southampton Parkway, Sauble Beach
9?> The X-Prime; Rain Over St. Ambrose; The Kents @ The Spill, 414 George St. N., Peterborough
*5-8> Nelson Denis @ Frank's Pasta, 42 King Street E., Cobourg ~eclectic mix (Folk, Jazz, soft Rock, Latin)
7> Pete & Sue @ Simcoe Blues & Jazz, 926 Simcoe St. N., Oshawa
8-12> Andrew Fetterley @ Fionn MacCool's Ajax, 32 Kingston Rd. E. Ajax ~Pop
*?> jam with Darren Smith & Shayne Thomas @ The Corner Pocket, 45 Prince St., Oshawa
*9> jam @ The Wee Pub, 371 Wilson Rd. South, Oshawa
*9:30> jam with Billick @ Harp & Crown, 300 Kingston Rd., Pickering
905 - North
*8> open mic with Kevin Ker @ Duchess of Markham, 53 Main St., Markham
8> George Pants @ King Richard's Pub, 15570 Yonge St., Aurora
*9> open stage jam night @ Memphis North, 18947 Woodbine Ave., East Gwillimbury
9> Bianca Rollo solo @ Fionn MacCool's Newmarket, 17315 Leslie St., Newmarket
905 - South
8> CD Onofrio @ Doc Magilligan's Irish Pub, 6400 Lundy's Lane, Niagara Falls
*9> Mike Joyce of The Smiths @ This Ain't Hollywood, 345 James St. N., Hamilton
*9> open mic night with rotating hosts @ Coach & Lantern, 384 Wilson St E., Hamilton
9> Old Man Luedecke album release for Domestic Eccentric @ Casbah Lounge, 306 King St. W., Hamilton ~Rootsy Blues; $15
905 – West
*7-11> Michael Keys "7-Piece" Trio & Sing Along With The Live Band Karaoke @ Black Bull Burlington, 1124 Guelph Line, Burlington ~Boogie-Woogie Blues/Pop Rock
8-12> Freedom Train @ Roc'n Doc's, 105 Lakeshore Rd. E., Port Credit ~Rock/Pop
*8-12> open mic & jam @ Black Swan Pub Burlington, 4040 Palladium Way, Burlington
*8-12> jam hosted by The Personics @ Carrigan Arms, 2025 Upper Middle Rd., Burlington
*8> Celtic Night @ Fionn MacCool's Burlington, 2331 Appleby Line
8:30> Songbirds with host Sarah Beatty and mini-sets by Sarah Hamilton; Sarah Burton; Karen Morand + open stage @ Moonshine Café, 137 Kerr St. Oakville ~songwriters; $6
8:30> Brendon Gomez @ Fionn MacCool's Britannia, 825 Britannia Rd. W., Streetsville Mississauga
*8:45> open mic with Matt Zady @ Failte, 201 City Centre Dr., Mississauga
9> Eddy C @ Fionn MacCool's Clarkson, 970 Southdown Rd., Mississauga
9:30> Glenn Groves @ Shore Grill, 71 Lakeshore Rd. E., Port Credit ~Pop Rock
*9:30> jam with Jack B Nimble @ Abbey Road Pub, 3200 Erin Mills Parkway, Mississauga
Copyright © 2015 Toronto Moon Magazine. All Rights Reserved