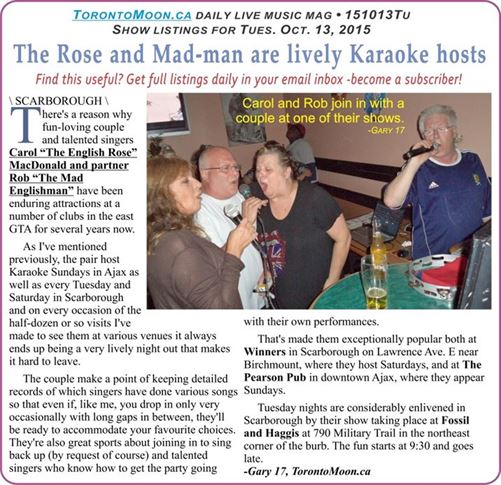 \ SCARBOROUGH \
There's a reason why fun-loving couple and talented singers Carol "The English Rose" MacDonald and partner Rob "The Mad Englishman" have been enduring attractions at a number of clubs in the east GTA for several years now.
As I've mentioned previously, the pair host Karaoke Sundays in Ajax as well as every Tuesday and Saturday in Scarborough and on every occasion of the half-dozen or so visits I've made to see them at various venues it always ends up being a very lively night out that makes it hard to leave.
The couple make a point of keeping detailed records of which singers have done various songs so that even if, like me, you drop in only very occasionally with long gaps in between, they'll be ready to accommodate your favourite choices. They're also great sports about joining in to sing back up (by request of course) and talented singers who know how to get the party going with their own performances.
That's made them exceptionally popular both at Winners in Scarborough on Lawrence Ave. E near Birchmount, where they host Saturdays, and at The Pearson Pub in downtown Ajax, where they appear Sundays.
Tuesday nights are considerably enlivened in Scarborough by their show taking place at Fossil and Haggis at 790 Military Trail in the northeast corner of the burb. The fun starts at 9:30 and goes late.
-Gary 17, TorontoMoon.ca
SHOW LISTINGS for Tuesday, October 13, 2021
Listings are organized by area in which the shows occur and within each area field shows are listed chronologically.
Listings preceded by an asterisk (*) are repeating weekly events. (Double asterisk indicates repeating event with different hosts/guest/etc.). Admission prices followed by a slash and minus (/-) after the amount indicates door charge with availability of cheaper rates for some purchases. /+ indicates stated price is minimum.
Names of subscribers appear in bold, are underlined and, where applicable, include a live link to their websites. Advertisers' listings are in larger highlighted type, include live link to website and also have ad icon included in listings.
416 – Toronto Central
6> Angela Saini @ Cameron House (front), 408 Queen St. W., TO
6:30> Kim Ratcliffe's RAT 4 @ The Rex, 194 Queen St. W., TO ~Jazz; $
6:30> True Tales of Storytelling @ Free Times Café, 320 College St., TO ~spoken word; $
*7> open mic @ The Central, 603 Markham St., TO
7:30 (signup starts at 7)> The Bridge on "Choices"  open mic theme and between-set showcase music, poetry, etc.; hosted by Lynn Harrison @ Tranzac Club (Tiki Room), 292 Brunswick St., TO; pwyc
7:30> Aurochs @ Tranzac Club (Souther Comfort Room), 292 Brunswick St., TO ~Jazz
8> Janke; Koller & Quan @ Musideum, 401 Richmond St. W., #133, TO ~ambient improvised World electric; $20
8> Carmela Antonio; The Lost Angelos; Newport Electric @ Rivoli, 334 Queen St. W., TO; $5
8> Sultan of the Disco @ Lee's Palace, 529 Bloor St. W., TO ~indie Disco band; $15
*8:45> Tyler Yarema & His Rhythm @ Reservoir Lounge, 52 Wellington St. E., TO ~Jazz/Blues; $
9:30> Django Gypsy Jam @ Grossman's, 379 Spadina Ave., TO
*9:30> open mic @ The Paddock, 178 Bathurst St., TO
9:30> Jazz jam @ The Rex, 194 Queen St. W., TO ~Jazz; $
*10-2> The Sattalites @ Orbit Room, 580 College St., TO ~original & cover Reggae/Funk; $
10> Bedroom @ Tranzac Club (Southern Cross), 292 Brunswick St., TO ~Jazz
10> The Sinners Choir @ Cameron House (front), 408 Queen St. W., TO ~Rockabilly
10:30> Frank Ryan @ The Hideout, 484 Queen St. W., TO ~indie Rock
11:30> Indie Week Canada launch party with Face First; The Lonely Hearts; Like Rivals @ The Bovine Sex Club, 542 Queen St. W., TO ~indie; $10
416 – Toronto East

*6-9> Julian Fauth solo @ Sauce, 1376 Danforth Ave., TO East ~original Blues piano
7> Luna; Diane Coffee @ The Danforth Music Hall, 147 Danforth Ave., TO East ~$32.75-$40
7-9> Lotus Wight @ Relish, 2152 Danforth Ave., TO East ~songwriter
8> Eleanor Shore @ Linsmore Tavern, 1298 Danforth Ave., TO East ~original throwback Folk; free
8:30-10:30> Carlos Lopes @ Castro's, 2116 Queen St. E., TO East
9> open mic @ Groove Bar, 1952 Danforth Ave., TO East
*9:30> Peter Verity @ Black Swan, 154 Danforth Ave., TO East ~Folk Roots
**9:30-12> open stage hosted by Jay Pennell or Kyle Duffin @ The Old Nick, 123 Danforth Ave., TO East
416 – Toronto Scarborough
*9:30> karaoke with The English Rose & The Mad Scotsman @ The Fossil & Haggis, 790 Military Trail, Scarborough
416 – Toronto West
5-8> Thom Manson Jazz Trio @ Gate 403, 403 Roncesvalles Ave., TO West ~Jazz
5> Dave Mason's Traffic Jam V.I.P. pre-concert show & meet & greet @ Hugh's Room, 2261 Dundas St. W., TO West ~$169.75
8> akim @ The Painted Lady, 218 Ossington Ave., TO West ~indie Rootsy/Americana songwriter; $
8:30> Dave Mason's Traffic Jam @ Hugh's Room, 2261 Dundas St. W., TO West ~Rock (founder of Traffic); $75
9> Arghavan (birthday set); Mercy Flight feat. Steve York; Chad Arthur for Indie Tuesdays @ The Piston, 937 Bloor St. W., TO West ~indie; pwyc
9> Claire Coupland @ The Local, 396 Roncesvalles Ave., TO West ~songwriter
9> Trevor Cape Trio @ Gate 403, 403 Roncesvalles Ave., TO West ~Jazz
9> jam night with host band & backline @ The Tennessee, 1554 Queen St. W., TO West
*9:30> jam with Derek Downham @ Axis, 3048 Dundas St. W., TO West ~eclectic
10> The Rucksack Willies; The O'Pears @ Dakota Tavern, 249 Ossington Ave., TO West ~Rockabilly/alt-Country; $
705
9?> Severed Feathers tape release with Paulabulus, Deer God, ELMS @ The Spill, 414 George St. N., Peterborough
905 East
*6:30-11> The Woodshed jam with Don Niblett & Frank Zochodne @ Simcoe Blues & Jazz, 926 Simcoe St. N., Oshawa
9> Steel City @ The Corral, 433 Simcoe St. S., Oshawa ~Country Rock
*10> open mic with Josh Beaven @ The Atria, 59 King St. E., Oshawa
905 North
*8-11> jam with Matthew Kane & The Brews Brothers @ The Crown, 9580 Yonge St., Richmond Hill
*8:30> open mic @ Falcon & Firkin, 10300 Yonge St., Richmond Hill
*9> open mic with Manny D, Andy Earle & Dave Breckels @ Big Chris BBQ, 17380 Yonge St., Newmarket
905 South
*8-11> Michael Keys & Friends @ The Ale House, 802 Upper Gage Ave., Hamilton ~Pop/Jazz
*9:30-1> Traditional Irish jam @ Corktown Pub, 175 Young St., Hamilton
*9> open stage @ This Ain't Hollywood, 345 James St. N., Hamilton
905 West
*8> The Phil & John Show feat. Phil Naro @ Shore Grill, 71 Lakeshore Rd. E., Port Credit ~acoustic Pop Rock
*8-12> Groovestone @ Roc'n Doc's, 105 Lakeshore Rd. E., Port Credit ~Rock/Funk; $
*8 (sign up at 7:30)> open stage with host Neil McNaughton @ Moonshine Café, 137 Kerr St., Oakville; $2
*8:45> open mic with Matt Zadkovich @ Culchain's Irish Pub, 158 Queen St. S., Streetsville-Mississauga
*10> open mic @ The Dickens, 423 Elizabeth St., Burlington
Copyright © 2015 Toronto Moon Magazine. All Rights Reserved