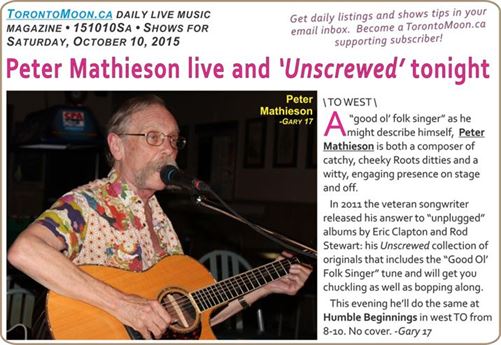 \ TO WEST \
A "good ol' folk singer" as he might describe himself,  Peter Mathieson is both a composer of catchy, cheeky Roots ditties and a witty, engaging presence on stage and off.
In 2011 the veteran songwriter released his answer to "unplugged" albums by Eric Clapton and Rod Stewart: his Unscrewed collection of originals that includes his "Good Ol' Folk Singer" tune and will get you chuckling as well as bopping along.
This evening he'll do the same at Humble Beginnings in west TO from 8-10. No cover. -Gary 17
SHOW LISTINGS for Saturday, October 10, 2021
Listings are organized by area in which the shows occur and within each area field shows are listed chronologically.
Listings preceded by an asterisk (*) are repeating weekly events. (Double asterisk indicates repeating event with different hosts/guest/etc.). Admission prices followed by a slash and minus (/-) after the amount indicates door charge with availability of cheaper rates for some purchases. /+ indicates stated price is minimum.
Names of subscribers appear in bold, are underlined and, where applicable, include a live link to their websites. Advertisers' listings are in larger, highlighted type, include live link to website and also have ad icon included in listings.
416 - Toronto Central
*12-3> The Sinners Choir @ The Rex, 194 Queen St. W., TO ~Jazz
*2> Dr. B's Acoustic Medicine Show open stage with Brian Gladstone @ Free Times Café, 320 College St. TO ~Roots
3> Jamzac @ Tranzac Club (Southern Cross), 292 Brunswick Ave., TO
3:30> George Lake Big Band @ The Rex, 194 Queen St. W., TO ~Jazz
3:30> Frank Botos Quartet @ The Pilot, 22 Cumberland St., TO ~Jazz
4-7> The Downtown Jazz Band @ Seven44, 744 Mount Pleasant Road, TO North
*4-7> Climax Jazz Band @ Alleycatz, 2409 Yonge St., TO North ~Dixieland Jazz; $?
*4:40-7:30> The Happy Pals @ Grossman's, 379 Spadina Ave., TO ~New Orleans Jazz
6> Big Tobacco & The Pickers @ Cameron House (front), 408 Queen St. W., TO ~authentic Country
6:30> Joe Hall @ Tranzac Club (Southern Cross), 292 Brunswick Ave., TO
7:30> Nick Teehan Group @ The Rex, 194 Queen St. W., TO ~ Jazz
8> Whitney Rose @ Cameron House (front), 408 Queen St. W., TO
8> Andrea Rebello @ Musideum, 401 Richmond St. W., #133, TO ~cabaret; $20
8:30> Akim; Chris Birkett @ Free Times Café, 320 College St. TO
9> White Lie; Jux Cain; JCapCity; Dreamin Reality; Myer Clarity x DGT x Saide Marquis; Tall Ship Clik; Attack The Block; Blackboltt; Chill $squad; iLLvibe & Definition; Dustin Wareham @ Rivoli, 334 Queen St. W., TO; $10
9> Tamin' Thunder @ Seven44, 744 Mount Pleasant Road, TO North ~R&B/Rock/Dance
9> The Kickback album release for Sorry All Over The Place with guests Abraham Levitan; The Hudson Branch; The Noise FM; Mutts; Archie Powell & The Exports @ Lee's Palace, 529 Bloor St. W., TO
9> Sarah Factor; Brian Passmore @ Cameron House (rear), 408 Queen St. W., TO
9> Sun K; The Royal Streets; Birds of Bellwoods; Lese Majesty @ Horseshoe Tavern, 370 Queen St. W., TO ~indie; $10
9:30> Soular @ Alleycatz, 2409 Yonge St., TO North ~Funk/Soul/R&B; $
9:45> Peter Brendler @ The Rex, 194 Queen St. W., TO ~NY Jazz
*9:45> Tyler Yarema & His Rhythm @ Reservoir Lounge, 52 Wellington St. E., TO ~Jazz/Blues; $
10> Ride The Tiger @ Orbit Room, 480 College St. TO ~Funk/Soul; $
10> Melvin Colacino Blues Band @ Cameron House (front), 408 Queen St. W., TO ~Blues
10> No Seas @ Tranzac Club (Southern Cross), 292 Brunswick Ave., TO
10-2> Chloe Watkinson & Park Eddy @ Grossman's, 379 Spadina Ave., TO
10:30> Ballroom Bbies @ Fionn MacCool's Esplanade, 70 The Esplanade
10:30> The Lad Classic; Paige Armstrong @ The Hideout, 484 Queen St. W., TO ~indie Rock
11> Shake A Tail @ Sneaky Dee's, 431 College St., TO ~indie; $5
416 - Toronto East
*3:30-6> Johnny Wright @ Outriggers, 2232 Queen St. E., TO East ~R&B
*4-7:30> Ronnie Hayward Trio @ McQueen's, 993 Queen St. E., TO E. ~Blues/Roots
6-8> The Cosmotones @ Castro's, 2116 Queen St. E., TO East ~Blues/Roots
7> Ms Mr; Jack Garratt @ The Danforth Music Hall, 147 Danforth Ave., TO East ~$31.25-37.75
8> original music showcase @ The Feathers, 962 Kingston Rd., TO East ~songwriters
8> Blakeley-Walker Band @ The Only Café, 972 Danforth Ave., TO East
9> Callan Furlong and Old Fashioned Trash @ Dora Keogh, 141 Danforth Ave., TO East
9> Communism @ Castro's, 2116 Queen St. E., TO East
9> #3 @ Eton House Tavern, 710 Danforth Ave., TO East ~Rock/Top 40
9:30-11:30> Beyond The Beat @ Relish, 2152 Danforth Ave., TO East ~
9:30> The Dylan Tree @ Linsmore Tavern, 1298 Danforth Ave., TO East ~Bob Dylan tribute; $10
416 – Toronto Etobicoke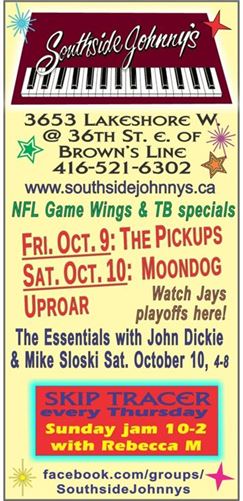 *3-6> Danny B Band @ Blue Goose, 1 Blue Goose St., Etobicoke South ~R&B/Blues
**4-8> The Bear's Essentials with guest John Dickie & Mike Sloski @ Southside Johnny's, 3653 Lake Shore Blvd. W. Etobicoke South ~Rock-R&B
*4-8> The Meteors with guest Michael Danckert @ Timothy's Pub, 344 Brown's Line, Etobicoke South ~Blues/Rock/R&B
7:30> Paul Novotny & Ted Quinlan @ Old Mill Inn, 21 Old Mill Rd., Etobicoke ~Jazz; minimum table charge
8> Wednesday 13; Your Chance To Die @ The Rockpile, 5555 Dundas St. W., Etobicoke
9> James Anthony @ Blue Goose Tavern, 1 Blue Goose Rd., Etobicoke South ~Blues
9> Riot Kings @ Maple Leaf House, 2749 Lake Shore Boulevard West, Etobicoke ~Rock/Top 40/Blues
9:30> Daylight For Deadeyes @ Timothy's Pub, 344 Brown's Line, Etobicoke South ~Pop Rock/Top 40; $
10-2> Moondog Uproar @ Southside Johnny's, 3653 Lake Shore Blvd. W. Etobicoke South ~Rock/Top 40
416 – Toronto Scarborough
9-1> Fat Tony @ Black Dog Pub, 87 Island Rd., Scarborough ~acoustic Pop/ Rock
9:30> Rough & Ready featuring Mike Eby @ The Fox at Scarborough Junction, 646 Danforth Rd., Scarborough ~classic & Country-Rock
*9:30-2> karaoke with The English Rose & The Mad Scotsman @ Winners, 2181 Lawrence Ave. E., Scarborough
9:30> Ugly Horse @ Stone Cottage Pub, 3750 Kingston Rd., Scarborough ~Pop Rock
416 - Toronto West
*12-3> Julian Fauth's Blues Brunch @ Axis, 3048 Dundas St. W., TO West ~Blues
**2-6> open mic with guest host Loren Hicks @ Magic Oven, 347 Keele St., TO West
**5-8> Bill Heffernan's Saturday Sessions with featured guests Grier Coppins & Urban Highlander @ Gate 403, 403 Roncesvalles Ave. TO West ~Roots/Country/Pop
5-8> Sara Jane Scouten @ The Local, 396 Roncesvalles Ave., TO West ~Roots
7-9> tba @ Dakota Tavern, 249 Ossington Ave., TO West
8-10> Peter Mathieson @ Humble Beginnings, 3109 Dundas St. W., TO West ~original Folk
8:30> Tribute to Willie Dixon with Jack de Keyzer, Danny Marks, Al Lerman, Phil Naro,  & more @ Hugh's Room, 2261 Dundas St. W., TO West ~Blues; $
8:30> Humungus; The All Nighters; Salazar; Michel Dequevedo; Rubie Magniture @ The Painted Lady, 218 Ossington Ave., TO West ~indie; $
9-1> Ilios Steryannis Trio @ Gate 403, 403 Roncesvalles Ave., TO West ~ Jazz
9> The Del Fi's @ The Local, 396 Roncesvalles Ave., TO West ~Rock 'n' Roll
9> Confidential Sources @ The Cat, 3153 Dundas St. W., ~Pop Rock/Top 40
10-2> The Double Cuts @ Dakota Tavern, 249 Ossington Ave., TO West ~Western Swing; $10
519
8> Mandulla @ Fionn MacCool's Kitchener, 4287 King St. E., Kitchener
9> Jeff Holdridge @ Fionn MacCool's Guelph, 494 Ediburgh Rd. S., Guelph
9:30> Organized Chaos @ Fionn MacCool's Orangeville, 75 Fourth Ave., Orangeville
705
8:30> Four Lanes Wide @ Black Horse Pub, 452 George St. N., Peterborough
9?> Daryl Matthews @ The Spill, 414 George St., Peterborough
9:30> Rick Robichaud @ Sticky Fingers Dunlop, 150 Dunlop St. W., Barrie
905 East

*4> PRJ @ Simcoe Blues & Jazz, 926 Simcoe St., Oshawa ~Blues
*9-1> karaoke with Rob MacArthur @ Tudor Rose, 700 Harwood Ave. S., Ajax
9> Brad James Band @ The Corral, 433 Simcoe St. S., Oshawa ~Country
9-1> Soundstorm @ Simcoe Blues & Jazz, 926 Simcoe St. N., Oshawa
9:30> Two For The Show @ The Edge, 250 Bayly St., Ajax ~Pop Rock/comedy
10> RockHard Classics @ West Shore, 877 Bayly St., Pickering ~Rock/Pop
10-2> Something Extra @ Whisky John's, 843 King St. W., Oshawa ~Rock/Top 40
905 North
9-1> The Beat Heathens @ Oscar's Roadhouse, 1785 Queen St. E., Brampton ~Pop Rock/Top 40
9:30> Orangeman @ Jake's Boathouse Brampton, 59 First Gulf Rd., Brampton ~Pop Rock
9:30> Rock Sauce @ Aw Shucks, 15230 Yonge St., Aurora ~Pop Rock
10> MINT featuring Anthony Cee & Amanda Rose @ Spot One, 289 Rutherford Rd. S., Brampton ~Rock/Top 40
905 South
**2> Brant Parker Band with guest tba @ Donnelley's Pub, 54 Front St., Thorold ~Blues
*2-6> jam w. Tom Finocchio @ Sam's Place, Barton-Chestnut Sts., Hamilton
**2:30> special guest with The Mighty Duck Band, The Duck, 244 Ontario St., St. Catharines ~R&B/Blues
7> Duane Rutter album release party with guests Chris Altmann; Sharon Washington @ Casbah Lounge, 306 King St. W., Hamilton
9> The Soul Motivators; Dawn Pemberton @ This Ain't Hollywood, 345 James St. N., Hamilton ~R&B/Soul; $10
**9> Niagara Rhythm Section @ The Old Winery, 2228 Niagara Stone Rd., Niagara-On-The-Lake ~R&B/Blues
9:30> Julianna LaChance & friends @ Corktown Pub, 175 Young St., Hamilton ~indie; $
10> The Spinz @ Doc Magilligan's Irish Pub, 6400 Lundy's Lane, Niagara Falls
905 West
**2-6> Sil Simone Band with special guest Mrk LaForme @ Carrigan Arms, 2025 Upper Middle Rd., Burlington ~Rock/Blues
**2-6> Saturday Blues Sermon with James Anthony & special guest Dan Sturner @ Black Swan Pub Burlington, 4040 Palladium Way, Burlington ~Blues
*3-7> jam with Michelle Deneault& Redder @ Port Credit Legion, 35 Front St., Port Credit
*3-7> open stage jam @ Moonshine Café, 137 Kerr St., Oakville; $2
*6-9> Victoria & Bobby Keys @ Roc'n Doc's, 105 Lakeshore Rd. E., Port Credit ~soft Pop
8-12> Jim Hardy Band @ Moonshine Café, 137 Kerr St., Oakville ~$10
9> The Meat Sweats @ Fionn MacCool's Oakville, 350 Dundas St. E., Oakville
9> Ragwax @ Fionn MacCool's Burlington, 2331 Appleby Line, Burlington
9:30> Hot House @ Sixth Line Pub, 1500 Sixth Line, Oakville ~Rock/Blues
9:30> Peter Lafferty @ Shore Grill, 71 Lakeshore Rd. E., Port Credit ~Pop Rock/Top 40
9:30> Elyse Saunders @ The Franklin House, 263 Queen St. S., Streetsville ~Pop Rock
9:30> Destroyer @ Boston Manor, 4460 Fairview Ave., Burlington ~KISS tribute; $
10-2> Gator James Band @ Roc'n Doc's, 105 Lakeshore Rd. E., Port Credit ~Rock/Blues; $
10:15> Hot Buttered Soul @ Failte, 201 City Centre Dr., Mississauga ~R&B/Funk
Online/Radio
10 a.m.> David Storey on 917 WNJR College Radio, live @ http://www2.washjeff.edu/WNJR/
5> Julian Taylor with Errol Nazareth on "Big City Small World", CBC 99.1
Copyright © 2015 Toronto Moon Magazine. All Rights Reserved