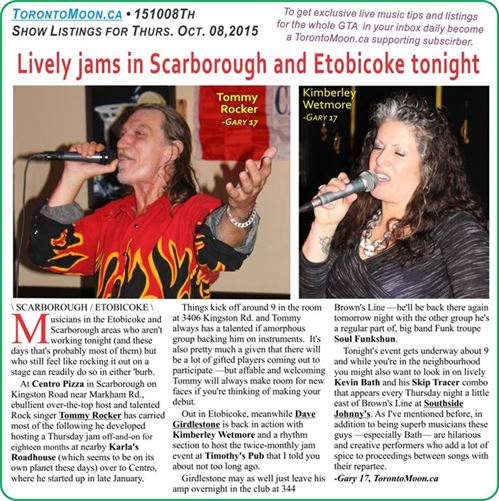 \ SCARBOROUGH / ETOBICOKE \
Musicians in the Etobicoke and Scarborough areas who aren't working tonight (and these days that's probably most of them) but who still feel like rocking it out on a stage can readily do so in either 'burb.
At Centro Pizza in Scarborough on Kingston Road near Markham Rd., ebullient over-the-top host and talented Rock singer Tommy Rocker has carried most of the following he developed hosting a Thursday jam off-and-on for eighteen months at nearby Karla's Roadhouse (which seems to be on its own planet these days) over to Centro, where he started up in late January.
Things kick off around 9 in the room at 3406 Kingston Rd. and Tommy always has a talented if amorphous group backing him on instruments.  It's also pretty much a given that there will be a lot of gifted players coming out to participate —but affable and welcoming Tommy will always make room for new faces if you're thinking of making your debut.
Out in Etobicoke, meanwhile Dave Girdlestone is back in action with Kimberley Wetmore and a rhythm section to host the twice-monthly jam event at Timothy's Pub that I told you about not too long ago.
Girdlestone may as well just leave his amp overnight in the club at 344 Brown's Line —he'll be back there again tomorrow night with the other group he's a regular part of, big band Funk troupe Soul Funkshun.
Tonight's event gets underway about 9 and while you're in the neighbourhood you might also want to look in on lively Kevin Bath and his Skip Tracer combo that appears every Thursday night a little east of Brown's Line at Southside Johnny's. As I've mentioned before, in addition to being superb musicians these guys —especially Bath— are hilarious and creative performers who add a lot of spice to proceedings between songs with their repartee.
-Gary 17, TorontoMoon.ca
SHOW LISTINGS for Thursday, October 08, 2021
Listings are organized by area in which the shows occur and within each area field shows are listed chronologically.
Listings preceded by an asterisk (*) are repeating weekly events. (Double asterisk indicates repeating event with different hosts/guest/etc.). Admission prices followed by a slash and minus (/-) after the amount indicates door charge with availability of cheaper rates for some purchases. /+ indicates stated price is minimum.
Names of subscribers appear in bold and underlined and, where applicable, include a live link to their websites or event page. Advertisers' listings are in larger type and highlighted, include a live link to their website and also have a copy of the ad included in listings.
416 - Toronto Central
6> Corin Raymond @ Cameron House (front), 408 Queen St. W., TO ~original Country Pop
6:30> Travelling Wall-Berry's @ The Rex, 194 Queen St. W., TO
*7> open mic with Derek Mok @ Kensington Lodge, 21 Kensington Ave., TO
*7:30-9:30> Bluegrass Thursdays with Houndstooth @ Tranzac Lounge (Southern Cross), 292 Brunswick Ave., TO
8-12> Bill Durst @ Monarchs Pub (Eaton Chelsea Hotel), 33 Gerrard St. W., TO ~Blues-Rock
*8-1> open mic with Alicia Porter @ The Local Gest, 424 Parliament St., TO
8-12> R&B/Blues @ Nawlin's, 299 King St. W. TO
8> Emergency Monologues @ Cameron House (rear), 408 Queen St. W., TO
8> Heal The Universe @ Musideum, 401 Richmond St. W., #133, TO ~healing Jazz; $20
8:30> Algiers; Green Rays @ Horseshoe Tavern, 370 Queen St. W., TO ~$13.50
8:30> Songwriters Circle of Jerks with Nelson Sobral, Hugh Wilson & Marcus Walker @ Free Times Café, 320 College St. TO ~songwriters; $6
9> Martha & The Muffins tribute @ Rivoli, 334 Queen St. W., TO ~$20
*9-1> Blackburn @ Jo Mamas, 317 King St. W., TO ~Blues
9:30> The DoneFors with Sarah Beatty @ C'est What, 67 Front St. E., TO
9:45> Kandinsky Effect @ The Rex, 194 Queen St. W., TO ~Jazz
*9:45> Stacey Kaniuk @ Reservoir Lounge, 52 Wellington St. E., TO ~original Folk/Pop piano/vocalist; $
10> Janes Party @ Cameron House (front), 408 Queen St. W., TO
10> Chris Scian @ Amsterdam Bicycle Club, 54 The Esplanade, TO ~cover & original Pop
10> The Responsibles @ Grossman's, 379 Spadina Ave., TO
10> Collette Savard & The Kissing Moon @ Tranzac Lounge (Southern Cross), 292 Brunswick Ave., TO
10> benefit concert with Dave Monks; FrETZ; Flowers of Hell; more @ Lee's Palace, 529 Bloor St. W., TO ~$25
10> Oakland Stroke @ Orbit Room, 480 College St. TO ~Tower of Power tribute; $
10:30> Parkside Drive @ The Hideout, 484 Queen St. W., TO ~indie Rock
416 - Toronto East
7:30-9:30> Sean Poluk @ Relish, 2152 Danforth Ave., TO East ~songwriter
8> Lipstick Scream @ Linsmore Tavern, 1298 Danforth Ave., TO East ~classic & contemporary Rock; no cover
*8:30-10:30> Jerry Leger & The Situation @ Castro's, 2116 Queen St. E., TO East ~Folk-Rock/Country
*10-2> karaoke with Shane Taylor @ Relish, 2152 Danforth Ave., TO East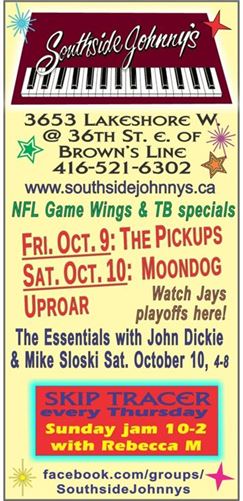 416 – Toronto Etobicoke
7:30> Robin Banks Trio @ Old Mill Inn, 21 Old Mill Rd., Etobicoke ~Jazz; min table charge
9> jam with Kimberley Wetmore band featuring Dave Girdlestone on guitar @ Timothy's Pub, 344 Brown's Line, Etobicoke South ~Pop Rock
9> local band showcase @ The Rockpile, 5555 Dundas St. W., Etobicoke
*9:30-2> Skip Tracer @ Southside Johnny's, 3653 Lakeshore Blvd., Etobicoke South ~Rock/Pop
416 – Toronto Scarborough
7-11> jam night @ The Birchmount, 462 Birchmount Rd., Scarborough
*9> Tommy Rocker's Classic Rock Band host jam @ Centro Pizza, 3406 Kingston Rd., Scarborough
9:30> Greg Wyard @ Black Dog Pub, 87 Island Rd., Scarborough ~Pop Rock
416 - Toronto West
5-8> Michael Bell & Rob Phillip Jazz Duo @ Gate 403, 403 Roncesvalles Ave., TO West ~Jazz
*8-11> Tinderbox Thursdays open stage with Michael Keith @ La Revolucion, 2848 Dundas St. W., TO West ~eclectic
8:30> Maria Muldar @ Hugh's Room, 2261 Dundas St. W., TO West ~Roots/Blues icon songwriter; $35
*9-12> open mic night @ DeSoto's, 1079 St. Clair Ave. W., TO West
9> Vince Boldrini @ The Roncy, 390 Roncesvalles Ave., TO West
*9-1:30> open stage with Jay Pennell @ Dave's On St. Clair, 730 St. Clair West, TO West ~eclectic
9-12> Mr. Rick with Terry Wilkins @ Gate 403, 403 Roncesvalles Ave., TO West ~Blues-Roots
9> The Naked Wild; Thinly Veiled Double Entendres; Flamingo Bay @ The Painted Lady, 218 Ossington Ave., TO West ~indie
9> The Karpinka Brothers with Emil Jill West @ The Local, 396 Roncesvalles Ave., TO West ~Saskatchewan Roots
10> Darcy Windover album release for Stones Bleed Honey; Paul Reddick Band @ Dakota Tavern, 249 Ossington Ave., TO West ~songwriter/Blues; $10
519
*7:30-12> open mic with K.M. Smith @ Molly Bloom's Guelph, 91 Wyndham St. N., Guelph
7:30> John McInnon @ Fionn MacCool's Orangeville, 75 Fourth Ave., Orangeville
*8-11> open mic with Sandy MacDonald @ Williamsburg Arms, 1187 Fischer Hallman Rd., Kitchener
705
*9> jam with Ted Rusk @ The Sauble Dunes, 11 Southampton Parkway, Sauble Beach
9?> Lightmares; Deer God @ The Spill, 414 George St. N., Peterborough
10> Dreampipe Vermin; CUT; Eastbound @ The Garnet, 231 Hunter St. W., Peterborough
905 - East
*5-8> Nelson Denis @ Frank's Pasta, 42 King Street E., Cobourg ~eclectic mix (Folk, Jazz, soft Rock, Latin)
*?> jam with Darren Smith & Shayne Thomas @ The Corner Pocket, 45 Prince St., Oshawa
*9> jam @ The Wee Pub, 371 Wilson Rd. South, Oshawa
*9:30> jam with Billick @ Harp & Crown, 300 Kingston Rd., Pickering
905 - North
8> Kev D Foster @ King Richard's Pub, 15570 Yonge St., Aurora
*8> open mic with Kevin Ker @ Duchess of Markham, 53 Main St., Markham
*9> open stage jam night @ Memphis North, 18947 Woodbine Ave., East Gwillimbury
9> Tyler Schwende @ Fionn MacCool's Newmarket, 17315 Leslie St., Newmarket
905 - South
8> Drifter @ Doc Magilligan's Irish Pub, 6400 Lundy's Lane, Niagara Falls
*9> The Nursery with The Boogies & Das Blankout @ This Ain't Hollywood, 345 James St. N., Hamilton ~postwave indie
*9> open mic night with rotating hosts @ Coach & Lantern, 384 Wilson St E., Hamilton
9> The Sourkeys reunion show with Customaries; Pucumber Sassquatch Family Band; The Alls @ Casbah Lounge, 306 King St. W., Hamilton ~$10
905 – West
*7-11> Michael Keys "7-Piece" Trio @ Black Bull Burlington, 1124 Guelph Line, Burlington ~Boogie-Woogie Blues/Pop Rock
8-12> Freedom Train @ Roc'n Doc's, 105 Lakeshore Rd. E., Port Credit ~Rock/Pop
*8-12> open mic & jam @ Black Swan Pub Burlington, 4040 Palladium Way, Burlington
*8-12> jam hosted by The Personics @ Carrigan Arms, 2025 Upper Middle Rd., Burlington
*8> Celtic Night @ Fionn MacCool's Burlington, 2331 Appleby Line
8:30> Morgan Davis @ Moonshine Café, 137 Kerr St. Oakville ~original Blues; $10
8:30> Andrew Grady @ Fionn MacCool's Britannia, 825 Britannia Rd. W., Streetsville Mississauga
*8:45> open mic with Matt Zady @ Failte, 201 City Centre Dr., Mississauga
9> Jay LeRoux @ Fionn MacCool's Clarkson, 970 Southdown Rd., Mississauga
9:30> Glenn Groves @ Shore Grill, 71 Lakeshore Rd. E., Port Credit ~Pop Rock
*9:30> jam with Jack B Nimble @ Abbey Road Pub, 3200 Erin Mills Parkway, Mississauga
Copyright © 2015 Toronto Moon Magazine. All Rights Reserved