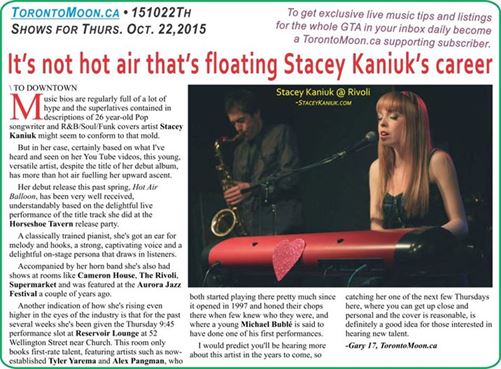 \ TO DOWNTOWN \
Music bios are regularly full of a lot of hype and the superlatives contained in descriptions of 26 year-old Pop songwriter and R&B/Soul/Funk covers artist Stacey Kaniuk might seem to conform to that mold.
But in her case, certainly based on what I've heard and seen on her You Tube videos, this young, versatile artist, despite the title of her debut album, has more than hot air fuelling her upward ascent.
Her debut release this past spring, Hot Air Balloon, has been very well received, understandably based on the delightful live performance of the title track she did at the Horseshoe Tavern release party.
A classically trained pianist, she's got an ear for melody and hooks, a strong, captivating voice and a delightful on-stage persona that draws in listeners.
Accompanied by her horn band she's also had shows at rooms like Cameron House, The Rivoli, Supermarket and was featured at the Aurora Jazz Festival a couple of years ago.
Another indication of how she's rising even higher in the eyes of the industry is that for the past several weeks she's been given the Thursday 9:45 performance slot at Reservoir Lounge at 52 Wellington Street near Church. This room only books first-rate talent, featuring artists such as now-established Tyler Yarema and Alex Pangman, who both started playing there pretty much since it opened in 1997 and honed their chops there when few knew who they were, and where a young Michael Bublé is said to have done one of his first performances.
I would predict you'll be hearing more about this artist in the years to come, so catching her one of the next few Thursdays here, where you can get up close and personal and the cover is reasonable, is definitely a good idea for those interested in hearing new talent.
-Gary 17, TorontoMoon.ca
SHOW LISTINGS for Thursday, October 22, 2021
Listings are organized by area in which the shows occur and within each area field shows are listed chronologically.
Listings preceded by an asterisk (*) are repeating weekly events. (Double asterisk indicates repeating event with different hosts/guest/etc.). Admission prices followed by a slash and minus (/-) after the amount indicates door charge with availability of cheaper rates for some purchases. /+ indicates stated price is minimum.
Names of subscribers appear in bold and underlined and, where applicable, include a live link to their websites or event page. Advertisers' listings are in larger type and highlighted, include a live link to their website and also have a copy of the ad included in listings.
416 - Toronto Central
6> Corin Raymond @ Cameron House (front), 408 Queen St. W., TO ~Country/Roots
6:30> Travelling Wall-Berry's @ The Rex, 194 Queen St. W., TO ~Jazz
*7> open mic with Derek Mok @ Kensington Lodge, 21 Kensington Ave., TO
*7:30-9:30> Bluegrass Thursdays with Houndstooth @ Tranzac Lounge (Southern Cross), 292 Brunswick Ave., TO
*8-1> open mic with Alicia Porter @ The Local Gest, 424 Parliament St., TO
8-12> R&B/Blues @ Nawlin's, 299 King St. W. TO
8> Patricia Duffy @ Musideum, 401 Richmond St. W., #133, TO ~songwriter; $20
8> Franc'Open Mic –Déjà an! @ Free Times Café, 320 College St. TO ~first year anniversary of French language open mic
8:30> Mashrou' Leila; Wake Island @ Lee's Palace, 529 Bloor St. W., TO ~$25
9> Laurent Borque; Steph Macpherson; Dan Kosub @ Rivoli, 334 Queen St. W., TO ~songwriters; $5
9> R. Ariel; Jonesin; Sly Why @ Cameron House (rear), 408 Queen St. W., TO
9> Aviation; Calvino; Fuzz Monkey Reunion; Jammers Waffle @ The Cavern Bar, 76 Church St., TO ~indie; $5
9> Shannon & The Clams; Shopping; First Base @ Horseshoe Tavern, 370 Queen St. W., TO ~indie/art Rock;' $13
9-1> Ria Reece album release @ Monarchs Pub (Eaton Chelsea Hotel), 33 Gerrard St. W., TO ~alt-Blues
*9-1> Blackburn @ Jo Mamas, 317 King St. W., TO ~Blues
9> Kayt Lucas Band; The Oxford Wild; Gord Bolan @ The Paddock, 178 Bathurst St., TO ~Roots showcase; $6
9:30> The DoneFors; Wax Mannequin @ C'est What, 67 Front St. E., TO ~indie; pwyc
9:45> Barry Elmes Group @ The Rex, 194 Queen St. W., TO ~Jazz
*9:45> Stacey Kaniuk @ Reservoir Lounge, 52 Wellington St. E., TO ~R&B/Motown/Soul/Pop; $
10> Janes Party @ Cameron House (front), 408 Queen St. W., TO
10> Mark Laver & Friends @ Tranzac Lounge (Southern Cross), 292 Brunswick Ave., TO
10> Ike Stubblefield @ Orbit Room, 480 College St. TO ~Hammond B3 icon; $
10:30> Morning Fame @ The Hideout, 484 Queen St. W., TO ~indie Rock
10:30> Bard From The Club @ Grossman's, 379 Spadina Ave., TO

416 - Toronto East
6> Mayday Parade; Real Friends; This Wild Life; As It Is @ The Danforth Music Hall, 147 Danforth Ave., TO East ~$35.75+
7-9> Tom Eastland @ Relish, 2152 Danforth Ave., TO East ~songwriter
*8-10:30> Jerry Leger & The Situation @ Castro's, 2116 Queen St. E., TO East ~Folk-Rock/Country
8> open mic with Mighty Lopez with feature sets @ Linsmore Tavern, 1298 Danforth Ave., TO East
*10-2> karaoke with Shane Taylor @ Relish, 2152 Danforth Ave., TO East
416 – Toronto Etobicoke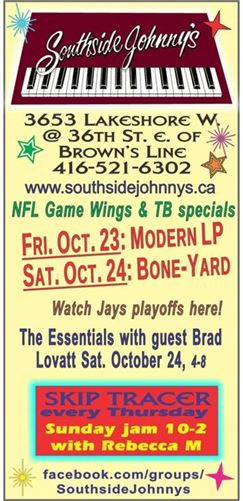 7> KPMT fundraiser/tribute for Jim Galloway @ Old Mill Inn Dining Room, 21 Old Mill Rd., Etobicoke ~Jazz; min table charge
7:30> LJ Folk Quartet @ Old Mill Inn Homesmith Bar, 21 Old Mill Rd., Etobicoke ~Jazz; min table charge
9> Pretzel Logic @ Timothy's Pub, 344 Brown's Line, Etobicoke South ~Steely Dan tribute; $10
*9:30-2> Skip Tracer @ Southside Johnny's, 3653 Lakeshore Blvd., Etobicoke South ~Rock/Pop
416 – Toronto Scarborough
*9> Tommy Rocker's Classic Rock Band host jam @ Centro Pizza, 3406 Kingston Rd., Scarborough
9:30> The High Rollers @ Black Dog Pub, 87 Island Rd., Scarborough ~Pop Rock
416 - Toronto West
5-8> Heather Luckhart Blues Roots Jazz Band @ Gate 403, 403 Roncesvalles Ave., TO West ~eclectic
*8-11> Tinderbox Thursdays open stage with Michael Keith @ La Revolucion, 2848 Dundas St. W., TO West ~eclectic
8:30> Wendy Lands album release @ Hugh's Room, 2261 Dundas St. W., TO West ~songwriter; $20/-
*9-12> open mic night @ DeSoto's, 1079 St. Clair Ave. W., TO West
*9-1:30> open stage with Jay Pennell @ Dave's On St. Clair, 730 St. Clair West, TO West ~eclectic
9-12> Neil Hendry and Rhonda Stakich Duo @ Gate 403, 403 Roncesvalles Ave., TO West ~Jazz
9> Michael O'Grady @ The Local, 396 Roncesvalles Ave., TO West ~Celtic Roots-Rock
9> 24th Street Wailers @ Dakota Tavern, 249 Ossington Ave., TO West ~$
9:30> Tyler Yarema Trio @ Fat City Blues, 890 College St., TO West ~Jazz/Blues
519
*7:30-12> open mic with K.M. Smith @ Molly Bloom's Guelph, 91 Wyndham St. N., Guelph
7:30> John McKinnon @ Fionn MacCool's Orangeville, 75 Fourth Ave., Orangeville
*8-11> open mic with Sandy MacDonald @ Williamsburg Arms, 1187 Fischer Hallman Rd., Kitchener
705
*7:30> Rob Phillips Jazz/Blues Trio and Chelsea Bennett @ Black Horse Pub, 452 George St. N., Peterborough
*9> jam with Ted Rusk @ The Sauble Dunes, 11 Southampton Parkway, Sauble Beach
9?> Peterborough Poetry Slam @ The Spill, 414 George St. N., Peterborough
9:30> Standstills @ Red Dog Tavern, 189 Hunter St. W., Peterborough
10> Autopilot + guests @ The Garnet, 231 Hunter St. W., Peterborough
905 - East
*5-8> Nelson Denis @ Frank's Pasta, 42 King Street E., Cobourg ~eclectic mix (Folk, Jazz, soft Rock, Latin)
8-12> Richard Henderson @ Fionn MacCool's Ajax, 32 Kingston Rd. E. Ajax ~steel guitar wiz
*?> jam with Darren Smith & Shayne Thomas @ The Corner Pocket, 45 Prince St., Oshawa
*9> jam @ The Wee Pub, 371 Wilson Rd. South, Oshawa
*9:30> jam with Billick @ Harp & Crown, 300 Kingston Rd., Pickering
905 - North
*8> open mic first anniversary with Kevin Ker @ Duchess of Markham, 53 Main St., Markham
8> Ron Fleming @ King Richard's Pub, 15570 Yonge St., Aurora
*9> open stage jam night @ Memphis North, 18947 Woodbine Ave., East Gwillimbury
9> Andrew Grady @ Fionn MacCool's Newmarket, 17315 Leslie St., Newmarket
905 - South
7> Lenka Lichtenberg & Fray @ The Pearl Company, 16 Steven St., Hamilton
8> Cousin @ Doc Magilligan's Irish Pub, 6400 Lundy's Lane, Niagara Falls ~indie
8> XPrime; Olivia & The Creepy Crawlies; Royal Streets; The Ollivanders @ Casbah Lounge, 306 King St. W., Hamilton
*9> Jenny Ritter; Blind Mule; David Newberry @ This Ain't Hollywood, 345 James St. N., Hamilton
*9> open mic night with rotating hosts @ Coach & Lantern, 384 Wilson St E., Hamilton
905 – West
*7-11> Michael Keys "7-Piece" Trio & Sing Along With The Live Band Karaoke @ Black Bull Burlington, 1124 Guelph Line, Burlington ~Boogie-Woogie Blues/Pop Rock
8> Fernando Curcione presents Hotel California @ Mississauga Living Arts Centre, 4141 Living Arts Drive, Mississauga ~Eagles tribute; $
8-12> Freedom Train @ Roc'n Doc's, 105 Lakeshore Rd. E., Port Credit ~Rock/Pop
*8-12> open mic & jam @ Black Swan Pub Burlington, 4040 Palladium Way, Burlington
*8-12> jam hosted by The Personics @ Carrigan Arms, 2025 Upper Middle Rd., Burlington
*8> Celtic Night @ Fionn MacCool's Burlington, 2331 Appleby Line
8:30> Kevin Breit & Mark Lalama @ Moonshine Café, 137 Kerr St. Oakville ~Jazz/Rock fusion; $15
8:30> Tyler Schwende @ Fionn MacCool's Britannia, 825 Britannia Rd. W., Streetsville Mississauga ~Pop Rock
*8:45> open mic with Matt Zady @ Failte, 201 City Centre Dr., Mississauga
9> Carm Lamont @ Fionn MacCool's Clarkson, 970 Southdown Rd., Mississauga
9:30> Glenn Groves @ Shore Grill, 71 Lakeshore Rd. E., Port Credit ~Pop Rock
*9:30> jam with Jack B Nimble @ Abbey Road Pub, 3200 Erin Mills Parkway, Mississauga
Copyright © 2015 Toronto Moon Magazine. All Rights Reserved