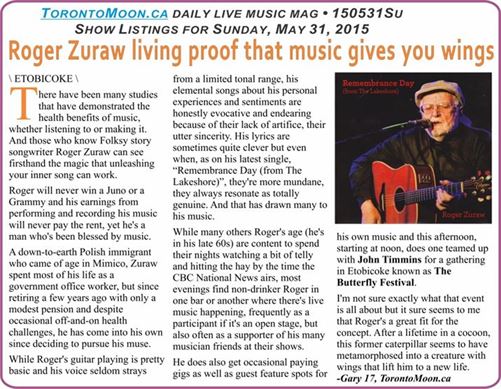 \ ETOBICOKE \
There have been many studies that have demonstrated the health benefits of music, whether listening to or making it. And those who know Folksy story songwriter Roger Zuraw can see firsthand the magic that unleashing your inner song can work.

Roger will never win a Juno or a Grammy and his earnings from performing and recording his music will never pay the rent, yet he's a man who's been blessed by music.
A down-to-earth Polish immigrant who came of age in Mimico, Zuraw spent most of his life as a government office worker, but since retiring a few years ago with only a modest pension and despite occasional off-and-on health challenges, he has come into his own since deciding to pursue his muse.
While Roger's guitar playing is pretty basic and his voice seldom strays from a limited tonal range, his elemental songs about his personal experiences and sentiments are honestly evocative and endearing because of their lack of artifice, their utter sincerity. His lyrics are sometimes quite clever but even when, as on his latest single, "Remembrance Day (from The Lakeshore)", they're more mundane, they always resonate as totally genuine. And that has drawn many to his music.
While many others Roger's age (he's in his late 60s) are content to spend their nights watching a bit of telly and hitting the hay by the time the CBC National News airs, most evenings find non-drinker Roger in one bar or another where there's live music happening, frequently as a participant if it's an open stage, but also often as a supporter of his many musician friends at their shows.
He does also get occasional paying gigs as well as guest feature spots for his own music and this afternoon, starting at noon, does one teamed up with John Timmins for a gathering in Etobicoke known as The Butterfly Festival.
I'm not sure exactly what that event is all about but it sure seems to me that Roger's a great fit for the concept. After a lifetime in a cocoon, this former caterpillar seems to have metamorphosed into a creature with wings that lift him to a new life.
-Gary 17, TorontoMoon.ca
SHOW LISTINGS for Sunday, May 31, 2022
Listings are organized by area in which shows take place and listed chronologically within each area field.
Listings preceded by an asterisk (*) are repeating weekly events. (Double asterisk indicates repeating event with different hosts/guest/etc.). Admission prices followed by a slash and minus (/-) after the amount indicates door charge with availability of cheaper rates for some purchases. /+ indicates stated price is minimum.
Names of subscribers appear in bold, are underlined and, where applicable, include a live link to their websites. Advertisers' listings are in larger highlighted type, include live link to website and also have ad icon included in listings.
416 – Toronto Central
11am-2pm> The Schpeelers for Jazz brunch @ Free Times Café, 320 College St., TO
12-3> Excelsior Dixieland Jazz Band @ The Rex, 194 Queen St. W., TO ~Jazz
1> Young Performers Extravaganza @ Tranzac Club (Southern Cross), 292 Brunswick Ave., TO
3> Cadre @ C'est What, 69 Front St. E., TO ~R&B/Blues/Pop
*3-6> Michael Brennan @ Graffiti's, 170 Baldwin St. TO ~East Coast Rock/Blues Roots
3:30-6:30> Freeway Dixieland Band @ The Rex, 194 Queen St. W., TO ~Jazz
*4:30-8> New Orleans Connection All Stars & guests @ Grossman's, 379 Spadina Ave., TO ~New Orleans Jazz
5> The Conductors @ Cameron House (front), 408 Queen St. W., TO
*7-1> Freefall Sundays open stage with hosts Steve York & Tony Rabalao (2 songs each -signup @ 7 or pre-sign online) @ The Supermarket, 268 Augusta St., TO
7> The Double Cuts with The EverLovin' Jug Band @ Cameron House (front), 408 Queen St. W., TO ~Country
7-9:30> Joel Visentin's Bugaloo Squad @ The Rex, 194 Queen St. W., TO ~Jazz
7:30> Toronto Schoolwriting School's Muse or Monster Songwriting Series @ Tranzac Club (Southern Cross), 292 Brunswick Ave., TO ~songwriters
7:30> GTA Swing Band @ The Rivoli, 334 Queen St. W., TO; Swing Jazz
8> Ryan Luchuck's Student Showcase @ Free Times Café, 320 College St., TO ~eclectic
9> jam with Jay Pennell @ Scruffy Murphy's, 150 Eglinton Ave. E., TO North
*9> Rob Hiemstra solo @ The Unicorn, 175 Eglinton Ave. E., TO North ~Rock/Pop
9:45> Quinsin Nachoff Trio featuring Dan Weiss @ The Rex, 194 Queen St. W., TO ~NYC Jazz
*10> Horshack feat. Chris Caddell @ Orbit Room, 580 College St., TO ~Bluesy contemporary & classic Rock
**10> Blues jam with Brian Cober, Bill Hedefine & guest bassist @ Grossman's, 379 Spadina Ave., TO
416 – Toronto East
*2-5> Lisa Particelli's Girls Night Out Jazz jam @ Morgan's, 1282 Danforth Ave., TO East ~Jazz
*3-6> open mic with Nicola Vaughan @ Hirut, 2050 Danforth Ave., TO East
3-5:30> Lazy Cat open stage with hosts Linda Lavender & David Shilman & feature by Wayne Neon @ Bain Co-op Community Centre, 100 Bain Ave. (enter off Sparhall Ave.), TO East
*3:30-7:30> jam @ Black Bear, 1125 O'Connor Drive, TO East
4> Grass Heads @ Castro's Lounge, 2116 Queen St. E., TO East ~Bluegrass
*5-9> John Dickie/Pat Perez Band @ Linsmore Tavern, 1298 Danforth Ave, TO East ~R&B/Blues
*8-9> Sam Taylor & The East End Love @ Relish, 2152 Danforth Ave., TO East ~original Blues
8> One City Social Boogie @ The Only Café, 972 Danforth Ave., TO East
9> Watch This Sound @ Castro's Lounge, 2116 Queen St. E., TO East ~vintage Jamaican music
*9:30-1> jam with the Stir It Up Band featuring Bryan Van Dusen & David Macmichael @ Relish, 2152 Danforth Ave., TO East
416 – Toronto West
*12-3> Julian Fauth's Blues brunch @ Axis, 3048 Dundas St. W., TO West ~Blues
* 12-3> The Cosmotones @ Dakota Tavern, 249 Ossington Ave., TO West ~Rockabilly
**5-8> John Borra & Sam Ferrara w. guests Chris Bennett & Colleen Hodgson @ The Communist's Daughter, 1149 Dundas St. W. TO West ~Country
5-8> Chris Coole @ The Local, 396 Roncesvalles Ave., TO West ~old time Country
5-8> Cheryl White R&B Band @ Gate 403, 403 Roncesvalles Ave., TO West ~R&B
5-7> Mimi Obonsawi @ The Tennessee, 1554 Queen St. W., TO West
8:30> Awakening @ Hugh's Room, 2261 Dundas St. W., TO West ~Folk-Pop singer-pianist songwriter; $18/-
9-1> Karl Silverira Trio @ Gate 403, 403 Roncesvalles Ave., TO West ~Jazz
9> Jay Aymar @ The Local, 396 Roncesvalles Ave., TO West ~songwriter
10> Hot Wax Meltdown @ Dakota Tavern, 249 Ossington Ave., TO West ~$10
416- Etobicoke
Noon> Roger Zuraw & John Timmins @ Etobicoke Butterfly Festival, 35 Jutland Rd., Etobicoke ~acoustic Roots originals
4-8> Lost Patients @ Timothy's Pub, 344 Brown's Line, Etobicoke ~Pop Rock
4-8> Almost Famous @ Blue Goose Tavern, 1 Blue Goose Rd., Etobicoke South
*10-2> jam with Rebecca Matiesen & Phoenix @ Southside Johnny's, 3653 Lakeshore Blvd. W., Etobicoke South
416 – Scarborough
*6-10> jam with Tommy Rocker @ Scarborough Junction, 646 Danforth Rd., Scarborough
*7-11> open jam @ McGradie's, 2167 Victoria Park Ave., Scarborough
519
*9-1> jam @ Ivy Arms Pub, 201 Main Street East, Milton
705
*3-7> jam at CJ Barleys, 213 The Queensway, Keswick
3> Don McBride & Friends @ Black Horse Pub, 452 George St. N., Peterborough
*7> open mic with Randy Hill @ Black Horse Pub, 452 George St. N., Peterborough
10> Rodney Decroo @ The Garnet, 231 Hunter St., W., Peterborough ~Country
905 East
6> Pete & Susan @ Simcoe Blues & Jazz, 926 Simcoe St. N., Oshawa ~Jazz
*5-9> All ages open jam with Juggernaut @ West Shore Bar & Grill, 877 Bayly St., Pickering
*7-11> Karaoke with Rob MacArthur @ The Edge, 250 Bayly St. W., Ajax
*8:30-12:30> karaoke with The English Rose & The Mad Scotsman @ Gryphon Pub, 114 Dundas St. E., Whitby
905 North
*3-7> open stage with Kevin Ker @ The Earl Of Whitchurch, 6204 Main St., Stouffville
*5-9> open mic with feature guest @ Sgt. Pepper's Aurora, Walmart Plaza (Hwy 404 & Aurora Rd.), Aurora
6-8> Mark Yan & Barry Mulcahy @ Coffee Culture, 9 Queen St. E., Brampton ~acoustic Pop
905 South
3> Sunday Slamfest with Dimwits; Jiggawatts; Gatgas; Rezentments; more @ This Ain't Hollywood, 345 James St. N., Hamilton
9> tba @ Corktown Pub, 175 Young St., Hamilton ~indie; $
905 West
Noon-3:30> A Intuition Music Recital @ Moonshine Café, 137 Kerr St., Oakville
2-6> The McGrath Family @ Carrigan Arms, 2025 Upper Middle Rd., Burlington ~Country
5-8> Garnet Ford & Bob Kellerman @ Moonshine Café, 137 Kerr St., Oakville ~songwriters; $10
*4:30-8> Chuck Jackson's All Stars @ Roc'n Doc's, 105 Lakeshore Rd. E., Port Credit ~Blues
**5-8> The Stew @ Mulligan's, 2458 Dundas St. W., Mississauga ~R&B/Rock
**7-11> The Nomads @ Shore Grill, 71 Lakeshore Rd. E., Port Credit
*7> open jam with Mike Shotton & The Flying Squirrels @ Black Swan Pub Burlington, 4040 Palladium Way, Burlington
*7:30> open jam hosted by Troy Harmer @ The Brown Barrel, 1515 Upper Ottawa St., Hamilton
9-12> jam with host Buddy Love Band @ Moonshine Café, 137 Kerr St., Oakville
*9-1> The Tonkas @ Roc'n Doc's, 105 Lakeshore Rd. E., Port Credit ~Rock/Top 40
*10:30> Adam Cooke & The Adams Family @ The Dickens, 423 Elizabeth St., Burlington