\ BURLINGTON \
Is there anybody reading this who, even if they haven't actually attended a show by the Phil & John duo —Phil Naro and John Rogers (sometimes aka The Dusty Danglers)— hasn't at least heard of this act?
It seems unlikely. The pair perform well over 100 shows a year together and have been doing so for about 15 years now.
Before there was a Phil & John, however there was another duo that Phil Naro was featured in.  And if you think Phil & John are really something, you would totally have your mind blown if it were only possible for you to hear Sil & Phil [spoiler alert: it IS, today!] in which for two years Naro was teamed up with another exquisitely talented singer and guitarist with matinee idol good looks on a par with his own: Sil Simone.
Hearing Sil & Phil do tunes like "Space Oddity" was simply mind-blowing. While taking nothing away from John Rogers, who's an able, deft guitarist, a pretty good singer and a genial stage presence, Simone, like Naro, is an utterly captivating master of the acoustic six-string —as well as displaying impressive prowess on the electric, of course.
In case you're not familiar with Simone's c.v., it's worth noting that in addition to being with Naro from '96-'98 —and also teamed with Naro in an originals project, Blood Red Flower, that released a 1998 album— he's also been a member of some highly regarded CanRock bands.  He was part of Santers (fronted by Triumph member Rick Santers), was also a member of Rik Emmett's and Tom Cochrane's bands, and has also all this time been a highly in-demand studio player for a wide variety of genres and styles.
While Phil has never been far out of the spotlight —in addition to his work with Rogers he's also a member of the Druckfarben Progressive Rock outfit, Rock groups DDrive, Corvus Stone, Backhand and Led Zeppelin tribute Ozone Baby and is still regarded as Canada's premier singer of Foreigner songs— Sil has been less in evidence, not even maintaining a personal website.
With Sil, therefore, I had sort of lost touch for about a decade until January of this year, when he took to the stage at Southside Johnny's for the memorial concert for Buddy "The Bear" Armstrong, who was part of a scene which, back in the days when Sil & Phil were going strong, now seems like an impossibly halcyon time and place.  Indeed it now feels like it must have taken place in a universe far, far away —even though in fact it all occurred right here in the GTA, in many cases in rooms that are still going, albeit the vast majority of them under new names and owners.
I was delighted to see Sil hadn't lost any of his magic over the duration and also very gratified that he immediately signed up a new subscriber to the Moon, as he recalled many good times which I had been documenting and promoting through the progenitor of this publication, to-nite magazine.
I soon thus learned about Phil's Saturday residency at a bar in Burlington that has been offering live music for several years now:  Carrigan Arms at 2025 Upper Middle Road just off Guelph Line.  And for the past four years at least, that musical menu has included Sil's weekly 2-6 event.
Since beginning to include all the room's shows in the Moon listings after Sil got on board, I've been astonished at the caliber of talent that he brings in each week to join him and his backup band for these matinée shows. But this week is, in my regard anyways, the most spectacular team-up he's engaged in so far this year —none other than Phil Naro will be there!
They'll have some pretty powerful backing accompaniment for this show too. Sil's house band consists of Garth Vogan on bass, David Russell on drums and Larry Bodner on sax –all highly regarded veteran pros.
But hey, the main appeal to me is that it's Sil & Phil reunited, folks! The Blood Red Flower blooms again! And there's not even a cover!!
If you live out that way or have the wheels and funds to get yourself there, you will thank me for many moons to come for letting you know about this show. You're welcome in advance.
-Gary 17, TorontoMoon.ca
SHOW LISTINGS for Saturday, October 17, 2021
Listings are organized by area in which the shows occur and within each area field shows are listed chronologically.
Listings preceded by an asterisk (*) are repeating weekly events. (Double asterisk indicates repeating event with different hosts/guest/etc.). Admission prices followed by a slash and minus (/-) after the amount indicates door charge with availability of cheaper rates for some purchases. /+ indicates stated price is minimum.
Names of subscribers appear in bold, are underlined and, where applicable, include a live link to their websites. Advertisers' listings are in larger, highlighted type, include live link to website and also have ad icon included in listings.
NOTE: IWC = Indie Week Canada, which runs till October 18 in several venues. For more details visit schedule page.
416 - Toronto Central
*12-3> The Sinners Choir @ The Rex, 194 Queen St. W., TO ~Jazz
*2> Dr. B's Acoustic Medicine Show open stage with Brian Gladstone @ Free Times Café, 320 College St. TO ~Roots
2-5> IWC showcases with Feathers & Fangs; Joni Fuller; The Roseville Band; The Ill @ Supermarket, 282 Augusta Ave., TO ~indie; $8
3> The Hot Five Jazzmakers @ C'est What, 67 Front St. E., TO ~traditional Jazz; $5
3> Jamzac @ Tranzac Club (Southern Cross), 292 Brunswick Ave., TO
3:30> Paul Reddick @ The Rex, 194 Queen St. W., TO ~Blues
3:30> Chris Gale Quartet @ The Pilot, 22 Cumberland St., TO ~Jazz
4-7> Barbara Jordan and the All Stars @ Seven44, 744 Mount Pleasant Road, TO North
*4-7> Climax Jazz Band @ Alleycatz, 2409 Yonge St., TO North ~Dixieland Jazz; $?
*4:40-7:30> The Happy Pals @ Grossman's, 379 Spadina Ave., TO ~New Orleans Jazz
*5-8> Blues & Troubles @ Déjà vu Bar, 389 College St., TO ~Blues
6> Grier Coppins @ Cameron House (front), 408 Queen St. W., TO ~Roots-Rock
7:30> Nick Teehan Group @ The Rex, 194 Queen St. W., TO ~ Jazz
8> Whitney Rose @ Cameron House (front), 408 Queen St. W., TO
8-3> IWC showcases with previous showcase winners + Face First; The Fallers; Harea Band; Better Weather @ UG3 Live, 77 Peter St., TO ~indie; $10
8-12> IWC showcases with Alanna Matty; Lobu; After Love; previous showcase winners @ Supermarket, 282 Augusta Ave., TO ~indie; $10
8> IWC showcases with previous showcase winners + BlakDenim @ Coalition, 282 August Ave., TO ~indie; $6
8-2> IWC showcases with Elissa Barclay; Jim Dan Dee; Amber; Tasha and the Sweet Talkers; Wyland; Bron Halpin; Mackenzie McRuer; Squares @ The Paddock, 178 Bathurst St. ~indie; $10
8> Sacred Sound Waves @ Musideum, 401 Richmond St. W., #133, TO ~improvisational duo; $20
8:30-3:30> IWC showcases with previous show winners (5 sets) + We Are Ardent; The Killing Floor; Sassy Kraimspri; viseMenn @ The Hideout, 484 Queen St. W., TO ~indie Rock; $10
8;30-4> IWC showcases with Joni Fuller; The Roseville Band; The Luka State; Victoria + Jean; Mike Joyce; Machines Dream; These Lights @ Rivoli, 334 Queen St. W., TO ~indie Rock; $10
9> Community Soul Project @ Seven44, 744 Mount Pleasant Road, TO North
9> IWC showcases with previous shows winners + Aaron Pollock; Chris Birkett; Rekha Flow @ Free Times Café, 320 College St. TO ~indie Country/Roots; $10
9:15> IWC showcases with Jarryd James; Meg Myers @ Adelaide Hall, 250 Queen St. W., TO ~indie; $15
9:15- 2> IWC showcases with Mike Charette; Sleeping Lies; Jules; Black Suit Devil; Melanie Peterson; Nick Mower @ Lou Dawgs, 589 King St. W., TO ~indie; $8
9:30> IWC showcases with previous shows winners + REND; Return For Refund; Three Empty Hours; Bathurst Station; The Joy Arson @ Bovine Sex Club, 542 Queen St. W., TO ~indie; $109:30> tba @ Alleycatz, 2409 Yonge St., TO North ~Funk/Soul/R&B; $
9:45> Dave Young Quintet @ The Rex, 194 Queen St. W., TO ~Jazz
*9:45> Tyler Yarema & His Rhythm @ Reservoir Lounge, 52 Wellington St. E., TO ~Jazz/Blues; $
10> Ride The Tiger @ Orbit Room, 480 College St. TO ~Funk/Soul; $
10> Combo Royale; Whitebrow @ Cameron House (front), 408 Queen St. W., TO
10> Really Good Songs @ Tranzac Club (Southern Cross), 292 Brunswick Ave., TO
10-2> The Mad Cats @ Grossman's, 379 Spadina Ave., TO ~
9> Tricot; Heyrocco; New Design @ Lee's Palace, 529 Bloor St. W., TO ~$12.50
10:30> Teagan Mclaren Band @ Fionn MacCool's Esplanade, 70 The Esplanade
11> Shake A Tail @ Sneaky Dee's, 431 College St., TO ~indie

416 - Toronto East
*3:30-6> Johnny Wright @ Outriggers, 2232 Queen St. E., TO East ~R&B
*4-7:30> Ronnie Hayward Trio @ McQueen's, 993 Queen St. E., TO E. ~Blues/Roots
6-8> The Cosmotones @ Castro's, 2116 Queen St. E., TO East ~Blues/Roots
7> Kip Moore; Chris Cavanaugh @ The Danforth Music Hall, 147 Danforth Ave., TO East ~$47/+
8> Fraser-Daley @ The Feathers, 962 Kingston Rd., TO East ~Rootsy Blues duo
9:30> IWC showcase with previous showcase winners + Innersha @ Boots & Bourbon Saloon, 725 Queen St. E., TO East ~original Country; free
9> Trish O'Brien Band @ Dora Keogh, 141 Danforth Ave., TO East
9:30-11:30> Kim Jarrett @ Relish, 2152 Danforth Ave., TO East ~Roots
9:30> No Quarter @ Linsmore Tavern, 1298 Danforth Ave., TO East ~Led Zeppelin tribute; $10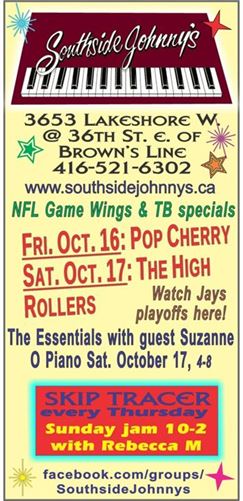 416 – Toronto Etobicoke
*3-6> Danny B Band @ Blue Goose, 1 Blue Goose St., Etobicoke South ~R&B/Blues
**4-8> The Essentials with guest singer Suzanne O Piano @ Southside Johnny's, 3653 Lake Shore Blvd. W. Etobicoke South ~Rock-R&B
*4-8> The Meteors with guest Donnie Meeker @ Timothy's Pub, 344 Brown's Line, Etobicoke South ~Blues/Rock/R&B
7:30> Carol McCartney Quartet @ Home Smith Bar, Old Mill Inn, 21 Old Mill Rd., Etobicoke ~Jazz; minimum table charge
8> Fleetwood Mix Old Mill Inn Dining Room, 21 Old Mill Rd., Etobicoke ~Fleetwood Mac tribute; minimum table charge
8> Teenage Head with openers Liquor Pigs; Tequila Mockingbirds @ The Rockpile, 5555 Dundas St. W., Etobicoke ~Can Punk; $
9> Johnny Pettit @ Blue Goose Tavern, 1 Blue Goose Rd., Etobicoke South ~Pop Rock
9> RebellJo @ Maple Leaf House, 2749 Lake Shore Boulevard West, Etobicoke ~Rock/Top 40/Blues
9:30> United Soul Nations @ Timothy's Pub, 344 Brown's Line, Etobicoke South ~Pop Rock/Top 40; $
10-2> The High Rollers @ Southside Johnny's, 3653 Lake Shore Blvd. W. Etobicoke South ~Rock/Top 40
416 – Toronto Scarborough
8> Lenka Linchtenberg & Yair Dalal'sLullabies From Exile @ Congregation Darchei Noam, 864 Sheppard Ave. W., Scarborough ~Iraqui-Jewish / Yiddish-Czech fusion; $15-20
8> Still Sunday featuring Jim Cornell @ Karla's Roadhouse, 4630 Kingston Rd., Scarborough ~Rock/Blues
9-1> Mr. Finch @ Black Dog Pub, 87 Island Rd., Scarborough ~Pop Rock
*9:30-2> karaoke with The English Rose & The Mad Scotsman @ Winners, 2181 Lawrence Ave. E., Scarborough
10> Al Reilly's Catalyst featuring Anthony Cee on guitar @ Centro Pizza, 3406 Kingston Rd., Scarborough ~classic Rock
416 - Toronto West
*12-3> Julian Fauth's Blues Brunch @ Axis, 3048 Dundas St. W., TO West ~Blues
**2-6> open mic with guest host Michael Cuddy @ Magic Oven, 347 Keele St., TO West
**5-8> Bill Heffernan's Saturday Sessions with featured guests Bill Colgate & Cadre @ Gate 403, 403 Roncesvalles Ave. TO West ~Roots/Country/Pop
5-8> Mike Tod @ The Local, 396 Roncesvalles Ave., TO West ~
8-10> Lucas Mackenzie @ Humble Beginnings, 3109 Dundas St. W., TO West ~songwriter
8> IWC showcases with showcase winners from various IWC venues @ Brooklyn, 1186 Queen St. W., TO West ~indie; $6
8:30> Vienna Tang @ Hugh's Room, 2261 Dundas St. W., TO West ~Pop songwriter; $25
8:30> Wyland; West Hammock; Rubie Magnitude @ The Painted Lady, 218 Ossington Ave., TO West
9-1> Sweet Derrick Blues Band @ Gate 403, 403 Roncesvalles Ave., TO West ~ Blues
9> Communism @ The Local, 396 Roncesvalles Ave., TO West ~stadium Rock
10-2> Vintage Soul @ Dakota Tavern, 249 Ossington Ave., TO West
519
9> King Roller @ Fionn MacCool's Kitchener, 4287 King St. E., Kitchener
9> Jesse Webber @ Fionn MacCool's Guelph, 494 Ediburgh Rd. S., Guelph
9:30> Organized Chaos @ Fionn MacCool's Orangeville, 75 Fourth Ave., Orangeville
705
5> Rick & Gailie @ Black Horse Pub, 452 George St. N., Peterborough
8> Howard Ross & Full Count Blues Band @ Dobro Restaurant, 287 George St., Peterborough ~Blues
8:30> Bobby Watson & The Crown Royals @ Black Horse Pub, 452 George St. N., Peterborough
9> Patron Saint Of Plagues; Callfield; Piss Locust; Thirty Helens; James Higgins @ The Spill, 414 George St., Peterborough
9> Phillip Kummel @ The Garnet, 231 Hunter St. W., Peterborough
9:30> Charlotte and The Dirty Cowboys @ Sticky Fingers Dunlop, 150 Dunlop St. W., Barrie
9:30> JJ and The Pillars @ Red Dog Tavern, 189 Hunter St. W., Peterborough
905 East
*4> PRJ @ Simcoe Blues & Jazz, 926 Simcoe St., Oshawa ~Blues
*9-1> karaoke with Rob MacArthur @ Tudor Rose, 700 Harwood Ave. S., Ajax
9> Steel City @ The Corral, 433 Simcoe St. S., Oshawa ~Country
9> $2 Punk Show with The Anti Queens; Lucy & The Chain Gang; Van Dammaged @ The Moustache Club, 15 Simcoe St. N., Oshawa
9-1> Kevin Mckendice @ Simcoe Blues & Jazz, 926 Simcoe St. N., Oshawa
9:30> 11 Steps @ The Edge, 250 Bayly St., Ajax ~
9:30> Timeless @ West Shore, 877 Bayly St., Pickering ~70s Rock/Pop
10-2> The Dukes @ Fionn MacCool's Ajax, 36 Kingston Rd. E., Ajax ~Pop Rock
10-2> Fallen Ashtray @ Whisky John's, 843 King St. W., Oshawa
905 North
9-1> Hard Drive @ Oscar's Roadhouse, 1785 Queen St. E., Brampton ~Pop Rock/Top 40
9> Memphis Mudd @ Fionn MacCool's Newmarket, 17315 Leslie St., Newmarket
9> The Kingfisher @ King Richard's Pub, 15570 Yonge St., Aurora ~Pop Rock
9:30> Pop Cherry @ Stewart Maguire's Landing, 15 Allan Rd., Bolton ~vintage Pop Rock
9:30> Ascension Groove @ Jake's Boathouse Brampton, 59 First Gulf Rd., Brampton ~Pop Rock
9:30> Pop Machine @ Aw Shucks, 15230 Yonge St., Aurora ~Pop Rock
*11> DJ Ozne (Enzo Simone) @ Britannia Pub, 7359 Yonge St., Thornhill
905 South
*2-6> jam w. Tom Finocchio @ Sam's Place, Barton-Chestnut Sts., Hamilton
**2:30> special guest with The Mighty Duck Band, The Duck, 244 Ontario St., St. Catharines ~R&B/Blues
9> Funkhaus @ Bay City Music Hall, 50 Leander Drive, Hamilton ~$
9> Killjoys @ This Ain't Hollywood, 345 James St. N., Hamilton ~indie; free
9> Stars; Seoul @ Casbah Lounge, 306 King St. W., Hamilton ~indie; $30
9> After Funk album release with openers Flat 5 @ Corktown Pub, 175 Young St., Hamilton ~indie; $
**9> Niagara Rhythm Section @ The Old Winery, 2228 Niagara Stone Rd., Niagara-On-The-Lake ~R&B/Blues
10> Fear The Worst @ Doc Magilligan's Irish Pub, 6400 Lundy's Lane, Niagara Falls
905 West
**2-6> Sil Simone Band with special guest Phil Naro @ Carrigan Arms, 2025 Upper Middle Rd., Burlington ~Rock/Blues
**2-6> Saturday Blues Sermon with James Anthony & special guest Chuckie Z @ Black Swan Pub Burlington, 4040 Palladium Way, Burlington ~Blues
*3-7> jam with Michelle Deneault & Redder @ Port Credit Legion, 35 Front St., Port Credit
*3-7> open stage jam @ Moonshine Café, 137 Kerr St., Oakville; $2
*6-9> Victoria & Bobby Keys @ Roc'n Doc's, 105 Lakeshore Rd. E., Port Credit ~soft Pop
8> Michael White & The White do Houses Of The Holy live @ First United Church, Port Credit, 151 Lakeshore Rd. W., Port Credit Mississauga ~Led Zeppelin tribute; $30
9> The David Love Band also featuring Darrell McNeil @ The Purple Heather, 3600 Dundas St. W., Burlington ~vintage 60s melodic Pop Rock
9> Steve Shelton @ Carrigan Arms, 2025 Upper Middle Rd., Burlington
9> tba @ Fionn MacCool's Clarkson, 970 Southdown Rd., Mississauga
9> Lady Shake @ Fionn MacCool's Oakville, 350 Dundas St. E., Oakville
9> Adam's Rib @ Fionn MacCool's Burlington, 2331 Appleby Line, Burlington
9:30> Groove Hammer @ Sixth Line Pub, 1500 Sixth Line, Oakville ~Rock/R&B/Pop
9:30> Pat Hewitt @ Shore Grill, 71 Lakeshore Rd. E., Port Credit ~Pop Rock/Top 40
9:30> SL8 @ The Franklin House, 263 Queen St. S., Streetsville ~Pop Rock
9:30> The Tryst @ Gator Ted's, 1505 Guelph Line, Burlington
9:30> Killin' Time @ Boston Manor, 4460 Fairview Ave., Burlington
10-2> Nancy Be Band @ Roc'n Doc's, 105 Lakeshore Rd. E., Port Credit ~Rock/Top 40; $
Copyright © 2015 Toronto Moon Magazine. All Rights Reserved