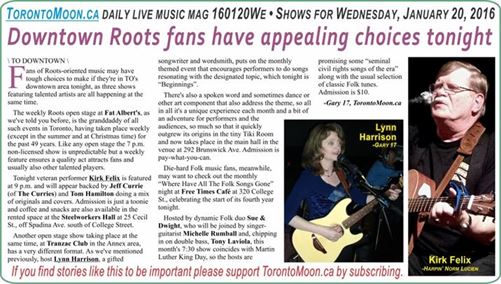 \ TO DOWNTOWN \
Fans of Roots-oriented music may have tough choices to make if they're in TO's downtown area tonight, as three shows featuring talented artists are all happening at the same time.
The weekly Roots open stage at Fat Albert's, as we've told you before, is the granddaddy of all such events in Toronto, having taken place weekly (except in the summer and at Christmas time) for the past 49 years. Like any open stage the 7 p.m. non-licensed show is unpredictable but a weekly feature ensures a quality act attracts fans and usually also other talented players.
Tonight veteran performer Kirk Felix is featured at 9 p.m. and will appear backed by Jeff Currie (of The Curries) and Tom Hamilton doing a mix of originals and covers. Admission is just a toonie and coffee and snacks are also available in the rented space at the Steelworkers Hall at 25 Cecil St., off Spadina Ave. south of College Street.
Another open stage show taking place at the same time, at Tranzac Club in the Annex area, has a very different format. As we've mentioned previously, host Lynn Harrison, a gifted songwriter and wordsmith, puts on the monthly themed event that encourages performers to do songs resonating with the designated topic, which tonight is "Beginnings".
There's also a spoken word and sometimes dance or other art component that also address the theme, so all in all it's a unique experience each month and a bit of an adventure for performers and the audiences, so much so that it quickly outgrew its origins in the tiny Tiki Room and now takes place in the main hall in the venue at 292 Brunswick Ave. Admission is pay-what-you-can.
Die-hard Folk music fans, meanwhile, may want to check out the monthly "Where Have All The Folk Songs Gone" night at Free Times Café at 320 College St., celebrating the start of its fourth year tonight.
Hosted by dynamic Folk duo Sue & Dwight, who will be joined by singer-guitarist Michelle Rumball and, chipping in on double bass, Tony Laviola, this month's 7:30 show coincides with Martin Luther King Day, so the hosts are promising some "seminal civil rights songs of the era" along with the usual selection of classic Folk tunes. Admission is $10.
-Gary 17, TorontoMoon.ca
SHOW LISTINGS for Wednesday, January 20, 2022
Listings are organized by area in which the shows occur and within each area field shows are listed chronologically.
Listings preceded by an asterisk (*) are repeating weekly events. (Double asterisk indicates repeating event with different hosts/guest/etc.) Events preceded by question mark (?) usually take place but have not been confirmed. Admission prices followed by a slash and minus (/-) after the amount indicates door charge with availability of cheaper rates for some purchases. /+ indicates stated price is minimum.
Names of subscribers appear in bold and underlined and, where applicable, include a live link to their websites. Advertisers' listings are in larger, highlighted type, include live link to website and also have ad icon included in listings.
416 – Toronto Central
*5:30> Kama House Band @ Kama, 214 King St. W., TO ~Jazz
6-8> Ron Davis & Shannon Butcher @ 120 Diner, 120 Church St., TO ~Jazz; $10
6> Jay Pollock @ Cameron House (front), 408 Queen St. W., TO ~indie Pop
6:30> Nathan Hiltz Trio @ The Rex, 194 Queen St. W., TO ~Jazz; $

7:30 (sign-up at 7)> The Bridge on "Beginnings" open stage on "Beginnings" theme and between-set showcase music, poetry, etc.; hosted by Lynn Harrison @ Tranzac Club (Main Hall), 292 Brunswick St., TO
**8 (7 p.m. sign-up)> open stage with 9 p.m. feature by Kirk Felix @ Fat Albert's, 25 Cecil St. (Steelworkers Hall), TO ~Roots*7> Jim Heineman Trio @ Nawlins, 299 King St. W., TO ~Jazz
7:30> Pet Sounds with Christine Bougie & Dafydd Hughes @ Tranzac Club (Southern Cross), 292 Brunswick Ave. TO
7:30> Sue & Dwight's 4-piece ensemble @ Free Times Cafe, 320 College St., TO ~Folk; $
8-1> open jam with Wednesday's Child feat. Johnny Bootz Hutt @ Lola, 40 Kensington Ave., TO
8-10:30> Sugar Brown @ Jazz Bistro, 251 Victoria St., TO ~Jazz/Blues; $
8-12> variety night with Jacelyn Holmes @ The Den, 423 College St., TO ~eclectic
9> The Digs @ Reservoir Lounge, 52 Wellington St. E., TO ~Funk/Jazz/neo-Soul; $
*9-11> Genevieve Marentette @ 120 Diner (Upstairs), 120 Church St., TO ~eclectic; pwyc
*9-2> What's Poppin' indie jam @ Sneaky Dee's, 431 College St., TO
9> Ol 'CD; Hellow Harvard; Total Runout @ Horseshoe Tavern, 370 Queen St. W., TO ~$5
9> The Savilles; Copper Crown @ The Cavern Bar, 76 Church St., TO
*9> open mic with Sean Barker @ Monarch Tavern, 12 Clinton St., TO
9:30> William Carn & Tara Davidson @ The Rex, 194 Queen St. W., TO ~Jazz; $
*10> jam with Groovestone @ Seven44, 744 Mount Pleasant Rd., TO North
10> Sky Wallace @ Cameron House (front), 408 Queen St. W., TO
10> Josh Cole and friends @ Tranzac Club (Southern Cross), 292 Brunswick Ave. TO
*10-2> Blues-Rock jam with Bruce Domoney @ Grossman's, 379 Spadina Ave. TO
10:30> The Undercovers @ The Hideout, 484 Queen St. W., TO ~indie Rock
*10:30> The LMT Connection @ Orbit Room, 580 College St. TO ~Funk/R&B; $10
416 – Toronto East
*7:30-10:30> The BTBs @ Relish, 2152 Danforth Ave., TO East ~Jazz
8> Conrad Gayle @ The Only Café, 972 Danforth Ave., TO East ~Jazz piano
9-11> Johnson Crook @ Castro's, 2116 Queen St. E., TO East
*9:30> open stage with Nicola Vaughan @ Black Swan (downstairs), 154 Danforth Ave., TO East
416 – Toronto Etobicoke
8-1> Three Dads @ Timothy's Pub, 344 Brown's Line, Etobicoke South ~vintage Pop Rock; $
416 – Toronto West
5-8> Rick Maltese @ Gate 403, 403 Roncesvalles Ave., TO West ~Jazz
**8-10:30> Hump Night Blues with Dave McManus & Cleave Anderson + special guest Paul Storm @ On Cue Billiards, 349 Jane St., TO West ~Blues
8> Wayne Neon and The Amazing Tubular Orchestra @ The Tennessee, 1554 Queen St. W., TO West
*8> MFA open mic @ Remix Lounge, 1305 Dundas St. W., TO West
8:30> The Mercenaries @ Fat City Blues, 890 College St., TO West ~Rock/Soul revival
9-12> Blues Night with Julian Fauth & guests @ Gate 403, 403 Roncesvalles Ave., TO West ~original Juno-winning Blues
9> Jacob Damelon & Steven Foster @ Burdock, 1184 Bloor St. W., TO West ~piano players; $10
9> Angie Gunn @ The Local, 396 Roncesvalles Ave., TO West ~Honky Tonk
*10> Kristine Schmitt & The Lonesome Ace Stringband @ The Hole In The Wall, 2867 Dundas St. W., TO West ~Pop
519
9> The Phil & John Show feat. Phil Naro @ Molly Bloom's Waterloo, 170 University Ave., Waterloo ~acoustic Pop Rock
705
*7-11> open jam with Wayne Buttery Band @ The Beacon, 146 45th St., Wasaga Beach
7:30> Christine Atrill Band @ Black Horse Pub, 452 George St. N., Peterborough
10> Wild Rivers @ The Garnet, 231 Hunter St. W., Peterborough
905 East
8-12> open mic night @ Fionn MacCool's Ajax, 32 Kingston Rd. E. Ajax
8> Bruce Gorrie @ Simcoe Blues & Jazz, 926 Simcoe St. N., Oshawa
*8-11> open mic @ Frank's Pasta, 426 King St. E., Cobourg
*10> Two For The Show @ Tartan Tavern, 555 Rossland Rd. E., Oshawa ~Pop Rock
905 North
*7> open mic night with Tanya Joy Senior @ Col. McGrady's Pub, 44 Brock St. W., Uxbridge
*8-12> jam with Rebelljo Band featuring Dave Girdlestone of Soul Funkshun on guitar @ Fionn MacCool's Brampton, 11 Ray Lawson Blvd. Brampton
*8:45> open mic jam with Matt Zady @ Magnums, 21 McMurchy Ave. N., Brampton
*9-1> open mic jam with Whiskey Birds @ Sweetz Lounge, 5289 Hwy 7, Woodbridge-Vaughan
*9:30> open mic with The Villagers @ Main's Mansion, 144 Main St., Markham
*10-2> jam night with Switchbeat Trio @ Maguires, 284 Queen St. E., Brampton
905 South
*7> open mic night @ Donnelley's Pub, 54 Front St., Thorold ~Blues
**8-1> Boogie N Blues jam with Ian Andrews & Friends @ Corktown Pub, 175 Young St., Hamilton
*8:30> Something Country @ The Endzone, 1900 King St. E., Hamilton ~Country
8-1> Sjanne Glover @ Moonshine Café, 137 Kerr St., Oakville ~original & cover acoustic Pop; $5
8:30> The Carson Freeman Diversion @ Shore Grill, 71 Lakeshore Rd. E., Port Credit ~Pop Rock
8-12> Maxine Young @ Roc'n Doc's, 105 Lakeshore Rd. E., Port Credit ~Rock/Pop; $
*9> open mic jam with Jack B Nimble @ Blarney's Gate, 1151 Dundas St. W., Mississauga
*9?> jam with Michael Zane or Pat Dowds @ Shakers, 580 Kerr St., Oakville
Copyright © 2016 Toronto Moon Magazine. All Rights Reserved