\ TO EAST \
With all the sudden and somewhat distressing recent deaths of talented, iconic world-renowned musicians still in their mid sixties, not to mention other local passings, fans of GTA Pop Rock veteran David Love were thrilled last weekend to see him back in the saddle with his eponymous band after a 9-week hiatus due to his own serious health scare.
Not only has the uber-talented guitarist, bassist and singer with a penchant for Beatles-era music returned to the helm of his David Love Band and resumed his longtime role as part of the Classic Albums Live troupe (with which he also performed last week) but he has expanded his scope on the scene by joining well-established Beatles tribute band Yeah Yeah Yeah to replace a recently deceased veteran member.
But Love's true scope as a singer and performer really comes through when he's fronting his own project. So tonight, along with Beatles songs, there'll be lots of other great melodic Pop Rock hits of music's Golden Era of the 1960s on offer as his DLB (which includes versatile six-stringer Darrell McNeill and drummer Kevin Mulligan on the kit) returns to a club for which it's a perfect fit: the Linsmore Tavern at 1298 Danforth Ave. in East York a few steps from the Greenwood subway station.
The room still has an old-school feel to it that makes it easy to feel like you're being transported back in time, though it's equally a good spot for indie bands (which appear every Tuesday and most Thursdays) and a wide variety of other genres and styles that make up its Friday-Saturday night lineups. (You can see all the details on the room's very well-maintained website that not only tells you who's playing when and how much the cover charge is, but offers great descriptions of what to expect from the groups—and this room makes a point of relentlessly getting the word out on social media as well.)
I've seen the DLB there a couple of times and it's a particularly enjoyable experience not just because drinks here are quite affordable (in line with the measly $5 cover charge for tonight's 9:30 show) and the sound and lights pretty decent, but because there's always a throng of locals of varying ages on hand to dance and squeal and cheer, authentically re-creating the atmosphere of what it was like hearing the seminal bands of the era in the mid-size, unpretentious rooms in which they honed their craft.
And, as I've written before, few bands can resurrect the excitement of that magical time better than Love and his compadres. You'll hear tunes ranging from the aforementioned Beatles catalogue and other "Mersey Beat" artists along with chart toppers and cult favourites from groups like The Yardbirds, Manfred Mann, The Monkees, Kinks and Lovin' Spoonful along with psychedelic trippers by artists like The Byrds, Cream and Tommy James and The Shondells, to name just a few. Enjoy it while you still can my brothers and sisters —as we all have been reminded so many times recently, we never know which time will be the last time.
-Gary 17, TorontoMoon.ca
SHOW LISTINGS for Friday, January 22, 2022:
Listings are organized by area in which the shows occur and within each area field shows are listed chronologically.
Listings preceded by an asterisk (*) are repeating weekly events. (Double asterisk indicates repeating event with different hosts/guest/etc.). Events preceded by question mark (?) usually take place but have not been confirmed. Admission prices followed by a slash and minus (/-) after the amount indicates door charge with availability of cheaper rates for some purchases. /+ indicates stated price is minimum.
Names of subscribers appear in bold, are underlined and, where applicable, include a live link to their websites. Advertisers' listings are in larger type, highlighted, include live link to website and also have ad icon included in listings.
416 - Toronto Central
*3-7> acoustic jam with John Hutt @ Lola, 40 Kensington Ave., TO
*4-6> Hogtown Syncopators @ The Rex, 194 Queen St. W., TO ~Jazz; $
*5-8> Kensington Kitchen Party with host Kevin Jollimore of Sin City Boys, Kim Cadilla on bass & guest musicians @ Graffiti's, 170 Baldwin St., TO ~Pop Rock with heart
*5-7> The Friends of Hugh Oliver @ Tranzac Club (Southern Cross), 292 Brunswick Ave., TO ~Folk
*5:30> Jazz Generation; Melissa Smeets @ Imperial Pub, 54 Dundas St. E., TO ~Jazz
6> Vaudevillian @ Cameron House (front), 408 Queen St. W., TO ~old time Country
6-8> Julie Michels & George Koller @ 120 Diner, 120 Church St., TO ~Jazz; $10/pwyc

6> Drag The Lake; This Is Death Valley; Falsifier; Out Of The Ruins; more @ Sneaky Dee's, 431 College St., TO ~indie; $10
6:30> The Jive Bombers @ The Rex, 194 Queen St. W., TO ~Jazz; $
7:30> AAM Music showcase @ Tranzac Club (Southern Cross), 292 Brunswick Ave., TO
8> The Sleepovers (ep release); The Danger Bees featuring David Macmichael; Villainest @ Bovine Sex Club, 542 Queen St. W., TO West ~indie Rock; $
8> Patrick Brealey @ Cameron House (front), 408 Queen Street West, TO ~Country
9> Drunk on Sunday @ Dominion Pub, 500 Queen St. E., TO ~cover Pop Rock
9> Switchbeat @ Drums N Flats, 1980 Avenue Rd., TO North ~Pop Rock
9> The Magnetic Revelators; Long Range Hustle @ Cameron House (rear), 408 Queen St. W., TO
9> Third Coast Kings; The Out of Towners @ Rivoli, 334 Queen St. W., TO ~ $10
9> SATE; The Honeyrunners; The Cool Hands; XPRIME @ Horseshoe Tavern, 370 Queen St. W., TO ~indie Rock; $10
9> Jenn Sheppard; Faustine Pelipel; The Grim Fellas; Cassandra Hodgins; Tristan Canlas @ The Cavern Bar, 76 Church St., TO ~indie; $
9> Paul Novotny-Robi Botos Duo @ Jazz Bistro, 251 Victoria St., TO ~Jazz; $
9:30> The Dawgs @ Seven44, 744 Mount Pleasant Rd., TO North ~Rock/Top 40
9:30> Universal Boogie Band @ Alleycatz, 2409 Yonge St., TO North ~Funk/Soul/R&B; $10
9:45> The Vipers @ The Rex, 194 Queen St. W., TO ~Jazz; $
9:45> The Jazz @ Reservoir Lounge, 52 Wellington St. E., TO ~Jazz/neo-Soul; $
10> Dave Murphy Band @ Orbit Room, 480 College St. TO ~Rock/Funk/R&B; $
10> Paul Reddick @ Cameron House (front), 408 Queen Street West, TO ~Blues
10> Heather Segger @ Tranzac Club (Southern Cross), 292 Brunswick Ave., TO
10> Desperate Executives; Grace In The Shade; Dylan Earl @ Lee's Palace, 529 Bloor St. W., TO ~$7
10:30> The Damn Neighbours @ Grossman's, 379 Spadina Ave., TO ~Rock/Blues
10:30> Descendants of Dunn @ Fionn MacCool's Esplanade, 70 The Esplanade ~Pop Rock
10:30> Thee Empty Hours @ The Hideout, 484 Queen St. W., TO ~indie Rock
416 - Toronto East
5-7> The Straight 8s @ Castro's, 2116 Queen St. E., TO East
7> Super Men with Arlene Paculan; Stephen Arcand; Rexy Spice; Michael Oesch @ Hirut Café, 2050 Danforth Ave., TO East ~indie Roots/Pop; $10/pwyc
9> The Circumstantialists @ Dora Keogh, 141 Danforth Ave., TO East
9> Wayne Neon and The Amazing Tubular Orchestra with guests @ Black Swan Pub, 154 Danforth Ave., TO East ~Roots/Blues
9> open mic with Matt & Mike @ The Grover Pub, 676 Kingston Rd., TO East
9:30> David Love Band also featuring Darrell McNeill @ Linsmore Tavern, 1298 Danforth Ave., TO East ~melodic 60s Pop Rock; $5
9-12> Steed @ Relish, 2152 Danforth Ave., TO East ~Roots-Rock originals and covers
416 – Toronto Etobicoke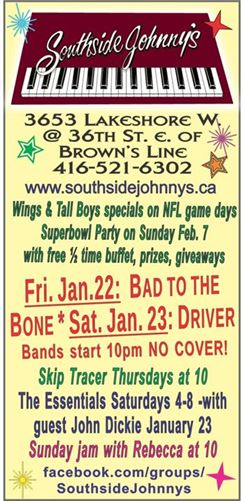 7:30> Amy McConnell Trio @ Old Mill Inn, 21 Old Mill Rd., Etobicoke ~Jazz; min table charge
9> Savillef @ Blue Goose Tavern, 1 Blue Goose Rd., Etobicoke South ~Pop Rock/Top 40
9> Owen Sound @ Maple Leaf House, 2749 Lake Shore Boulevard West, Etobicoke ~ Blues/R&B
9:30> The Nomads @ Timothy's Pub, 344 Brown's Line, Etobicoke South ~Pop Rock/Top 40; $
10-2> Bad To The Bone @ Southside Johnny's, 3653 Lake Shore Blvd. W., Etobicoke South ~Thorogood/70s-80s tribute
10> Who Made Who @ The Rockpile, 5555 Dundas St. W., Etobicoke ~Who tribute; $
416 – Toronto Scarborough
9> Still Sunday featuring Jim Cornell @ Karla's Roadhouse, 4630 Kingston Rd., Scarborough ~classic Rock/Blues & originals
9:30> Denis Martel @ Stone Cottage Pub, 3750 Kingston Rd., Scarborough ~Pop Rock
10> Supernatural @ Smiling Jacks, 3482 Lawrence Ave., E., Scarborough ~classic Rock
416 - Toronto West
5-8> Denis Leslie Band @ Gate 403, 403 Roncesvalles Ave., TO West ~Jazz
7-9> Paul Reddick Band @ Dakota Tavern, 249 Ossington Ave., TO W. ~Blues; $
7:30> Lewington-Downie @ Brazen Head Pub, 165 East Liberty St., TO West ~Pop Rock
7:30> Joanna Moon @ Lula Lounge, 1585 Dundas St. W., TO West ~World Jazz
8-10> Harpin' Norm Lucien @ Humble Beginnings, 3109 Dundas St. W., TO West ~original Roots-Pop
8> Ryan Driver; Alex & Ghislain @ Burdock, 1184 Bloor St. W., TO West ~piano fest; $
8> La Querelle; Molly Drag; Pile High; Lost Cities @ Smiling Buddha basement, 961 College St., TO West ~indie; $
8:30> Poor Angus @ Hugh's Room, 2261 Dundas St. W., TO West ~Scottish/Irish East Coast traditional; $25
9-1> Root Down Trio @ Gate 403, 403 Roncesvalles Ave., TO West ~Roots

9> Misgiver; At Odds; Amnesty; Skin Graft @ Smiling Buddha upstairs, 961 College St., TO West ~indie; $
9> Electric Mea & The Yappers @ Remix Lounge, 1305 Dundas St. W., TO West ~psychedelia
9> The Johnson Report; The Alter Kakers; The Wicked Tenants @ The Tennessee, 1554 Queen St. W., TO West ~indie Rock
9> The Kerouacs; Big Frasier & The Almighty Rhombus @ Junction City Music Hall, 2907 Dundas St. W., TO West ~$5
9> Michael O'Grady @ The Local, 396 Roncesvalles Ave., TO West ~Celtic-Pop/Roots
9:30> Beautiful Salt @ Amico's Pizza, 1648 Queen St. W., TO West ~Roots/Blues
9:30> Freeman Dre & The Kitchen Party @ Fat City Blues, 890 College St., TO West ~Roots-Rock; $5
10-2> The Double Cuts @ Dakota Tavern, 249 Ossington Ave., TO W. ~Western Swing; $10
10> Changui Havana @ Lula Lounge, 1585 Dundas St. W., TO West ~Cuban Salsa; $15
519
8> Amberwood; St. Andrews; Possum @ Maxwell's, 35 University Ave. E., Waterloo ~indie; $10
9> Annette Haas @ Fionn MacCool's Kitchener, 4287 King St. E., Kitchener ~Pop Rock covers & originals
9> Blaine Bomberry Band @ Brando's Beach House, 135 Market St., Brantford ~Rock/Blues
9:30> North of 49 @ Fionn MacCool's Orangeville, 75 Fourth Ave., Orangeville ~Pop
705
5:30> Rick & Gailie @ Black Horse Pub, 452 George St. N., Peterborough
9> Zachary Lucky & Rich Burnett @ The Spill, 414 George St. N., Peterborough
9:30> Jerome Godboo Band @ Sticky Fingers Dunlop, 150 Dunlop St. W., Barrie ~Blues
10> Lotus Wight @ The Garnet, 231 Hunter St. W., Peterborough
10> The Fabulous MJ's @ Bourbon Barrie, 31 Bayfield Ave., Barrie ~Rock/Blues
905 East
7> Frank Wilks @ Cocoa & Joe Café, 44 Simcoe St. N., Oshawa ~original & cover indie-Pop
9-1> PRJ @ Simcoe Blues & Jazz, 926 Simcoe St. N., Oshawa ~Blues
9> Dan Brooks; Patrick Dorie @ The Moustache Club, 15 Simcoe St. N., Oshawa
*9:30> Karaoke with Rob MacArthur & Lorraine @ Royal Canadian Legion #322, 112 Hunt St., Ajax
9:30> Tamin' Thunder @ The Edge, 250 Bayly St., Ajax ~Rock/R&B/Dance
10> Deuce @ Tartan Tavern, 555 Rossland Rd. E., Oshawa ~Pop Rock
905 North
9> Chris McFarlane & The Heat @ Fionn MacCool's Newmarket, 17315 Leslie St., Newmarket ~Pop
9:30> Justin Time @ Jake's Boathouse Brampton, 59 First Gulf Rd., Brampton ~Pop Rock
9:30> The Mixx @ Oscar's Roadhouse, 1785 Queen St. E., Brampton ~Top 40/Rock
*9:30> open mic @ Big Daddy's, 460 Elgin Mills Rd., E, Richmond Hill
10> Stephen's Garage @ Stewart Maguire's Landing, 15 Allan Rd., Bolton
10> Orangeman @ Aw Shucks, 15230 Yonge St., Aurora ~Pop Rock
905 – South
6:30> Liam Ferguson Young feat. Liam McGlashon @ Corktown Pub, 175 Young St., Hamilton
9> Robert Gordon with Jackson Smith & The Hellbent Rockers @ This Ain't Hollywood, 345 James St. N., Hamilton ~Rockabilly ~$28.50
9> Justin Sawicki @ Coach & Lantern, 384 Wilson St E., Hamilton
9:30> Soul Train Sessions @ Corktown Pub, 175 Young St., Hamilton ~indie; $
10> Slightly Altered @ Doc Magilligan's Irish Pub, 6400 Lundy's Lane, Niagara Falls
905 West
*5> Adam Ostrosser & Joel Guenther @ Carrigan Arms, 2025 Upper Middle Rd., Burlington ~Pop
*6-9> Krista Blondin @ Roc'n Doc's, 105 Lakeshore Rd. E., Port Credit ~Pop/Jazz/Blues
8> Wayne Cheddie Band @ Moonshine Café, 137 Kerr St., Oakville ~Rock 'n' Roll; $10
9> Lost Patients @ Mulligan's, 2458 Dundas St. W., Mississauga ~Pop Rock
9> Side B Vibe @ Fionn MacCool's Oakville, 350 Dundas St. E., Oakville ~Pop/Rock
9> Daryl Gray (of Helix) @ Gator Ted's, 1505 Guelph Line, Burlington ~Pop Rock
9> The O'Deadly's @ Fionn MacCool's Burlington, 2331 Appleby Line, Burlington ~Pop
9:30> Sonny Boy Mick @ Shore Grill, 71 Lakeshore Rd. E., Port Credit ~Pop Rock/Top 40
9:30> Billick @ The Franklin House, 263 Queen St. S., Streetsville ~Pop Rock
9:30> Jackson Fox Band @ Fionn MacCool's Clarkson, 970 Southdown Rd., Mississauga ~Pop
9:30> Practically Hip @ Boston Manor, 4460 Fairview Ave., Burlington ~Tragically Hip tribute; $
9:30> Michael Mansfield @ Black Swan Pub Burlington, 4040 Palladium Way, Burlington ~acoustic solo
10-2> Fleetwood Mix @ Roc'n Doc's, 105 Lakeshore Rd. E., Port Credit ~Fleetwood Mac tribute; $
10:15> Love Supreme @ Failte, 201 City Centre Dr., Mississauga ~Pop Rock
Copyright © 2016 Toronto Moon Magazine. All Rights Reserved