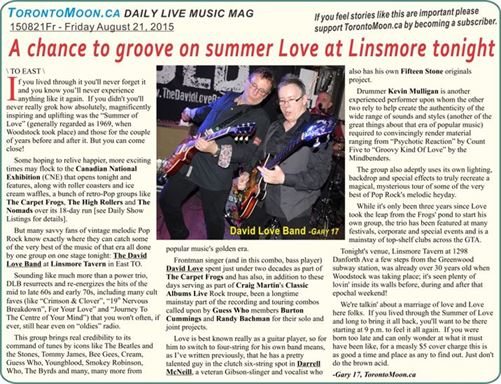 \ TO EAST \
If you lived through it you'll never forget it and you know you'll never experience anything like it again.  If you didn't you'll never really grok how absolutely, magnificently inspiring and uplifting was the "Summer of Love" (generally regarded as 1969, when Woodstock took place) and those for the couple of years before and after it. But you can come close!
Some hoping to relive happier, more exciting times may flock to the Canadian National Exhibition (CNE) that opens tonight and features, along with roller coasters and ice cream waffles, a bunch of retro-Pop groups like The Carpet Frogs, The High Rollers and The Nomads over its 18-day run [see Daily Show Listings for details].
But many savvy fans of vintage melodic Pop Rock know exactly where they can catch some of the very best of the music of that era all done by one group on one stage tonight: The David Love Band at Linsmore Tavern in East TO.
Sounding like much more than a power trio, DLB resurrects and re-energizes the hits of the mid to late 60s and early 70s, including many cult faves (like "Crimson & Clover", "19th Nervous Breakdown", For Your Love" and "Journey To The Centre of Your Mind") that you won't often, if ever, still hear even on "oldies" radio.
This group brings real credibility to its command of tunes by icons like The Beatles and the Stones, Tommy James, Bee Gees, Cream, Guess Who, Youngblood, Smokey Robinson, Who, The Byrds and many, many more from popular music's golden era.
Frontman singer (and in this combo, bass player) David Love spent just under two decades as part of The Carpet Frogs and has also, in addition to these days serving as part of Craig Martin's Classic Albums Live Rock troupe, been a longtime mainstay part of the recording and touring combos called upon by Guess Who members Burton Cummings and Randy Bachman for their solo and joint projects.
Love is best known really as a guitar player, so for him to switch to four-string for his own band means, as I've written previously, that he has a pretty talented guy in the clutch six-string spot in Darrell McNeill, a veteran Gibson-slinger and vocalist who also has his own Fifteen Stone originals project.
Drummer Kevin Mulligan is another experienced performer upon whom the other two rely to help create the authenticity of the wide range of sounds and styles (another of the great things about that era of popular music) required to convincingly render material ranging from "Psychotic Reaction" by Count Five to "Groovy Kind Of Love" by the Mindbenders.
The group also adeptly uses its own lighting, backdrop and special effects to truly recreate a magical, mysterious tour of some of the very best of Pop Rock's melodic heyday.
While it's only been three years since Love took the leap from the Frogs' pond to start his own group, the trio has been featured at many festivals, corporate and special events and is a mainstay of top-shelf clubs across the GTA.
Tonight's venue, Linsmore Tavern at 1298 Danforth Ave a few steps from the Greenwood subway station, was already over 30 years old when Woodstock was taking place; it's seen plenty of lovin' inside its walls before, during and after that epochal weekend!
We're talkin' about a marriage of love and Love here folks.  If you lived through the Summer of Love and long to bring it all back, you'll want to be there starting at 9 p.m. to feel it all again.  If you were born too late and can only wonder at what it must have been like, for a measly $5 cover charge this is as good a time and place as any to find out. Just don't do the brown acid.
-Gary 17, TorontoMoon.ca
SHOW LISTINGS for Friday, August 21, 2021

:

Listings are organized by area in which the shows occur and within each area field shows are listed chronologically.

Listings preceded by an asterisk (*) are repeating weekly events. (Double asterisk indicates repeating event with different hosts/guest/etc.). Admission prices followed by a slash and minus (/-) after the amount indicates door charge with availability of cheaper rates for some purchases. /+ indicates stated price is minimum.

Names of subscribers appear in bold, are underlined and, where applicable, include a live link to their websites. Advertisers' listings are in larger type, highlighted, include live link to website and also have ad icon included in listings.

416 - Toronto Central

*3-7> acoustic jam with John Hutt @ Lola, 40 Kensington Ave., TO

*4-6> Hogtown Syncopators featuring Terra Hazelton @ The Rex, 194 Queen St. W., TO ~Jazz

*5-8> Kensington Kitchen Party with host Kevin Jollimore of Sin City Boys, Kim Cadilla on bass & guest musicians @ Graffiti's, 170 Baldwin St., TO ~Pop Rock with heart

*5-7> *5-7> The Friends of Hugh Oliver @ Tranzac Club (Southern Cross), 292 Brunswick Ave., TO ~Folk

6-9> The Bus Is Back In Town with Sandi Marie & Guy, Kevin Jeffrey & The McDales @ Grossman's, 379 Spadina Ave., TO ~Roots-Pop/Country

6> David Celia @ Cameron House (front), 408 Queen St. W., TO ~indie Pop

6:30> Bugaloo Squad @ The Rex, 194 Queen St. W., TO ~Jazz

7> Comedy Brawl Quarterfinals @ Tranzac Club (Main Hall), 292 Brunswick Ave., TO

7:30> Music City North Kensington Soundtrack with Hillary Dumoulin; Kyle Wilson; Sydney Bernknopf; How Sutherland @ Lola, 40 Kensington Ave., TO ~indie Pop; $

7:30> Music City North Kensington Soundtrack with Caitlin Burgess; Jacqui Brown; Cailtin Stephen; The Baragars @ Kensington Lodge, 21 Kensington Ave., TO ~indie Pop; $

7:30> Music City North Kensington Soundtrack with The Reed Effect; Zoo Legacy; Sleepy Mean; BS101; Tether @ Rancho Relaxo, 300 College St., TO ~indie Pop; $

8> Patrick Brealey @ Cameron House (front), 408 Queen Street West, TO ~Country

8> Iman & The Wasted Lala's; Lobu; Kinetik @ Lee's Palace, 529 Bloor St. W., TO; $10

8> Forty Years After @ Drums N Flats, 1980 Avenue Rd., TO North

8> Ashley Bryant; Rose-Erin Stokes @ Free Times Café, 320 College St., TO ~songwriters

8:25> open mic with Prince Perry & Perry Gladstone @ Toronto Island Marina Upper Deck, Centre Island

9> Kasador @ Cameron House (rear), 408 Queen St. W., TO; $9

9> Union Duke; Sun K; The Keyframes @ Horseshoe Tavern, 370 Queen St. W., TO

9-1> The Zilis @ Monarchs Pub in Eaton Chelsea Hotel, 33 Gerrard St. W., TO ~Rock/Top 40

9:30> Red Velvet @ Seven44, 744 Mount Pleasant Rd., TO North ~Rock/Top 40

9:30> James King @ Alleycatz, 2409 Yonge St., TO North ~Funk/Soul/R&B; $10

9:45> Soul Understated @ The Rex, 194 Queen St. W., TO ~Jazz

9:45> Dee Dee & The Dirty Martinis @ Reservoir Lounge, 52 Wellington St. E., TO ~60s R&B

10> Arsenals @ Orbit Room, 480 College St. TO ~Ska; $

10> Freeman Dre & The Kitchen Party @ Cameron House (front), 408 Queen Street West, TO ~indie Rootsabilly

10> Beggar's Banquet @ Grossman's, 379 Spadina Ave., TO ~Stonesy Rock

10> Ronley Teper's Lipliners @ Tranzac Club (Southern Cross), 292 Brunswick Ave., TO ~innovative eclectic Pop

10:30> Scully & The Corssbones @ The Hideout, 484 Queen St. W., TO ~indie Rock

416 - Toronto East

5-7> The Straight 8s @ Castro's, 2116 Queen St. E., TO East

*?> open mic with Matt & Mike @ The Grover Pub, 676 Kingston Rd., TO East

9:30> The David Love Band also featuring Darrell McNeill @ Linsmore Tavern, 1298 Danforth Ave., TO East ~vintage melodic Pop Rock; $5

*9:30> David Macmichael & The $5 Tall Boys @ Relish, 2152 Danforth Ave., TO East ~alt Pop originals and covers

416 - Etobicoke

7:30> Mike Murley Trio @ Old Mill Inn, 21 Old Mill Rd., Etobicoke ~Jazz; min table charge

9> Almost Famous @ Blue Goose Tavern, 1 Blue Goose Rd., Etobicoke South ~Pop Rock/Top 40

9:30> Still Sunday featuring Jim Cornell @ Maple Leaf House, 2749 Lake Shore Boulevard West, Etobicoke ~Rock/Blues

9:30> Fool's Paradise @ Timothy's Pub, 344 Brown's Line, Etobicoke South ~Pop Rock/Top 40; $
10-2> Modern LP @ Southside Johnny's, 3653 Lake Shore Blvd. W., Etobicoke South ~classic & contemporary Rock
416 – Scarborough
9:30> Steels & Matt @ Stone Cottage Pub, 3750 Kingston Rd., Scarborough ~Pop Rock
9:30> Lisa Smith's Powerhaus @ Centro Pizza, 3408 Kingston Rd., Scarborough ~Rock
9:30> Tamin' Thunder @ Kornerstones, 1601 Birchmount Ave., Scarborough ~Rock/Dance
416 - Toronto West
1-5> Des Sourcils @ The Wine Garden, Canadian National Exhibition Grounds, Lake Shore Blvd. West, TO West~
1:30-5:30> Kenny V @ Casino patio/stage Canadian National Exhibition Grounds, Lake Shore Blvd. West, TO West
3-6> The Gator James Band @ CNE Midway Stage, Canadian National Exhibition Grounds, Lake Shore Blvd. West, TO West~Pop Rock
3-6> Livy Jeanne @ CNE Northern Comfort Stage, Canadian National Exhibition Grounds, Lake Shore Blvd. West, TO West~Pop Rock
5-9> The Rucksack Willies @ The Wine Garden, Canadian National Exhibition Grounds, Lake Shore Blvd. West, TO West
5-8> Roots & Branches @ Gate 403, 403 Roncesvalles Ave., TO West ~Roots/Blues
6:30-10:30> Groove Marmalade @ Casino patio/stage Canadian National Exhibition Grounds, Lake Shore Blvd. West, TO West
7:30-11> Jane's Party @ CNE Midway Stage, Canadian National Exhibition Grounds, Lake Shore Blvd. W., TO West ~Pop Rock
7:30-11> Marshall Dane @ CNE Northern Comfort Stage, Canadian National Exhibition Grounds, Lake Shore Blvd. West, TO ~Pop Rock
7:30> America (The Abrams open) @ CNE Bandshell, Canadian National Exhibition Grounds, Lake Shore Blvd. W., TO West
8-10> Mercy Mace @ Humble Beginnings, 3109 Dundas St. W., TO West ~songwriter
8> Alfie Zappacosta @ Hugh's Room, 2261 Dundas St. W., TO West ~Pop Rock; $37.97
9-1> Fraser Melvin Blues Band @ Gate 403, 403 Roncesvalles Ave., TO West ~Blues
9-2> Kayla Howran; Express and Company @ Dakota Tavern, 249 Ossington Ave., TO W. ~Country; $
9> Whiskey Epiphany @ The Local, 396 Roncesvalles Ave., TO West ~Roots Rock
9:30> Voodoo Walters & The Rhythm Method featuring Dave McManus @ Axis Gallery & Grill, 3048 Dundas St. W., TO West ~Blues
9:30> John Bell Band @ The Tennessee, 1554 Queen St. W., TO West
519
8> Chris Chambers @ Fionn MacCool's Kitchener, 4287 King St. E., Kitchener
9> Ken and the HoloGrahams @ Fionn MacCool's Guelph, 494 Ediburgh Rd. S., Guelph
9:30> Run For Cover @ Fionn MacCool's Orangeville, 75 Fourth Ave., Orangeville
705
5:30> Rick & Gailie @ Black Horse Pub, 452 George St. N., Peterborough
9> Bridgett Foley & The Pocket Kings @ Black Horse Pub, 452 George St. N., Peterborough
9:30> Smokey Monaghan @ Sticky Fingers Dunlop, 150 Dunlop St. W., Barrie
10> The Bellegards @ The Garnet, 231 Hunter St. W., Peterborough
905 East
9-1> Home Town Sensation @ Simcoe Blues & Jazz, 926 Simcoe St. N., Oshawa
9-1> Cece Pastor & The Word on the patio @ Fionn MacCool's Ajax, 36 Kingston Rd., E., Ajax ~Pop Rock/Top 40
905 North
8:30> Project Classified @ Lake Simcoe Arms, 21089 Dalton Rd., Jackson's Point
8:30> Tattoos & Whiskey @ Spot One, 289 Rutherford Rd. S., Brampton ~Country Rock
9> Chadley Chase Band @ King Richard's Pub, 15570 Yonge St., Aurora ~Pop Rock
9> Cutler Boyd @ Memphis North, 18947 Woodbine Ave., East Gwillimbury
9:30> Table 69 @ Jake's Boathouse Brampton, 59 First Gulf Rd., Brampton ~Pop Rock
9:30> Jagger Tanner Band @ Stewart Maguire's Landing, 15 Allan Rd., Bolton ~Blues
9:30> Two For The Show @ Oscar's Roadhouse, 1785 Queen St. E., Brampton ~Top 40/Rock
*9:30> open mic @ Big Daddy's, 460 Elgin Mills Rd., E, Richmond Hill
10> Happy Pants @ Aw Shucks, 15230 Yonge St., Aurora ~Pop Rock
905 – South
6:30> Ferguson Young; James Ferris;  @ Corktown Pub, 175 Young St., Hamilton ~indie
9> Barrence Whitfield & The Savages; The Diplomats; Man The Ship @ This Ain't Hollywood, 345 James St. N., Hamilton; $19.21
9> The Weight @ Coach & Lantern, 384 Wilson St E., Hamilton
9:30 Soul Train; Skirt Check; Night @ Corktown Pub, 175 Young St., Hamilton ~indie; $
905 West
*5> Adam Ostrosser & Joel Guenther @ Carrigan Arms, 2025 Upper Middle Rd., Burlington ~Pop
*6-9> Krista Blondin @ Roc'n Doc's, 105 Lakeshore Rd. E., Port Credit ~ Pop Rock/Jazz/Blues
8> Doghouse Rose @ Moonshine Café, 137 Kerr St., Oakville ~$10
9> Monkley Cascade @ Fionn MacCool's Burlington, 2331 Appleby Line, Burlington
9:30> Kenny V @ Shore Grill, 71 Lakeshore Rd. E., Port Credit ~Pop Rock/Top 40
9:30> Johnny X @ Fionn MacCool's Clarkson, 970 Southdown Rd., Mississauga
9:30> Ridiculous New Website @ Shakers, 580 Kerr St., Oakville ~fancy bullshit
9:30> Rock Doll Social @ Gator Ted's, 1505 Guelph Line, Burlington ~Pop Rock
9:30> Barslap @ Boston Manor, 4460 Fairview Ave., Burlington
10-2> The LMT Connection @ Roc'n Doc's, 105 Lakeshore Rd. E., Port Credit ~R&B power trio; $
10:15> All Natural Flavours @ Failte, 201 City Centre Dr., Mississauga
10:30> tba @ The Dickens, 423 Elizabeth St., Burlington ~Pop Rock
Copyright © 2015 Toronto Moon Magazine. All Rights Reserved