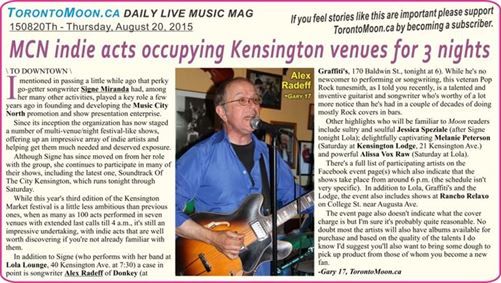 \ TO DOWNTOWN \
I mentioned in passing a little while ago that perky go-getter songwriter Signe Miranda had, among her many other activities, played a key role a few years ago in founding and developing the Music City North promotion and show presentation enterprise.
Since its inception the organization has now staged a number of multi-venue/night festival-like shows, offering up an impressive array of indie artists and helping get them much needed and deserved exposure.
Although Signe has since moved on from her role with the group, she continues to participate in many of their shows, including the latest one, Soundtrack Of The City Kensington, which runs tonight through Saturday.
While this year's third edition of the Kensington Market festival is a little less ambitious than previous ones, when as many as 100 acts performed in seven venues with extended last calls till 4 a.m., it's still an impressive undertaking, with indie acts that are well worth discovering if you're not already familiar with them.
In addition to Signe (who performs with her band at Lola Lounge, 40 Kensington Ave. at 7:30) a case in point is songwriter Alex Radeff of Donkey (at Graffiti's, 170 Baldwin St., tonight at 6). While he's no newcomer to performing or songwriting, this veteran Pop Rock tunesmith, as I told you recently, is a talented and inventive guitarist and songwriter who's worthy of a lot more notice than he's had in a couple of decades of doing mostly Rock covers in bars.
Other highlights who will be familiar to Moon readers include sultry and soulful Jessica Speziale (after Signe tonight Lola); delightfully captivating Melanie Peterson (Saturday at Kensington Lodge, 21 Kensington Ave.) and powerful Alissa Vox Raw (Saturday at Lola).
There's a full list of participating artists on the Facebook event page(s) which also indicate that the shows take place from around 6 p.m. (the schedule isn't very specific).  In addition to Lola, Graffiti's and the Lodge, the event also includes shows at Rancho Relaxo on College St. near Augusta Ave.
The event page also doesn't indicate what the cover charge is but I'm sure it's probably quite reasonable. No doubt most the artists will also have albums available for purchase and based on the quality of the talents I do know I'd suggest you'll also want to bring some dough to pick up product from those of whom you become a new fan.
-Gary 17, TorontoMoon.ca
SHOW LISTINGS for Thursday, August 20, 2021
Listings are organized by area in which the shows occur and within each area field shows are listed chronologically.
Listings preceded by an asterisk (*) are repeating weekly events. (Double asterisk indicates repeating event with different hosts/guest/etc.). Admission prices followed by a slash and minus (/-) after the amount indicates door charge with availability of cheaper rates for some purchases. /+ indicates stated price is minimum.
Names of subscribers appear in bold and underlined and, where applicable, include a live link to their websites or event page. Advertisers' listings are in larger type and highlighted, include a live link to their website and also have a copy of the ad included in listings.
416 - Toronto Central
6> Alex Radeff of Donkey with Scott B @ Graffiti's, 170 Baldwin St. TO
6> Jean on Gene @ Cameron House (front), 408 Queen St. W., TO
6:30> Yuka @ The Rex, 194 Queen St. W., TO ~Jazz
7:30> Music City North Kensington Soundtrack with Hugh Wilson; The Anxious Patients; Signe Miranda's Veranda; Jessica Speziale @ Lola, 40 Kensington Ave., TO ~indie Pop
*7:30-9:30> Bluegrass Thursdays with Houndstooth @ Tranzac Lounge (Southern Cross), 292 Brunswick Ave., TO
7:30> Music City North Kensington Soundtrack with King Rose; Anat Kriger @ Kensinton Lodge, 21 Kensington Ave., TO
8> Jessica Speziale Band @ Graffiti's, 170 Badswin St., TO ~indie Pop
*8-1> open mic with Alicia Porter @ The Local Gest, 424 Parliament St., TO
8-12> R&B/Blues @ Nawlin's, 299 King St. W. TO
8:30> Imogen Bel with Specer & Rily Martin @ Free Times Café, 320 College St. TO ~songwriters; $10
8:30> Jesse Parent @ Fionn MacCool's Uptown, 1867 Yonge St., TO North
9> Oh Geronimo ep release; Last of the Bandits; Eleven North; Brookly Doran; Good Conduct @ The Rivoli, 334 Queen St. W., TO ~$12
9> The Brutes of Novelty with guests Gen Goreman & Guiseppe Piraino @ Cameron House (rear), 408 Queen St. W., TO
9> Bust and the Bass; Free N Losh; Duncan Hood @ Horseshoe Tavern, 370 Queen St. W., TO; $12.50
9-1> Wild T & The Spirit @ Monarchs Pub (Eaton Chelsea Hotel), 33 Gerrard St. W., TO ~Blues
*9-1> Blackburn @ Jo Mamas, 317 King St. W., TO ~Blues
9:30> Matt Groopie; The Lohrwood; Brendt Thomas Diabo; Hell Bent Rockers @ Cherry Colas, 200 Bathurst St., TO ~Rock; $10
9:45> Soul Understated @ The Rex, 194 Queen St. W., TO ~St. Louis Jazz
*9:45> Mary Mckay @ Reservoir Lounge, 52 Wellington St. E., TO ~Jazz/Blues
10> Stonetrotter @ Cameron House (front), 408 Queen St. W., TO
10> Ms Debbie and the Extra Lite @ Grossman's, 379 Spadina Ave., TO ~
10> Collette Savard & The Kissing Moon @ Tranzac Lounge (Southern Cross), 292 Brunswick Ave., TO
10> Lawless Sons; Kyper Kliff; Scrubbs @ Lee's Palace, 529 Bloor St. W., TO; $6
10> Soulstack @ Orbit Room, 480 College St. TO ~Soul/R&B; $
10:30> Adam Tobias; The Savilles; Dylan Reisch; Celebration Army @ The Hideout, 484 Queen St. W., TO ~indie Rock
416 - Toronto East
7-9> Alistair Blaik Bundale @ Relish, 2152 Danforth Ave., TO East
*8:30-10:30> Jerry Leger & The Situation @ Castro's, 2116 Queen St. E., TO East ~Folk-Rock/Country
8:30> Mighty Lopez; Eastsidewest; Cale Crowe; Jonathan Leon @ Linsmore Tavern, 1298 Danforth Ave., TO East ~singer-songwriters; $5
*10-2> karaoke with Shane Taylor @ Relish, 2152 Danforth Ave., TO East
416 - Toronto West
5-8> Roger Chong Band @ Gate 403, 403 Roncesvalles Ave., TO West ~Jazz
7> Greg McEvoy @ Dakota Tavern, 249 Ossington Ave., TO West
*8-11> Tinderbox Thursdays open stage First year anniversary celebration with Michael Keith @ La Revolucion, 2848 Dundas St. W., TO West ~eclectic
8:30> Lynn Miles @ Hugh's Room, 2261 Dundas St. W., TO West ~Folk songwriter; $22.50/-
*9-12> open mic night @ DeSoto's, 1079 St. Clair Ave. W., TO West
9> Kirt Godwin @ The Roncy, 390 Roncesvalles Ave., TO West ~solo acoustic
*9-1:30> open stage with Jay Pennell @ Dave's On St. Clair, 730 St. Clair West, TO West ~eclectic
9-12> Annie Bonsignore Jazz or Blues duo @ Gate 403, 403 Roncesvalles Ave., TO West
9> Blair Packham; Chris Birkett; Freedom Band & Friends @ The Tennessee, 1554 Queen St. W., TO West
9> Sugar Brown @ The Local, 396 Roncesvalles Ave., TO West ~Blues
10> Bad Luck Woman @ Dakota Tavern, 249 Ossington Ave., TO West
416 - Etobicoke
9> Pretzel Logic @ Timothy's Pub, 344 Brown's Line, Etobicoke South ~Steely Dan tribute; $10
*9:30-2> Skip Tracer @ Southside Johnny's, 3653 Lakeshore Blvd., Etobicoke South ~Rock/Pop
416 – Scarborough
*7-11> Johnson & Cornell (Earl Johnson & Jim Cornell) on the patio @ The Loaded Dog, 1921 Lawrence Ave. E., Scarborough ~acoustic Blues-Rock duo
*9> Tommy Rocker's Classic Rock Band host jam @ Centro Pizza, 3406 Kingston Rd., Scarborough
9:30> The High Rollers @ Black Dog Pub, 87 Island Rd., Scarborough ~Pop Rock
519
*7:30-12> open mic with K.M. Smith @ Molly Bloom's Guelph, 91 Wyndham St. N., Guelph
7:30> John McKinnon @ Fionn MacCool's Orangeville, 75 Fourth Ave., Orangeville
*8-11> open mic with Sandy MacDonald @ Williamsburg Arms, 1187 Fischer Hallman Rd., Kitchener
705
*7:30> open stage with Rob Phillips Band and Chelsea Bennett @ Black Horse Pub, 452 George St. N., Peterborough
*9> jam with Ted Rusk @ The Sauble Dunes, 11 Southampton Parkway, Sauble Beach
10> Michelle McAdorey @ The Garnet, 231 Hunter St. W., Peterborough
905 - East
*5-8> Nelson Denis @ Frank's Pasta, 42 King Street E., Cobourg ~eclectic mix (Folk, Jazz, soft Rock, Latin)
7> Jerome Tucker @ Simcoe Blues & Jazz, 926 Simcoe St. N., Oshawa ~Blues
8-12> Phil Naro @ Fionn MacCool's Ajax, 32 Kingston Rd. E. Ajax ~acoustic Pop
*?> jam with Darren Smith & Shayne Thomas @ The Corner Pocket, 45 Prince St., Oshawa
*9> jam @ The Wee Pub, 371 Wilson Rd. South, Oshawa
*9:30> jam with Billick @ Harp & Crown, 300 Kingston Rd., Pickering
905 - North
**7-11> Rebelljo Band & guests @ Fionn MacCool's Brampton, 11 Ray Lawson Blvd., Brampton ~Pop Rock
*8> open mic with Kevin Ker @ Duchess of Markham, 53 Main St., Markham
*9> open stage jam night @ Memphis North, 18947 Woodbine Ave., East Gwillimbury
 905 - South
*9> Rhythm Church; Horus; Jo Boudreau @ This Ain't Hollywood, 345 James St. N., Hamilton
*9> open mic night with rotating hosts @ Coach & Lantern, 384 Wilson St E., Hamilton
905 – West
8-12> Freedom Train @ Roc'n Doc's, 105 Lakeshore Rd. E., Port Credit ~Rock/Pop
*8-12> open mic & jam @ Black Swan Pub Burlington, 4040 Palladium Way, Burlington
*8> Celtic Night @ Fionn MacCool's Burlington, 2331 Appleby Line
*8-12> jam hosted by The Personics @ Carrigan Arms, 2025 Upper Middle Rd., Burlington
8:30> Songsmiths with host Lorne Allan and Pat Maloney; Tim McNabb + open stage @ Moonshine Café, 137 Kerr St. Oakville ~songwriters; $5
8:30> Tyler Schwende @ Fionn MacCool's Britannia, 825 Britannia Rd. W., Streetsville Mississauga ~Pop
*8:45> open mic with Matt Zady @ Failte, 201 City Centre Dr., Mississauga
9> Tim & Jay @ Fionn MacCool's Clarkson, 970 Southdown Rd., Mississauga
9:30> Glenn Groves @ Shore Grill, 71 Lakeshore Rd. E., Port Credit ~Pop Rock
*9:30> jam with Jack B Nimble @ Abbey Road Pub, 3200 Erin Mills Parkway, Mississauga
Copyright © 2015 Toronto Moon Magazine. All Rights Reserved