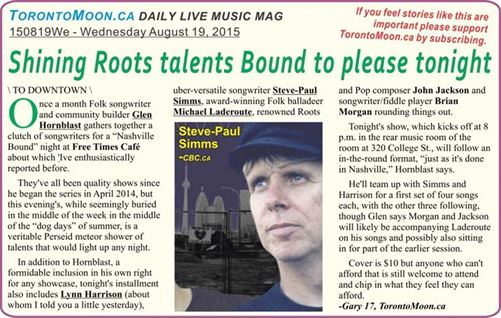 \ TO DOWNTOWN \
Once a month Folk songwriter and community builder Glen Hornblast gathers together a clutch of songwriters for a "Nashville Bound" night at Free Times Café about which I've enthusiastically reported before.
They've all been quality shows since he began the series in April 2014, but this evening's, while seemingly buried in the middle of the week in the middle of the "dog days" of summer, is a veritable Perseid meteor shower of talents that would light up any night.
In addition to Hornblast, a formidable inclusion in his own right for any showcase, tonight's installment also includes Lynn Harrison (about whom I told you a little yesterday), uber-versatile songwriter Steve-Paul Simms, award-winning Folk balladeer Michael Laderoute, renowned Roots and Pop composer John Jackson and songwriter/fiddle player Brian Morgan rounding things out.
Tonight's show, which kicks off at 8 p.m. in the rear music room of the room at 320 College St., will follow an in-the-round format, "just as it's done in Nashville," Hornblast says.
He'll team up with Simms and Harrison for a first set of four songs each, with the other three following, though Glen says Morgan and Jackson will likely be accompanying Laderoute on his songs and possibly also sitting in for part of the earlier session.
Cover is $10 but anyone who can't afford that is still welcome to attend and chip in what they feel they can afford.
-Gary 17, TorontoMoon.ca
SHOW LISTINGS for Wednesday, August 19, 2021
Listings are organized by area in which the shows occur and within each area field shows are listed chronologically.
Listings preceded by an asterisk (*) are repeating weekly events. (Double asterisk indicates repeating event with different hosts/guest/etc.) Admission prices followed by a slash and minus (/-) after the amount indicates door charge with availability of cheaper rates for some purchases. /+ indicates stated price is minimum.
Names of subscribers appear in bold and underlined and, where applicable, include a live link to their websites. Advertisers' listings are in larger, highlighted type, include live link to website and also have ad icon included in listings.
416 – Toronto Central
6> Melanie Peterson & Chris Birkett @ Cameron House (front), 408 Queen St. W., TO
6:30> Hannah Barstow Trio @ The Rex, 194 Queen St. W., TO ~Jazz
7> Comedy Brawl Quarterfinals @ Tranzac Club (Main Hall), 292 Brunswick Ave. TO ~comedy
7> Patrick Panus Quartet @ Monarchs Pub (Eaton Chelsea Hotel), 33 Gerrard St. W., TO ~Jazz
7:30> Joy Thompson; Trilogy; Ben Cherry @ Tranzac Club (Southern Cross), 292 Brunswick Ave. TO
*8-1> open jam with Wednesday's Child feat. Johnny Bootz Hutt @ Lola, 40 Kensington Ave., TO
*8:30> Crazy Strings host High Lonesome Wednesdays with opening acoustic act @ Silver Dollar 486 Spadina Ave., TO ~Bluegrass
*8:45> Bradley & The Bouncers @ Reservoir Lounge, 52 Wellington St. E., TO ~Jazz/Blues/R&B
9> Culture Reject; The Kents; Safe as Milk; Eclecticus @ Horseshoe Tavern, 370 Queen St. W., TO ~indie; $5
9> The Bass6; Johnny Polygon; Alex Wiley @ Rivoli, 334 Queen St. W., TO ~$15
9> Fun Cam; Honey Beard; Alissa Vox Raw; Ryan O'Shaugnessy @ The Paddock, 178 Bathurst St., TO ~indie showcase; $6
*9> open mic with Sean Barker @ Monarch Tavern, 12 Clinton St., TO
9:30> Oliver Pigott; Danka Scepanovic; Erica Werry & The Alphabet @ C'est What, 67 Front St. E., TO ~songwrtiers; pwyc
9:30> Chris Lesso's Modus Factor @ The Rex, 194 Queen St. W., TO ~Jazz
10> New Grease Revival @ Cameron House (front), 408 Queen St. W., TO
10> Bruce Cassidy @ Tranzac Club (Southern Cross), 292 Brunswick Ave. TO
*10-2> Blues-Rock jam with Bruce Domoney @ Grossman's, 379 Spadina Ave. TO
10:30> The Undercovers @ The Hideout, 484 Queen St. W., TO ~indie Rock
*10:30> The LMT Connection @ Orbit Room, 580 College St. TO ~Funk/R&B; $10
416 – Toronto East
*6-11> Rock jam with Scar-Bro Pete & Lee Van Leer @ Melange, 172 Main St., TO East
*7:30-10:30> The BTBs @ Relish, 2152 Danforth Ave., TO East ~Jazz
8> Conrad Gayle @ The Only Café, 972 Danforth Ave., TO East
8:30-10:30> Mediterranean Stars @ Castro's, 2116 Queen St. E., TO East ~Mediterranean Folk Jazz
*9:30> open stage with Nicola Vaughan @ Black Swan (downstairs), 154 Danforth Ave., TO East
416 – Toronto West
5-8> Concord Jazz Quintet @ Gate 403, 403 Roncesvalles Ave., TO West ~Jazz
*8-12> Girls Night Out Jazz singers jam with Lisa Particelli, Peter Hill et al @ Chalkers, 247 Marlee Ave., TO North-West
8> tba @ The Tennessee, 1554 Queen St. W., TO West
9-12> Blues Night with Julian Fauth & guests @ Gate 403, 403 Roncesvalles Ave., TO West ~original Juno-winning Blues
9> The Vaudevillian @ The Local, 396 Roncesvalles Ave., TO West ~old-time
9> The Rattles @ Dakota Tavern, 249 Ossington Ave., TO West
416 – TO Etobicoke
8-1> Three Dads @ Timothy's Pub, 344 Brown's Line, Etobicoke South ~Pop covers
416 – TO Scarborough
* 7> jam with Tommy Rocker's Classic Rock Band @ Fox at Scarborough Junction, 646 Danforth Rd., Scarborough
*8:30> Al Reilly's Catalyst @ Centro Pizza, 3408 Kingston Rd., Scarborough ~classic Rock
*8:30> open mic with Jadzia Skye & Michael Oesch @ Chez Helene's, 1437 Kingston Rd., Scarborough
519
*9> The Phil & John Show feat. Phil Naro @ Molly Bloom's Waterloo, 170 University Ave., Waterloo ~acoustic Pop Rock
705
*7-11> open jam with Wayne Buttery Band @ The Beacon, 146 45th St., Wasaga Beach
7> Chris Atril Blues Band @ Black Horse Pub, 452 George St. N., Peterborough
10> Dead Bees @ The Garnet, 231 Hunter St. W., Peterborough
905 East
7> Bruce Gorrie @ Simcoe Blues & Jazz, 926 Simcoe St. N., Oshawa
*8> Howard Ross & Full Count Blues hosts "Big Mojo" Blues jam with guest performer Eric Lambier @ Corner Pocket, 45 Prince St., Oshawa
8-12> open mic night @ Fionn MacCool's Ajax, 32 Kingston Rd. E. Ajax
*8-11> open mic @ Frank's Pasta, 426 King St. E., Cobourg
*9-12> jam with Damage Control @ St. Louis Bar & Grill Ajax, 11 Harwood Ave. S., Ajax
905 North
*7> open mic night with Tanya Joy Senior @ Col. McGrady's Pub, 44 Brock St. W., Uxbridge
8-10> Mark Yan & Barry Mulcahy host Folk Night with guest feature Joanne Hodgson @ Coffee Culture, 9 Queen St. E., Brampton; $5 donation requested
*8-12> acoustic jam with Tony Paglia & Aaron Soloman @ Jake's Boathouse Brampton, 59 First Gulf Rd., Brampton
*8-12> open mic with Kevin Ker @ Aw Shucks, 15230 Yonge St., Aurora
*8:45> open mic jam with Matt Zady @ Magnums, 21 McMurchy Ave. N., Brampton
*9-1> open mic jam with Whiskey Birds @ Sweetz Lounge, 5289 Hwy 7, Woodbridge-Vaughan
905 South
*7> open mic night @ Donnelley's Pub, 54 Front St., Thorold ~Blues
*8:30> Something Country @ The Endzone, 1900 King St. E., Hamilton ~Country
**8-1> "Country Pubkin" Night with Country artists tba @ Corktown Pub, 175 Young St., Hamilton
9> Graham Walsh; Edgar Breau; Justin Small; Andy Lloyd; Dan Empringham; Wayne Petti @ This Ain't Hollywood, 345 James St. N., Hamilton
905 West
*8-12> All-ages jam with band & host Kevin Reid @ Sixth Line Pub, 1500 Sixth Line, Oakville
*8-2> Paul & Curtis @ Roc'n Doc's, 105 Lakeshore Rd. E., Port Credit ~Rock/Pop
8-1> Ladies Of The Moonshine with Leslie Hudson; Danielle Danville; Megan Boni @ Moonshine Café, 137 Kerr St., Oakville ~songwriters; $7
8:30> The Carson Freeman Diversion @ Shore Grill, 71 Lakeshore Rd. E., Port Credit ~Pop Rock
*9> open mic jam with Jack B Nimble @ Blarney's Gate, 1151 Dundas St. W., Mississauga
*9?> jam with Michael Zane or Pat Dowds @ Shakers, 580 Kerr St., Oakville