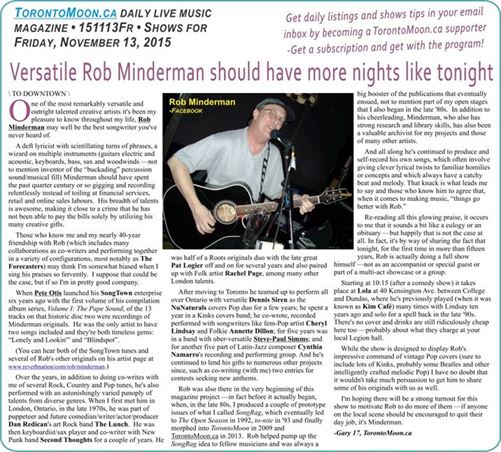 \ TO DOWNTOWN \
One of the most remarkably versatile and outright talented creative artists it's been my pleasure to know throughout my life, Rob Minderman may well be the best songwriter you've never heard of.
A deft lyricist with scintillating turns of phrases, a wizard on multiple instruments (guitars electric and acoustic, keyboards, bass, sax and woodwinds —not to mention inventor of the "buckading" percussion sound/musical fill) Minderman should have spent the past quarter century or so gigging and recording relentlessly instead of toiling at financial services, retail and online sales labours.  His breadth of talents is awesome, making it close to a crime that he has not been able to pay the bills solely by utilizing his many creative gifts.
Those who know me and my nearly 40-year friendship with Rob (which includes many collaborations as co-writers and performing together in a variety of configurations, most notably as The Forecasters) may think I'm somewhat biased when I sing his praises so fervently.  I suppose that could be the case, but if so I'm in pretty good company.
When Pete Otis launched his SongTown enterprise six years ago with the first volume of his compilation album series, Volume I: The Pape Sound, of the 13 tracks on that historic disc two were recordings of Minderman originals.  He was the only artist to have two songs included and they're both timeless gems: "Lonely and Lookin'" and "Blindspot".
(You can hear both of the SongTown tunes and several of Rob's other originals on his artist page at www.reverbnation/com/rob/minderman.)
Over the years, in addition to doing co-writes with me of several Rock, Country and Pop tunes, he's also performed with an astonishingly varied panoply of talents from diverse genres. When I first met him in London, Ontario, in the late 1970s, he was part of puppeteer and future comedian/writer/actor/producer Dan Redican's art Rock band The Lunch.  He was then keyboardist/sax player and co-writer with New Punk band Second Thoughts for a couple of years. He was half of a Roots originals duo with the late great Pat Logier off and on for several years and also paired up with Folk artist Rachel Page, among many other London talents.
After moving to Toronto he teamed up to perform all over Ontario with versatile Dennis Siren as the NuNaturals covers Pop duo for a few years; he spent a year in a Kinks covers band; he co-wrote, recorded performed with songwriters like fem-Pop artist Cheryl Lindsay and Folkie Annette Dillon; for five years was in a band with uber-versatile Steve-Paul Simms; and for another five part of Latin-Jazz composer Cynthia Namarro's recording and performing group. And he's continued to lend his gifts to numerous other projects since, such as co-writing (with me) two entries for contests seeking new anthems.
Rob was also there in the very beginning of this magazine project —in fact before it actually began, when, in the late 80s, I produced a couple of prototype issues of what I called SongRag, which eventually led to The Open Season in 1992, to-nite in '93 and finally morphed into TorontoMoon in 2009 and TorontoMoon.ca in 2013.  Rob helped pump up the SongRag idea to fellow musicians and was always a big booster of the publications that eventually ensued, not to mention part of my open stages that I also began in the late '80s.  In addition to his cheerleading, Minderman, who also has strong research and library skills, has also been a valuable archivist for my projects and those of many other artists.
And all along he's continued to produce and self-record his own songs, which often involve giving clever lyrical twists to familiar homilies or concepts and which always have a catchy beat and melody. That knack is what leads me to say and those who know him to agree that, when it comes to making music, "things go better with Rob."
Re-reading all this glowing praise, it occurs to me that it sounds a bit like a eulogy or an obituary —but happily that is not the case at all. In fact, it's by way of sharing the fact that tonight, for the first time in more than fifteen years, Rob is actually doing a full show himself —not as an accompanist or special guest or part of a multi-act showcase or a group.
Starting at 10:15 (after a comedy show) it takes place at Lola at 40 Kensington Ave. between College and Dundas, where he's previously played (when it was known as Kim Café) many times with Lindsay ten years ago and solo for a spell back in the late '90s. There's no cover and drinks are still ridiculously cheap here too —probably about what they charge at your local Legion hall.
While the show is designed to display Rob's impressive command of vintage Pop covers (sure to include lots of Kinks, probably some Beatles and other intelligently crafted melodic Pop) I have no doubt that it wouldn't take much persuasion to get him to share some of his originals with us as well.
I'm hoping there will be a strong turnout for this show to motivate Rob to do more of them —if anyone on the local scene should be encouraged to quit their day job, it's Minderman.
-Gary 17, TorontoMoon.ca
SHOW LISTINGS for Friday, November 13, 2021

:

Listings are organized by area in which the shows occur and within each area field shows are listed chronologically.

Listings preceded by an asterisk (*) are repeating weekly events. (Double asterisk indicates repeating event with different hosts/guest/etc.). Admission prices followed by a slash and minus (/-) after the amount indicates door charge with availability of cheaper rates for some purchases. /+ indicates stated price is minimum.

Names of subscribers appear in bold, are underlined and, where applicable, include a live link to their websites. Advertisers' listings are in larger type, highlighted, include live link to website and also have ad icon included in listings.

416 - Toronto Central

*3-7> acoustic jam with John Hutt @ Lola, 40 Kensington Ave  , TO

*4-6> Hogtown Syncopators @ The Rex, 194 Queen St. W., TO ~Jazz; $

*5-8> Kensington Kitchen Party with host Kevin Jollimore of Sin City Boys, Kim Cadilla on bass & guest musicians @ Graffiti's, 170 Baldwin St., TO ~Pop Rock with heart

*5-7> The Friends of Hugh Oliver @ Tranzac Club (Southern Cross), 292 Brunswick Ave., TO ~Folk

6> Lotus Wight and John Williams @ Cameron House (front), 408 Queen St. W., TO

6-8> Alex Samaras and Bobby Hsu @ 120 Diner, 120 Church St., TO ~Jazz

6> Preston Lee @ Sneaky Dee's, 431 College St., TO ~indie; $15

6:30> Artie Roth Quartet @ The Rex, 194 Queen St. W., TO ~Jazz; $

7> Nags Players present "Perfect Crime" @ Tranzac Club (Main Hall), 292 Brunswick Ave., TO

8> New Grease Revival @ Cameron House (front), 408 Queen Street West, TO

8> Errol Blackwood & guests @ Rivoli, 334 Queen St. W., TO ~ $

8> Coleman Tinsley @ Musideum, 401 Richmond St. W., #133, TO ~Jazz; $20

8:30> Jennifer Loyola Band; Braeden Mitchell @ Free Times Café, 320 College St., TO ~Pop; $10

8:30> Brownman Ali @ May Café, 876 Dundas St. W., TO ~Cole Porter tribute; $15

9-1> Tennessee Voodoo Coupe @ Monarchs Pub in Eaton Chelsea Hotel, 33 Gerrard St. W., TO ~Hillbilly Jive

9> Mattie Leon; Darcy Windover; Nelson Sobral @ Cameron House (rear), 408 Queen St. W., TO ~indie songwriters

9> Michael Danckert Band @ Drums N Flats, 1980 Avenue Rd., TO North ~Johnny Cash tribute

9> The Joy Arson; Fallen Heirs; Last Bullet; The Sole Pursuit; The Rathburns @ Horseshoe Tavern, 370 Queen St. W., TO ~$10

9> Bust & The Bass; Adrian Underhill; Gold Complex @ Lee's Palace, 529 Bloor St. W., TO ~$15

9> Rotary Dial; The Lifts @ The Cavern Bar, 76 Church St., TO

9> Dave Young Sextet @ Jazz Bistro, 251 Victoria St., TO ~Duke Ellington tribute Jazz
9:30> One King @ Seven44, 744 Mount Pleasant Rd., TO North ~Rock
9:30> Lady Kane @ Alleycatz, 2409 Yonge St., TO North ~Funk/Soul/R&B; $10
9:45> Allison Young @ The Rex, 194 Queen St. W., TO ~Jazz; $
9:45> Dee Dee & The Dirty Martinis @ Reservoir Lounge, 52 Wellington St. E., TO ~60s R&B; $
10> Dave Murphy Band @ Orbit Room, 480 College St. TO ~Rock/Funk/R&B; $
10> Melvin Colacino Blues Band @ Cameron House (front), 408 Queen Street West, TO
10> Mark T Band @ The Cage 292, 292 College St., TO ~psychedelic jam band
10> Aldcroft/Neal/Segger @ Tranzac Club (Southern Cross), 292 Brunswick Ave., TO
10:30> Rob Minderman @ Lola, 40 Kensington Ave., TO ~vintage Top 40 hits & original Pop
10:30> The Rattles @ Grossman's, 379 Spadina Ave., TO ~Beatles tribute
10:30> The Lonely Hearts @ Fionn MacCool's Esplanade, 70 The Esplanade
10:30> Chris Godfrey; Scully & The Crossbones @ The Hideout, 484 Queen St. W., TO ~indie Rock
416 - Toronto East
5-7> The Straight 8s @ Castro's, 2116 Queen St. E., TO East
7> Beirut; Hailu Mergia @ The Danforth Music Hall, 147 Danforth Ave., TO East ~$44-47
8-12> The Cast of Characters; The Usual Suspects; The Contenders; Coyote Blue for UN Refugee Agency fundraiser @ The Duke Live, 1225 Queen St. E., TO East ~eclectic; donation
8:30> The Lonestars @ Eton House, 710 Danforth Ave., TO East ~Country Rock
9> Wayne Neon & The Tubular Orchestra @ Black Swan Tavern, 154 Danforth Ave., TO East ~Country
9> Paul Reddick @ Dora Keogh, 141 Danforth Ave., TO East ~Blues
*?> open mic with Matt & Mike @ The Grover Pub, 676 Kingston Rd., TO East
*9:30> David Macmichael & The $5 Tall Boys @ Relish, 2152 Danforth Ave., TO East ~alt Pop originals and covers
9:30> The Del Fi's album release featuring Jerry Leger @ Linsmore Tavern, 1298 Danforth Ave., TO East ~throwback Rock 'n' Roll; $5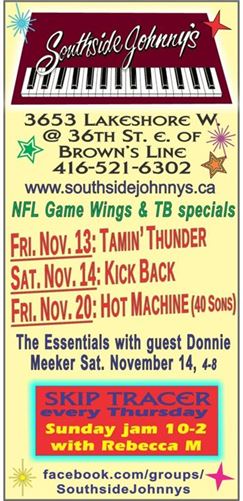 416 – Toronto Etobicoke
7:30> Tom Szczesniak Trio @ Old Mill Inn, 21 Old Mill Rd., Etobicoke ~Jazz; min table charge
8> Brighton Rock @ The Rockpile, 5555 Dundas St. W., Etobicoke ~$
9> Kick Back @ Blue Goose Tavern, 1 Blue Goose Rd., Etobicoke South ~Pop Rock/Top 40
9> The Riot Kings @ Maple Leaf House, 2749 Lake Shore Boulevard West, Etobicoke ~Rock/Top 40/Blues
9:30> Jerome Godboo Band @ Timothy's Pub, 344 Brown's Line, Etobicoke South ~Blues; $
9:30> Johnny Devil & The Screamin' Deamons @ Refinery Public House, 3039 Lake Shore Blvd. W., Etobicoke ~
10-2> Tamin' Thunder @ Southside Johnny's, 3653 Lake Shore Blvd. W., Etobicoke South ~classic Rock/Dance/R&B
416 – Toronto Scarborough
9:30> Bone-Yard @ McGradie's, 2167 Victoria Park Ave., Scarborough ~classic Rock/Top 40 ~Rock
9:30> iHeart @ Stone Cottage Pub, 3750 Kingston Rd., Scarborough ~Pop Rock
9:30> Rebel Joe @ Kornerstones, 1601 Birchmount Ave., Scarborough ~Rock/Top 40
416 - Toronto West
5-8> Denise Leslie Band @ Gate 403, 403 Roncesvalles Ave., TO West ~Jazz
7> Norman Blake & Joe Pernice with guests @ Dakota Tavern, 249 Ossington Ave., TO W. ~$15
8:30> New Orleans Stomp with Gregg Stafford & Detroit Brooks & guest emcee Alex Pangman @ Hugh's Room, 2261 Dundas St. W., TO West ~classic Jazz; $30/-
9-1> Denielle Bassels Band @ Gate 403, 403 Roncesvalles Ave., TO West ~Jazz
9> Future States; The Most Loyal @ Burdock, 1184 Bloor St. W., TO West ~$10
9> Gualbertos @ The Tennessee, 1554 Queen St. W., TO West
9:30> Turbo Street @ Fat City Blues, 890 College St., TO West ~Blues
10-2> Big Tobacco & The Pickers featuring Anne Werbiktsky on pedal steel @ Dakota Tavern, 249 Ossington Ave., TO W. ~authentic & original Country; $10
10> Emily McCann; Shikha Sehgal; Jay Richards; Hugh Wilson @ Not My Dog, 1510 Queen St. W., TO West ~original Pop
519
8> Shred Penner @ Fionn MacCool's Kitchener, 4287 King St. E., Kitchener
9> Dusty Springs @ Fionn MacCool's Guelph, 494 Ediburgh Rd. S., Guelph
9> Tyler Wilson Band @ Brando's Beach House, 135 Market St., Brantford
9:30> Ross Burant @ Fionn MacCool's Orangeville, 75 Fourth Ave., Orangeville
705
5:30> Rick & Gailie @ Black Horse Pub, 452 George St. N., Peterborough
8:30> Doug Horner @ Black Horse Pub, 452 George St. N., Peterborough
9:30> The Strumbellas @ Red Dog Tavern, 189 Hunter St. W., Peterborough
9:30> Smokey Monahan @ Sticky Fingers Dunlop, 150 Dunlop St. W., Barrie
10> Evan Gentle @ The Garnet, 231 Hunter St. W., Peterborough
905 East
9-1> Tone Dogs @ Simcoe Blues & Jazz, 926 Simcoe St. N., Oshawa ~Blues-Rock
9> Jesse Slack @ The Corral, 433 Simcoe St. S., Oshawa ~Country
9> Head of the Herd @ The Moustache Club, 15 Simcoe St. N., Oshawa
*9:30> Karaoke with Rob MacArthur & Lorraine @ Royal Canadian Legion #322, 112 Hunt St., Ajax
9:30> Acoustica @ The Edge, 250 Bayly St., Ajax ~$
10-2> Recovery Mode featuring Shellie Taylor @ Fionn MacCool's Ajax, 36 Kingston Rd., E., Ajax ~Pop Rock/Top 40
10-2> Something Extra @ Whisky John's, 843 King St. W., Oshawa ~Rock/Top 40
905 North
8:30> Project Classified @ Lake Simcoe Arms, 21089 Dalton Rd., Jackson's Point
9> Dirty Little Swing Thing @ King Richard's Pub, 15570 Yonge St., Aurora ~Pop Rock
9> Acoustic On Fire @ Fionn MacCool's Newmarket, 17315 Leslie St., Newmarket
9:30> Fifteen Stone featuring Darrell McNeill @ Oscar's Roadhouse, 1785 Queen St. E., Brampton ~Top 40/Rock
9:30> Marc Joseph Band @ Jake's Boathouse Brampton, 59 First Gulf Rd., Brampton ~Pop Rock
*9:30> open mic @ Big Daddy's, 460 Elgin Mills Rd., E, Richmond Hill
10> Pop Machine @ Aw Shucks, 15230 Yonge St., Aurora ~Pop Rock
905 – South
9> Tongue Fu; Albino @ This Ain't Hollywood, 345 James St. N., Hamilton
9> Almost Zero @ The Casbah Lounge, 306 King St. W., Hamilton
9> Artists Supporting Artists showcase @ Corktown Pub, 175 Young St., Hamilton
9> Paul Mallard @ Coach & Lantern, 384 Wilson St E., Hamilton
10> Rosevelt @ Doc Magilligan's Irish Pub, 6400 Lundy's Lane, Niagara Falls
905 West
*5> Adam Ostrosser & Joel Guenther @ Carrigan Arms, 2025 Upper Middle Rd., Burlington ~Pop
*6-9> Krista Blondin @ Roc'n Doc's, 105 Lakeshore Rd. E., Port Credit ~Blues/Jazz/Pop
8-11> Mary O'Malley Band featuring Dave Girdlestone of Soul Funkshun @ Bristol Bar, 1235 Fairview St., Burlington
8> Jack de Keyzer (solo) @ Moonshine Café, 137 Kerr St., Oakville ~Blues; $10
9> Jamie Todd & Larry Downing @ Fionn MacCool's Oakville, 350 Dundas St. E., Oakville
9> Whiskey Epiphany @ Fionn MacCool's Burlington, 2331 Appleby Line, Burlington
9:30> Glenn Groves @ Shore Grill, 71 Lakeshore Rd. E., Port Credit ~Pop Rock/Top 40
9:30> Freedom Train @ The Franklin House, 263 Queen St. S., Streetsville ~Pop Rock
9:30> Mike Billik Band @ Fionn MacCool's Clarkson, 970 Southdown Rd., Mississauga
9:30> Daryl Gray @ Gator Ted's, 1505 Guelph Line, Burlington ~Pop Rock
9:30> Groovehammer @ Boston Manor, 4460 Fairview Ave., Burlington
9:30> Johnny Rock Band @ Black Swan Pub Burlington, 4040 Palladium Way, Burlington ~Pop Rock
10-2> Fleetwood Mix @ Roc'n Doc's, 105 Lakeshore Rd. E., Port Credit ~Fleetwood Mac tribute; $
10:15> Red Velvet @ Failte, 201 City Centre Dr., Mississauga