SHOW LISTINGS for Saturday, November 14, 2021
Listings are organized by area in which the shows occur and within each area field shows are listed chronologically.
Listings preceded by an asterisk (*) are repeating weekly events. (Double asterisk indicates repeating event with different hosts/guest/etc.). Admission prices followed by a slash and minus (/-) after the amount indicates door charge with availability of cheaper rates for some purchases. /+ indicates stated price is minimum.
Names of subscribers appear in bold, are underlined and, where applicable, include a live link to their websites. Advertisers' listings are in larger, highlighted type, include live link to website and also have ad icon included in listings.
416 - Toronto Central
*12-3> The Sinners Choir @ The Rex, 194 Queen St. W., TO ~Jazz
2> DanahKae @ The Mad Bean, 519 Eglinton Ave. W., TO North ~songwriter
3> The Hot Five Jazzmakers @ C'est What, 67 Front St. E., TO ~traditional Jazz; $5
3> Jamzac @ Tranzac Club (Southern Cross), 292 Brunswick Ave., TO
3:30> Advocats Big Band @ The Rex, 194 Queen St. W., TO ~Jazz
3:30> Mike Murley Quartet @ The Pilot, 22 Cumberland St., TO ~Jazz
4-7> Downtown Jazz Band @ Seven44, 744 Mount Pleasant Road, TO North ~$
*4-7> Climax Jazz Band @ Alleycatz, 2409 Yonge St., TO North ~Dixieland Jazz; $?
*4:40-7:30> The Happy Pals @ Grossman's, 379 Spadina Ave., TO ~New Orleans Jazz
*5-8> Blues & Troubles @ Déjà vu Bar, 389 College St., TO ~Blues
6-8> Brenda Lewis album release @ 120 Diner, 120 Church St., TO
6> Big Tobacco & The Pickers featuring Anne Werbitzky on pedal steel @ Cameron House (front), 408 Queen St. W., TO ~authentic Country covers & originals
6:30> Joe Hall @ Tranzac Club (Southern Cross), 292 Brunswick Ave., TO ~Country/Roots songwriter
7> Nags Players present "Perfect Crime" @ Tranzac Club (Main Hall), 292 Brunswick Ave., TO
7:30> variety show for cancer research with Michelle Lecce, Glen Hornblast; Christine Gaides; Sam & Jen; Lizzie Violet @ Buddies in Bad Times Theatre, 12 Alexander St., TO; $15
7:30> Justin Bacchus @ The Rex, 194 Queen St. W., TO ~ Jazz
8> Tozuka Band @ May Café, 876 Dundas St. W., TO
8> Peter Campbell @ Musideum, 401 Richmond St. W., #133, TO ~Jazz; $20
8:30> The Xave Challenge @ Free Times Café, 320 College St. TO ~$5
9> Pow Wow's; The Ugly; The Secret @ Rivoli, 334 Queen St. W., TO; $20
9> Red Velvet­ @ Seven44, 744 Mount Pleasant Road, TO North
9> Robin Family Band @ Drums N Flats, 1980 Avenue Rd., TO North ~Bob Marley tribute
9> Thunderfunk; Keith Rich @ C'est What, 67 Front St. E., TO ~pwyc
9> Dave Young Sextet @ Jazz Bistro, 251 Victoria St., TO ~Duke Ellington tribute Jazz
9> Samara York @ Lee's Palace, 529 Bloor St. W., TO ~$10
9> Snoqalmie; The Corner; Kyle Stephens @ Cameron House (rear), 408 Queen St. W., TO
9> Lera Lynn; Dylan LeBlanc @ Horseshoe Tavern, 370 Queen St. W., TO
9> Blve Hills; more tba @ The Cavern Bar, 76 Church St., TO
9:30> Lady Kane @ Alleycatz, 2409 Yonge St., TO North ~Funk/Soul/R&B; $
9:45> Kiki Misumi Sextet @ The Rex, 194 Queen St. W., TO ~Jazz
*9:45> Tyler Yarema & His Rhythm @ Reservoir Lounge, 52 Wellington St. E., TO ~Jazz/Blues; $
10> Ride The Tiger @ Orbit Room, 480 College St. TO ~Funk/Soul; $
10> Devin Cuddy Band @ Cameron House (front), 408 Queen St. W., TO
10> Klez Factor @ Tranzac Club (Southern Cross), 292 Brunswick Ave., TO
10-2> Chloe Watkins and Park Eddy @ Grossman's, 379 Spadina Ave., TO ~
10:30> Shawn Brady & The Northern Sons @ The Hideout, 484 Queen St. W., TO ~indie Rock
10:30> Lindsay Brohan @ Fionn MacCool's Esplanade, 70 The Esplanade
11> Shake A Tail @ Sneaky Dee's, 431 College St., TO ~indie; $5
416 - Toronto East
3-7> The Porchdog Choir @ The Salty Dog, 1980 Queen St. E., TO East ~Rootsabilly
*3:30-6> Johnny Wright @ Outriggers, 2232 Queen St. E., TO East ~R&B
3:30> Go Freddy Go @ Eton House, 710 Danforth Ave., TO East ~vintage Rock 'n' Roll
*4-7:30> Ronnie Hayward Trio @ McQueen's, 993 Queen St. E., TO E. ~Blues/Roots
6-8> The Cosmotones @ Castro's, 2116 Queen St. E., TO East ~Blues/Roots
7> Beirut; Hailu Mergia @ The Danforth Music Hall, 147 Danforth Ave., TO East ~$44-47
9-12> Blair Packham and guests Stacey Kaniuk, Tamara Williamson @ The Feathers, 962 Kingston Rd., TO East ~songwriter
9> Graham Nicholas @ Dora Keogh, 141 Danforth Ave., TO East
9:30-11:30> James Clark @ Relish, 2152 Danforth Ave., TO East ~
9:30> Rom Baumber; Whiskey Epiphany @ Eton House, 710 Danforth Ave., TO East ~$7
9:30> Hot Rocks @ Linsmore Tavern, 1298 Danforth Ave., TO East ~Rolling Stones tribute; $15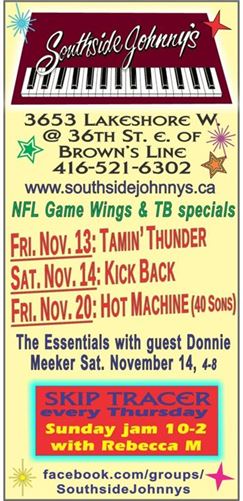 416 – Toronto Etobicoke
*3-6> Danny B Band @ Blue Goose, 1 Blue Goose St., Etobicoke South ~R&B/Blues
**4-8> The Bear's Essentials with guest singer Donnie Meeker @ Southside Johnny's, 3653 Lake Shore Blvd. W. Etobicoke South ~Rock-R&B
*4-8> The Meteors with guest Michael Theodore @ Timothy's Pub, 344 Brown's Line, Etobicoke South ~Blues/Rock/R&B
7:30> Vern Dorge Trio @ Old Mill Inn Homesmith Bar, 21 Old Mill Rd., Etobicoke ~Jazz; minimum table charge
7:30> Motown Mania @ Old Mill Inn Dining Room, 21 Old Mill Rd., Etobicoke ~Jazz; minimum table charge
9> Fried Angels @ Blue Goose Tavern, 1 Blue Goose Rd., Etobicoke South ~Pop Rock
9> The Mlixx @ Maple Leaf House, 2749 Lake Shore Boulevard West, Etobicoke ~Rock/Top 40/Blues
9:30> Taunted By Girls featuring Michelle Deneault @ Timothy's Pub, 344 Brown's Line, Etobicoke South ~Pop Rock/Top 40; $
10-2> Kick Back @ Southside Johnny's, 3653 Lake Shore Blvd. W. Etobicoke South ~Rock/Top 40
416 – Toronto Scarborough
*3-6> Still Sunday hosts invite Rock/Blues jam @ The Loaded Dog, 1921 Lawrence Ave. E., Scarborough
*9:30-2> karaoke with The English Rose & The Mad Scotsman @ Winners, 2181 Lawrence Ave. E., Scarborough
9:30> Paul Irvine @ Stone Cottage Pub, 3750 Kingston Rd., Scarborough ~Pop Rock
416 - Toronto West
*12-3> Julian Fauth's Blues Brunch @ Axis, 3048 Dundas St. W., TO West ~Blues
**2-6> open mic with guest host Frank Fabelanger @ Magic Oven, 347 Keele St., TO West
**5-8> Bill Heffernan's Saturday Sessions with featured guests Arthur Renwick & Darcy Good @ Gate 403, 403 Roncesvalles Ave. TO West ~Roots/Country/Pop
5-8> Kirsten Jones; Clela Errington; Nancy Dutra @ The Local, 396 Roncesvalles Ave., TO West ~original & cover Roots/Country
7> Greg Clarke @ The Tennessee, 1554 Queen St. W., TO West
8-10> Dan McLean Jr. @ Humble Beginnings, 3109 Dundas St. W., TO West ~acoustic Soul
8:30> Carlos del Junco @ Hugh's Room, 2261 Dundas St. W., TO West ~Blues harp master; $27.50
8:30> Lost and Profound @ Belljar Café, 2072 Dundas St. W., TO West
9-1> Julian Fauth @ Gate 403, 403 Roncesvalles Ave., TO West ~Blues
9> Tara Kannangara @ Burdock, 1184 Bloor St. W., TO West ~$10
9> Jimmy Byron @ The Local, 396 Roncesvalles Ave., TO West ~Rock 'n' Roll
9:30> The Junction City All-Stars featuring Dave McManus and George Baumann; Root 'n' Branches@ The Cat, 3153 Dundas St. W., ~Pop Rock/Blues
9:30> Paul Reddick @ Fat City Blues, 890 College St., TO West ~Blues
10> Brandy @ The Tennessee, 1554 Queen St. W., TO West
10-2> The Mercen-80's (The Mercenaries) @ Dakota Tavern, 249 Ossington Ave., TO West ~80s Rock/Soul

519
3-6> Ian Andrews Band with sax player @ Brando's Beach House, 135 Market St., Brantford
8> Dusty Strings @ Fionn MacCool's Kitchener, 4287 King St. E., Kitchener
9> The Barriers @ Fionn MacCool's Guelph, 494 Ediburgh Rd. S., Guelph
9:30> Tim McIntosh @ Fionn MacCool's Orangeville, 75 Fourth Ave., Orangeville
705
5> Rick & Gailie @ Black Horse Pub, 452 George St. N., Peterborough
8:30> Four Lanes Wide @ Black Horse Pub, 452 George St. N., Peterborough
9:30> Matt Storch and The Usual Suspects @ Sticky Fingers Dunlop, 150 Dunlop St. W., Barrie
9:30> Vern's Comb @ Red Dog Tavern, 189 Hunter St. W., Peterborough ~80s covers
10> Limestone; Feathers & Fangs @ The Spill, 414 George St., Peterborough
10> Mike Wallace & guests @ The Garnet, 231 Hunter St. W., Peterborough
905 East
*4> PRJ @ Simcoe Blues & Jazz, 926 Simcoe St., Oshawa ~Blues
*9-1> karaoke with Rob MacArthur @ Tudor Rose, 700 Harwood Ave. S., Ajax
9> Jesse Slack @ The Corral, 433 Simcoe St. S., Oshawa ~Country
9-1> Last Chance @ Simcoe Blues & Jazz, 926 Simcoe St. N., Oshawa
9> Ivory Hours @ The Moustache Club, 15 Simcoe St. N., Oshawa ~$10
9:30> Howard Ross & The Full Count Blues Band @ West Shore, 877 Bayly St., Pickering ~Rock/Pop
9:30> Tamin' Thunder @ The Edge, 250 Bayly St., Ajax ~Rock/R&B/Dance
10-2> CeCe Pastor & Word Of Mouth @ Fionn MacCool's Ajax, 36 Kingston Rd. E., Ajax ~Pop Rock
10-2> After Glow @ Whisky John's, 843 King St. W., Oshawa ~Rock/Top 40
905 North
6-9> Dinner Jazz @ Lake Simcoe Arms, 21089 Dalton Rd., Jackson's Point ~Jazz
9> Fifteen Stone featuring Darrell McNeill @ North York Veterans Social Club, 6321 Yonge St., TO North ~Top 40/Rock
9-1> Just One More @ Oscar's Roadhouse, 1785 Queen St. E., Brampton ~Pop Rock/Top 40
9> Crossroad Magdalenes @ Brooks Sports Bar, 12774 Highway 50, Bolton
9> Full Tilt @ Fionn MacCool's Newmarket, 17315 Leslie St., Newmarket ~Rock/Top 40
9:30> Marc Joseph Band @ Jake's Boathouse Brampton, 59 First Gulf Rd., Brampton ~Pop Rock
9:30> Pop Machine @ Aw Shucks, 15230 Yonge St., Aurora ~Pop Rock
*11> DJ Ozne (Enzo Simone) @ Britannia Pub, 7359 Yonge St., Thornhill
905 South
**2> Brant Parker Band with guest tba @ Donnelley's Pub, 54 Front St., Thorold ~Blues
*2-6> jam w. Tom Finocchio @ Sam's Place, Barton-Chestnut Sts., Hamilton
**2:30> special guest with The Mighty Duck Band, The Duck, 244 Ontario St., St. Catharines ~R&B/Blues
**2:30> Tim Gibbons @ Coach & Lantern (upstairs), 384 Wilson St E., Hamilton ~Blues
9> Something Changes @ Coach & Lantern, 384 Wilson St E., Hamilton
9> CATL; The Blue Demons; The Huarches @ This Ain't Hollywood, 345 James St. N., Hamilton ~Surf 'n' Punk 'n' Blues; $
9> We Are Ardent @ Corktown Pub, 175 Young St., Hamilton ~indie; $
**9> Niagara Rhythm Section @ The Old Winery, 2228 Niagara Stone Rd., Niagara-On-The-Lake ~R&B/Blues
9:30> Frank Koren album release for Red Chair @ Casbah Lounge, 306 King St. W., Hamilton
10> Dunn featuring Dee Flat @ Blue Lagoon, 6769 Lundy's Lane, Niagara Falls ~Rock/Top 40
10> Madhatters @ Doc Magilligan's Irish Pub, 6400 Lundy's Lane, Niagara Falls
905 West
**2-6> Sil Simone Band with special guest Krista Blondin @ Carrigan Arms, 2025 Upper Middle Rd., Burlington ~Rock/Blues
**2-6> Saturday Blues Sermon with James Anthony & special guest Terry Chisholm @ Black Swan Pub Burlington, 4040 Palladium Way, Burlington ~Blues
*3-7> jam with Michelle Deneault & Redder @ Port Credit Legion, 35 Front St., Port Credit
*3-7> open stage jam @ Moonshine Café, 137 Kerr St., Oakville; $2
*6-9> Victoria & Bobby Keys @ Roc'n Doc's, 105 Lakeshore Rd. E., Port Credit ~soft Pop
8-12> Mark "Bird" Stafford Trio @ Moonshine Café, 137 Kerr St., Oakville ~Blues; $10
9> Full Tilt @ Fionn MacCool's Oakville, 350 Dundas St. E., Oakville
9> Macfarlane Young @ Fionn MacCool's Burlington, 2331 Appleby Line, Burlington
9> Crosstown Traffic @ Carrigan Arms, 2025 Upper Middle Rd., Burlington
9:30> Skip Tracer @ Sixth Line Pub, 1500 Sixth Line, Oakville ~Pop Rock/Top 40
9:30> Peter Lafferty @ Shore Grill, 71 Lakeshore Rd. E., Port Credit ~Pop Rock/Top 40
9:30> Two For The Show @ The Franklin House, 263 Queen St. S., Streetsville ~Pop Rock
9:30> Duelling Divas @ Gator Ted's, 1505 Guelph Line, Burlington
9:15> Soul Funkshun featuring Dave Girdlestone on guitar & special guest Liberty Silver @ Boston Manor, 4460 Fairview Ave., Burlington
10> Amanda Rose & Josh Gordon @ Yorkshire Arms, 1201 Brittania Rd. W., Streetsville Mississauga ~acoustic Pop duo
10-2> Pop Cherry @ Roc'n Doc's, 105 Lakeshore Rd. E., Port Credit ~vintage Rock/Top 40; $
10:15> The Sound Parade @ Failte, 201 City Centre Dr., Mississauga
Copyright © 2015 Toronto Moon Magazine. All Rights Reserved