\ PETERBOROUGH \
There aren't many of his kind left —but then, they never made many of his kind to begin with.
Joe Hall, who passed away on Friday at 71 years of age after battling liver cancer for some time, was an highly original titan of a songwriter and performer whose cheeky, bizarre and hugely entertaining presence influenced a generation of Canadian musicians.
Longtime musical companion Tony Quarrington announced Hall's passing on Facebook March 24 and a subsequent torrent of tributes and laments at the loss has since flooded the thread from a disparate array of fellow talents and fans from across the country.
With Joe Hall and The Continental Drift in the 1970s and '80s, before he moved to Peterborough 30 years ago, Hall titillated, outraged and never failed to engage audiences on the Queen West music scene during its halcyon days.  From his then-considered daring stage apparel (a kilt-like skirt with workboots and oversized flowing bow tie, for example, can be see in one archived video) to his Zappaesque monologues and asides during songs, he seemed to do whatever came to mind with no regard for decorum or convention, his aim solely on the integrity of his artistic expression.
Often rib-splittingly hilarious, almost always piercingly pithy and sarcastic or satirical in his lyrics, Hall's animated facial expressions and theatrical stage gambits also added to a sense of unpredictability and edgy risk-taking that kept risqué possibilities always on deck.
In Peterborough, in addition to serving as a kind of veteran mentor to younger performers and working with and recording other artists, he continued to record his own independently produced tracks and in December released his final self-titled album to add to a catalogue that included three from the late 70s and '80s and a "best of" disc in 1999..
Despite battling his illness, Hall also continued to perform, including occasional shows at TO's Tranzac Club and a one with Quarrington and longtime Continental Drift bass player JP Hovercraft in the Acme Art & Sailboat Company gallery in November as part of the Peterborough Art Crawl festival. Kawarthas-area artist and Hall's pal Joe Stable had put on an exhibition of portraits of the chameleonic frontman, donating half the proceeds to help him complete the final album.
Quarrington, in his Facebook post, calls that Joe Hall and The Continental Drift new release "the best ever" by the songwriter whom he said was the only other Canadian composer "I would seriously compare to Leonard Cohen."
But it's perhaps appropriate that Hall's final public performance took place in an art gallery, since his work also embraced a broader artistic community.  His Continental Drift shows were truly Performance Art as well as music, as evidenced in a posted lament from Canadian comedian, writer, producer, actor and musician Dan Redican (The Frantics, "Four On The Floor", "Puppets Who Kill", "Sunnyside" among many others) who cut his performance teeth fronting a similar absurdity-laced musical group known as Poopy Dan & His Lunch in the 1970s.   Calling Hall "one of my heroes, Funny. Smart. Twisted," he added that "if there had been no Joe Hall and the Continental Drift, there would have been no Poopy Dan and his Lunch, that's for sure" —probably no critically acclaimed comedic career to follow either.
Sebastian Agnello, another iconoclastic songwriter who often does Joe Hall covers at his Monday night open stage at Black Swan Tavern in east TO (and who says he'll perform at least one of them, the hilarious "Middle Aged Guys With Guitars," at this evening's 9-1 edition of the event) has been both a friend and fan of Hall's for over 40 years, calling him "a brilliant, original talent."
The online tributes from famous and obscure musicians and fans also include a remarkable recounting of a tale from about twenty years ago by Joan Athey that I think is worth repeating here for what it says about the intellectual and literary depths and sensitivity behind Hall's work:
"I have a huge memory of the time he collaborated with Roger Brant on a rag-taggle tour to Vancouver. It began in 2000 when I caught up with him in person on a visit to Toronto for the first time in probably in 30 years, having moved to the west coast. Danni Starbuck and I headed over to the Free Times to see his show. He performed a stunning piece he had just written "Dollarton Blues" about author Malcolm Lowry's battle with alcoholism. I lived in Dollarton in North Vancouver! I insisted that he must come to Vancouver on a tour. It turned out he had been thinking about it. So he recruited his old pal bassist Roger Brant who lives in Vancouver and out they came. To make a long story short, I introduced him to Malcolm Lowry's best friend Harvey Burt. Then I thought - let's have Harvey meet Joe. AND let's make a radio show! CBC came to tape the meeting of Joe and Harvey and Joe sang his song for him. Harvey was so quiet sitting in his big chair. After the last chords stopped he got up, went to the mantlepiece over his fireplace where an old Ukulele had hung for as long as I had down Harvey. Turned out it was Malcom Lowry's.When Lawry died Burt took it into his care. Harvey thought Joe had nailed the sentiment, the pain and the gentle irony all wrapped up in one brilliant song. He presented the instrument to Joe. Gave him a little slip of paper saying what it was and that it was now Joe's. Joe was so stunned - he very quietly held it like a baby. Later he had it repaired and sometimes it made an appearance at a gig. God bless Joe and speed him on his way. Tony is right - I would compare him to Cohen. "You can't hide that tragic flaw. From Dollarton town o Panama. The bottle's empty. It's the end of an era. And the sun falls down on the Cordillera."
Now, with Hall's passing, it would seem it's also the end of an era for many fans of outside-the-box Rock and Roots music in Canada.  One silver lining might be, as one poster of condolences pointed out, that a lot of old videos are now resurfacing, and with them and the memories he created and influence he's had on a generation of other talents, Joe Hall's place in the pantheon of Canadian great seems assured.
[You can hear the entire final Joe Hall album online through
Trent University's music archive project
, and see a video of Hall's final recorded live performance at the gallery posted by
Bill Kimball
as part of
an obit on the KarawarthaNow online publication
published yesterday.  Other videos of Hall and the CD band from the 1970s such as an uproarious art-Rock rendition of "Brain Damage Blues" can be found on the
YouTube channel of
Dave Bingham
.]
-By Gary 17, TorontoMoon.ca
[email protected] * [email protected]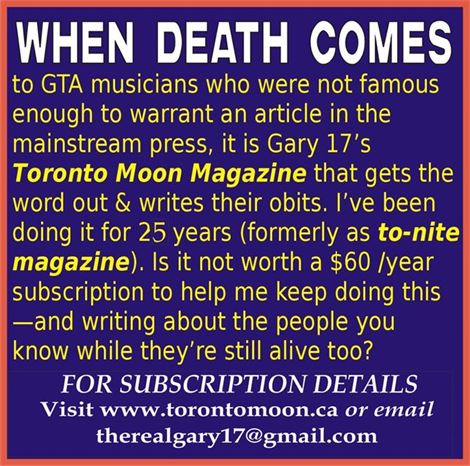 SHOW LISTINGS for Monday, March 25, 2022
Listings are organized by area in which the shows occur and within each area field shows are listed chronologically. For KEY to listings codes and schemata see note at end of shows list.
Names of subscribers appear in bold, are underlined and, where applicable, include a live link to their Home or Event url.  FOR SUBSCRIPTION DETAILS VISIT: https://www.torontomoon.ca/subscribe/
Advertisers' listings are in larger, highlighted type, include live link to website and also have ad icon included in listings.  FOR ADVERTISING INFO VISIT:
https://www.torontomoon.ca/advertise-with-toronto-moon/
ON AIR/ONLINE
*2-3> "Out of The Bassment" with host Keiko Gutierrez @ 93.3 CFMU Hamilton and online at http://cfmu.ca/shows/21-out-of-the-bassment ~music featuring bass players
3-7> Julian Taylor hosts @ 106.5 ELMNT FM in Toronto & www.elemntfm.ca ~eclectic music 25% indigenous, 35% CanCon
*6> "Underplayed and Underpaid" interviews and performances by Guelph area bands on CFRU 93.3 FM broadcast and online
6> "Soundcheck with Sabrina" with Sabrina Fallah @ Jungle 77.3 & online at http://www.jungle773.com/ ~eclectic tracks, interviews etc.
416 – TORONTO CENTRAL -Broadview/Bayview to Ossington
*5-9> Jim Heineman Trio @ Mirto Italian Restaurant, 25 Toronto St. ~Jazz
6> Jon Brooks @ Cameron House (front), 408 Queen St. W. ~songwriter
6-8> Chris Banks, Brodie West and Dafydd Hughes @ Tranzac Club (Southern Cross), 292 Brunswick St. ~Jazz
~Blues/R&B6:30> U of T Jazz Ensembles @ The Rex, 194 Queen St. W. ~Jazz; $
*6:30-9:30> Leslie Huyler & Friends @ Aviv Mediterranean, 328 Dupont St.~Jazz
**7-1 (sign-up at 7, show starts 7:30)> open stage with host Wayne Neon & feature by Mark Ripp @ Free Times Café, 320 College St.
*7-10> open stage with Brad Scott @ Lola, 40 Kensington Ave.
*7-9:30> UkeZac ukulele jam & workshop @ Tranzac Club (Main Hall), 292 Brunswick Ave.; $10
7> Laura Repo Band live rehearsal for album release @ Tranzac Club (Tiki Room), 292 Brunswick Ave. ~original Pop-Roots; $0
7:30-10:30 Balfolk @ Drom Taberna, 458 Queen St. W. ~folk dancing to live music fiddlers etc.
7:30-12> Final MCN open mic with host Scott Carruthers with feature by Liam Cyr @ The Paddock, 178 Bathurst St.
7:30> Leikeli47 @ Velvet Underground, 508 Queen St. W. ~contemporary original; $
**8> open mic (2 songs; sign-up starts 8 p.m.) with host Yawd Sylvester @ Tranzac Club (Southern Cross), 292 Brunswick Ave.
8> Billy Idol & Steve Stevens @ Queen Elizabeth Theatre, 190 Princes' Blvd. ~contemporary original; $
8> open mic with feature @ Jodie's Joint, 235 Augusta Ave.
8> Tom & Bruce Show @ Cameron House (front), 408 Queen St. W.
8> Shanika Maria, George Roubos, Michael Thorner @ Imperial Pub, 54 Dundas St. E. ~smooth Pop/Jazz/Rock; $10/pwyc
**9-1:30> open mic/jam with host Sam Sundar-Singh & feature @ Grossman's, 379 Spadina Ave.
*9:30> open mic @ Amsterdam Bicycle Club, 54 The Esplanade
9:30> John MacLeod's Rex Hotel Orchestra @ The Rex, 194 Queen St. W. ~Jazz; $
10> Jordan John @ The Orbit Room, 580 College St. ~Jazz-Rock fusion; $
10> Brendt Diabo @ Cameron House (front), 408 Queen St. W. ~indie; $0
10-2> Dan Gagnon @ The Hideout, 423 College St. ~acoustic Pop covers & originals
416 - TORONTO EAST -Broadview/Bayview to Victoria Park
7-10> Bentroots featuring Ed Roth on accordion @ Relish, 2152 Danforth Ave. ~cover & original Blues/R&B/Funk; $0
7:30> songwriters showcase with Doctor Dawes @ The Old Nick, 123 Danforth Ave. ~songwriter; 0$
*7:30> George Lake Big Band @ The Duke Live, 1225 Queen St. E. ~big band Swing Jazz/Soul; $10
*8:45-12> acoustic open stage jam with Tyler Ellis @ Dora Keogh, 141 Danforth Ave.
*9-12> Gareth Parry's Book Club @ Sauce on Danforth, 1376 Danforth Ave. ~Blues/Jazz
*9:30-2> Sebastian Agnello & friends open stage @ Black Swan Tavern, 154 Danforth Ave.; 0$
416 – TORONTO ETOBICOKE
7:30> Jazz.FM 91 Youth Big Band @ Old Mill Home Smith Bar, 21 Old Mill Rd. ~Jazz; 0$/minimum table charge
416 – TORONTO SCARBOROUGH
*6:30-10:30> open mic night @ Rise Entertainment, 1081 Progress Ave.
7:30> Uke jam/workshop or Uke Circle jamalong @ Stone Cottage Pub, 3750 Kingston Rd. ~amateur ukulele players welcome; $5
416 – TORONTO WEST -Ossington to Etobicoke
6-11> "Sing4Luv" with Nancy Diaz and Dee Devan @ Gladstone Hotel, 1214 Queen St. W. ~indie; $/donations to Animal Justice
7> Xiodjhiha @ The Emmet Ray, 924 College St. ~electronica/experimental sounds with double bass; pwyc
7> Ry X; Charlie Cunningham @ The Great Hall, 1078 Queen St. W. ~contemporary original; $
5-7> "Boss Lady Mondays" with Lisa Humber @ The Painted Lady, 218 Ossington Ave. ~discussion; $0
8> Beta Radio; Alex Mason @ Drake Hotel Lounge, 1150 Queen St. W. ~contemporary original; $
8> Soft Edit; St. Arnaud; DoseRate; Tonemirror @ Duffy's Tavern, 1238 Bloor St. W. ~indie; $
8:30> "The Life & Death of Joni Mitchell" by Mike & Jill Daley @ Hugh's Room Live, 2261 Dundas St. W.  ~tribute to/discussion of Joni Mitchell; $25
*9-1> Hamstrung Stringband @ The Local, 396 Roncesvalles Ave. ~Bluegrass
*9-1> eclectic open stage/jam with host Nelson Sobral @ The Painted Lady, 218 Ossington Ave.
9> Heartworm @ Burdock, 1184 Bloor St. W. ~songwriter; $
9:30> Devin Patten Sextet @ The Emmet Ray, 924 College St. ~Jazz; pwyc
*10-11> The Skyliners @ Skyline Restaurant, 1426 Queen St. W. ~low-fi Soul/Blues
519 EAST -Guelph, K-W & vicinity
*7> open mic with Dennis Napper @ Rhapsody Barrel Bar, 179 King St. W., Kitchener
*7:30-12> open mic with Anthony Schmanthony @ The Cornerstone, 1 Wyndham St. N., Guelph
*7:30>open mic followed by karaoke @ Bombshelter Pub, 200 University Ave., Waterloo
9> Aiden Lobo @ McCabe's Irish Pub, 9 Wyndham St. N., Guelph ~acoustic Pop covers & originals
9:30> Turk and the Hobbits @ Duke of Wellington, 33 Erb St. W., Waterloo
*10-1> open mic night @ Wilf's, 75 University Ave. E. (FNCC), Waterloo
*11-2> Anthony Damiao @ Jimmy Jazz, 52 Macdonell St., Guelph ~acoustic Pop covers & originals
705
*7-11> Rick & Gailie's Crash & Burn @ Black Horse Pub, 452 George St. N., Peterborough ~acoustic Pop covers & originals; $0
7> Bahamas @ Showplace Performance Centre, 290 George St. N., Peterborough ~contemporary original; $
905 EAST -Pickering to Cobourg
7-9> Rob Phillips @ Arthur's Pub, 930 Burnham St., Cobourg ~Jazz piano
7-11> open mic @ Simcoe Blues & Jazz, 926 Simcoe St. N., Oshawa ~spoken word & music
905 SOUTH -Hamilton & vicinity
6> The Repeatles @ Innsville, 1141 Highway 8, Stoney Creek ~Beatles covers
7:30> "Basic Income Rock Show" to show support pilot project with The Beelays; Kojo Easy Damptey; Lee Reed @ This Ain't Hollywood, 345 James St. N., Hamilton ~Punk/Thrash; $10
*8> The New Rebel Westerners @ Cat 'n' Fiddle, 174 John St. S., Hamilton ~Country
8> Jesse Stewart; Pistol Packin' Preachers @ Casbah Lounge, 306 King St. W., Hamilton ~original Country/alt-Country; $
905 WEST -south Peel, Halton
*8-12> jam with Tom Barlow @ Shore Grill, 71 Lakeshore Rd. E., Port Credit-Mississauga
**8-12> BBQ & jam night with Wayne Cheddie @ Moonshine Café, 137 Kerr St., Oakville; ($8.95 with BBQ dinner special starts at 6)
*8:30> Gracie @ Spice Lounge, 52 Lakeshore Rd. E., Port Credit-Mississauga ~Pop covers & originals
LISTINGS KEY
Listings preceded by an asterisk (*) are repeating weekly events. (Double asterisk indicates repeating event with different hosts/guest/etc.). Events preceded by question mark (?) usually take place but have not been confirmed. Admission prices followed by a slash and minus (/-) after the amount indicates door charge with availability of cheaper rates for some purchasers (eg. students, seniors, members, etc.). /+ indicates stated price is minimum.
-Copyright © 2019 by Gary "17" Webb-Proctor & TorontoMoon.ca. All Rights Reserved