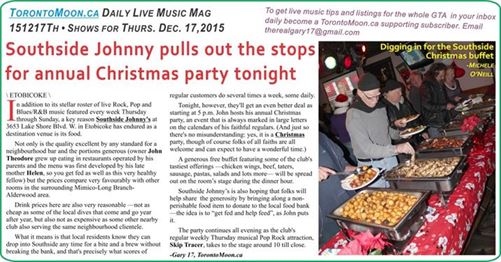 \ ETOBICOKE \
In addition to its stellar roster of live Rock, Pop and Blues/R&B music featured every week Thursday through Sunday, a key reason Southside Johnny's at 3653 Lake Shore Blvd. W. in Etobicoke has endured as a destination venue is its food.
Not only is the quality excellent by any standard for a neighbourhood bar and the portions generous (owner John Theodore grew up eating in restaurants operated by his parents and the menu was first developed by his late mother Helen, so you get fed as well as this very healthy fellow) but the prices compare very favourably with other rooms in the surrounding Mimico-Long Branch-Alderwood area.
Drink prices here are also very reasonable —not as cheap as some of the local dives that come and go year after year, but also not as expensive as some other nearby club also serving the same neighbourhood clientele.
What it means is that local residents know they can drop into Southside any time for a bite and a brew without breaking the bank, and that's precisely what scores of regular customers do several times a week, some daily.
Tonight, however, they'll get an even better deal as starting at 5 p.m. John hosts his annual Christmas party, an event that is always marked in large letters on the calendars of his faithful regulars. (And just so there's no misunderstanding: yes, it is a Christmas party, though of course folks of all faiths are all welcome and can expect to have a wonderful time.)
A generous free buffet featuring some of the club's tastiest offerings —chicken wings, beef, taters, sausage, pastas, salads and lots more— will be spread out on the room's stage during the dinner hour.
Southside Johnny's is also hoping that folks will help share the generosity by bringing along a non-perishable food item to donate to the local food bank —the idea is to "get fed and help feed", as John puts it.
The party continues all evening as the club's regular weekly Thursday musical Pop Rock attraction, Skip Tracer, takes to the stage around 10 till close.
-Gary 17, TorontoMoon.ca
SHOW LISTINGS for Thursday, December 17, 2021
Listings are organized by area in which the shows occur and within each area field shows are listed chronologically.
Listings preceded by an asterisk (*) are repeating weekly events. (Double asterisk indicates repeating event with different hosts/guest/etc.). Admission prices followed by a slash and minus (/-) after the amount indicates door charge with availability of cheaper rates for some purchases. /+ indicates stated price is minimum.
Names of subscribers appear in bold and underlined and, where applicable, include a live link to their websites or event page. Advertisers' listings are in larger type and highlighted, include a live link to their website and also have a copy of the ad included in listings.
416 - Toronto Central
5> Holiday Spirit Show with Social Potion featuring Carmen Toth; Harrison Fine; Cheryl Beatty; Derek Mok @ The Central, 603 Markham St., TO
6> Corin Raymond @ Cameron House (front), 408 Queen St. W., TO ~Country Roots-Pop
6-8> Sherie Marshall @ 120 Diner, 120 Church St., TO ~Jazz; $10
6:30> Ashley St. Pierre Trio @ The Rex, 194 Queen St. W., TO ~Jazz
7> Holiday Magic party with Jessica Speziale; more @ The Music Gallery, 197 John Street. TO
*7> open mic with Derek Mok @ Kensington Lodge, 21 Kensington Ave., TO
*7:30-9:30> Bluegrass Thursdays with Houndstooth @ Tranzac Lounge (Southern Cross), 292 Brunswick Ave., TO
*8-1> open mic with Alicia Porter @ The Local Gest, 424 Parliament St., TO

8-12> R&B/Blues @ Nawlin's, 299 King St. W. TO
8-12> Wild T & The Spirit @ Monarchs Pub (Eaton Chelsea Hotel), 33 Gerrard St. W., TO ~Blues
8> RUN; Kendal Thompson; Celia Palli @ Rivoli, 334 Queen St. W., TO ~indie; $15
8> Lazersusan @ Musideum, 401 Richmond St. W., #133, TO ~improvisational Jazz; $20
8> Under The Sun @ Silver Dollar 486 Spadina Ave., TO
8:30> Franc'open mic @ Free Times Café, 320 College St. TO ~French language songwriters; free
8:30> You Rival; Mariachi Fuego; Jaunt @ Horseshoe Tavern, 370 Queen St. W., TO ~$10
8:30> Coleman Hell & guests @ Lee's Palace, 529 Bloor St. W., TO ~$16.50
9> Indie Night @ Lou Dawgs, 589 King St. W., TO ~songwriters
9> The Weber Brothers @ Cameron House (rear), 408 Queen St. W., TO ~Blues
9> Cameronettes @ Cameron House (front), 408 Queen St. W., TO
*9-1> Blackburn @ Jo Mamas, 317 King St. W., TO ~Blues
9> Larry Bodner @ C'est What, 67 Front St. E., TO
9:30> Step In Trio with Joe Fonda & Carlo Morena @ The Rex, 194 Queen St. W., TO ~Jazz; $
*9:45> Stacey Kaniuk @ Reservoir Lounge, 52 Wellington St. E., TO ~Jazz/Blues; $
10> Ferraro & Jane's Party @ Cameron House (front), 408 Queen St. W., TO
10> Brad From The Club @ Grossman's, 379 Spadina Ave., TO
10> Special Interest Group @ Tranzac Lounge (Southern Cross), 292 Brunswick Ave., TO
10> Son Ache's Havana Club Cuban Christmas @ Orbit Room, 480 College St. TO ~Latin; $
10> Chris Scian @ The Amsterdam Bicycle Club, 54 The Esplanade ~indie Pop & Pop covers
10:30> The North @ The Hideout, 484 Queen St. W., TO ~indie Rock
416 - Toronto East
7-9> Asha Diaz @ Relish, 2152 Danforth Ave., TO East ~songwriter
7:30> Melwood Cutlery @ Sauce, 1376 Danforth Ave., TO East ~original rootsy Blues
*8:30-10:30> Jerry Leger & The Situation @ Castro's, 2116 Queen St. E., TO East ~Folk-Rock/Country
9> Eric & Ehren of Eleanor Shore; Sara Waisglass; Rachel Myers @ Linsmore Tavern, 1298 Danforth Ave., TO East ~indie; $5
*9:30> open jam @ Sportsters, 1430 Danforth Ave., TO East
*10-2> karaoke with Shane Taylor @ Relish, 2152 Danforth Ave., TO East
416 – Toronto Etobicoke
*5-1> Christmas Party with buffet and entertainment by Skip Tracer at 10 @ Southside Johnny's, 3653 Lakeshore Blvd., Etobicoke South ~Rock/Pop
7:30> Andrew Scott Trio @ Old Mill Inn, 21 Old Mill Rd., Etobicoke ~Jazz; min table charge
9> Pretzel Logic @ Timothy's Pub, 344 Brown's Line, Etobicoke South ~Steely Dan tribute; $10
9> Rock & Roll Canada @ The Rockpile, 5555 Dundas St. W., Etobicoke ~Rock
416 – Toronto Scarborough
7-11> jam night @ The Birchmount, 462 Birchmount Rd., Scarborough
*9> Tommy Rocker's Classic Rock Band host jam @ Centro Pizza, 3406 Kingston Rd., Scarborough
9:30> Straight Shooter @ Black Dog Pub, 87 Island Rd., Scarborough ~Pop Rock
416 - Toronto West
5-8> Frim Fram @ Gate 403, 403 Roncesvalles Ave., TO West ~Jazz/Blues/Roots
7-9> The Jerry Cans @ Dakota Tavern, 249 Ossington Ave., TO West ~$
*8-11> Tinderbox Thursdays open stage with Michael Keith @ La Revolucion, 2848 Dundas St. W., TO West ~eclectic
8> Yeehaw Yuletide with Lost & Profound; Erika Werry; Lindy @ The Piston, 937 Bloor St. W., TO West ~indie/seasonal; food bank donation
8> Kurt Marble; Fill Spectre; Minotaur's Oath @ Smiling Buddha, 961 College St., TO West; $
8:30> China Crisis @ Hugh's Room, 2261 Dundas St. W., TO West ~U.K. Pop Rock; $30
*9-12> open mic night @ DeSoto's, 1079 St. Clair Ave. W., TO West
*9-1:30> open stage with Jay Pennell @ Dave's On St. Clair, 730 St. Clair West, TO West ~eclectic
9-12> Annie Bonignore @ Gate 403, 403 Roncesvalles Ave., TO West ~Jazz
9> The Weird & The Wonderful @ The Tennessee, 1554 Queen St. W., TO West
9> Dead Century; Steve Mariner; Midnight Vesta @ Junction City Music Hall, 2907 Dundas St. W., TO West ~indie; $5
9> The Clubbertones; Germaine Liu; John and Waleed @ Burdock, 1184 Bloor St. W., TO West ~eclectic
9> Bruce Domoney Band; The Responsables @ The Painted Lady, 218 Ossington Ave., TO West ~Blues-Rock; $
9> Nichol Robertson & His Boogaloo Boys @ The Local, 396 Roncesvalles Ave., TO West ~instrumental Country Pop
9> Taste @ Holy Oak Café, 1241 Bloor St. W., TO West
9:30> The Mercentaries @ Fat City Blues, 890 College St., TO West ~retro Rock/Soul
10> C&C Surf Factory; The Black Pearls @ Dakota Tavern, 249 Ossington Ave., TO West ~$
519
*7:30-12> open mic with K.M. Smith @ Molly Bloom's Guelph, 91 Wyndham St. N., Guelph
7:30> Tony Paglia @ Fionn MacCool's Orangeville, 75 Fourth Ave., Orangeville ~Pop Rock
*8-11> open mic with Sandy MacDonald @ Williamsburg Arms, 1187 Fischer Hallman Rd., Kitchener
705
*7:30> Rob Phillips Jazz/Blues Trio and Luianchuk @ Black Horse Pub, 452 George St. N., Peterborough
*9> jam with Ted Rusk @ The Sauble Dunes, 11 Southampton Parkway, Sauble Beach
9> Peterborough Poetry Slam @ The Spill, 414 George St. N., Peterborough ~spoken word
10> Jerry Pearson Band @ The Garnet, 231 Hunter St. W., Peterborough
905 - East
*5-8> Nelson Denis @ Frank's Pasta, 42 King Street E., Cobourg ~eclectic mix (Folk, Jazz, soft Rock, Latin)
*?> jam with Darren Smith & Shayne Thomas @ The Corner Pocket, 45 Prince St., Oshawa
*9> jam @ The Wee Pub, 371 Wilson Rd. South, Oshawa
*9:30> jam with Billick @ Harp & Crown, 300 Kingston Rd., Pickering
*10> Karaoke with Rob MacArthur @ St. Louis Ajax, 11 Harwood Ave., Ajax
905 - North
*8> open mic with Kevin Ker @ Duchess of Markham, 53 Main St., Markham
*9> open stage jam night @ Memphis North, 18947 Woodbine Ave., East Gwillimbury
9> Steve Peconi @ Fionn MacCool's Newmarket, 17315 Leslie St., Newmarket
905 - South
8> Shore Thing @ Doc Magilligan's Irish Pub, 6400 Lundy's Lane, Niagara Falls
*9> Mohawk College Music Xmas Party @ This Ain't Hollywood, 345 James St. N., Hamilton
*9> open mic night with rotating hosts @ Coach & Lantern, 384 Wilson St E., Hamilton
9> White Cowbell Oklahoma's Sinful XXXmas with The Noise @ Casbah Lounge, 306 King St. W., Hamilton ~$12.50
905 – West
*7-10> Michael Keys & George Baumann @ Black Bull Burlington, 1124 Guelph Line, Burlington ~easy listening Swing/Boogie Woogie
8-12> Freedom Train @ Roc'n Doc's, 105 Lakeshore Rd. E., Port Credit ~Rock/Pop
*8-12> open mic & jam @ Black Swan Pub Burlington, 4040 Palladium Way, Burlington
*8-12> jam hosted by The Personics @ Carrigan Arms, 2025 Upper Middle Rd., Burlington
*8> Celtic Night @ Fionn MacCool's Burlington, 2331 Appleby Line
8:30> Songbirds with host Sarah Beatty (celebrating her birthday with her band); Mary Simon & Andrew Aldrige @ Moonshine Café, 137 Kerr St. Oakville ~songwriters; $6
8:30> Tyler Schwende @ Fionn MacCool's Britannia, 825 Britannia Rd. W., Streetsville Mississauga ~Pop Rock
*8:45> open mic with Matt Zady @ Failte, 201 City Centre Dr., Mississauga
9> Carm Lamont @ Fionn MacCool's Clarkson, 970 Southdown Rd., Mississauga
9:30> Glenn Groves @ Shore Grill, 71 Lakeshore Rd. E., Port Credit ~Honky Tonk
*9:30> jam with Jack B Nimble @ Abbey Road Pub, 3200 Erin Mills Parkway, Mississauga
Copyright © 2015 Toronto Moon Magazine. All Rights Reserved