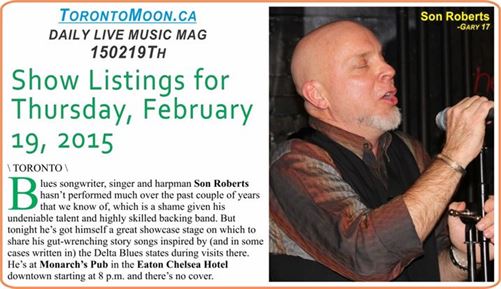 \ TORONTO \
Blues songwriter, singer and harpman Son Roberts hasn't performed much over the past couple of years that we know of, which is a shame given his undeniable talent and highly skilled backing band.
But tonight he's got himself a great showcase stage on which to share his gut-wrenching story songs inspired by (and in some cases written in) the Delta Blues states during visits there. He's at Monarch's Pub in the Eaton Chelsea Hotel downtown starting at 8 p.m. and there's no cover.
SHOW LISTINGS for Thursday, February 19, 2022
Listings preceded by an asterisk (*) are repeating weekly events. (Double asterisk indicates repeating event with different hosts/guest/etc.). Admission prices followed by a slash and minus (/-) after the amount indicates door charge with availability of cheaper rates for some purchases. /+ indicates stated price is minimum.
Names of subscribers appear in bold and underlined and, where applicable, include a live link to their websites or event page. Advertisers' listings are in larger type and highlighted, include a live link to their website and also have a copy of the ad included in listings.
*5-8> Kirsten Jones @ Richtree Restaurant, Eaton Centre (14 Queen St. West), TO ~Country originals & Pop covers
5-8> traditional Chinese music for Chinese New Year @ Gate 403, 403 Roncesvalles Ave., TO West ~World
*5-8> Nelson Denis @ Frank's Pasta, 42 King Street E., Cobourg ~eclectic mix (Folk, Jazz, soft Rock, Latin)
6> Declan O'Donovan @ Cameron House (front), 408 Queen St. W., TO
6:30> Worst Pop Band Ever @ The Rex, 194 Queen St. W., TO
7-9> Niall McCarney @ Relish, 2152 Danforth Ave., TO East ~songwriter
*7> open mic with Derek Mok @ Kensington Lodge, 21 Kensington Ave., TO
7> Pretzel Logic @ Timothy's Pub, 344 Brown's Line, Etobicoke South ~Steely Dan tribute; $10
*7:30-9:30> Bluegrass Thursdays with Houndstooth @ Tranzac Lounge (Southern Cross), 292 Brunswick Ave., TO
*7:30-12> open mic with K.M. Smith @ Molly Bloom's Guelph, 91 Wyndham St. N., Guelph
*8-11> Tinderbox Thursdays open stage with Michael Keith @ La Revolucion, 2848 Dundas St. W., TO West ~eclectic
*8-10:30> Jerry Leger & The Situation @ Castro's, 2116 Queen St. E., TO East ~Folk-Rock/Country
8-12> R&B/Blues @ Nawlin's, 299 King St. W. TO
8-12> Son Roberts @ Monarchs Pub (Eaton Chelsea Hotel), 33 Gerrard St. W., TO ~Blues
8> Trace Minerals @ The Only Café, 972 Danforth Ave., TO East
8-12> Alexander Quail @ Roc'n Doc's, 105 Lakeshore Rd. E., Port Credit ~acoustic
8-12> Sheila McGovern @ Fionn MacCool's Ajax, 32 Kingston Rd. E. Ajax ~Pop
*8-12> open mic & jam @ Black Swan Pub Burlington, 4040 Palladium Way, Burlington
*8-12> jam hosted by The Personics @ Carrigan Arms, 2025 Upper Middle Rd., Burlington
*8-11> open mic with Sandy MacDonald @ Williamsburg Arms, 1187 Fischer Hallman Rd., Kitchener
8:30> Albert Lee (1st of 2 nights) @ Hugh's Room, 2261 Dundas St. W., TO West ~guitar legend; $40/-
8:30> 60 Cycle Hum; Paulo Amor; Emily Bruch; Chris Godfrey @ Free Times Café, 320 College St. TO ~$6
8:30> Dan Walsh album release @ Moonshine Café, 137 Kerr St. Oakville ~Country-Roots songwriter; $10
9> Russ Maclem's Jazz jam @ Linsmore Tavern, 1298 Danforth Ave., TO East ~Jazz
*9> Tommy Rocker's Classic Rock Band  with Jonny Rock on bass host jam @ Centro Pizza, 3406 Kingston Rd., Scarborough
*9> jam with Ted Rusk @ The Sauble Dunes, 11 Southampton Parkway, Sauble Beach
*9-1:30> open stage with Jay Pennell @ Dave's On St. Clair, 730 St. Clair West, TO West ~eclectic
9-12> Shirley Wu performs "Opus One" @ Gate 403, 403 Roncesvalles Ave., TO West ~Classical
*9-1> Blackburn @ Jo Mamas, 317 King St. W., TO ~Blues
9> Darin Yorston @ The Local, 396 Roncesvalles Ave., TO West ~Roots
9-12> Kirt Godwin @ The Roncy, 390 Roncesvalles Ave., TO West ~acoustic Soul/Motown
9> Melanie Durrant & The Recipe @ Alleycatz, 2409 Yonge St., TO North ~Funk/Soul/R&B
9> Shane Murphy @ Dakota Tavern, 249 Ossington Ave., TO West
*9> jam @ The Wee Pub, 371 Wilson Rd. South, Oshawa
9> Pete & Sue @ Simcoe Blues & Jazz, 926 Simcoe St. N., Oshawa
*9:30-2> Skip Tracer @ Southside Johnny's, 3653 Lakeshore Blvd., Etobicoke South ~Rock/Pop
*9:30> karaoke with Shane Taylor @ Relish, 2152 Danforth Ave., TO East
9:30> Straight Shooter @ Black Dog Pub, 87 Island Rd., Scarborough ~Pop Rock
9:30> Glenn Groves @ Shore Grill, 71 Lakeshore Rd. E., Port Credit ~Pop Rock
*9:30> jam with Billick @ Harp & Crown, 300 Kingston Rd., Pickering
*9:30> jam with Jack B Nimble @ Abbey Road Pub, 3200 Erin Mills Parkway, Mississauga
*9:45> Mary Mckay @ The Reservoir Lounge, 52 Wellington St. E., TO ~Jazz/Blues
9:45> Tom Guarna Quartet @ The Rex, 194 Queen St. W., TO ~Jazz
10> Ferraro; Laura Cole Band @ Cameron House (front), 408 Queen St. W., TO
10> tba @ Tranzac Lounge (Southern Cross), 292 Brunswick Ave., TO
10> Soutstack @ Orbit Room, 480 College St. TO ~Soul/Funk; $10
10:30> Don Campbell @ The Hideout, 484 Queen St. W., TO ~indie Rock
Copyright © 2015 Toronto Moon Magazine. All Rights Reserved