SHOW LISTINGS for Saturday, September 19, 2021
Listings are organized by area in which the shows occur and within each area field shows are listed chronologically.
Listings preceded by an asterisk (*) are repeating weekly events. (Double asterisk indicates repeating event with different hosts/guest/etc.). Admission prices followed by a slash and minus (/-) after the amount indicates door charge with availability of cheaper rates for some purchases. /+ indicates stated price is minimum.
Names of subscribers appear in bold, are underlined and, where applicable, include a live link to their websites. Advertisers' listings are in larger, highlighted type, include live link to website and also have ad icon included in listings.
416 - Toronto Central
*12-3> Danny Marks and Friends @ The Rex, 194 Queen St. W., TO ~Jazz
Noon> Riot Fest and Exposition, first of two days with Weezer; Alexisonfire; The Prodigy; Motorhead; Echo & The Bunnymen; many more @ Downsview Park, 35 Carl Hall Rd., TO North; $149.98 (2-day pass)
1> Julian Taylor Band; CAKE; Passenger; Edward Sharpe; Royal Canoe; Rich Aucoin; Skydiggers; Turf; The Magnetic Zeros; Jim Bryson; NQ Arbuckle; Union Duke; The Road; CHOIR CHOIR CHOIR; Rattle & more for Toronto Urban Roots Festival @ Fort York, 100 Garrison Rd., TO; $
2-6> Greg Godovitz Band @ Hard Rock Café, 283 Yonge St., TO ~Rock
3> The Hot Five Jazzmakers @ C'est What, 67 Front St. E., TO ~traditional Jazz; $5
3> Jamzac @ Tranzac Club (Southern Cross), 292 Brunswick Ave., TO
3:30> Jerome Godboo @ The Rex, 194 Queen St. W., TO ~Blues
3:30> The Travelling Wall-Barries @ The Pilot, 22 Cumberland St., TO ~Jazz
4-7> York Jazz Ensemble @ Seven44, 744 Mount Pleasant Road, TO North
*4-7> Climax Jazz Band @ Alleycatz, 2409 Yonge St., TO North ~Dixieland Jazz; $?
*4:40-7:30> The Happy Pals @ Grossman's, 379 Spadina Ave., TO ~New Orleans Jazz
6> Grier Coppins @ Cameron House (front), 408 Queen St. W., TO ~Roots-Rock
6:30> Cancer Research Concert with Alex MacLeod; Matt James; Will Melville; more @ Tranzac Club (Main Hall), 292 Brunswick Ave., TO; $
7:30> Michael Keith @ Tranzac Club (Southern Cross), 292 Brunswick Ave., TO
7:30> The Bacchus Collective @ The Rex, 194 Queen St. W., TO ~ Jazz
8> Mark Battenberg & Andrew Ascenzo @ Musideum, 401 Richmond St. W., #133, TO ~composer/multi-instrumentalist; $20
8:30> James Gray & Allie Babiak @ Free Times Café, 320 College St. TO ~songwriter
9> Newton Connor @ May Café, 876 Dundas St. W., TO
9> Memorial for Alistair Heath @ Rivoli, 334 Queen St. W., TO
9> Jay Harmony & The Groove Sharks @ Seven44, 744 Mount Pleasant Road, TO North
9> Elissa Barclay @ Cameron House (rear), 408 Queen St. W., TO ~original fem-Punk
9> Desaparecidos; Hop Along; Molly Drag @ Lee's Palace, 529 Bloor St. W., TO ~alt Country; $29.50
9> Toronto Urban Roots Festival presents Elliott Brood; Ron Hawkins & The Do Good Assassins; Jim Bryson @ Horseshoe Tavern, 370 Queen St. W., TO ~urban Roots; $20
9:30> Lady Kane @ Alleycatz, 2409 Yonge St., TO North ~Funk/Soul/R&B; $
9:45> Pat LaBarbera & Kirk MacDonald Quintet @ The Rex, 194 Queen St. W., TO ~Jazz tribute to John Coltrane
*9:45> Robin Banks @ Reservoir Lounge, 52 Wellington St. E., TO ~Jazz/Blues
10> Horshack @ Orbit Room, 480 College St. TO ~Rock/R&B; $
10> Combo Royale @ Cameron House (front), 408 Queen St. W., TO
10> Tony Wilson, Peggy Lee & Friends @ Tranzac Club (Southern Cross), 292 Brunswick Ave., TO
10-2> Porch Dog Choir @ Grossman's, 379 Spadina Ave., TO ~original Rootsabilly-Rock
10:30> The Soulkicks @ Fionn MacCool's Esplanade, 70 The Esplanade
10:30> Stone The Radio @ The Hideout, 484 Queen St. W., TO ~indie Rock
416 - Toronto East
*3:30-6> Johnny Wright @ Outriggers, 2232 Queen St. E., TO East ~R&B
*4-7:30> Ronnie Hayward Trio @ McQueen's, 993 Queen St. E., TO E. ~Blues/Roots
6-8> The Cosmotones @ Castro's, 2116 Queen St. E., TO East ~Blues/Roots
8> One City Social Boogie @ The Only Café, 972 Danforth Ave., TO East
9-12> Mike Hines Band with Laura Thomas, Rodney St. Amand & Geoff Iwamoto @ The Feathers, 962 Kingston Rd., TO East ~Roots-Pop
9:30-11:30> Clela Errington @ Relish, 2152 Danforth Ave., TO East ~original & cover Folk
9:30> Trevor Jones @ Black Swan downstairs, 154 Danforth Ave., TO East ~eclectic Roots/Pop/Reggae
9:30> Shawnee; Kink; Tiny Danza @ The Duke Live, 1225 Queen St. E., TO East
9:30> Message In A Bottle @ Linsmore Tavern, 1298 Danforth Ave., TO East ~tribute to The Police; $10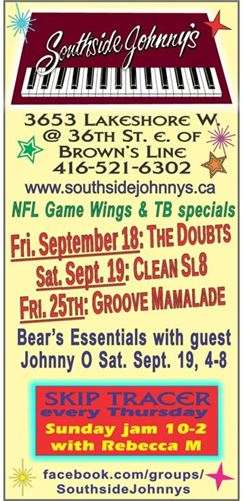 416 – Toronto Etobicoke
*3-6> Danny B Band @ Blue Goose, 1 Blue Goose St., Etobicoke South ~R&B/Blues
**4-8> The Bear's Essentials with guest singer  Johnny O @ Southside Johnny's, 3653 Lake Shore Blvd. W. Etobicoke South ~Rock-R&B
*4-8> The Meteors with guest @ Timothy's Pub, 344 Brown's Line, Etobicoke South ~Blues/Rock/R&B
7:30> Dave Caldwell Quartet @ Old Mill Inn Home Smith Bar, 21 Old Mill Rd., Etobicoke ~Jazz; minimum table charge
7:30> Killer Dwarfs @ The Rockpile, 5555 Dundas St. W., Etobicoke ~CanRock icons; $
8> Brass Transit @ Old Mill Inn Dining Room, 21 Old Mill Rd., Etobicoke ~Chicago tribute; minimum table charge
9> Hurricane Hill @ Maple Leaf House, 2749 Lake Shore Boulevard West, Etobicoke ~Rock/Top 40/Blues
9:30> Community Soul Project @ Timothy's Pub, 344 Brown's Line, Etobicoke South ~Pop Rock/Top 40; $
10-2> Clean Sl8 @ Southside Johnny's, 3653 Lake Shore Blvd. W. Etobicoke South ~Rock/Top 40
416 – Toronto Scarborough
2-7> Uncle Phil tribute by The Tall Boyz featuring Tommy Rocker @ Sunny Sports Bar, 4190 Kingston Rd., Scarborough ~acoustic Rock
9-1> Tyler Schwende @ Black Dog Pub, 87 Island Rd., Scarborough ~acoustic Pop/soft Rock
9> Chelsea Crites @ The Birchmount, 462 Birchmount Rd., Scarborough ~Country; $
*9:30-2> karaoke with The English Rose & The Mad Scotsman @ Winners, 2181 Lawrence Ave. E., Scarborough
9:30> Savista @ Stone Cottage Pub, 3750 Kingston Rd., Scarborough ~Pop Rock
416 - Toronto West
*12-3> Julian Fauth's Blues Brunch @ Axis, 3048 Dundas St. W., TO West ~Blues
**2-6> open mic with guest host Kayt Lucas @ Magic Oven, 347 Keele St., TO West
**5-8> Bill Heffernan's Saturday Sessions with featured guest Jon Brooks @ Gate 403, 403 Roncesvalles Ave. TO West –Jazz
5-8> Rukusjuice @ The Local, 396 Roncesvalles Ave., TO West ~lo-fi Blues
7-9> Paul Reddick @ Dakota Tavern, 249 Ossington Ave., TO West ~Blues; $
7> OTB; Michel Dequevedo; St. Stella @ The Painted Lady, 218 Ossington Ave., TO West
7-10> The Hogtown Delta Blues Band; Saurini @ The Tennessee, 1554 Queen St. W., TO West
7:30> Dan Kosub Duo @ Brazen Head Pub, 165 East Liberty St., TO West ~acoustic Pop Rock
8-10> Sue & Dwight @ Humble Beginnings, 3109 Dundas St. W., TO West ~Folk
8:30> Rita Chiarelli (standing room only) with Sweet Loretta opening @ Hugh's Room, 2261 Dundas St. W., TO West ~Blues; $32.50
9-1> Sweet Derrick Blues Band @ Gate 403, 403 Roncesvalles Ave., TO West ~ Blues
9> Communism @ The Local, 396 Roncesvalles Ave., TO West ~Rock/Pop
10> The Fourth Man; A Digital @ The Tennessee, 1554 Queen St. W., TO West
10-2> Bad Luck Woman @ Dakota Tavern, 249 Ossington Ave., TO West ~Country; $
519
3:30> David Storey for Rockwood Mushroom Festival @ St. John's Anglican Church, 112 Main St., Rockwood
8> Rock Classics Show featuring Phil Naro @ St. Jacobs Country Playhouse, 40 Benjamin Rd., Waterloo ~Rock; $29
8> The Shananigans @ Fionn MacCool's Kitchener, 4287 King St. E., Kitchener
9> The Zilis @ Fionn MacCool's Guelph, 494 Ediburgh Rd. S., Guelph
9:30> Organized Chaos @ Fionn MacCool's Orangeville, 75 Fourth Ave., Orangeville
705
8:30> Judged @ Black Horse Pub, 452 George St. N., Peterborough
9:30> Smokey Monaghan @ Sticky Fingers Dunlop, 150 Dunlop St. W., Barrie
9:30> Dub Trinity @ Red Dog Tavern, 189 Hunter St. W., Peterborough
10> Hamlet In A Hot Tub @ The Garnet, 231 Hunter St. W., Peterborough
905 East
*4> PRJ @ Simcoe Blues & Jazz, 926 Simcoe St., Oshawa ~Blues
8:30> Hell N Back featuring James Alcock @ Frank's Pasta, 426 King St. E., Cobourg ~AC/DC tribute
*9-1> karaoke with Rob MacArthur @ Tudor Rose, 700 Harwood Ave. S., Ajax
9> Jack Connolly @ The Corral, 433 Simcoe St. S., Oshawa ~Country
9-1> Jim Longo @ Simcoe Blues & Jazz, 926 Simcoe St. N., Oshawa
9:30> Red Velvet @ The Edge, 250 Bayly St., Ajax ~
9:30> GoldiRocks and The 3 Squares @ West Shore, 877 Bayly St., Pickering ~Rock
10-2> Andy Earle and the Bandits @ Fionn MacCool's Ajax, 36 Kingston Rd. E., Ajax ~Pop Rock
10-2> Phoenix Rising @ Whisky John's, 843 King St. W., Oshawa
905 North
6> WOODYSTOCK 2015 benefit for Lupus Ontario with Woody S. Woodley, members of Fathead, many more; @ Royal Canadian Legion, 707 Skingley St., Newmarket ~eclectic Rock/Blues
7-11> Yeah Yeah Yeah @ Main's Mansion, 144 Main St., Markham ~Beatles tribute
7:30> Pierre & Andrew @ Corner House On Main, 6403 Main St., Stouffville ~acoustic Pop
8> The Ayerheart Roofing Co. album release @ The Earl Of Whitchurch, 6204 Main St., Stouffville ~original Country
9-1> Old Major Band @ Oscar's Roadhouse, 1785 Queen St. E., Brampton ~Pop Rock/Top 40
9> Memphis Mudd @ Fionn MacCool's Newmarket, 17315 Leslie St., Newmarket
9> Sons Of Ringo @ King Richard's Pub, 15570 Yonge St., Aurora
9> The Dukes @ Memphis North, 18947 Woodbine Ave., East Gwillimbury ~new Country
9:30> The Doors Men @ Spot One, 289 Rutherford Rd. S., Brampton ~Doors tribute; $
9:30> Skip Tracer @ Jake's Boathouse Brampton, 59 First Gulf Rd., Brampton ~Pop Rock
9:30> I Heart @ Aw Shucks, 15230 Yonge St., Aurora ~Pop Rock
905 South
**2> Brant Parker Band with guest tba @ Donnelley's Pub, 54 Front St., Thorold ~Blues
**2:30> special guest with The Mighty Duck Band, The Duck, 244 Ontario St., St. Catharines ~R&B/Blues
**2:30> tba @ Coach & Lantern (upstairs), 384 Wilson St E., Hamilton ~Blues
9> Born In The Eighties @ Coach & Lantern, 384 Wilson St E., Hamilton
9> Born Ruffians album release; guests Weaves & DJ Justin Ross @ Casbah Lounge, 306 King St. W., Hamilton ~indie; $
9> Noise Floor; Michael A.M. Trio; Jose Luzardo @ Corktown Pub, 175 Young St., Hamilton ~indie; $
**9> Niagara Rhythm Section @ The Old Winery, 2228 Niagara Stone Rd., Niagara-On-The-Lake ~R&B/Blues
10> Fuck You Pay Me; TV Freaks; System System; Get Off The Cop; Sick Of Shit  @ This Ain't Hollywood, 345 James St. N., Hamilton ~Punk/Hard Core; $
10> The Spinz @ Doc Magilligan's Irish Pub, 6400 Lundy's Lane, Niagara Falls
905 West
**2-6> Sil Simone Band with special guest Mark Lalama @ Carrigan Arms, 2025 Upper Middle Rd., Burlington ~Rock/Blues
*2-6> jam w. Tom Finocchio @ Sam's Place, Barton-Chestnut Sts., Hamilton
**2-6> Saturday Blues Sermon with James Anthony & special guest Andre Bisson @ Black Swan Pub Burlington, 4040 Palladium Way, Burlington ~Blues
*3-7> jam with Michelle Deneault & Redder @ Port Credit Legion, 35 Front St., Port Credit
*3-7> open stage jam @ Moonshine Café, 137 Kerr St., Oakville; $2
4-5> Max Brand Band hosts open jam @ Celebration Square Amphitheatre, 300 City Centre Drive, Mississauga; free
*6-9> Victoria & Bobby Keys @ Roc'n Doc's, 105 Lakeshore Rd. E., Port Credit ~soft Pop
8-12> The Mississipi Bends @ Moonshine Café, 137 Kerr St., Oakville ~Americana/swampy Southern Rock; $10
9> The Beat Heathens @ Carrigan Arms, 2025 Upper Middle Rd., Burlington ~Rock/Blues
9> The High Drive @ Fionn MacCool's Burlington, 2331 Appleby Line, Burlington
9:30> Wild T & The Spirit @ Sixth Line Pub, 1500 Sixth Line, Oakville ~Blues
9:30> Pat Hewitt @ Shore Grill, 71 Lakeshore Rd. E., Port Credit ~Pop Rock/Top 40
9:30> Rooney Brothers @ The Franklin House, 263 Queen St. S., Streetsville ~Pop Rock
9:30> Dirty Pioneers @ Gator Ted's, 1505 Guelph Line, Burlington
9:30> Backroom 11 @ Boston Manor, 4460 Fairview Ave., Burlington
10-2> The Wheat Kings @ Roc'n Doc's, 105 Lakeshore Rd. E., Port Credit ~Tragically Hip tribute; $
10:15> Among Millions @ Failte, 201 City Centre Dr., Mississauga ~Canadiana Pop
10:30> Fiction @ The Dickens, 423 Elizabeth St., Burlington ~Pop Rock
Copyright © 2015 Toronto Moon Magazine. All Rights Reserved