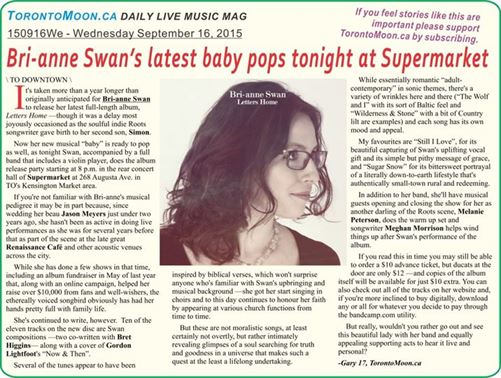 \ TO DOWNTOWN \
It's taken more than a year longer than originally anticipated for Bri-anne Swan to release her latest full-length album, Letters Home —though it was a delay most joyously occasioned as the soulful indie Roots songwriter gave birth to her second son, Simon.

Now her new musical "baby" is ready to pop as well, as tonight Swan, accompanied by a full band that includes a violin player, does the album release party starting at 8 p.m. in the rear concert hall of Supermarket at 268 Augusta Ave. in TO's Kensington Market area.
If you're not familiar with Bri-anne's musical pedigree it may be in part because, since wedding her beau Jason Meyers just under two years ago, she hasn't been as active in doing live performances as she was for several years before that as part of the scene at the late great Renaissance Café and other acoustic venues across the city.
While she has done a few shows in that time, including an album fundraiser in May of last year that, along with an online campaign, helped her raise over $10,000 from fans and well-wishers, the ethereally voiced songbird obviously has had her hands pretty full with family life.
She's continued to write, however.  Ten of the eleven tracks on the new disc are Swan compositions —two co-written with Bret Higgins— along with a cover of Gordon Lightfoot's "Now & Then".
Several of the tunes appear to have been inspired by biblical verses, which won't surprise anyone who's familiar with Swan's upbringing and musical background —she got her start singing in choirs and to this day continues to honour her faith by appearing at various church functions from time to time.
But these are not moralistic songs, at least certainly not overtly, but rather intimately revealing glimpses of a soul searching for truth and goodness in a universe that makes such a quest at the least a lifelong undertaking.
While essentially romantic "adult-contemporary" in sonic themes, there's a variety of wrinkles here and there ("The Wolf and I" with its sort of Baltic feel and "Wilderness & Stone" with a bit of Country lilt are examples) and each song has its own mood and appeal.
My favourites are "Still I Love", for its beautiful capturing of Swan's uplifting vocal gift and its simple but pithy message of grace, and "Sugar Snow" for its bittersweet portrayal of a literally down-to-earth lifestyle that's authentically small-town rural and redeeming.
In addition to her band, she'll have musical guests opening and closing the show for her as another darling of the Roots scene, Melanie Peterson, does the warm up set and songwriter Meghan Morrison helps wind things up after Swan's performance of the album.
If you read this in time you may still be able to order a $10 advance ticket, but ducats at the door are only $12 —and copies of the album itself will be available for just $10 extra. You can also check out all of the tracks on her website and, if you're more inclined to buy digitally, download any or all for whatever you decide to pay through the bandcamp.com utility.
But really, wouldn't you rather go out and see this beautiful lady with her band and equally appealing supporting acts to hear it live and personal?
-Gary 17, TorontoMoon.ca
SHOW LISTINGS for Wednesday, September 16, 2021
Listings are organized by area in which the shows occur and within each area field shows are listed chronologically.
Listings preceded by an asterisk (*) are repeating weekly events. (Double asterisk indicates repeating event with different hosts/guest/etc.) Admission prices followed by a slash and minus (/-) after the amount indicates door charge with availability of cheaper rates for some purchases. /+ indicates stated price is minimum.
Names of subscribers appear in bold and underlined and, where applicable, include a live link to their websites. Advertisers' listings are in larger, highlighted type, include live link to website and also have ad icon included in listings.
416 – Toronto Central
6:30> Richard Whiteman Group @ The Rex, 194 Queen St. W., TO ~Jazz
7> Fergus Hambleton @ Monarchs Pub (Eaton Chelsea Hotel), 33 Gerrard St. W., TO ~eclectic songwriter/composer
7:30> Tom Richards Quartet @ Tranzac Club (Southern Cross), 292 Brunswick Ave. TO ~Jazz
8> Bri-anne Swan album release for Letters Home with Bri-anne Swan Band & guests Melanie Peterson, Meghan Morrison at Supermarket, 268 Augusta Ave., TO ~original Roots; $10
**8> open stage with 9 p.m. feature by Kwesi @ Fat Albert's, 25 Cecil St. (Steelworkers Hall), TO ~Roots
*8-1> open jam with Wednesday's Child feat. Johnny Bootz Hutt @ Lola, 40 Kensington Ave., TO
8> Royal Canoe; Highs @ Lee's Palace, 529 Bloor St. W., TO ~urban Roots; $15.50
8> Simon Rakoff album release @ Musideum, 401 Richmond St. W., #133, TO ~comedic singer; $20
8> Secret Broadcast; Zoo Legacy; XPrime; The Standstills @ Rivoli, 334 Queen St. W., TO ~$?
8:30> Sue & Dwight with Michelle Rumball and Tony Laviola @ Free Times Cafe, 320 College St., TO ~Folk; $10
*8:30> Crazy Strings host High Lonesome Wednesdays with opening acoustic act @ Silver Dollar 486 Spadina Ave., TO ~Bluegrass
*8:45> Bradley & The Bouncers @ Reservoir Lounge, 52 Wellington St. E., TO ~Jazz/Blues/R&B
*9-2> What's Poppin' indie jam @ Sneaky Dee's, 431 College St., TO
8:30> Cold Specks; Grand Analog @ Horseshoe Tavern, 370 Queen St. W., TO ~urban Roots; $18.50
*9> open mic with Sean Barker @ Monarch Tavern, 12 Clinton St., TO
9:30> Oliver Pigott; Danka Scepanovic @ C'est What, 67 Front St. E., TO ~indie; pwyc
9:30> Andrew Boniwell Group @ The Rex, 194 Queen St. W., TO ~Jazz
10> Josh Cole and friends @ Tranzac Club (Southern Cross), 292 Brunswick Ave. TO
*10-2> Blues-Rock jam with Bruce Domoney @ Grossman's, 379 Spadina Ave. TO
10:30> The Undercovers @ The Hideout, 484 Queen St. W., TO ~indie Rock
*10:30> The LMT Connection @ Orbit Room, 580 College St. TO ~Funk/R&B; $10
416 – Toronto East
*6-11> Rock jam with Scar-Bro Pete & Lee Van Leer @ Melange, 172 Main St., TO East
*7:30-10:30> The BTBs @ Relish, 2152 Danforth Ave., TO East ~Jazz
8:30-10:30> Mediterranean Stars featuring Ed Roth on accordion @ Castro's, 2116 Queen St. E., TO East ~Mediterranean Folk Jazz
*9:30> open stage with Nicola Vaughan @ Black Swan (downstairs), 154 Danforth Ave., TO East
416 – Toronto Etobicoke
6:30> Havana Nights @ Old Mill Inn, 21 Old Mill Rd., Etobicoke ~Jazz; min table charge
8-1> Jenn Kee @ Timothy's Pub, 344 Brown's Line, Etobicoke South
416 – Toronto Scarborough
* 7> jam with Tommy Rocker's Classic Rock Band @ Fox at Scarborough Junction, 646 Danforth Rd., Scarborough
*8:30> Al Reilly's Catalyst @ Centro Pizza, 3408 Kingston Rd., Scarborough ~classic Rock
*8:30> open mic with Jadzia Skye & Michael Oesch @ Chez Helene's, 1437 Kingston Rd., Scarborough
416 – Toronto West
5-8> Concord Jazz Quintet @ Gate 403, 403 Roncesvalles Ave., TO West ~Jazz
*8-12> Girls Night Out Jazz singers jam with Lisa Particelli, Peter Hill et al @ Chalkers, 247 Marlee Ave., TO North-West
8> Glenn @ The Tennessee, 1554 Queen St. W., TO West ~Rock 'n' Roll
9-12> Blues Night with Julian Fauth & guests @ Gate 403, 403 Roncesvalles Ave., TO West ~original Juno-winning Blues
9> Freeman Dre & The Kitchen Party @ The Local, 396 Roncesvalles Ave., TO West ~original Roots-Pop
9> Astroturf; Dreamboat; Soft Shoe Shufflers @ The Painted Lady, 218 Ossington Ave., TO West ~indie
9> Eli and the Strawman with guest @ Dakota Tavern, 249 Ossington Ave., TO West; $10
*10-1> Michael Keith @ The Hole In The Wall, 2867 Dundas St. W., TO West ~Blues/Rock/Jazz
519
8> Tyler Schwende @ Fionn MacCool's Kitchener, 4287 King St. E., Kitchener
9> The Phil & John Show feat. Phil Naro @ Molly Bloom's Waterloo, 170 University Ave., Waterloo ~acoustic Pop Rock
705
*7-11> open jam with Wayne Buttery Band @ The Beacon, 146 45th St., Wasaga Beach
7> Christine Atril Blues Band @ Black Horse Pub, 452 George St. N., Peterborough
10> Mr. Not Much Fun @ The Garnet, 231 Hunter St. W., Peterborough
905 East
8-12> open mic night @ Fionn MacCool's Ajax, 32 Kingston Rd. E. Ajax
*8-11> open mic @ Frank's Pasta, 426 King St. E., Cobourg
*9-12> jam with Damage Control @ St. Louis Bar & Grill Ajax, 11 Harwood Ave. S., Ajax
905 North
*7> open mic night with Tanya Joy Senior @ Col. McGrady's Pub, 44 Brock St. W., Uxbridge
8> Mark Yan & Barry Mulcahy host Folk Night with features Bob Cummings & Freddy Brown @ Coffee Culture, 9 Queen St. E., Brampton ~Roots-Pop; $5
*8-12> open mic with Kevin Ker @ Aw Shucks, 15230 Yonge St., Aurora
*8:45> open mic jam with Matt Zady @ Magnums, 21 McMurchy Ave. N., Brampton
*9-1> open mic jam with Whiskey Birds @ Sweetz Lounge, 5289 Hwy 7, Woodbridge-Vaughan
*9:30> open mic with The Villagers @ Main's Mansion, 144 Main St., Markham
905 South
*7> open mic night @ Donnelley's Pub, 54 Front St., Thorold ~Blues
*8:30> Something Country @ The Endzone, 1900 King St. E., Hamilton ~Country
**8-1> "Country Pubkin" Night with Country artists tba @ Corktown Pub, 175 Young St., Hamilton
8> The Kitckstand Band; Hot Panda; The Boogies @ Casbah Lounge, 306 King St. W., Hamilton ~indie Rock; $
9> Nick Ferrio @ This Ain't Hollywood, 345 James St. N., Hamilton
905 West
*7-11> Michael Keys "7-Piece" Trio @ Black Bull Burlington, 1124 Guelph Line, Burlington ~Boogie-Woogie Blues/Pop Rock
*8-12> All-ages jam with band & host Kevin Reid @ Sixth Line Pub, 1500 Sixth Line, Oakville
*8-2> Maxine Young @ Roc'n Doc's, 105 Lakeshore Rd. E., Port Credit ~Rock/Pop; $
8-1> National Songwriters Association International showcase @ Moonshine Café, 137 Kerr St., Oakville
8:30> The Carson Freeman Diversion @ Shore Grill, 71 Lakeshore Rd. E., Port Credit ~Pop Rock
*9> open mic jam with Jack B Nimble @ Blarney's Gate, 1151 Dundas St. W., Mississauga
*9?> jam with Michael Zane or Pat Dowds @ Shakers, 580 Kerr St., Oakville