\ TORONTO \
It's inspired imitators (Reservoir Lounge, Dakota Tavern), it's launched hugely successful musical careers (Sisters Euclid, LMT Connection), it's resuscitated or helped maintain the careers of seminal icons of the local music scene (The Satallites, Soul Stew) and it pretty much saved this magazine project at a time of dire peril ten years ago. Oh ya, and not to forget: it's also gotten countless people laid!
Toronto's Orbit Room on the second floor at 580 College St. near Clinton Ave. has, in fact, been the class of Toronto live music rooms since the day it opened twenty years ago this week (on November 11, which also happens to be co-owner and hands-on operator Tim Notter's birthday) and continues to be the gold standard in that regard.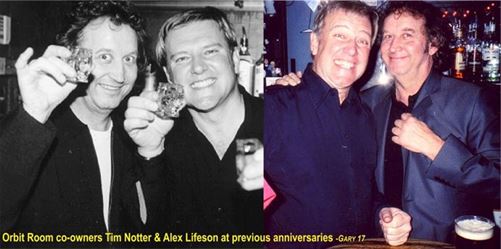 I won't say it's perfect (Tim and his staff heard plenty from me about what could be better in the five-plus years I did daily promotions for them) but I will say that it pretty much does just about everything right and that no other room comes close to matching its record for quality music and fun in a cozy but sensual ambience.
With live music seven nights a week (and fairly often also early evening shows and occasional weekend matinees), a house Hammond B3, really good sound in a room specifically designed with that in mind, Orbit Room has seen so many legendary moments in its now two decades of existence that it is simply possible to pick even ten that exemplify how magnificent it can be and to describe just how important it has been to the local R&B, Funk-Rock scene.
Obviously it's always a highlight when guitarist Alex Lifeson of Rush fame performs there, which, being the other founding co-owner, he sometimes does for anniversary shows. But truly every night here —even when the crowd is a bit thin for a relative unknown or an act that falls outside the norm (I can't count the number of Mondays that there was me, the staff and a just handful of others marvelling at the astonishing talent of world-class Juno winner Kevin Breit before he "made it") — is actually a special occasion.
Am I waxing sentimentally nostalgic for a longtime former love in this paean to a room I haven't visited in over two years and only a few times in the couple of years before that? Yes, I suppose I am and guess what —I'm not even being paid to do so! Quality can never be denied and this club's seminal role on the TO live music scene will be enshrined in a sacred place in my personal hall of fame forever, even if it were to close tomorrow.
Tonight's double-act anniversary gala includes regular Saturday Funk feature act Ride The Tiger 9-11 followed by TO Soul icons Soul Stew (plus who knows what/how many surprise guests) till close. It'll cost you $20 to attend and if you're smart you'll get there way before the doors open around 8, since the lineup down the steep, narrow staircase to the ground is going to be long and steamy all night long, I'd expect.
-Gary 17, www.torontomoon.ca