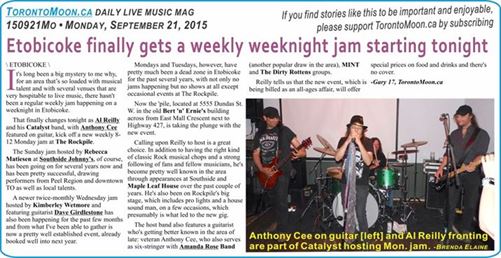 \ ETOBICOKE \
It's long been a big mystery to me why, for an area that's so loaded with musical talent and with several venues that are very hospitable to live music, there hasn't been a regular weekly jam happening on a weeknight in Etobicoke.
That finally changes tonight as
Al Reilly
and his
Catalyst
band, with
Anthony Cee
featured on guitar, kick off
a new weekly 8-12 Monday jam
at
The Rockpile
.
The Sunday jam hosted by Rebecca Matiesen at Southside Johnny's, of course, has been going on for several years now and has been pretty successful, drawing performers from Peel Region and downtown TO as well as local talents.
A newer twice-monthly Wednesday jam hosted by Kimberley Wetmore and featuring guitarist Dave Girdlestone has also been happening for the past few months and from what I've been able to gather is now a pretty well established event, already booked well into next year.
Mondays and Tuesdays, however, have pretty much been a dead zone in Etobicoke for the past several years, with not only no jams happening but no shows at all except occasional events at The Rockpile.
Now the 'pile, located at 5555 Dundas St. W. in the old Bert 'n' Ernie's building across from East Mall Crescent next to Highway 427, is taking the plunge with the new event.
Calling upon Reilly to host is a great choice. In addition to having the right kind of classic Rock musical chops and a strong following of fans and fellow musicians, he's become pretty well known in the area through appearances at Southside and Maple Leaf House over the past couple of years. He's also been on Rockpile's big stage, which includes pro lights and a house sound man, on a few occasions, which presumably is what led to the new gig.
The host band also features a guitarist who's getting better known in the area of late: veteran Anthony Cee, who also serves as six-stringer with Amanda Rose Band (another popular draw in the area), MINT and The Dirty Rottens groups.
Reilly tells us that the new event, which is being billed as an all-ages affair, will offer special prices on food and drinks and there's no cover.
-Gary 17, TorontoMoon.ca
SHOW LISTINGS for Monday, September 21, 2021
Listings are organized by area in which the shows occur and within each area field shows are listed chronologically.
Listings preceded by an asterisk (*) are repeating weekly events. (Double asterisk indicates repeating event with different hosts/guest/etc.). Admission prices followed by a slash and minus (/-) after the amount indicates door charge with availability of cheaper rates for some purchases. /+ indicates stated price is minimum.
Names of subscribers appear in bold, are underlined and, where applicable, include a live link to their websites. Advertisers' listings are in larger highlighted type, include live link to website and also have ad icon included in listings.
416 - Toronto Central
6> Vivenne Wilder @ Cameron House (front), 408 Queen St. W., TO
*6-9> Calliope's Nest open stage/jam for women @ Lola Pub, 40 Kensington Ave., TO
6:30> U of T Jazz Ensembles @ The Rex, 194 Queen St. W., TO ~Jazz
*7> Balfolk Toronto @ May Café, 876 Dundas St. W., TO ~Folk music & dance
**7:30-1 (sign-up starts at 7)> open stage with host Dylan Hennessy @ Free Times Café, 320 College St., TO
7:30> George Lake Big Band @ Seven44, 744 Mount Pleasant Road, TO North ~R&B/Swing
8> comedy night @ Cameron House (rear), 408 Queen St. W., TO
8> Ukulele jam @ Tranzac Lounge (Main Hall), 292 Brunswick Ave., TO
8:30> Alt Dot Comedy Lounge with host Andrew Johnston @ Rivoli, 334 Queen St. W., TO; $5
8:40> Toronto Urban Roots Festival presents Heartless Bastards; Kitty, Daisy & Lewis, Alberta Cross @ Horseshoe Tavern, 370 Queen St. W., TO ~urban Roots; $20
**9-1:30> jam with No Band Required @ Grossman's, 379 Spadina Ave., TO
*9?> open mic @ Lou Dawgs Ryerson, 76 Gerrard St. E., TO
*9-1> Hamstrung Stringband @ The Local, 396 Roncesvalles Ave., TO West ~Bluegrass
9> Toronto Urban Roots Festival with Will Butler; Billy Moon @ Lee's Palace, 529 Bloor St. W., TO ~urban Roots; $20
*9:30> open mic night at Amsterdam Bicycle Club, 54 The Esplanade, TO
9:30> Dave Young/Terry Promane Octet @ The Rex, 194 Queen St. W., TO ~Jazz
10> Jordan John @ The Orbit Room, 580 College St., TO ~R&B/Blues
*10> jam night hosted by Phill Hood & Jon McCann @ The Cage 292, 292 College St., TO
*10> open mic (2 songs; sign-up starts 8 p.m.) with host Sarah Greene @ Tranzac Lounge (Southern Cross), 292 Brunswick Ave., TO
10> Melissa Lauren @ Cameron House (front), 408 Queen St. W., TO
10:30> Big Otter Creek Unplugged @ The Hideout, 484 Queen St. W., TO ~indie acoustic Rock
416 - Toronto East
**7:30> M Factor Mondays with host Elana Harte & features Fraz Milne; Michael Katz @ The Old Nick, 123 Danforth Ave., TO East
8-10> John Wayne Swingtet @ Relish, 2152 Danforth Ave., Toronto East ~Gypsy Jazz
8-12> open stage with Julian Taylor @ Dora Keogh, 141 Danforth Ave. TO East
*8-12> open mic with host Chris Scian @ Breakwall, 1910 Queen St. E., TO East
8:30> Lily Frost @ Castro's, 2116 Queen St. E., TO East ~songwriter
*9:30-2> Sebastian Agnello & friends @ Black Swan (ground floor), 154 Danforth Ave., TO East
416 – Toronto Etobicoke
*8-12> Al Reilly's Catalyst also featuring Anthony Cee host Rock jam @ Rockpile, 5555 Dundas St. W., Etobicoke
416 – Toronto SCARBOROUGH
*8-11> open stage @ McGradie's, 2167 Victoria Park Ave., Scarborough
9> Uke jam/workshop @ Stone Cottage Pub, 3750 Kingston Rd., Scarborough ~Pop Rock
416 – Toronto West
5-8> Ed Sweetman's Perspectives @ Gate 403, 403 Roncesvalles Ave., TO West ~Jazz
9> Geoff Willingham @ The Roncy, 390 Roncesvalles Ave., TO West ~Roots-Pop
*9-1> eclectic open stage/jam with host Nelson Sobral @ The Painted Lady, 218 Ossington Ave., TO West
9-1> Rob Davis Blues Duo @ Gate 403, 403 Roncesvalles Ave., TO West ~Blues
705
*7> Hard Time Mondays with Rick & Gailie @ Black Horse Pub, 452 George St. N., Peterborough
10> Melissa Payne; Gratia Leitch @ The Garnet, 231 Hunter St. W., Peterborough
905 East
*8-12> open stage @ Simcoe Blues & Jazz, 926 Simcoe St. N., Oshawa
*10> L&M Jam with host Emerson Ireland @ The Thirsty Monk, 21 Celina St., Oshawa
905 North
**9> tba @ Memphis North, 18947 Woodbine Ave., East Gwillimbury ~singer-songwriters
905 West
**8-12> BBQ & jam night with Catherine Harrison @ Moonshine Café, 137 Kerr St., Oakville; ($8.95 with BBQ dinner special starts at 6)
*8> open mic night @ Fionn MacCool's Burlington, 2331 Appleby Line, Burlington
*9-1> jam with Tom Barlow @ Shore Grill, 71 Lakeshore Rd. E., Port Credit
9-1> Alexander Quail @ Roc'n Doc's, 105 Lakeshore E., Port Credit ~acoustic Pop