\ TO EAST \
For the past three-and-a-half years now musicians and appreciative audiences have been making east Toronto's Danforth strip just west and east of Woodbine Avenue a weekly Sunday afternoon and evening destination.
The attraction is two open mic jam events that offer affable hosts with eclectic skills in rooms that are nurturing environments for veteran and novice players alike.
Nicola Vaughan hosts the early show 3-6 (and often running a little later) at Ethiopian eatery Hirut Café at 2050 Danforth on the first block west of Woodbine. I was actually the initial host for the Sunday open mic there, starting it up in the spring of 2012 after a long-running similar event nearby closed up shop; Nicola took over in early 2013 after I left and has taken it to a whole new level.
A versatile Pop, Jazz, Blues, Rock and Show tunes performer with an engaging wit and welcoming demeanour, Nicola has a knack for getting people who come out to perform their own tunes up and mingling on stage in various impromptu combos, so just about anything can happen —and often does.
Although you may go for the music you'll also want to try out some of the offerings from this room's kitchen —Hirut provides a nutritious, delicious and very affordable variety of dishes that she cooks herself from scratch in the home-made style regulars have come to adore.
The food is also a mighty powerful reason to stop in afterwards at another nearby eatery, tapas restaurant and bar Relish at 2152 Danforth a block east of Woodbine. Owner and chef Joanne Clayton's skills in the kitchen have become the talk of the area and she's always concocting new items, especially inventive desserts, with which to delight patrons.
But for the past five-and-a-half years on Sundays it's the music that's even more heralded than the menu at Relish, as the 9-1 open stage jam has become rightly regarded as one of the best anywhere in the GTA.
With versatile multi-instrumentalist and alt-Pop songwriter David Macmichael on hand as host and house bass player and either Paul Brennan or Jace Traz on drums, solo artists and bands have the option of utilizing the house rhythm section, going it alone or teaming up with some of the other regular players always eager to pitch in their talents, such as Blues tyro Sam Taylor or guitarist Will Meadows.
While the room's stage area is set up as a dedicated band performance zone, acoustic artists are more than welcome to do their own thing as well and I've seen several such performers share Classical, Jazz and other styles to very good reaction from the musically savvy crowd that comes out here each week.
-Gary 17, TorontoMoon.ca
SHOW LISTINGS for Sunday, September 20, 2021

:

Listings are organized by area in which shows take place and listed chronologically within each area field.

Listings preceded by an asterisk (*) are repeating weekly events. (Double asterisk indicates repeating event with different hosts/guest/etc.). Admission prices followed by a slash and minus (/-) after the amount indicates door charge with availability of cheaper rates for some purchases. /+ indicates stated price is minimum.

Names of subscribers appear in bold, are underlined and, where applicable, include a live link to their websites. Advertisers' listings are in larger highlighted type, include live link to website and also have ad icon included in listings.

416 – Toronto Central

11am-2pm> Gloria Valentine & Nina Shapilsky for Jewish brunch buffet @ Free Times Café, 320 College St., TO

noon-3> Excelsior Dixieland Jazz Band @ The Rex, 194 Queen St. W., TO ~Jazz

noon> Ron Sexsmith & many more acts for Toronto Urban Roots Festival @ Fort York, 100 Garrison Rd., TO; $

1> Quebecois Jam @ Tranzac Club, 292 Brunswick Ave., TO

3-5> Alaniaris @ Tranzac Club (Southern Cross), 292 Brunswick Ave., TO

3> Derek Christie @ C'est What, 69 Front St. E., TO ~pwyc

*3-6> Michael Brennan @ Graffiti's, 170 Baldwin St. TO ~East Coast Rock/Blues Roots

3:30-6:30> Red Hot Ramble @ The Rex, 194 Queen St. W., TO ~Jazz

*4:30-8> New Orleans Connection All Stars & guests @ Grossman's, 379 Spadina Ave., TO ~New Orleans Jazz

5-9> Soulidified @ Seven44, 744 Mount Pleasant Road, TO North ~R&B/Soul; $10

5> Monk's Music @ Tranzac Club (Southern Cross), 292 Brunswick Ave., TO

*7-1> Freefall Sundays open stage with hosts Steve York & Tony Rabalao (2 songs each -signup @ 7 or pre-sign online) @ The Supermarket, 268 Augusta St., TO

7> The Double Cuts @ Cameron House (front), 408 Queen St. W., TO ~Western Swing

7-9:30> Victor Bateman @ The Rex, 194 Queen St. W., TO ~Jazz

7:30> Diane Roblin & friends @ Tranzac Club (Southern Cross), 292 Brunswick Ave., TO ~Jazz

8> Julian Taylor Band; St. Paul; The Broken Bones @ Lee's Palace, 529 Bloor St. W., TO ~original Rock/Funk/R&B

8> Gordon's Acoustic Living Room @ Free Times Café, 320 College St., TO ~Roots-Pop; free

8> The Steve Koven Trio @ Musideum, 401 Richmond St. W., #133, TO ~Jazz; $20

8> Cat and the Queen @ Cameron House (rear), 408 Queen St. W., TO

9> comedy night @ Rivoli, 334 Queen St. W., TO; $10

9> jam with Jay Pennell @ Scruffy Murphy's, 150 Eglinton Ave. E., TO North

9:30> Three Blind Mice @ The Rex, 194 Queen St. W., TO ~Jazz

*10> Horshack feat. Chris Caddell @ Orbit Room, 580 College St., TO ~Bluesy contemporary & classic Rock

10> Makeshift Island @ Tranzac Club (Southern Cross), 292 Brunswick Ave., TO

10> New Grease Revival @ Cameron House (front), 408 Queen St. W., TO

**10> Blues jam with Mike Daley filling in for Brian Cober & Bill Hedefine with guest bassist Stan [email protected] Grossman's, 379 Spadina Ave., TO

10:30> Geoff Willingham @ The Hideout, 484 Queen St. W., TO ~acoustic Pop

416 – Toronto East

11-2> The Brickhouse Trio for Jazz brunch @ Relish, 2152 Danforth Ave. TO East

*3-6> open mic with Nicola Vaughan @ Hirut, 2050 Danforth Ave., TO East

*3:30-7:30> jam @ Black Bear, 1125 O'Connor Drive, TO East

4> Funky Sons of Beaches @ Castro's Lounge, 2116 Queen St. E., TO East

*5-9> John Dickie/Pat Perez Band @ Linsmore Tavern, 1298 Danforth Ave, TO East ~R&B/Blues

*8-9> Sam Taylor & The East End Love @ Relish, 2152 Danforth Ave., TO East ~original Blues

*9-1> jam with the Stir It Up Band featuring David Macmichael @ Relish, 2152 Danforth Ave., TO East

9> Watch This Sound @ Castro's Lounge, 2116 Queen St. E., TO East ~vintage Jamaican music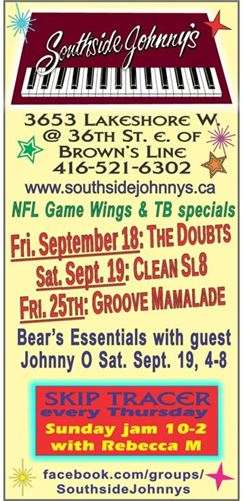 416- Toronto Etobicoke
4-8> Lost Patients @ Timothy's Pub, 344 Brown's Line, Etobicoke ~Pop Rock
*10-2> jam with Rebecca Matiesen & Phoenix @ Southside Johnny's, 3653 Lakeshore Blvd. W., Etobicoke South
416 – Toronto Scarborough
*6-10> jam with Tommy Rocker @ Scarborough Junction, 646 Danforth Rd., Scarborough
*7-11> open jam @ McGradie's, 2167 Victoria Park Ave., Scarborough
416 – Toronto West
**11-2> live Jazz brunch @ DeSoto's, 1079 St. Clair Ave. W., TO West
*12-3> Julian Fauth's Blues brunch @ Axis, 3048 Dundas St. W., TO West ~Blues
* 12-3> The Cosmotones @ Dakota Tavern, 249 Ossington Ave., TO West ~Rockabilly
**5-8> John Borra & Sam Ferrara w. guest @ The Communist's Daughter, 1149 Dundas St. W. TO West ~Country
5-8> Chris Coole @ The Local, 396 Roncesvalles Ave., TO West ~old-time Country Roots
5-8> Six Points Jazz Orchestra @ Gate 403, 403 Roncesvalles Ave., TO West ~Jazz
8:30> Jon Gomm & Don Ross @ Hugh's Room, 2261 Dundas St. W., TO West ~songwriters; $35 –standing room only
9-1> Sam Bellaviti Latin Jazz Trio @ Gate 403, 403 Roncesvalles Ave., TO West ~Latin-Jazz
9> Erika Werry & The Alphabet @ The Local, 396 Roncesvalles Ave., TO West ~Roots-Pop
10> The Mercenaries @ Dakota Tavern, 249 Ossington Ave., TO West
519
*9-1> jam @ Ivy Arms Pub, 201 Main Street East, Milton
705
2> Bloodshot Bill @ The Garnet, 231 Hunter St., W., Peterborough ~Country
*3-7> jam at CJ Barleys, 213 The Queensway, Keswick
3> Brian Haddelssey @ Black Horse Pub, 452 George St. N., Peterborough
*7> open mic with Randy Hill @ Black Horse Pub, 452 George St. N., Peterborough
10> The Brick 4tet @ The Garnet, 231 Hunter St., W., Peterborough
905 East
4> The String Theory @ Simcoe Blues & Jazz, 926 Simcoe St. N., Oshawa
*5-9> Jam Night with Enzo & The Surf Riders @ West Shore Bar & Grill, 877 Bayly St., Pickering
*5-10> All ages open jam with Juggernaut @ The Edge Lounge, 250 Bayly St. W., Ajax
*7-11> Karaoke with Rob MacArthur @ The Edge, 250 Bayly St. W., Ajax
*8:30-12:30> karaoke with The English Rose & The Mad Scotsman @ Pearson Pub, 101 Mary St. W. Whitby
905 North
1-4> Whatever Sticks featuring Sue Martin for Terry Fox Run @ Memorial Park Bandshell, Church St. South, at Park Drive South, Stouffville ~Rock/Pop
**1-3> Joe & Frank with guest performer on the patio @ Lake Simcoe Arms, 21089 Dalton Rd., Jackson's Point ~Jazz
*3-7> open stage with Kevin Ker @ The Earl Of Whitchurch, 6204 Main St., Stouffville
*5-9> open mic with feature guest @ Sgt. Pepper's Aurora, Walmart Plaza (Hwy 404 & Aurora Rd.), Aurora
7> Battle of the Bands @ Stewart Maguire's Landing, 15 Allan Rd., Bolton ~youth bands
905 South
2-6> Bay City Blues Band & guest Spencer MacKenzie @ Bay City Music Hall, 50 Leander Drive, Hamilton ~Blues; $5
*4> acoustic patio jam @ This Ain't Hollywood, 345 James St. N., Hamilton
8> tba @ Casbah Lounge, 306 King St. W., Hamilton
905 West
**2-6> Country matinee with host Colin Connors and guest Christine Leroux @ Carrigan Arms, 2025 Upper Middle Rd., Burlington ~Country
2> Mike Branton @ Fionn MacCool's Burlington, 2331 Appleby Line, Burlington
4> Woodshed Session @ Moonshine Café, 137 Kerr St., Oakville
*4:30-8> Chuck Jackson's All Stars @ Roc'n Doc's, 105 Lakeshore Rd. E., Port Credit ~Blues
**5:30-8:30> The Stew @ Mulligan's, 2458 Dundas St. W., Mississauga ~R&B/Rock
**7-11> The Nomads @ Shore Grill, 71 Lakeshore Rd. E., Port Credit
*7> open jam with Mike Shotton & The Flying Squirrels @ Black Swan Pub Burlington, 4040 Palladium Way, Burlington
*7:30> open jam hosted by Troy Harmer @ The Brown Barrel, 1515 Upper Ottawa St., Hamilton
*9-1> Jake Robertson @ Roc'n Doc's, 105 Lakeshore Rd. E., Port Credit ~Rock/Top 40
*10:30> Adam Cooke & The Adams Family @ The Dickens, 423 Elizabeth St., Burlington