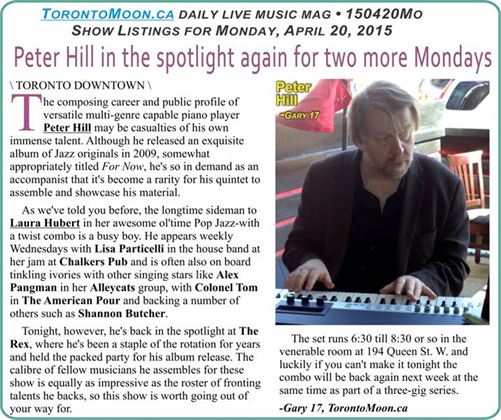 \ TORONTO DOWNTOWN \
The composing career and public profile of versatile multi-genre capable piano player Peter Hill may be casualties of his own immense talent. Although he released an exquisite album of Jazz originals in 2009, somewhat appropriately titled For Now, he's so in demand as an accompanist that it's become a rarity for his quintet to assemble and showcase his material.
As we've told you before, the longtime sideman to Laura Hubert in her awesome ol'time Pop Jazz-with a twist combo is a busy boy. He appears weekly Wednesdays with Lisa Particelli in the house band at her jam at Chalkers Pub and is often also on board tinkling ivories with other singing stars like Alex Pangman in her Alleycats group, with Colonel Tom in The American Pour and backing a number of others such as Shannon Butcher.
Tonight, however, he's back in the spotlight at The Rex, where he's been a staple of the rotation for years and held the packed party for his album release. The calibre of fellow musicians he assembles for these show is equally as impressive as the roster of fronting talents he backs, so this show is worth going out of your way for.
The set runs 6:30 till 8:30 or so in the venerable room at 194 Queen St. W. and luckily if you can't make it tonight the combo will be back again next week at the same time as part of a three-gig series.
-Gary 17, TorontoMoon.ca
SHOW LISTINGS for Monday, April 20, 2022
Listings preceded by an asterisk (*) are repeating weekly events. (Double asterisk indicates repeating event with different hosts/guest/etc.). Admission prices followed by a slash and minus (/-) after the amount indicates door charge with availability of cheaper rates for some purchases. /+ indicates stated price is minimum.
Names of subscribers appear in bold, are underlined and, where applicable, include a live link to their websites. Advertisers' listings are in larger highlighted type, include live link to website and also have ad icon included in listings.
5-8> Robert Wannell Jazz Trio @ Gate 403, 403 Roncesvalles Ave., TO West ~Jazz
*6-8> Smokey Folk Bluegrass Mondays @ Relish, 2152 Danforth Ave., Toronto East ~Bluegrass
6> Angie Gunn @ Cameron House (front), 408 Queen St. W., TO
*6-9> Calliope's Nest open stage/jam for women @ Lola Pub, 40 Kensington Ave., TO
6:30>

Peter Hill Quintet

@ The Rex, 194 Queen St. W., TO ~Jazz/Hard Bop
*7-11> Jerome Godboo & Frank Wilks @ The Duke Live, 1225 Queen St. E., TO East ~Blues/Pop
*7> Hard Time Mondays with Rick & Gailie @ Black Horse Pub, 452 George St. N., Peterborough
**7:30> M Factor Mondays with host Elana Harte & features Wendell Ferguson; Arlene Bishop @ The Old Nick, 123 Danforth Ave., TO East
7:30> George Lake Big Band @ Seven44, 744 Mount Pleasant Road, TO North ~R&B/Swing
8-10> John Wayne Swingtet @ Relish, 2152 Danforth Ave., Toronto East ~Swing Jazz
8-12> open stage with Julian Taylor & 9:30 feature by Dora's Explorers @ Dora Keogh, 141 Danforth Ave. TO East
8> comedy @ Cameron House (rear), 408 Queen St. W., TO
8> Ukulele jam @ Tranzac Lounge (Main Hall), 292 Brunswick Ave., TO
**8-1> open stage with host Alex Zdravkovic @ Free Times Café, 320 College St., TO
*8-11> open stage @ McGradie's, 2167 Victoria Park Ave., Scarborough
**8-12> BBQ & jam night with Port Credit Review Band @ Moonshine Café, 137 Kerr St., Oakville; ($8.95 with BBQ dinner special starts at 6)
*8-12> open stage @ Simcoe Blues & Jazz, 926 Simcoe St. N., Oshawa
*8:30> Songbird Mondays with Nicole "Songbird" Coward online live @ http://www.streetjelly.com ~Roots/Folk
8:30> Johnson Cook @ Castro's, 2116 Queen St. E., TO East
*9-1> eclectic open stage/jam with host Nelson Sobral @ The Painted Lady, 218 Ossington Ave., TO West
**9-1:30> jam with No Band Required @ Grossman's, 379 Spadina Ave., TO
*9-1> Hamstrung Stringband @ The Local, 396 Roncesvalles Ave., TO West ~Bluegrass
9-1> Rob Davis Blues Duo @ Gate 403, 403 Roncesvalles Ave., TO West ~Blues
*9-1> jam with Tom Barlow @ Shore Grill, 71 Lakeshore Rd. E., Port Credit
9-1> Fraser-Daley Band @ Roc'n Doc's, 105 Lakeshore E., Port Credit ~Blues
*9:30-2> Sebastian Agnello & friends @ Black Swan (ground floor), 154 Danforth Ave., TO East
*9:30> open mic night at Amsterdam Bicycle Club, 54 The Esplanade, TO
9:30> Mike Kerriott & The OTR Band @ The Rex, 194 Queen St. W., TO ~Jazz
10> Jordan John @ The Orbit Room, 580 College St., TO ~R&B/Blues
*10> open mic (2 songs; signup starts 8p.m.) @ Tranzac Lounge (Southern Cross), 292 Brunswick Ave., TO
10> Delta Will @ Cameron House (front), 408 Queen St. W., TO
*10> open mic with Ric Ocasek @ Cadillac Lounge, 1298 Queen St. W., TO West
10:30> Big Otter Creek Acoustic Duo @ The Hideout, 484 Queen St. W., TO ~indie Rock
Copyright © 2015 Toronto Moon Magazine. All Rights Reserved