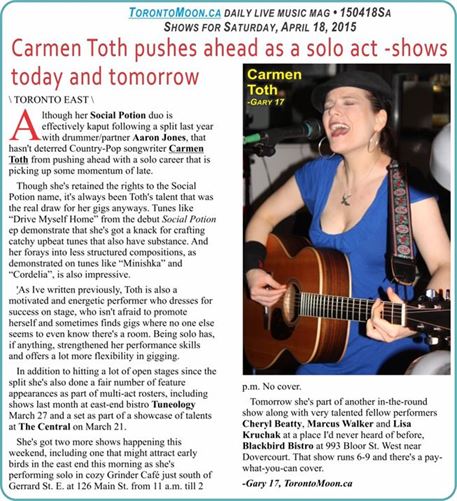 \ TORONTO EAST \
Although her Social Potion duo is effectively kaput following a split last year with drummer/partner Aaron Jones, that hasn't deterred Country-Pop songwriter Carmen Toth from pushing ahead with a solo career that is picking up some momentum of late.
Though she's retained the rights to the Social Potion name, it's always been Toth's talent that was the real draw for her gigs anyways. Tunes like "Drive Myself Home" from the debut Social Potion ep demonstrate that she's got a knack for crafting catchy upbeat tunes that also have substance. And her forays into less structured compositions, as demonstrated on tunes like "Minishka" and "Cordelia", is also impressive.
As I've written previously, Toth is also a motivated and energetic performer who dresses for success on stage, who isn't afraid to promote herself and sometimes finds gigs where no one else seems to even know there's a room. Being solo has, if anything, strengthened her performance skills and offers a lot more flexibility in gigging.
In addition to hitting a lot of open stages since the split she's also done a fair number of feature appearances as part of multi-act rosters, including shows last month at east-end bistro Tuneology March 27 and a set as part of a showcase of talents at The Central on March 21.
She's got two more shows happening this weekend, including one that might attract early birds in the east end this morning as she's performing solo in cozy Grinder Café just south of Gerrard St. E. at 126 Main St. from 11 a.m. till 2 p.m. No cover.
Tomorrow she's part of another in-the-round show along with very talented fellow performers Cheryl Beatty, Marcus Walker and Lisa Kruchak at a place I'd never heard of before, Blackbird Bistro at 993 Bloor St. West near Dovercourt. That show runs 6-9 and there's a pay-what-you-can cover.
-Gary 17, TorontoMoon.ca
SHOW LISTINGS for Saturday, April 18, 2022
Listings preceded by an asterisk (*) are repeating weekly events. (Double asterisk indicates repeating event with different hosts/guest/etc.). Admission prices followed by a slash and minus (/-) after the amount indicates door charge with availability of cheaper rates for some purchases. /+ indicates stated price is minimum.
Names of subscribers appear in bold, are underlined and, where applicable, include a live link to their websites. Advertisers' listings are in larger, highlighted type, include live link to website and also have ad icon included in listings.
11-2> Carmen Toth @ Grinder Café, 126 Main St., TO East ~indie Pop
*12-3> Julian Fauth's Blues Brunch @ Axis, 3048 Dundas St. W., TO West ~Blues
*12-3> Danny Marks & friends @ The Rex, 194 Queen St. W., TO ~Jazz
*2-5> Dr. B's Acoustic Medicine Show open stage with host Brian Gladstone @ Free Times Café, 320 College St. TO ~Roots; pwyc
**2-6> Sil Simone Band with special guest Krista Blondin @ Carrigan Arms, 2025 Upper Middle Rd., Burlington ~Rock/Blues
**2-6> open mic with a different weekly host @ Magic Oven, 347 Keele St., TO West
*2-6> jam w. Tom Finocchio @ Sam's Place, Barton-Chestnut Sts., Hamilton
**2-6> Saturday Blues Sermon with James Anthony & special guest Sweet Claudette @ Black Swan Pub Burlington, 4040 Palladium Way, Burlington ~Blues
2:30-4:30> Sue & Dwight @ Humble Beginnings, 3109 Dundas St. W., TO West ~Folk
*3-6> Danny B Band @ Blue Goose, 1 Blue Goose St., Etobicoke South ~R&B/Blues
*3-7> jam with Michelle Deneault & Redder @ Port Credit Legion, 35 Front St., Port Credit
3> The Hot Five Jazzmakers @ C'est What, 67 Front St. E., TO ~traditional Jazz; $5/pwyc
3> The Porchdog Choir @ The Salty Dog, 1980 Queen St. E., TO East ~Rock/Rockabilly
*3-7> open stage jam @ Moonshine Café, 137 Kerr St., Oakville; $2
3:15-5:30> Signe Miranda hosts free sample songwriting workshop for Song Creation Workshop @ The FringeCreation Lab, 402-720 Bathurst St., TO
3:30-6:30> Loaded Blues & friends featuring Jim Cornell of Still Sunday @ The Loaded Dog, 1921 Lawrence Ave. E., Scarborough
*3:30-6> Johnny Wright @ Outriggers, 2232 Queen St. E., TO East ~R&B
3:30> Diane Roblins Reconnect @ The Pilot, 22 Cumberland St., TO ~Jazz
**4-8> The Essentials with guest singer Brooke Blackburn @ Southside Johnny's, 3653 Lakeshore Blvd. W. Etobicoke South ~Rock-R&B
4-7> Fabulous Rave @ Seven44, 744 Mount Pleasant Road, TO North ~Jazz; $
*4-7:30> Ronnie Hayward Trio @ McQueen's, 993 Queen St. E., TO E. ~Blues/Roots
*4-8> The Meteors with guest Virgil Scott @ Timothy's Pub, 344 Brown's Line, Etobicoke South ~Blues/Rock/R&B
*4> PRJ @ Simcoe Blues & Jazz, 926 Simcoe St., Oshawa ~Blues
**5-8> Bill Heffernan & Friends featuring guests Ken Yoshioka Band @ Gate 403, 403 Roncesvalles Ave. TO West –Rootsy Pop/Blues
5-8> Dan Gooch @ The Local, 396 Roncesvalles Ave., TO West ~songwriter
5> Terry Finn @ Black Horse Pub, 452 George St. N., Peterborough
6-8> Grier Coppins @ Cameron House (front), 408 Queen St. W., TO
6-8> The Cosmotones @ Castro's, 2116 Queen St. E., TO East ~Blues/Roots
*6-9> Victoria & Bobby Keys @ Roc'n Doc's, 105 Lakeshore Rd. E., Port Credit ~soft Pop
7:30> Nick Teehan Group @ The Rex, 194 Queen St. W., TO ~ Jazz
8> Lucas Stagg @ The Feathers, 962 Kingston Rd., TO East ~Rock/Blues songwriter
8> Blaze & Glory @ Remarks, 1026 Coxwell Ave., TO East ~Country/Pop
8> C&C Surf Factory @ Cameron House (front), 408 Queen St. W., TO
8-12> Alfie Smith with guest Brant Parker @ Moonshine Café, 137 Kerr St., Oakville ~Blues; $10
8:30> Ismael De La Torre & Ernesto J. Espinoza @ Free Times Café, 320 College St. TO; Latin (Cuban, Chilean) original composers; $10
9> Rebeljo featuring Dave Girdlestone of Soul Funkshun @ Abbey Pub, 3200 Erin Mills Parkway, Mississauga ~Rock
*9-1> karaoke with Rob MacArthur @ Tudor Rose, 700 Harwood Ave. S., Ajax
9-1> Mr. Finch @ Black Dog Pub, 87 Island Rd., Scarborough ~acoustic Pop/soft Rock
9-1> Mr. Rick's Tin Pan Jazz Band @ Gate 403, 403 Roncesvalles Ave., TO West ~ ol' timey style originals & covers
9> Pontune 5 @ Seven44, 744 Mount Pleasant Road, TO North; $
9> The Shoes @ The Only Café, 972 Danforth Ave., TO East
9> Young Running @ C'est What, 67 Front St. E., TO ~indie Pop; pwyc
9> Jon & The Baptists @ The Local, 396 Roncesvalles Ave., TO West ~Country-Blues
9> One King @ Blue Goose Tavern, 1 Blue Goose Rd., Etobicoke South ~Pop Rock
9> Decibel Dogs; 40 Proof @ Maple Leaf House, 2749 Lakeshore Boulevard East, Etobicoke ~Rock/Top 40/Blues
9> Fool's Paradise @ Carrigan Arms, 2025 Upper Middle Rd., Burlington
9> Steel City @ The Corral, 433 Simcoe St. S., Oshawa ~Country
9-1> The Tonedogs @ Simcoe Blues & Jazz, 926 Simcoe St. N., Oshawa ~Rock/Blues
9-1> Audio Taxi @ Oscar's Roadhouse, 1785 Queen St. E., Brampton ~Pop Rock/Top 40
9> Dirty Little Swing Thing @ King Richard's Pub, 15570 Yonge St., Aurora ~Pop Rock
**9> Niagara Rhythm Section @ The Old Winery, 2228 Niagara Stone Rd., Niagara-On-The-Lake ~R&B/Blues
9:30-11:30> Geoff Marshall & The Mail Order Cowboys @ Relish, 2152 Danforth Ave., TO East ~original music
9:30-1:30> Mark Yan & Barry Mulcahy @ Black Swan Tavern, 154 Danforth Ave., TO East ~acoustic Pop
*9:30-2> karaoke with The English Rose & The Mad Scotsman @ Winners, 2181 Lawrence Ave. E., Scarborough
9:30> Soular @ Alleycatz, 2409 Yonge St., TO North ~Funk/Soul/R&B
9:30> Bone-Yard @ The Duke Live, 1225 Queen St. E., TO East ~Pop Rock
9:30> Caution Jam @ Linsmore Tavern, 1298 Danforth Ave., TO East ~Grateful Dead-style jam band; $5
9:30> Heart and Soul @ Stone Cottage Pub, 3750 Kingston Rd., Scarborough ~Pop Rock
9:30> Fleetwood Mix @ Timothy's Pub 344 Brown's Line, Etobicoke South ~Fleetwood Mac tribute; $
9:30> Kenny V @ Shore Grill, 71 Lakeshore Rd. E., Port Credit ~Pop Rock/Top 40
9:30> Skip Tracer @ Jake's Boathouse Brampton, 59 First Gulf Rd., Brampton ~Pop Rock
9:30> Groove Hammer @ Sixth Line Pub, 1500 Sixth Line, Oakville ~Rock
9:30> The Reminants @ Gator Ted's, 1505 Guelph Line, Burlington
9:30> Virginia Wolfe @ Aw Shucks, 15230 Yonge St., Aurora ~Pop Rock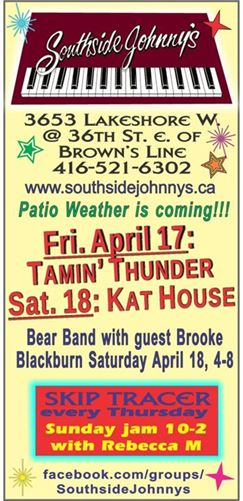 9:45> Pat Collins Group @ The Rex, 194 Queen St. W., TO ~Jazz
*9:45> Tyler Yarema & His Rhythm @ Reservoir Lounge, 52 Wellington St. E., TO ~Jazz/Blues
10-2> Kat House @

Southside Johnny'

s, 3653 Lakeshore Blvd. W. Etobicoke South ~Rock/Top 40
10> Al Reilly's Catalyst @ Centro Pizza, 3408 Kingston Rd., Scarborough ~classic Rock
10> Backtrack featuring Marty Zatzman on guitar @ Cadillac Lounge, 1296 Queen St. W., TO West ~classic Rock/Pop; $10
*10> karaoke with Randy Petrie @ Kramers, 1915 Yonge St., TO North
10> Ride The Tiger @ Orbit Room, 480 College St. TO ~Funk/Soul
10> Bradley & The Bouncers @ Cameron House (front), 408 Queen St. W., TO
10-2> Alistair Christl @ Dakota Tavern, 249 Ossington Ave., TO West ~Rockabilly; $
10-2> Hot Rocks @ Roc'n Doc's, 105 Lakeshore Rd. E., Port Credit ~Stones tribute
10-2> Band Edge @ Fionn MacCool's Ajax, 36 Kingston Rd. E., Ajax ~Pop Rock
10-2> Carbon Copy @ Whisky John's, 843 King St. W., Oshawa ~Rock/Pop
10> The Do-Tells @ The Garnet, 231 Hunter St. W., Peterborough
10:30> Shawn Brady & The Northern Sons @ The Hideout, 484 Queen St. W., TO ~indie Rock
10:30> Thee Empty Hour @ The Dickens, 423 Elizabeth St., Burlington ~Pop Rock
Copyright © 2015 Toronto Moon Magazine. All Rights Reserved