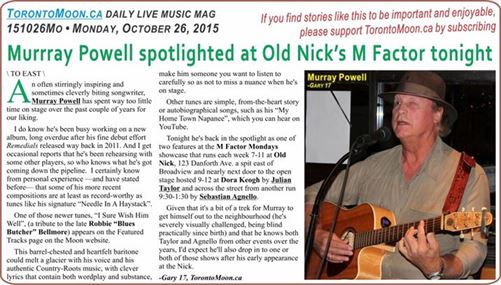 \ TO EAST \
An often stirringly inspiring and sometimes cleverly biting songwriter, Murray Powell has spent way too little time on stage over the past couple of years for our liking.
I do know he's been busy working on a new album, long overdue after his fine debut effort Remedials released way back in 2011.  And I get occasional reports that he's been rehearsing with some other players, so who knows what he's got coming down the pipeline.  I certainly know from personal experience —and have stated before— that some of his more recent compositions are at least as record-worthy as tunes like his signature "Needle In A Haystack".
One of those newer tunes, "I Sure Wish Him Well", (a tribute to the late Robbie "Blues Butcher" Bellmore) appears on the Featured Tracks page on the Moon website.
This barrel-chested and heartfelt baritone could melt a glacier with his voice and his authentic Country-Roots music, with clever lyrics that contain both wordplay and substance, make him someone you want to listen to carefully so as not to miss a nuance when he's on stage.
Other tunes are simple, from-the-heart story or autobiographical songs, such as his "My Home Town Napanee", which you can hear on YouTube.
Tonight he's back in the spotlight as one of two features at the M Factor Mondays showcase that runs each week 7-11 at Old Nick, 123 Danforth Ave. a spit east of Broadview and nearly next door to the open stage hosted 9-12 at Dora Keogh by Julian Taylor and across the street from another run 9:30-1:30 by Sebastian Agnello.
Given that it's a bit of a trek for Murray to get himself out to the neighbourhood (he's severely visually challenged, being blind practically since birth) and that he knows both Taylor and Agnello from other events over the years, I'd expect he'll also drop in to one or both of those shows after his early appearance at the Nick.
-Gary 17, TorontoMoon.ca
SHOW LISTINGS for Monday, October 26, 2021
Listings are organized by area in which the shows occur and within each area field shows are listed chronologically.
Listings preceded by an asterisk (*) are repeating weekly events. (Double asterisk indicates repeating event with different hosts/guest/etc.). Admission prices followed by a slash and minus (/-) after the amount indicates door charge with availability of cheaper rates for some purchases. /+ indicates stated price is minimum.
Names of subscribers appear in bold, are underlined and, where applicable, include a live link to their websites. Advertisers' listings are in larger highlighted type, include live link to website and also have ad icon included in listings.
On The Air / Online
*8:30> Songbird Mondays with Nicole "Songbird" Coward & special guest Harpin' Norm Lucien online live @ http://www.streetjelly.com ~Roots/Folk
416 - Toronto Central
6> tba @ Cameron House (front), 408 Queen St. W., TO
6:30> U of T Jazz Ensembles @ The Rex, 194 Queen St. W., TO ~Jazz; $
*7> Balfolk Toronto @ May Café, 876 Dundas St. W., TO ~Folk music & dance
**7:30-1 (sign-up starts at 7)> open stage with host Michael Burton @ Free Times Café, 320 College St., TO
7:30> Mega City Swing Band @ Seven44, 744 Mount Pleasant Road, TO North ~R&B/Swing
8> standup comedy night @ Cameron House (rear), 408 Queen St. W., TO
8> Ukulele jam @ Tranzac Lounge (Main Hall), 292 Brunswick Ave., TO
8:30> Alt Dot Comedy Lounge @ Rivoli, 334 Queen St. W., TO; $5
8:30> Custome Tease; Troute Windigo @ Horseshoe Tavern, 370 Queen St. W., TO ~indie; free
**9-1:30> jam with No Band Required @ Grossman's, 379 Spadina Ave., TO
*9?> open mic @ Lou Dawgs Ryerson, 76 Gerrard St. E., TO
9> Voodoo @ Cherry Colas, 200 Bathurst St., TO ~Rockin' Blues
*9:30> open mic night at Amsterdam Bicycle Club, 54 The Esplanade, TO
9:30> tba @ C'est What, 67 Front St. E., TO ~original indie Rock
9:30> John MacLeod's Rex Hotel Orchestra @ The Rex, 194 Queen St. W., TO ~Jazz; $
10> Jordan John @ The Orbit Room, 580 College St., TO ~R&B/Blues
*10> jam night hosted by Phill Hood & Jon McCann @ The Cage 292, 292 College St., TO
*10> open mic (2 songs; sign-up starts 8 p.m.) with host Yawd Sylvester @ Tranzac Lounge (Southern Cross), 292 Brunswick Ave., TO
10> Miss Quincy @ Cameron House (front), 408 Queen St. W., TO
10:30> Big Otter Creek Unplugged @ The Hideout, 484 Queen St. W., TO ~indie Rock

416 - Toronto East
7-9> Jim Amar & The Busted @ Relish, 2152 Danforth Ave., Toronto East
**7:30> M Factor Mondays with host Elana Harte & features Murray Powell; Collette Andrea @ The Old Nick, 123 Danforth Ave., TO East ~songwriters
8-12> open stage with Julian Taylor @ Dora Keogh, 141 Danforth Ave. TO East
8> Welcome to Nightvale & guest Eliza Rickman @ The Danforth Music Hall, 147 Danforth Ave., TO East ~indie; $30+
9-11> Lotus Wight @ Castro's, 2116 Queen St. E., TO East
*9:30-2> Sebastian Agnello & friends @ Black Swan (ground floor), 154 Danforth Ave., TO East
416 – Toronto Etobicoke
*8-12> Al Reilly's Catalyst also featuring Anthony Cee host Rock jam @ Rockpile, 5555 Dundas St. W., Etobicoke
416 – Toronto Scarborough
*8-11> open stage @ McGradie's, 2167 Victoria Park Ave., Scarborough
*8> jam with Cameljoe @ Centro Pizza, 3408 Kingston Rd., Scarborough
416 – Toronto West
5-8> Dave Barrett (solo) @ Gate 403, 403 Roncesvalles Ave., TO West ~Jazz
8:30> Al Stewart accompanied by Dave Nachmanoff @ Hugh's Room, 2261 Dundas St. W., TO West ~Pop icon; $45 (Standing Room Only)
*9-1> Hamstrung Stringband @ The Local, 396 Roncesvalles Ave., TO West ~Bluegrass
*9-1> eclectic open stage/jam with host Nelson Sobral @ The Painted Lady, 218 Ossington Ave., TO West
9-1> Kalya Ramu Band @ Gate 403, 403 Roncesvalles Ave., TO West ~Jazz
705
*7> Hard Time Mondays with Rick & Gailie @ Black Horse Pub, 452 George St. N., Peterborough
905 East
*8-12> open stage @ Simcoe Blues & Jazz, 926 Simcoe St. N., Oshawa
*10> L&M Jam with host Emerson Ireland @ The Thirsty Monk, 21 Celina St., Oshawa
905 North
**9> tba @ Memphis North, 18947 Woodbine Ave., East Gwillimbury ~singer-songwriters
905 West
**8-12> BBQ & jam night with Dale Roosien @ Moonshine Café, 137 Kerr St., Oakville; ($8.95 with BBQ dinner special starts at 6)
*8> open mic night @ Fionn MacCool's Burlington, 2331 Appleby Line, Burlington
*9-1> jam with Tom Barlow @ Shore Grill, 71 Lakeshore Rd. E., Port Credit
9-1> Alexander Quail @ Roc'n Doc's, 105 Lakeshore E., Port Credit ~acoustic Pop