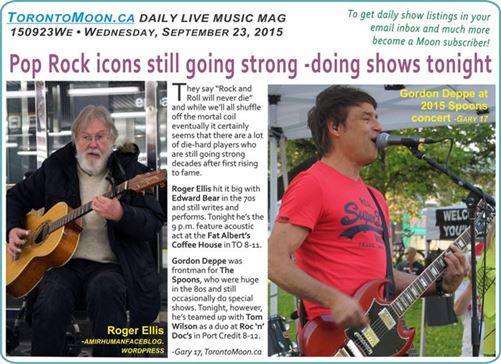 They say "Rock and Roll will never die" and while we'll all shuffle off the mortal coil eventually it certainly seems that there are a lot of die-hard players who are still going strong decades after first rising to fame.
Roger Ellis hit it big with Edward Bear in the 70s and still writes and performs. Tonight he's the 9 p.m. feature acoustic act at the Fat Albert's Coffee House in TO 8-11.
Gordon Deppe was frontman for The Spoons, who were huge in the 80s and still occasionally do special shows. Tonight, however, he's teamed up with Tom Wilson as a duo at Roc 'n' Doc's in Port Credit 8-12.
-Gary 17, TorontoMoon.ca
SHOW LISTINGS for Wednesday, September 23, 2021
Listings are organized by area in which the shows occur and within each area field shows are listed chronologically.
Listings preceded by an asterisk (*) are repeating weekly events. (Double asterisk indicates repeating event with different hosts/guest/etc.) Admission prices followed by a slash and minus (/-) after the amount indicates door charge with availability of cheaper rates for some purchases. /+ indicates stated price is minimum.
Names of subscribers appear in bold and underlined and, where applicable, include a live link to their websites. Advertisers' listings are in larger, highlighted type, include live link to website and also have ad icon included in listings.
416 – Toronto Central
6> Kristine Schmitt & Lonesome Aces @ Cameron House (front), 408 Queen St. W., TO
6:30> Richard Whiteman Group @ The Rex, 194 Queen St. W., TO ~Jazz
7> The Patrick Panus Quartet @ Monarchs Pub (Eaton Chelsea Hotel), 33 Gerrard St. W., TO ~Jazz
7:30> Dust: The Quietest Big Band In The World @ Tranzac Club (Southern Cross), 292 Brunswick Ave. TO
7:30> Comhaltas Irish Slow Session @ Tranzac Club (Tiki Room), 292 Brunswick Ave. TO ~folk dancing
**8> open stage with 9 p.m. feature by Roger Ellis @ Fat Albert's, 25 Cecil St. (Steelworkers Hall), TO ~Roots
*8-1> open jam with Wednesday's Child feat. Johnny Bootz Hutt @ Lola, 40 Kensington Ave., TO
8> Fawn Fritzen & Daniel Janke @ Musideum, 401 Richmond St. W., #133, TO ~eclectic duo; $20
8> Canadian Cancer Society benefit with Son; Down; Feathers & Fangs; Avery Florence; Of Gentlemen & Cowards @ Rivoli, 334 Queen St. W., TO ~$10/+
8> Jon Travis & Friends @ Free Times Cafe, 320 College St., TO ~songwriter
*8:30> Crazy Strings host High Lonesome Wednesdays with opening acoustic act @ Silver Dollar 486 Spadina Ave., TO ~Bluegrass
*8:45> Bradley & The Bouncers @ Reservoir Lounge, 52 Wellington St. E., TO ~Jazz/Blues/R&B
*9-2> What's Poppin' indie jam @ Sneaky Dee's, 431 College St., TO
9> Rob London & The Ragged; Shy Harry; Fro Dope @ Horseshoe Tavern, 370 Queen St. W., TO ~indie; $5
9> tba @ The Paddock, 178 Bathurst St., TO ~indie showcase; $6
*9> open mic with Sean Barker @ Monarch Tavern, 12 Clinton St., TO
9:30> Oliver Pigott; Danka Scepanovic; Gary Morissette @ C'est What, 67 Front St. E., TO ~indie; $pwyc
9:30> Nick Fraser Four @ The Rex, 194 Queen St. W., TO ~Jazz
10> Johnson Crook @ Cameron House (front), 408 Queen St. W., TO
10> Night Goose; Rich Burnett @ Tranzac Club (Southern Cross), 292 Brunswick Ave. TO
*10-2> Blues-Rock jam with Bruce Domoney @ Grossman's, 379 Spadina Ave. TO
8> Caspian; Circle takes The Square @ Lee's Palace, 529 Bloor St. W., TO; $15
10:30> Chatty Cathy @ The Hideout, 484 Queen St. W., TO ~indie Rock
*10:30> The LMT Connection @ Orbit Room, 580 College St. TO ~Funk/R&B; $10
416 – Toronto East
*6-11> Rock jam with Scar-Bro Pete & Lee Van Leer @ Melange, 172 Main St., TO East
*7:30-10:30> The BTBs @ Relish, 2152 Danforth Ave., TO East ~Jazz
8> Lrszn @ The Only Café, 972 Danforth Ave., TO East ~space Jazz
8:30-10:30> WE-B3 @ Castro's, 2116 Queen St. E., TO East
*9:30> open stage with Nicola Vaughan @ Black Swan (downstairs), 154 Danforth Ave., TO East
416 – Toronto Etobicoke
8-1> Maxine n' Christina @ Timothy's Pub, 344 Brown's Line, Etobicoke South ~Pop; $
416 – Toronto Scarborough
* 7> jam with Tommy Rocker's Classic Rock Band @ Fox at Scarborough Junction, 646 Danforth Rd., Scarborough
*8:30> Al Reilly's Catalyst @ Centro Pizza, 3408 Kingston Rd., Scarborough ~classic Rock
*8:30> open mic with Jadzia Skye & Michael Oesch @ Chez Helene's, 1437 Kingston Rd., Scarborough
416 – Toronto West
5-8> Larry Bond Jazz Duo @ Gate 403, 403 Roncesvalles Ave., TO West ~Jazz
*8-12> Girls Night Out Jazz singers jam with Lisa Particelli, Peter Hill et al @ Chalkers, 247 Marlee Ave., TO North-West
8> Wayne Neon & guest @ The Tennessee, 1554 Queen St. W., TO West
9-12> Blues Night with Julian Fauth & guests @ Gate 403, 403 Roncesvalles Ave., TO West ~original Juno-winning Blues
9> Freeman Dre & The Kitchen Party @ The Local, 396 Roncesvalles Ave., TO West ~original Roots-Pop
9> Red Racer; TWM/iM @ The Painted Lady, 218 Ossington Ave., TO West ~indie; $
*10-1> Michael Keith @ The Hole In The Wall, 2867 Dundas St. W., TO West ~Blues/Rock/Jazz
519
8> John Tayles @ Fionn MacCool's Kitchener, 4287 King St. E., Kitchener
9> The Phil & John Show feat. Phil Naro @ Molly Bloom's Waterloo, 170 University Ave., Waterloo ~acoustic Pop Rock
705
*7-11> open jam with Wayne Buttery Band @ The Beacon, 146 45th St., Wasaga Beach
7> Pine Box String Band @ Black Horse Pub, 452 George St. N., Peterborough
10> Ourosbouros @ The Garnet, 231 Hunter St. W., Peterborough
905 East

7> Linda Wright @ Simcoe Blues & Jazz, 926 Simcoe St. N., Oshawa
*8> Howard Ross & Full Count Blues hosts "Big Mojo" Blues jam with guest performer tba @ Corner Pocket, 45 Prince St., Oshawa
8-12> open mic night Aug 18 Sep 2 16 30 @ Fionn MacCool's Ajax, 32 Kingston Rd. E. Ajax
*8-11> open mic @ Frank's Pasta, 426 King St. E., Cobourg
*9-12> jam with Damage Control @ St. Louis Bar & Grill Ajax, 11 Harwood Ave. S., Ajax
905 North
*7> open mic night with Tanya Joy Senior @ Col. McGrady's Pub, 44 Brock St. W., Uxbridge
*8-12> open mic with Kevin Ker @ Aw Shucks, 15230 Yonge St., Aurora
*8:45> open mic jam with Matt Zady @ Magnums, 21 McMurchy Ave. N., Brampton
*9-1> open mic jam with Whiskey Birds @ Sweetz Lounge, 5289 Hwy 7, Woodbridge-Vaughan
*9:30> open mic with The Villagers @ Main's Mansion, 144 Main St., Markham
905 South
*7> open mic night @ Donnelley's Pub, 54 Front St., Thorold ~Blues
*8:30> Something Country @ The Endzone, 1900 King St. E., Hamilton ~Country
**8-1> "Country Pubkin" Night with Country artists tba @ Corktown Pub, 175 Young St., Hamilton
8> Scarlett Jane album release party @ Casbah Lounge, 306 King St. W., Hamilton; $8
905 West
*8-12> All-ages jam with band & host Kevin Reid @ Sixth Line Pub, 1500 Sixth Line, Oakville
*8-2> Gordon Deppe & Tom Lewis @ Roc'n Doc's, 105 Lakeshore Rd. E., Port Credit ~Rock/Pop; $
8-1> John Marlatt & Friends @ Moonshine Café, 137 Kerr St., Oakville
8:30> The Carson Freeman Diversion @ Shore Grill, 71 Lakeshore Rd. E., Port Credit ~Pop Rock
*9> open mic jam with Jack B Nimble @ Blarney's Gate, 1151 Dundas St. W., Mississauga
*9?> jam with Michael Zane or Pat Dowds @ Shakers, 580 Kerr St., Oakville