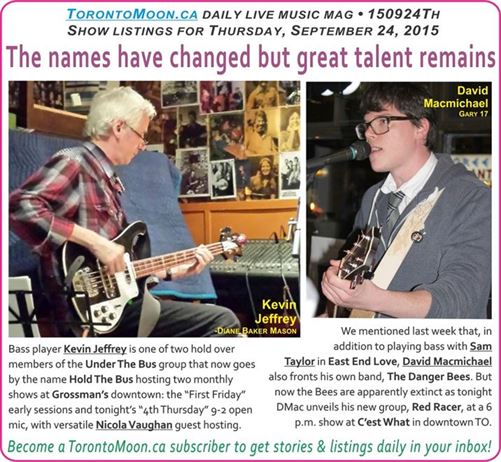 \ TO DOWNTOWN \
Bass player Kevin Jeffrey is one of two hold over members of the Under The Bus group that now goes by the name Hold The Bus hosting two monthly shows at Grossman's downtown: the "First Friday" early sessions and tonight's "4th Thursday" 9-2 open mic, with versatile Nicola Vaughan guest hosting.
We mentioned last week that, in addition to playing bass with Sam Taylor in East End Love, David Macmichael also fronts his own band, The Danger Bees. But now the Bees are apparently extinct as tonight DMac unveils his new group, Red Racer, at a 6 p.m. show at C'est What in downtown TO.
-Gary 17, TorontoMoon.ca
SHOW LISTINGS for Thursday, September 24, 2021
Listings are organized by area in which the shows occur and within each area field shows are listed chronologically.
Listings preceded by an asterisk (*) are repeating weekly events. (Double asterisk indicates repeating event with different hosts/guest/etc.). Admission prices followed by a slash and minus (/-) after the amount indicates door charge with availability of cheaper rates for some purchases. /+ indicates stated price is minimum.
Names of subscribers appear in bold and underlined and, where applicable, include a live link to their websites or event page. Advertisers' listings are in larger type and highlighted, include a live link to their website and also have a copy of the ad included in listings.
416 - Toronto Central
6> Corin Raymond @ Cameron House (front), 408 Queen St. W., TO ~Country Roots-Pop
6:30> Debut show for Red Racer featuring David Macmichael & opener Myke Mazzei @ C'est What, 67 Front St. E., TO
6:30> Kevin Quain @ The Rex, 194 Queen St. W., TO ~moody Blues
*7> open mic with Derek Mok @ Kensington Lodge, 21 Kensington Ave., TO
*7:30-9:30> Bluegrass Thursdays with Houndstooth @ Tranzac Lounge (Southern Cross), 292 Brunswick Ave., TO
*8-1> open mic with Alicia Porter @ The Local Gest, 424 Parliament St., TO
8-12> R&B/Blues @ Nawlin's, 299 King St. W. TO
8> Aldcroft; Gennaro; CCMC @ Musideum, 401 Richmond St. W., #133, TO ~art Rock; $10
8:30> The Stanfields; Little Foot Long Foot; Crow Town @ Horseshoe Tavern, 370 Queen St. W., TO ~indie; $12
8:30> Russell Leon & Friends @ Free Times Café, 320 College St. TO ~psych Roots-Rock; $6
8:30> Ragwax @ Fionn MacCool's Uptown, 1867 Yonge St., TO North
9-1> open mic with Hold The Bus featuring Kevin Jeffrey on bass & guest singer Nicola Vaughan @ Grossman's, 379 Spadina Ave., TO
9> Gruvoria @ May Café, 876 Dundas St. W., TO
9> Onra; mymanhenri @ Sneaky Dee's, 431 College St., TO ~indie
9> FunFact Music @ Cameron House (rear), 408 Queen St. W., TO
9-1> Jack de Keyzer @ Monarchs Pub (Eaton Chelsea Hotel), 33 Gerrard St. W., TO ~Blues
*9-1> Blackburn @ Jo Mamas, 317 King St. W., TO ~Blues
9:45> Dave Neill Quintet @ The Rex, 194 Queen St. W., TO ~Jazz
*9:45> Stacey Kaniuk @ Reservoir Lounge, 52 Wellington St. E., TO ~Jazz/Blues; $
10> Ferraro & guests @ Cameron House (front), 408 Queen St. W., TO
10> Peter Johnston & special guests @ Tranzac Lounge (Southern Cross), 292 Brunswick Ave., TO
10> Constantines; Nap Eyes @ Lee's Palace, 529 Bloor St. W., TO ~indie; $29.50
10> Pretzel Logic @ Orbit Room, 480 College St. TO ~Steely Dan tribute; $15
10:30> The Mercenaries @ The Hideout, 484 Queen St. W., TO ~indie Rock
416 - Toronto East
7-9> Mattie Leon @ Relish, 2152 Danforth Ave., TO East ~songwriter
*8:30-10:30> Jerry Leger & The Situation @ Castro's, 2116 Queen St. E., TO East ~Folk-Rock/Country

8> Trace Minerals @ The Only Café, 972 Danforth Ave., TO East
9> Chris Birkett @ Linsmore Tavern, 1298 Danforth Ave., TO East ~Grammy winning songwriter; free
*10-2> karaoke with Shane Taylor @ Relish, 2152 Danforth Ave., TO East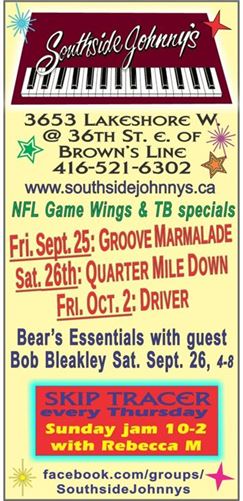 416 – Toronto Etobicoke
7:30> Sophia Perlman Trio @ Old Mill Inn, 21 Old Mill Rd., Etobicoke ~Jazz; min table charge
9> Oakland Stroke @ Timothy's Pub, 344 Brown's Line, Etobicoke South ~Power of Tower tribute; $10
*9:30-2> Skip Tracer @ Southside Johnny's, 3653 Lakeshore Blvd., Etobicoke South ~Rock/Pop
416 – Toronto Scarborough
*7-11> Johnson & Cornell (Earl Johnson & Jim Cornell) on the patio @ The Loaded Dog, 1921 Lawrence Ave. E., Scarborough ~acoustic Blues-Rock duo
7-11> jam night @ The Birchmount, 462 Birchmount Rd., Scarborough
*9> Tommy Rocker's Classic Rock Band host jam @ Centro Pizza, 3406 Kingston Rd., Scarborough
9:30> Cottage Brew @ Black Dog Pub, 87 Island Rd., Scarborough ~Pop Rock
416 - Toronto West
5-8> G Street Jazz Trio @ Gate 403, 403 Roncesvalles Ave., TO West ~Jazz
7> Rattlesnake Choir album release @ Dakota Tavern, 249 Ossington Ave., TO West ~original Country; $
*8-11> Tinderbox Thursdays open stage with Michael Keith @ La Revolucion, 2848 Dundas St. W., TO West ~eclectic
9> Bill Heffernan & Chris "The Kid" Staig @ The Roncy, 390 Roncesvalles Ave., TO West ~original Roots
*9-12> open mic night @ DeSoto's, 1079 St. Clair Ave. W., TO West
*9-1:30> open stage with Jay Pennell @ Dave's On St. Clair, 730 St. Clair West, TO West ~eclectic
9-12> Cyndi Carleton @ Gate 403, 403 Roncesvalles Ave., TO West ~easy listening
9> Hank's Aluminum Siding; The Alter Kakers @ The Tennessee, 1554 Queen St. W., TO West
9> Graham Nicholas @ The Local, 396 Roncesvalles Ave., TO West ~Folk-Rock
519
*7:30-12> open mic with K.M. Smith @ Molly Bloom's Guelph, 91 Wyndham St. N., Guelph
7:30> John McKinnon @ Fionn MacCool's Orangeville, 75 Fourth Ave., Orangeville
*8-11> open mic with Sandy MacDonald @ Williamsburg Arms, 1187 Fischer Hallman Rd., Kitchener
705
*7:30> Rob Phillips Jazz/Blues Trio and Chelsea Bennett @ Black Horse Pub, 452 George St. N., Peterborough
*9> jam with Ted Rusk @ The Sauble Dunes, 11 Southampton Parkway, Sauble Beach
905 - East
*5-8> Nelson Denis @ Frank's Pasta, 42 King Street E., Cobourg ~eclectic mix (Folk, Jazz, soft Rock, Latin)
*?> jam with Darren Smith & Shayne Thomas @ The Corner Pocket, 45 Prince St., Oshawa
*9> jam @ The Wee Pub, 371 Wilson Rd. South, Oshawa
*9:30> jam with Billick @ Harp & Crown, 300 Kingston Rd., Pickering
905 - North
*8> open mic with Kevin Ker @ Duchess of Markham, 53 Main St., Markham
*9> open stage jam night @ Memphis North, 18947 Woodbine Ave., East Gwillimbury
9> Ron FLeming @ Fionn MacCool's Newmarket, 17315 Leslie St., Newmarket
905 - South
8> Patsy and the Muscle @ Doc Magilligan's Irish Pub, 6400 Lundy's Lane, Niagara Falls
*9> open mic night with rotating hosts @ Coach & Lantern, 384 Wilson St E., Hamilton
905 – West
*7-11> Michael Keys "7-Piece" Trio @ Black Bull Burlington, 1124 Guelph Line, Burlington ~Boogie-Woogie Blues/Pop Rock
8-12> Freedom Train @ Roc'n Doc's, 105 Lakeshore Rd. E., Port Credit ~Rock/Pop
*8-12> open mic & jam @ Black Swan Pub Burlington, 4040 Palladium Way, Burlington
*8-12> jam hosted by The Personics @ Carrigan Arms, 2025 Upper Middle Rd., Burlington
*8> Celtic Night @ Fionn MacCool's Burlington, 2331 Appleby Line
8:30> Ronn Hynes & The Vinyl Café Orchestra @ Moonshine Café, 137 Kerr St. Oakville ~Newfoundland songwriter; $25
8:30> Tyler Schwende @ Fionn MacCool's Britannia, 825 Britannia Rd. W., Streetsville Mississauga ~Pop Rock
*8:45> open mic with Matt Zady @ Failte, 201 City Centre Dr., Mississauga
9> Eddy C @ Fionn MacCool's Clarkson, 970 Southdown Rd., Mississauga
9:30> Glenn Groves @ Shore Grill, 71 Lakeshore Rd. E., Port Credit ~Pop Rock
*9:30> jam with Jack B Nimble @ Abbey Road Pub, 3200 Erin Mills Parkway, Mississauga
Copyright © 2015 Toronto Moon Magazine. All Rights Reserved