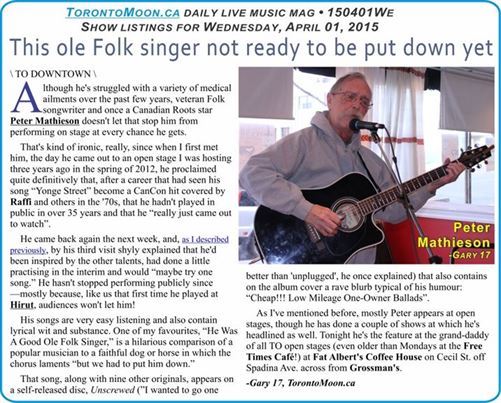 \ TO DOWNTOWN \
Although he's struggled with a variety of medical ailments over the past few years, veteran Folk songwriter and once a Canadian Roots star Peter Mathieson doesn't let that stop him from performing on stage at every chance he gets.
That's kind of ironic, really, since when I first met him, the day he came out to an open stage I was hosting three years ago in the spring of 2012, he proclaimed quite definitively that, after a career that had seen his song "Yonge Street" become a CanCon hit covered by Raffi and others in the '70s, that he hadn't played in public in over 35 years and that he "really just came out to watch".
He came back again the next week, and, as I described previously by his third visit shyly explained that he'd been inspired by the other talents, had done a little practising in the interim and would "maybe try one song." He hasn't stopped performing publicly since —mostly because, like us that first time he played at Hirut, audiences won't let him!
His songs are very easy listening and also contain lyrical wit and substance. One of my favourites, "He Was A Good Ole Folk Singer," is a hilarious comparison of a popular musician to a faithful dog or horse in which the chorus laments "but we had to put him down."
That song, along with nine other originals, appears on a self-released disc, Unscrewed ("I wanted to go one better than 'unplugged', he once explained) that also contains on the album cover a rave blurb typical of his humour: "Cheap!!! Low Mileage One-Owner Ballads".
As I've mentioned before, mostly Peter appears at open stages, though he has done a couple of shows at which he's headlined as well. Tonight he's the feature at the grand-daddy of all TO open stages (even older than Mondays at the Free Times Café!) at Fat Albert's Coffee House on Cecil St. off Spadina Ave. across from Grossman's.
 -Gary 17, TorontoMoon.ca
SHOW LISTINGS for Wednesday, April 01, 2022
Listings preceded by an asterisk (*) are repeating weekly events. (Double asterisk indicates repeating event with different hosts/guest/etc.) Admission prices followed by a slash and minus (/-) after the amount indicates door charge with availability of cheaper rates for some purchases. /+ indicates stated price is minimum.
Names of subscribers appear in bold and underlined and, where applicable, include a live link to their websites. Advertisers' listings are in larger, highlighted type, include live link to website and also have ad icon included in listings.
5-8> Annie Gunn & Nichol Robertson @ Gate 403, 403 Roncesvalles Ave., TO West ~Country-Jazz duo
6> Jenie Thai @ Cameron House (front), 408 Queen St. W., TO
6:30> Ethan Ardelli Quartet @ The Rex, 194 Queen St. W., TO ~Jazz
*7> open mic night with Tanya Joy Senior @ Col. McGrady's Pub, 44 Brock St. W., Uxbridge
*7-11> open jam with Wayne Buttery Band @ The Beacon, 146 45th St., Wasaga Beach
7> Bill Dickinson @ Black Horse Pub, 452 George St. N., Peterborough
*7:30-10:30> The BTBs @ Relish, 2152 Danforth Ave., TO East ~Jazz
7:30> Emilie Mover & guests @ Tranzac Club (Southern Cross), 292 Brunswick Ave. TO
**8-10:30> Hump Night Blues with Dave McManus & Cleave Anderson + special guest Bill Priddle @ On Cue Billiards, 349 Jane St., TO West ~Blues
*8-12> Girls Night Out Jazz singers jam with Lisa Particelli @ Chalkers, 247 Marlee Ave., TO North-West
*8-12> All-ages jam with band featuring Dave Girdlestone of Soul Funkshun on guitar & host Kevin Reid @ Sixth Line Pub, 1500 Sixth Line, Oakville
*8> Howard Ross hosts "Big Mojo" Blues jam with guest performer tba @ The Hub, 15 Simcoe St. N., Oshawa
**8> open stage with 9 p.m. feature by Peter Mathieson @ Fat Albert's, 25 Cecil St. (Steelworkers Hall), TO ~Roots
8> acoustic open mic with Gary LaRocca @ The Only Café, 972 Danforth Ave., TO East
*8-1> open jam with Wednesday's Child feat. Johnny Bootz Hutt @ Lola, 40 Kensington Ave., TO
8> Sugar Brown @ Cameron House (front), 408 Queen St. W., TO
*8-11> Fraser-Daley @ Inter Steer, 357 Roncesvalles Ave. TO West ~Roots/Blues
8-1> Jenn Kee @ Timothy's Pub, 344 Brown's Line, Etobicoke South ~Jazz
*8-2> Paul & Curtis @ Roc'n Doc's, 105 Lakeshore Rd. E., Port Credit ~Rock/Pop
8-1> Nashville Songwriters Association International showcase with Paul Malsa; Tori Hathaway; Carol Harrison; Peter Boyer; Don Suitor; Angela Saini @ Moonshine Café, 137 Kerr St., Oakville ~songwriters
*8-12> acoustic jam with Tony Paglia & Aaron Soloman @ Jake's Boathouse Brampton, 59 First Gulf Rd., Brampton
*8-12> open mic with Kevin Ker @ Aw Shucks, 15230 Yonge St., Aurora
*8-11> open mic @ Frank's Pasta, 426 King St. E., Cobourg
8:30> Best Of The Open Stage with Peter St. Laurent & Rebekah Wise; Paul Silvestri; Sammy Steiner; Jon Joseph @ Free Times Cafe, 320 College St., TO ~
*8:30> open mic with Jadzia Skye & Michael Oesch @ Chez Helene's, 1437 Kingston Rd., Scarborough
*8:30> Crazy Strings host High Lonesome Wednesdays with opening acoustic act @ Silver Dollar 486 Spadina Ave., TO ~Bluegrass
*8:30> Something Country @ The Endzone, 1900 King St. E., Hamilton ~Country
*8:45> Bradley & The Bouncers @ Reservoir Lounge, 52 Wellington St. E., TO ~Jazz/Blues/R&B
9-12> Blues Night with Julian Fauth & guests @ Gate 403, 403 Roncesvalles Ave., TO West ~original Juno-winning Blues
9> Rucksack Willies @ The Local, 396 Roncesvalles Ave., TO West ~Country-Folk
*9> open mic with Sean Barker @ Monarch Tavern, 12 Clinton St., TO
9> Oldies 990 @ Dakota Tavern, 249 Ossington Ave., TO West
*9> open mic jam with Jack B Nimble @ Blarney's Gate, 1151 Dundas St. W., Mississauga
*9?> jam with Michael Zane @ Shakers, 580 Kerr St., Oakville
*9-12> jam with Damage Control @ St. Louis Bar & Grill Ajax, 11 Harwood Ave. S., Ajax
*9-1> open mic jam with Whiskey Birds @ Sweetz Lounge, 5289 Hwy 7, Woodbridge-Vaughan
*9:30> open stage with Nicola Vaughan @ Black Swan (downstairs), 154 Danforth Ave., TO East
9:30> Paul DeLong's Bucket of Fish Orchestra @ The Rex, 194 Queen St. W., TO ~Jazz
*9:30-2> jam with B-Sides @ The Unicorn, 175 Eglinton Ave. E., TO North
9:30> Angie Nussey @ C'est What, 67 Front St. E., TO ~songwriter
9:30> The Carson Freeman Diversion @ Shore Grill, 71 Lakeshore Rd. E., Port Credit ~Pop Rock
10> Joey Wright @ Cameron House (front), 408 Queen St. W., TO
*10-2> Blues-Rock jam with Bruce Domoney @ Grossman's, 379 Spadina Ave. TO
10:30> The Undercovers @ The Hideout, 484 Queen St. W., TO ~indie Rock
*10:30> The LMT Connection @ Orbit Room, 580 College St. TO ~Funk/R&B; $10
*10:30> Carlos Lopes @ Castro's, 2116 Queen St. E., TO East
Copyright © 2015 Toronto Moon Magazine. All Rights Reserved