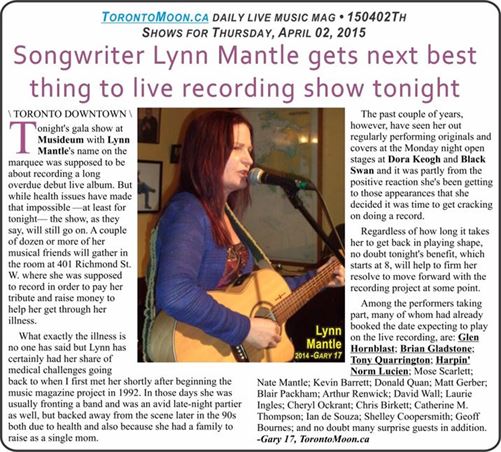 \ TORONTO DOWNTOWN \
Tonight's gala show at Musideum with Lynn Mantle's name on the marquee was supposed to be about recording a long overdue debut live album. But while health issues have made that impossible —at least for tonight— the show, as they say, will still go on. A couple of dozen or more of her musical friends will gather in the room at 401 Richmond St. W. where she was supposed to record in order to pay her tribute and raise money to help her get through her illness.
What exactly the illness is no one has said but Lynn has certainly had her share of medical challenges going back to when I first met her shortly after beginning the music magazine project in 1992. In those days she was usually fronting a band and was an avid late-night partier as well, but backed away from the scene later in the 90s both due to health and also because she had a family to raise as a single mom.
The past couple of years, however, have seen her out regularly performing originals and covers at the Monday night open stages at Dora Keogh and Black Swan and it was partly from the positive reaction she's been getting to those appearances that she decided it was time to get cracking on doing a record.
Regardless of how long it takes her to get back in playing shape, no doubt tonight's benefit, which starts at 8, will help to firm her resolve to move forward with the recording project at some point.
Among the performers taking part, many of whom had already booked the date expecting to play on the live recording, are: Glen Hornblast; Brian Gladstone; Tony Quarrington; Harpin' Norm Lucien; Mose Scarlett; Nate Mantle; Kevin Barrett; Donald Quan; Matt Gerber; Blair Packham; Arthur Renwick; David Wall; Laurie Ingles; Cheryl Ockrant; Chris Birkett; Catherine M. Thompson; Ian de Souza; Shelley Coopersmith; Geoff Bournes; and no doubt many surprise guests in addition.
-Gary 17, TorontoMoon.ca
SHOW LISTINGS for Thursday, April 02, 2022
Listings preceded by an asterisk (*) are repeating weekly events. (Double asterisk indicates repeating event with different hosts/guest/etc.). Admission prices followed by a slash and minus (/-) after the amount indicates door charge with availability of cheaper rates for some purchases. /+ indicates stated price is minimum.
Names of subscribers appear in bold and underlined and, where applicable, include a live link to their websites or event page. Advertisers' listings are in larger type and highlighted, include a live link to their website and also have a copy of the ad included in listings.
*5-8> Kirsten Jones @ Richtree Restaurant, Eaton Centre (14 Queen St. West), TO ~Country originals & Pop covers
5-8> Joanne Morra & The France St. Jazz Ensemble @ Gate 403, 403 Roncesvalles Ave., TO West ~Jazz
*5-8> Nelson Denis @ Frank's Pasta, 42 King Street E., Cobourg ~eclectic mix (Folk, Jazz, soft Rock, Latin)
6> Corin Raymond @ Cameron House (front), 408 Queen St. W., TO
6:30> Ernesto Cervini Group @ The Rex, 194 Queen St. W., TO ~Jazz
7> In The Round season finale & benefit for hospital women's auxiliary with Boris Buhot; Frank Zochodne; Brian Ferris; Denis Fox; Tony Newman; many more @ Simcoe Blues & Jazz, 926 Simcoe St. N., Oshawa ~songwriters
7> Alex Pangman Band with

Peter Hill

on keys @ Reservoir Lounge, 52 Wellington St. E., TO ~Jazz/Swing
*7> open mic with Derek Mok @ Kensington Lodge, 21 Kensington Ave., TO
7> The Wreck Jam @ Eton House, 710 Danforth Ave., TO East
7:30-9:30> TC Folkpunk @ Relish, 2152 Danforth Ave., TO East ~original Roots-Pop
*7:30-9:30> Bluegrass Thursdays with Houndstooth @ Tranzac Lounge (Southern Cross), 292 Brunswick Ave., TO
*7:30> open stage with Rob Phillips Jazz/Blues Trio with Chelsea Bennett @ Black Horse Pub, 452 George St. N., Peterborough
*7:30-12> open mic with K.M. Smith @ Molly Bloom's Guelph, 91 Wyndham St. N., Guelph
8> benefit for Lynn Mantle with many artists including Glen Hornblast; Brian Gladstone; Tony Quarrington; Harpin' Norm Lucien; Mose Scarlett; Blair Packham; many, many more @ Musideum, 401 Richmond St. W. (Suite 133), TO
*8-11> Tinderbox Thursdays open stage with Michael Keith @ La Revolucion, 2848 Dundas St. W., TO West ~eclectic
8> Rum Runners @ Linsmore Tavern, 1298 Danforth Ave., TO East ~indie pirate Rock
*8-10:30> Jerry Leger & The Situation @ Castro's, 2116 Queen St. E., TO East ~Folk-Rock/Country
*8-1> open mic with Alicia Porter @ The Local Gest, 424 Parliament St., TO
8-12> R&B/Blues @ Nawlin's, 299 King St. W. TO
8> In Between Sounds @ The Only Café, 972 Danforth Ave., TO East ~psych soundscapes
8-12> Alexander Quail @ Roc'n Doc's, 105 Lakeshore Rd. E., Port Credit ~acoustic Pop
8-12> Randy Lipsig @ Fionn MacCool's Ajax, 32 Kingston Rd. E. Ajax ~Pop
*8> open mic with Kevin Ker @ Duchess of Markham, 53 Main St., Markham
*8-12> open mic & jam @ Black Swan Pub Burlington, 4040 Palladium Way, Burlington
*8-12> jam hosted by The Personics @ Carrigan Arms, 2025 Upper Middle Rd., Burlington
*8-11> open mic with Sandy MacDonald @ Williamsburg Arms, 1187 Fischer Hallman Rd., Kitchener
8:30> Suzie Vinnick @ Hugh's Room, 2261 Dundas St. W., TO West ~Blues
8:30> Tanglecover @ Free Times Café, 320 College St. TO ~acoustic Newfie originals & trads/fiddle tunes; $12
8:30> Mike Branton Band @ Moonshine Café, 137 Kerr St. Oakville ~Blues; $10
*9> Tommy Rocker's Classic Rock Band  with Jonny Rock on bass host jam @ Centro Pizza, 3406 Kingston Rd., Scarborough
*9> jam with Ted Rusk @ The Sauble Dunes, 11 Southampton Parkway, Sauble Beach
*9-1:30> open stage with Jay Pennell @ Dave's On St. Clair, 730 St. Clair West, TO West ~eclectic
9-12> Mélanie Brulée Band @ Gate 403, 403 Roncesvalles Ave., TO West ~Jazz
9> Paint @ Tennessee, 1554 Queen St. W., TO West ~Rock
9> Pretzel Logic @ Timothy's Pub, 344 Brown's Line, Etobicoke South ~Steely Dan tribute; $10
*9-1> Blackburn @ Jo Mamas, 317 King St. W., TO ~Blues
9> Graham Nicholas @ The Local, 396 Roncesvalles Ave., TO West
9> Kizumba Cong @ Alleycatz, 2409 Yonge St., TO North ~Salsa
9-1> Chris Antonik @ Monarchs Pub (Eaton Chelsea Hotel), 33 Gerrard St. W., TO ~Blues
9> Tim Bradford Band & The Redbirds @ Dakota Tavern, 249 Ossington Ave., TO West ~Country Rock; $10
*9> jam @ The Wee Pub, 371 Wilson Rd. South, Oshawa
*9:30-2> Skip Tracer @ Southside Johnny's, 3653 Lakeshore Blvd., Etobicoke South ~Rock/Pop
9:30> The Celebration Army featuring Nelson Sobral @ C'est What, 67 Front St. E., TO
9:30> Straight Shooter @ Black Dog Pub, 87 Island Rd., Scarborough ~Pop Rock
9:30> Glenn Groves @ Shore Grill, 71 Lakeshore Rd. E., Port Credit ~Pop Rock
*9:30> jam with Billick @ Harp & Crown, 300 Kingston Rd., Pickering
*9:30> jam with Jack B Nimble @ Abbey Road Pub, 3200 Erin Mills Parkway, Mississauga
*9:45> Mary Mckay @ Reservoir Lounge, 52 Wellington St. E., TO ~Jazz/Blues
9:45> Tony Monaco Organ Trio @ The Rex, 194 Queen St. W., TO ~R&B
*10-2> karaoke with Shane Taylor @ Relish, 2152 Danforth Ave., TO East
10> Janes Party @ Cameron House (front), 408 Queen St. W., TO
10> The Shoeless @ Tranzac Lounge (Southern Cross), 292 Brunswick Ave., TO
10> Dixie Chicken @ Orbit Room, 480 College St. TO ~Little Feat tribute
10:30> Oneiroi; Frank Ryan; Pretty Odd @ The Hideout, 484 Queen St. W., TO ~indie Rock
Copyright © 2015 Toronto Moon Magazine. All Rights Reserved