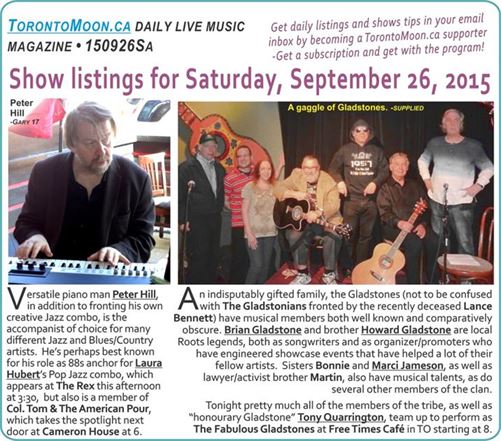 Versatile piano man Peter Hill, in addition to fronting his own creative Jazz combo, is the accompanist of choice for many different Jazz and Blues/Country artists. He's perhaps best known for his role as 88s anchor for Laura Hubert's Pop Jazz combo, which appears at The Rex this afternoon at 3:30, but also is a member of Col. Tom & The American Pour, which takes the spotlight next door at Cameron House at 6.
An indisputably gifted family, the Gladstones (not to be confused with The Gladstonians fronted by the recently deceased Lance Bennett) have musical members both well known and comparatively obscure.  Brian Gladstone and brother Howard Gladstone are local Roots legends, both as songwriters and as organizer/promoters who have engineered showcase events that have helped a lot of their fellow artists.  Sisters Bonnie and Marci Jameson, as well as lawyer/activist brother Martin, also have musical talents, as do several other members of the clan.
Tonight pretty much all of the members of the tribe, as well as "honourary Gladstone" Tony Quarrington, team up to perform as The Fabulous Gladstones at Free Times Café in TO starting at 8.
SHOW LISTINGS for Saturday, September 26, 2021
Listings are organized by area in which the shows occur and within each area field shows are listed chronologically.
Listings preceded by an asterisk (*) are repeating weekly events. (Double asterisk indicates repeating event with different hosts/guest/etc.). Admission prices followed by a slash and minus (/-) after the amount indicates door charge with availability of cheaper rates for some purchases. /+ indicates stated price is minimum.
Names of subscribers appear in bold, are underlined and, where applicable, include a live link to their websites. Advertisers' listings are in larger, highlighted type, include live link to website and also have ad icon included in listings.
416 - Toronto Central
*12-3> Danny Marks and Friends @ The Rex, 194 Queen St. W., TO ~Jazz
2-6> Greg Godovitz Band @ Hard Rock Café, 283 Yonge St., TO ~Rock
3> Jamzac @ Tranzac Club (Southern Cross), 292 Brunswick Ave., TO
3:30> Laura Hubert Band featuring Peter Hill on keys @ The Rex, 194 Queen St. W., TO ~Pop Jazz with punch
3:30> Sugar Daddies @ The Pilot, 22 Cumberland St., TO ~Jazz
4-7> Barbara Jordan & The All Stars @ Seven44, 744 Mount Pleasant Road, TO North
*4-7> Climax Jazz Band @ Alleycatz, 2409 Yonge St., TO North ~Dixieland Jazz; $?
*4:40-7:30> The Happy Pals @ Grossman's, 379 Spadina Ave., TO ~New Orleans Jazz
6:30> Scott B. Sympathy @ Tranzac Club (Southern Cross), 292 Brunswick Ave., TO ~Blues/Roots/Pop
6> Colonel Tom & The American Pour featuring Peter Hill on keys @ Cameron House (front), 408 Queen St. W., TO
7:30> The Bacchus Collective @ The Rex, 194 Queen St. W., TO ~ Jazz
8> The Fabulous Gladstones featuring Brian Gladstone, Howard Gladstone, Tony Quarrington, Marci Jameson & more @ Free Times Café, 320 College St. TO ~Roots; $10 or pwyc
8> Laurent Bourque @ Cameron House (front), 408 Queen St. W., TO
8> Ron Baumber with Lawrie Ingles & Carla @ Musideum, 401 Richmond St. W., #133, TO ~songwriter; $20
9> Ted Peters birthday bash @ May Café, 876 Dundas St. W., TO
9> Cadre; Maria Ryan & Chris Bennett @ C'est What, 67 Front St. E., TO ~Roots/Rock; pwyc
9> Red Velvet @ Seven44, 744 Mount Pleasant Road, TO North ~Rock/Top 40; $
9> Imitation of Life @ Drums N Flats, 1980 Avenue Rd., TO North
9> Joey Cape @ Horseshoe Tavern, 370 Queen St. W., TO ~indie Rock; $16.50
9:30> The Stormalongs with Sam Taylor & The East End Love opening + Dirty Church following @ Cameron House (rear), 408 Queen St. W., TO
9:30> Lady Kane @ Alleycatz, 2409 Yonge St., TO North ~Funk/Soul/R&B; $
9:30> Side B Vibe @ Scruffy Murphy's Irish Pub, 150 Eglinton Ave. E., TO North ~Rock/Top 40
9:45> Mike Downes Quartet @ The Rex, 194 Queen St. W., TO ~Jazz
*9:45> Bradley & The Bouncers @ Reservoir Lounge, 52 Wellington St. E., TO ~Jazz/Blues; $
10> The LMT Connection @ Orbit Room, 480 College St. TO ~cover and original Funk/R&B; $10
10> Footprints @ Rivoli, 334 Queen St. W., TO; $5/$10
10> Greg Cockerill Band @ Cameron House (front), 408 Queen St. W., TO
10> CrossFire @ Tranzac Club (Southern Cross), 292 Brunswick Ave., TO ~French Pop group
10-2> Caution Jam @ Grossman's, 379 Spadina Ave., TO ~Greatful Dead style jam band
10> Bushmaster Six; 9 Lives and Counting; Strada Armonia @ Lee's Palace, 529 Bloor St. W., TO ~indie Rock; $7
10:30> Shore Thing @ Fionn MacCool's Esplanade, 70 The Esplanade
10:30> The Disco Rebels @ The Hideout, 484 Queen St. W., TO
11> Shake A Tail @ Sneaky Dee's, 431 College St., TO ~indie
416 - Toronto East
*3:30-6> Johnny Wright @ Outriggers, 2232 Queen St. E., TO East ~R&B
3:30-7> Go Freddie Go @ Eton House, 710 Danforth Ave., TO East ~vintage Pop
*4-7:30> Ronnie Hayward Trio @ McQueen's, 993 Queen St. E., TO E. ~Blues/Roots
4-7> James Clark solo @ Sauce, 1376 Danforth Ave., TO East ~indie Pop
6-8> The Cosmotones @ Castro's, 2116 Queen St. E., TO East ~Blues/Roots
7:30> Ozone Baby featuring Phil Naro; Nick Walsh; Pavl; Cold Shot for KISS CF Goodbye Cystic Fibrosis research funraiser @ Opera House, 735 Queen St. E., TO East; $
8> David Leask @ The Feathers, 962 Kingston Rd., TO East ~Roots songwriter
7:45> Xylouris; Godspeed You!; Black Emperor @ Danforth Music Hall, 147 Danforth Ave., TO East ~indie; $
9> Tim Bovaconti Big Band @ Dora Keogh, 141 Danforth Ave., TO East ~Pop Rock
9> The 45s @ Eton House, 710 Danforth Ave., TO East ~vintage Pop Rock
9:30-11:30> Los Dobros featuring Arthur Renwick @ Relish, 2152 Danforth Ave., TO East ~Roots/Blues songwriter
9:30> Hysteria @ Linsmore Tavern, 1298 Danforth Ave., TO East ~Def Leppard tribute; $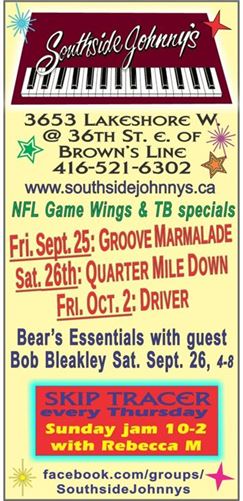 416 – Toronto Etobicoke
*3-6> Danny B Band @ Blue Goose, 1 Blue Goose St., Etobicoke South ~R&B/Blues
**4-8> The Bear's Essentials with guest singer Bob Bleakley @ Southside Johnny's, 3653 Lake Shore Blvd. W. Etobicoke South ~Rock-R&B
*4-8> The Meteors with guest Chris Plock @ Timothy's Pub, 344 Brown's Line, Etobicoke South ~Blues/Rock/R&B
7:30> Mark Kelso Trio @ Old Mill Inn, 21 Old Mill Rd., Etobicoke ~Jazz; minimum table charge
9> Donnie Meeker @ Blue Goose Tavern, 1 Blue Goose Rd., Etobicoke South ~Pop Rock
9> Owen's Sound @ Maple Leaf House, 2749 Lake Shore Boulevard West, Etobicoke ~Blues/R&B
9:30> The Mountain Lion Trappers @ Timothy's Pub, 344 Brown's Line, Etobicoke South ~Pop Rock/Top 40; $
10-2> Quarter Mile Down @ Southside Johnny's, 3653 Lake Shore Blvd. W. Etobicoke South ~Rock/Top 40
416 – Toronto Scarborough
8:30> Against The Wind featuring Amanda Rose & Josh Gordon @ The Loaded Dog, 1921 Lawrence Ave. E., Scarborough ~Bob Seeger tribute; $
9-1> Colin Amery @ Black Dog Pub, 87 Island Rd., Scarborough ~acoustic Pop/soft Rock
9> Groove Marmalade @ The Birchmount, 462 Birchmount Rd., Scarborough ~Rock/Top 40; $
*9:30-2> karaoke with The English Rose & The Mad Scotsman @ Winners, 2181 Lawrence Ave. E., Scarborough
9:30> City Soul @ Stone Cottage Pub, 3750 Kingston Rd., Scarborough ~Pop Rock
9:30> Strictly Sabbath @ Fox at Scarborough Junction, 646 Danforth Road, Scarborough ~Sabbath tribute
416 - Toronto West
*12-3> Julian Fauth's Blues Brunch @ Axis, 3048 Dundas St. W., TO West ~Blues
**2-6> open mic with guest host Will Wall @ Magic Oven, 347 Keele St., TO West
**5-8> Bill Heffernan's Saturday Sessions with featured guest Lost Patients featuring Rich Roxborough @ Gate 403, 403 Roncesvalles Ave. TO West –Jazz
5-8> Michael Darcy @ The Local, 396 Roncesvalles Ave., TO West
7-9> Alistair Cristl @ Dakota Tavern, 249 Ossington Ave., TO West ~Rootsabilly; $
7> Pearl Motel @ The Tennessee, 1554 Queen St. W., TO West
7:30> Lovers & Lunatics @ Brazen Head Pub, 165 East Liberty St., TO West ~acoustic Pop Rock
8-10> Nono Solarte @ Humble Beginnings, 3109 Dundas St. W., TO West ~acoustic Pop
9-1> Angie Gunn @ Gate 403, 403 Roncesvalles Ave., TO West ~ Western Swing
9> Chris Staig & The Marquee Players @ The Local, 396 Roncesvalles Ave., TO West ~Rock 'n' Roll
10-2> Hot Wax Meltdown @ Dakota Tavern, 249 Ossington Ave., TO West ~classic Rock; $
10:30> Ken Yoshioka Band featuring Julian Fauth and Dave McManus @ On Cue Billiards, 349 Jane St., TO West ~Blues
519
8> Supermoon @ Fionn MacCool's Kitchener, 4287 King St. E., Kitchener
9> Dusty Strings @ Fionn MacCool's Guelph, 494 Ediburgh Rd. S., Guelph
9:30> Run for Cover @ Fionn MacCool's Orangeville, 75 Fourth Ave., Orangeville
705
2-4> Chester Babcock @ The Garnet, 231 Hunter St. W., Peterborough
8:30> House Brand @ Black Horse Pub, 452 George St. N., Peterborough
9:30> The David Love Band also featuring Darrell McNeill @ Sticky Fingers Dunlop, 150 Dunlop St. W., Barrie
9:30> Born Ruffians @ Red Dog Tavern, 189 Hunter St. W., Peterborough
905 East
*4> Susan Latimer @ Simcoe Blues & Jazz, 926 Simcoe St., Oshawa ~original Roots
9-1> Whatever Sticks featuring Sue Martin @ West Shore Bar & Grill, 877 Bayly St., Pickering
*9-1> karaoke with Rob MacArthur @ Tudor Rose, 700 Harwood Ave. S., Ajax
9> James Barker Band @ The Corral, 433 Simcoe St. S., Oshawa ~Country
9> Daedalean Complex; Darkstrone Crows; Ascending Consciousness @ The Atria, 59 King St. E., Oshawa ~original Metal; $10
9-1> PRJ @ Simcoe Blues & Jazz, 926 Simcoe St. N., Oshawa ~Blues
10-2> Bon Jovi Forever @ Whisky John's, 843 King St. W., Oshawa ~Bon Jovi tribute
905 North
9-1> Hard Drive @ Oscar's Roadhouse, 1785 Queen St. E., Brampton ~Pop Rock/Top 40
9> The Shiny Things @ Fionn MacCool's Newmarket, 17315 Leslie St., Newmarket
9> The Chums Growing Up Radio @ King Richard's Pub, 15570 Yonge St., Aurora ~Pop Rock
9:30> The Coveralls @ Stewart Maguire's Landing, 15 Allan Rd., Bolton ~Rock/Pop covers
9:30> The Doubts @ Jake's Boathouse Brampton, 59 First Gulf Rd., Brampton ~Pop Rock
9:30> Michael Danckert Band @ Aw Shucks, 15230 Yonge St., Aurora ~Pop Rock
905 South
**2> Brant Parker Band with guest tba @ Donnelley's Pub, 54 Front St., Thorold ~Blues
**2:30> special guest with The Mighty Duck Band, The Duck, 244 Ontario St., St. Catharines ~R&B/Blues
8> George Olliver & Gangbuster @ Bay City Music Hall, 50 Leander Drive, Hamilton ~vintage Rock/R&B; $10
9> Dave Ptolemy Band @ Coach & Lantern, 384 Wilson St E., Hamilton
9> Harlan Pepper "Love, Peace and Chicken Grease Goodbye Show #1" @ This Ain't Hollywood, 345 James St. N., Hamilton ~art Rock; $
9> Hamilton Music & Film Fest presents Common Deer; DB Cooper; Sea Perry; Jules; Don't Tell My Mother @ Casbah Lounge, 306 King St. W., Hamilton ~indie; $10
9> LVO @ Corktown Pub, 175 Young St., Hamilton ~indie; $
**9> Niagara Rhythm Section @ The Old Winery, 2228 Niagara Stone Rd., Niagara-On-The-Lake ~R&B/Blues
10> Fear The Worst @ Doc Magilligan's Irish Pub, 6400 Lundy's Lane, Niagara Falls
905 West
**2-6> Sil Simone Band with special guest Cheryl Lescom @ Carrigan Arms, 2025 Upper Middle Rd., Burlington ~Rock/Blues
*2-6> jam w. Tom Finocchio @ Sam's Place, Barton-Chestnut Sts., Hamilton
**2-6> Saturday Blues Sermon with James Anthony & special guest @ Black Swan Pub Burlington, 4040 Palladium Way, Burlington ~Blues
*3-7> jam with Michelle Deneault & Redder @ Port Credit Legion, 35 Front St., Port Credit
*3-7> open stage jam @ Moonshine Café, 137 Kerr St., Oakville; $2
*6-9> Victoria & Bobby Keys @ Roc'n Doc's, 105 Lakeshore Rd. E., Port Credit ~soft Pop
8-12> The Weber Brothers @ Moonshine Café, 137 Kerr St., Oakville ~original Blues tyros; $15
9> Rainbow Dance with Fusion @ Carrigan Arms, 2025 Upper Middle Rd., Burlington
9> Fiddlin' Around @ Fionn MacCool's Burlington, 2331 Appleby Line, Burlington
9:30> Valerie & The Dreamcatcher featuring Valerie Shearman & Tony Oldland @ The Franklin House, 263 Queen St. S., Streetsville ~Pop Rock
9:30> Paul & Curtis @ Shore Grill, 71 Lakeshore Rd. E., Port Credit ~Pop Rock/Top 40
9:30> Ric Jacobs @ Gator Ted's, 1505 Guelph Line, Burlington
9:30> The 905 Band @ Boston Manor, 4460 Fairview Ave., Burlington ~Rock/Top 40
10-2> Karneval @ Roc'n Doc's, 105 Lakeshore Rd. E., Port Credit ~Rock/Top 40
10:15> iHeart @ Failte, 201 City Centre Dr., Mississauga ~Rock
10:30> Tone Deaf @ The Dickens, 423 Elizabeth St., Burlington ~Pop Rock
Copyright © 2015 Toronto Moon Magazine. All Rights Reserved