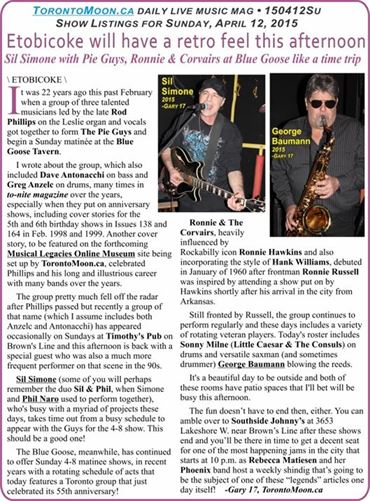 Sil Simone with Pie Guys, Ronnie & Corvairs at Blue Goose like a time trip
\ ETOBICOKE \
It was 22 years ago this past February when a group of three talented musicians led by the late Rod Phillips on the Leslie organ and vocals got together to form The Pie Guys and begin a Sunday matinée at the Blue Goose Tavern.
I wrote about the group, which also included Dave Antonacchi on bass and Greg Anzelc on drums, many times in to-nite magazine over the years, especially when they put on anniversary shows, including cover stories for the 5th and 6th birthday shows in Issues 138 and 164 in Feb. 1998 and 1999. Another cover story, to be featured on the forthcoming Musical Legacies Online Museum site being set up by TorontoMoon.ca, celebrated Phillips and his long and illustrious career with many bands over the years.
The group pretty much fell off the radar after Phillips passed but recently a group of that name (which I assume includes both Anzelc and Antonacchi) has appeared occasionally on Sundays at Timothy's Pub on Brown's Line and this afternoon is back with a special guest who was also a much more frequent performer on that scene in the 90s.
Sil Simone (some of you will perhaps remember the duo Sil & Phil, when Simone and Phil Naro used to perform together), who's busy with a myriad of projects these days, takes time out from a busy schedule to appear with the Guys for the 4-8 show. This should be a good one!
The Blue Goose, meanwhile, has continued to offer Sunday 4-8 matinee shows, in recent years with a rotating schedule of acts that today features a Toronto group that just celebrated its 55th anniversary!
Ronnie & The Corvairs, heavily influenced by Rockabilly icon Ronnie Hawkins and also incorporating the style of Hank Williams, debuted in January of 1960 after frontman Ronnie Russell was inspired by attending a show put on by Hawkins shortly after his arrival in the city from Arkansas.
Still fronted by Russell, the group continues to perform regularly and these days includes a variety of rotating veteran players. Today's roster includes Sonny Milne (Little Caesar & The Consuls) on drums and versatile saxman (and sometimes drummer) George Baumann blowing the reeds.
It's a beautiful day to be outside and both of these rooms have patio spaces that I'll bet will be busy this afternoon,
The fun doesn't have to end then, either. You can amble over to Southside Johnny's at 3653 Lakeshore W. near Brown's Line after these shows end and you'll be there in time to get a decent seat for one of the most happening jams in the city that starts at 10 p.m. as Rebecca Matiesen and her Phoenix band host a weekly shindig that's going to be the subject of one of these "legends" articles one day itself!
-Gary 17, TorontoMoon.ca
SHOW LISTINGS for Sunday, April 12, 2022

:
Listings preceded by an asterisk (*) are repeating weekly events. (Double asterisk indicates repeating event with different hosts/guest/etc.). Admission prices followed by a slash and minus (/-) after the amount indicates door charge with availability of cheaper rates for some purchases. /+ indicates stated price is minimum.
Names of subscribers appear in bold, are underlined and, where applicable, include a live link to their websites. Advertisers' listings are in larger highlighted type, include live link to website and also have ad icon included in listings.
11-2> Evan Desaulnier for Jazz brunch @ Relish, 2152 Danforth Ave. TO East
11am-2pm> Touch Of Klez for Jazz brunch @ Free Times Café, 320 College St., TO
11> Michael Johnston Music Studio spring recital & celebration @ Hugh's Room, 2261 Dundas St. W., TO West ~eclectic; $15
*12-3> Julian Fauth's Blues brunch @ Axis, 3048 Dundas St. W., TO West ~Blues
12-3> Excelsior Dixieland Jazz Band @ The Rex, 194 Queen St. W., TO ~Jazz
* 12-3> The Cosmotones @ Dakota Tavern, 249 Ossington Ave., TO West ~Rockabilly
1> Toronto Improvisers Orchestra @ Tranzac Club (Southern Cross), 292 Brunswick Ave., TO
*2-5> Mandy Lagan Trio @ Morgan's, 1282 Danforth Ave., TO East ~Jazz
2-6> tba @ Carrigan Arms, 2025 Upper Middle Rd., Burlington ~Country
*3-6> open mic with Nicola Vaughan @ Hirut, 2050 Danforth Ave., TO East
3-5> Sue & Dwight @ Tranzac Club (Southern Cross), 292 Brunswick Ave., TO ~Folk
*3-6> Michael Brennan @ Graffiti's, 170 Baldwin St. TO ~East Coast Rock/Blues Roots
*3-7> open stage with Kevin Ker @ The Earl Of Whitchurch, 6204 Main St., Stouffville
*3-7> jam at CJ Barleys, 213 The Queensway, Keswick
3> Chicken Pot Pie @ Black Horse Pub, 452 George St. N., Peterborough
3:30-6:30> Red Hot Ramble @ The Rex, 194 Queen St. W., TO ~Jazz
*3:30-7:30> jam @ Black Bear, 1125 O'Connor Drive, TO East
4-8> Ronnie & The Corvairs featuring George Baumann on sax & Sonny Milne on drums @ Blue Goose Tavern, 1 Blue Goose Rd., Etobicoke South ~vintage Rock/R&B
4-8> The Pie Guys with special guest Sil Simone @ Timothy's Pub, 344 Brown's Line, Etobicoke ~Pop Rock
4> Wild T & The Spirit @ Markland Restaurant Pub, 666 Burnamthorpe Rd., Etobicoke ~Blues
4> Tim Bradford @ Castro's Lounge, 2116 Queen St. E., TO East ~Country Roots
4> Samantha Martin & Delta Sugar @ Cameron House (front), 408 Queen St. W., TO
*4:30-8> New Orleans Connection All Stars & guests @ Grossman's, 379 Spadina Ave., TO ~New Orleans Jazz
*4:30-8> Chuck Jackson's All Stars @ Roc'n Doc's, 105 Lakeshore Rd. E., Port Credit ~Blues
5-7> Cadre @ Relish, 2152 Danforth Ave., TO East ~Blues-Rock
*5-9> All ages open jam with Juggernaut Jam Band featuring Andy Narsingh @ West Shore Bar & Grill, 877 Bayly St., Pickering
5-9> Sam Taylor & The East End Love @ Seven44, 744 Mount Pleasant Road, TO North ~Blues originals & classic covers; $10
**5-8> John Borra & Sam Ferrara w. guest @ The Communist's Daughter, 1149 Dundas St. W. TO West ~Country
5-8> Living Daylights Stringband @ The Local, 396 Roncesvalles Ave., TO West ~old time Country
5> Max Layton & Robert Priest @ Tranzac Club (Southern Cross), 292 Brunswick Ave., TO ~songwriter-poets
*5-9> John Dickie/Pat Perez Band @ Linsmore Tavern, 1298 Danforth Ave, TO East ~R&B/Blues
5-8> Peter Bull's Dog Leg Dilemma @ Gate 403, 403 Roncesvalles Ave., TO West ~Jazz
**5-8> The Stew @ Mulligan's, 2458 Dundas St. W., Mississauga ~R&B/Rock
*5-9> open mic with feature guest @ Sgt. Pepper's Aurora, Walmart Plaza (Hwy 404 & Aurora Rd.), Aurora
*6-10> jam with Tommy Rocker, John Robbie @ Scarborough Junction, 646 Danforth Rd., Scarborough
6> Doug & Dale @ Simcoe Blues & Jazz, 926 Simcoe St. N., Oshawa
*7-1> Freefall Sundays open stage with hosts Steve York & Tony Rabalao (2 songs each -signup @ 7 or pre-sign online) @ The Supermarket, 268 Augusta St., TO
*7-11> Karaoke with Rob MacArthur @ The Edge, 250 Bayly St. W., Ajax
7> The Double Cuts @ Cameron House (front), 408 Queen St. W., TO ~Western Swing
7-9:30> Sly Juhas Trio @ The Rex, 194 Queen St. W., TO ~Jazz
*7-11> open jam @ McGradie's, 2167 Victoria Park Ave., Scarborough
**7-11> The Nomads @ Shore Grill, 71 Lakeshore Rd. E., Port Credit
7> Folk Music open stage with Tom Miller @ Moonshine Café, 137 Kerr St., Oakville; food bank donation admission
*7> open jam with Mike Shotton & The Flying Squirrels @ Black Swan Pub Burlington, 4040 Palladium Way, Burlington
7:30> GUH @ Tranzac Club (Southern Cross), 292 Brunswick Ave., TO
*8-10:30> Michael Keith @ On Cue Billiards, 349 Jane St., TO West ~eclectic acoustic solo
8> Singer's Edge showcase @ Free Times Café, 320 College St., TO
*8:30-12:30> karaoke with The English Rose & The Mad Scotsman @ Gryphon Pub, 114 Dundas St. E., Whitby
8:30> Birds Of Chicago @ Hugh's Room, 2261 Dundas St. W., TO West ~Chicago Roots; $27.50
9> Watch This Sound @ Castro's Lounge, 2116 Queen St. E., TO East ~vintage Jamaican music
9> jam with Jay Pennell @ Scruffy Murphy's, 150 Eglinton Ave. E., TO North
9> Freeman Dre & The Kitchech Party @ The Local, 396 Roncesvalles Ave., TO West ~Folk Rock
*9> Rob Hiemstra solo @ The Unicorn, 175 Eglinton Ave. E., TO North ~Rock/Pop
*9-1> The Tonkas @ Roc'n Doc's, 105 Lakeshore Rd. E., Port Credit ~Rock/Top 40
*9-1> jam @ Ivy Arms Pub, 201 Main Street East, Milton
*9:30-1> jam with the Stir It Up Band featuring Bryan Van Dusen & David Macmichael @ Relish, 2152 Danforth Ave., TO East
9:45> Ken McDonald Group @ The Rex, 194 Queen St. W., TO ~Jazz
*10> SATE & opening set by The Celebration Army featuring Nelson Sobral @ Dakota Tavern, 249 Ossington Ave., TO West
*10> Horshack feat. Chris Caddell @ Orbit Room, 580 College St., TO ~Bluesy contemporary & classic Rock
10> Lina Allemano Four @ Tranzac Club (Southern Cross), 292 Brunswick Ave., TO ~Jazz
10> Jay Swinnerton Band @ Cameron House (front), 408 Queen St. W., TO ~Blues
**10> Blues jam with Brian Cober, Bill Hedefine & guest bassist @ Grossman's, 379 Spadina Ave., TO
*10> Double Experience @ The Garnet, 231 Hunter St., W., Peterborough ~Country
10:30> Scott Baragar @ The Hideout, 484 Queen St. W., TO ~indie Pop/Rock
Copyright © 2015 Toronto Moon Magazine. All Rights Reserved