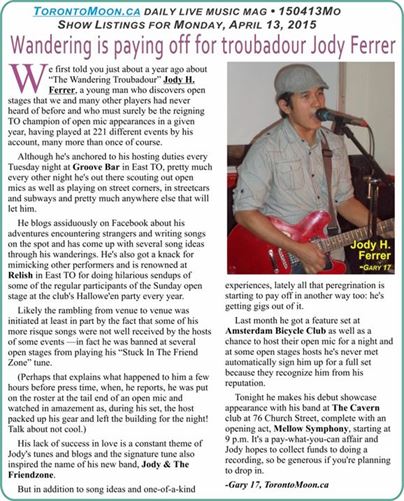 \ TORONTO DOWNTOWN \
We first told you just about a year ago about "The Wandering Troubadour" Jody H. Ferrer, a young man who discovers open stages that we and many other players had never heard of before and who must surely be the reigning TO champion of open mic appearances in a given year, having played at 221 different events by his account, many more than once of course.
Although he's anchored to his hosting duties every Tuesday night at Groove Bar in East TO, pretty much every other night he's out there scouting out open mics as well as playing on street corners, in streetcars and subways and pretty much anywhere else that will let him.
He blogs assiduously on Facebook about his adventures encountering strangers and writing songs on the spot and has come up with several song ideas through his wanderings. He's also got a knack for mimicking other performers and is renowned at Relish in East TO for doing hilarious sendups of some of the regular participants of the Sunday open stage at the club's Hallowe'en party every year.
Likely the rambling from venue to venue was initiated at least in part by the fact that some of his more risque songs were not well received by the hosts of some events —in fact he was banned at several open stages from playing his "Stuck In The Friend Zone" tune.
(Perhaps that explains what happened to him a few hours before press time, when, he reports, he was put on the roster at the tail end of an open mic and watched in amazement as, during his set, the host packed up his gear and left the building for the night! Talk about not cool.)
His lack of success in love is a constant theme of Jody's tunes and blogs and the signature tune also inspired the name of his new band, Jody & The Friendzone.
But in addition to song ideas and one-of-a-kind experiences, lately all that peregrination is starting to pay off in another way too: he's getting gigs out of it. Last month he got a feature set at Amsterdam Bicycle Club as well as a chance to host their open mic for a night and at some open stages hosts he's never met automatically sign him up for a full set because they recognize him from his reputation.
Tonight he makes his debut showcase appearance with his band at The Cavern club at 76 Church Street, complete with an opening act, Mellow Symphony, starting at 9 p.m. It's a pay-what-you-can affair and Jody hopes to collect funds to doing a recording, so be generous if you're planning to drop in.
-Gary 17, TorontoMoon.ca
SHOW LISTINGS for Monday, April 13, 2022
Listings preceded by an asterisk (*) are repeating weekly events. (Double asterisk indicates repeating event with different hosts/guest/etc.). Admission prices followed by a slash and minus (/-) after the amount indicates door charge with availability of cheaper rates for some purchases. /+ indicates stated price is minimum.
Names of subscribers appear in bold, are underlined and, where applicable, include a live link to their websites. Advertisers' listings are in larger highlighted type, include live link to website and also have ad icon included in listings.
5-8> Clela Errington & Jill Daley @ Gate 403, 403 Roncesvalles Ave., TO West ~original and covers Folk/Pop
6> Angie Gunn @ Cameron House (front), 408 Queen St. W., TO ~Country
*6-9> Calliope's Nest open stage/jam for women @ Lola Pub, 40 Kensington Ave., TO
6:30>

Peter Hill Group

@ The Rex, 194 Queen St. W., TO ~Jazz
*7> Hard Time Mondays with Rick & Gailie @ Black Horse Pub, 452 George St. N., Peterborough
**7:30> M Factor Mondays with host Elana Harte & features Cheryl Beatty; Blair Packham @ The Old Nick, 123 Danforth Ave., TO East
7:30> Happy Hour with Chris Banks @ Tranzac Lounge (Southern Cross), 292 Brunswick Ave., TO
7:30> Bob Cary Big Band @ Seven44, 744 Mount Pleasant Road, TO North ~R&B/Swing
8-11> Los Dobros feat. Arthur Renwick @ Relish, 2152 Danforth Ave., Toronto East ~dobro duo
8-12> open stage with Julian Taylor & 9:30 feature by Josh Garb @ Dora Keogh, 141 Danforth Ave. TO East
8> comedy @ Cameron House (rear), 408 Queen St. W., TO
8> Ukulele jam @ Tranzac Lounge (Main Hall), 292 Brunswick Ave., TO
**8-1> open stage with host Jeff Kahl @ Free Times Café, 320 College St., TO
*8-11> open stage @ McGradie's, 2167 Victoria Park Ave., Scarborough
8-12> Chris Plock & Stevie Gee @ Roc'n Doc's, 105 Lakeshore E., Port Credit ~Blues-Rock duo
**8-12> BBQ & jam night with Catherine Harrison @ Moonshine Café, 137 Kerr St., Oakville; ($8.95 with BBQ dinner special starts at 6)
*8-12> open stage @ Simcoe Blues & Jazz, 926 Simcoe St. N., Oshawa
*8:30> Songbird Mondays with Nicole "Songbird" Coward online live @ http://www.streetjelly.com ~Roots/Folk
8:30> Fraser & Daley @ Castro's, 2116 Queen St. E., TO East ~Rootsy Blues
*9-1> eclectic open stage/jam with host Nelson Sobral @ The Painted Lady, 218 Ossington Ave., TO West
9> Jody & The Friendzone @ The Cavern Bar, 76 Church Street, TO ~original Pop; pwyc
**9-1:30> jam with No Band Required @ Grossman's, 379 Spadina Ave., TO
*9-1> Hamstrung Stringband @ The Local, 396 Roncesvalles Ave., TO West ~Bluegrass
9-1> Chris Staig Trio @ Gate 403, 403 Roncesvalles Ave., TO West ~Pop
*9-1> jam with Tom Barlow @ Shore Grill, 71 Lakeshore Rd. E., Port Credit
*9:30-2> Sebastian Agnello & friends @ Black Swan (ground floor), 154 Danforth Ave., TO East
*9:30> open mic night at Amsterdam Bicycle Club, 54 The Esplanade, TO
9:30> Metronome Chomsky @ C'est What, 67 Front St. E., TO ~original indie Rock video shoot; free
9:30> York University Jazz Orchestra @ The Rex, 194 Queen St. W., TO ~Jazz
10> Jordan John @ The Orbit Room, 580 College St., TO ~R&B/Blues
*10> open mic with hosts Dave Lang & John Sladek (2 songs; signup starts 8p.m.) @ Tranzac Lounge (Southern Cross), 292 Brunswick Ave., TO
10> Delta Will @ Cameron House (front), 408 Queen St. W., TO
*10> open mic with Ric Ocasek @ Cadillac Lounge, 1298 Queen St. W., TO West
10:30> Big Otter Creek acoustic duo @ The Hideout, 484 Queen St. W., TO ~indie Rock
Copyright © 2015 Toronto Moon Magazine. All Rights Reserved