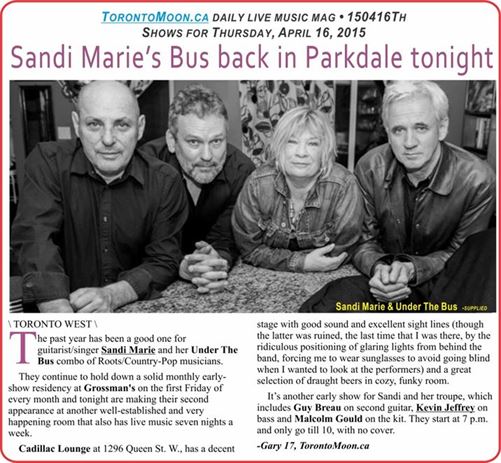 \ TORONTO WEST \
The past year has been a good one for guitarist/singer Sandi Marie and her Under The Bus combo of Roots/Country-Pop musicians.
They continue to hold down a solid monthly early-show residency at Grossman's on the first Friday of every month and tonight are making their second appearance at another well-established and very happening room that also has live music seven nights a week.
Cadillac Lounge at 1296 Queen St. W., has a decent stage with good sound and excellent sight lines (though the latter was ruined, the last time that I was there, by the ridiculous positioning of glaring lights from behind the band, forcing me to wear sunglasses to avoid going blind when I wanted to look at the performers) and a great selection of draught beers in cozy, funky room.
It's another early show for Sandi and her troupe, which includes Guy Breau on second guitar, Kevin Jeffrey on bass and Malcolm Gould on the kit. They start at 7 p.m. and only go till 10, with no cover.
-Gary 17, TorontoMoon.ca
SHOW LISTINGS for Thursday, April 16, 2022
Listings preceded by an asterisk (*) are repeating weekly events. (Double asterisk indicates repeating event with different hosts/guest/etc.). Admission prices followed by a slash and minus (/-) after the amount indicates door charge with availability of cheaper rates for some purchases. /+ indicates stated price is minimum.
Names of subscribers appear in bold and underlined and, where applicable, include a live link to their websites or event page. Advertisers' listings are in larger type and highlighted, include a live link to their website and also have a copy of the ad included in listings.
*5-8> Kirsten Jones @ Richtree Restaurant, Eaton Centre (14 Queen St. West), TO ~Country originals & Pop covers
5-8> Felix Chong Jazz Trio @ Gate 403, 403 Roncesvalles Ave., TO West ~Jazz
*5-8> Nelson Denis @ Frank's Pasta, 42 King Street E., Cobourg ~eclectic mix (Folk, Jazz, soft Rock, Latin)
6> Corin Raymond @ Cameron House (front), 408 Queen St. W., TO ~indie Roots-Pop
6:30> Ernesto Cervini Group @ The Rex, 194 Queen St. W., TO ~Jazz
7> Sandi Marie & Under The Bus also featuring Kevin Jeffrey on bass @ Cadillac Lounge, 1296 Queen St. W., TO West ~Roots-Pop
*7> open mic with Derek Mok @ Kensington Lodge, 21 Kensington Ave., TO
7> Side 3 @ Seven44, 744 Mount Pleasant Road, TO North
7:30-9:30> Lianne Fainsinger Quartette @ Relish, 2152 Danforth Ave., TO East ~Jazz
*7:30-9:30> Bluegrass Thursdays with Houndstooth @ Tranzac Lounge (Southern Cross), 292 Brunswick Ave., TO
*7:30> open stage with Rob Phillips Band and Chelsea Bennett @ Black Horse Pub, 452 George St. N., Peterborough ~Jazz/Blues
*7:30-12> open mic with K.M. Smith @ Molly Bloom's Guelph, 91 Wyndham St. N., Guelph
*8-11> Tinderbox Thursdays open stage with Michael Keith @ La Revolucion, 2848 Dundas St. W., TO West ~eclectic
8> Jam with host Kimberley Wetmore band featuring Dave Girdlestone of Soul Funkshun @ Timothy's Pub, 344 Brown's Line, Etobicoke South ~Pop Rock
8-12> Phil Naro @ Fionn MacCool's Ajax, 32 Kingston Rd. E. Ajax ~acoustic Pop
*8-10:30> Jerry Leger & The Situation @ Castro's, 2116 Queen St. E., TO East ~Folk-Rock/Country
*8-1> open mic with Alicia Porter @ The Local Gest, 424 Parliament St., TO
8> Emergency Monologues @ Cameron House (rear), 408 Queen St. W., TO
8-12> R&B/Blues @ Nawlin's, 299 King St. W. TO
8> Jay Pollock; Bruce Domoney; The Responsables @ The Painted Lady, 218 Ossington Ave., TO West
8-12> Tony Paglia & The Nomads @ Roc'n Doc's, 105 Lakeshore Rd. E., Port Credit ~Pop Rock
8> Pete & Frank @ Simcoe Blues & Jazz, 926 Simcoe St. N., Oshawa
*8> open mic with Kevin Ker @ Duchess of Markham, 53 Main St., Markham
*8-12> open mic & jam @ Black Swan Pub Burlington, 4040 Palladium Way, Burlington
*8-12> jam hosted by The Personics @ Carrigan Arms, 2025 Upper Middle Rd., Burlington
*8-11> open mic with Sandy MacDonald @ Williamsburg Arms, 1187 Fischer Hallman Rd., Kitchener
8:30> The Celebration Army featuring Nelson Sobral @ C'est What, 67 Front St. E., TO ~indie Pop
8:30> Benefit for Stephen Lewis Foundation's Grandmothers Campaign with Bruce Cassidy; Joe Sealy; June Garber @ Hugh's Room, 2261 Dundas St. W., TO West ~Jazz; $45
8:30> Ian White @ Free Times Café, 320 College St. TO ~acoustic originals; $8
8:30> Jay Aymar Band @ Moonshine Café, 137 Kerr St. Oakville ~songwriter; $10
*9> Tommy Rocker's Classic Rock Band  with Jonny Rock on bass host jam @ Centro Pizza, 3406 Kingston Rd., Scarborough
9> The James Clark Institute; The Gabe Lee Three @ Tennessee, 1554 Queen St. W., TO West ~indie Pop; $5
*9> jam with Ted Rusk @ The Sauble Dunes, 11 Southampton Parkway, Sauble Beach
*9-1:30> open stage with Jay Pennell @ Dave's On St. Clair, 730 St. Clair West, TO West ~eclectic
9> Peter Eastmure's Animal Kyngdom @ Linsmore Tavern, 1298 Danforth Ave., TO East ~Pop Hazz/Soul
9-12> Annie Bonsignore Combo @ Gate 403, 403 Roncesvalles Ave., TO West ~Jazz
*9-1> Blackburn @ Jo Mamas, 317 King St. W., TO ~Blues
9> Parkdale Rebels @ The Local, 396 Roncesvalles Ave., TO West ~Honky Tonk
9-1> Bradley & The Bouncers @ Monarchs Pub (Eaton Chelsea Hotel), 33 Gerrard St. W., TO ~Blues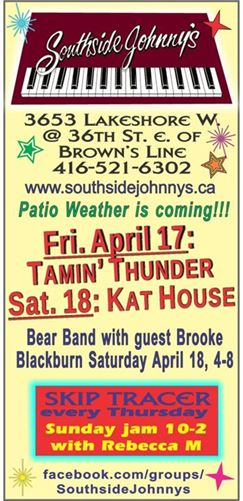 9> John Jacob Magistery @ Dakota Tavern, 249 Ossington Ave., TO West
*9> jam @ The Wee Pub, 371 Wilson Rd. South, Oshawa
*9:30-2> Skip Tracer @ Southside Johnny's, 3653 Lakeshore Blvd., Etobicoke South ~Rock/Pop
9:30> The Speck Brothers @ Black Dog Pub, 87 Island Rd., Scarborough ~Pop Rock
9:30> Glenn Groves @ Shore Grill, 71 Lakeshore Rd. E., Port Credit ~Pop Rock
*9:30> jam with Billick @ Harp & Crown, 300 Kingston Rd., Pickering
*9:30> jam with Jack B Nimble @ Abbey Road Pub, 3200 Erin Mills Parkway, Mississauga
*9:45> Mary Mckay @ Reservoir Lounge, 52 Wellington St. E., TO ~Jazz/Blues
9:45> Mark Eisenman Group @ The Rex, 194 Queen St. W., TO ~Jazz
*10-2> karaoke with Shane Taylor @ Relish, 2152 Danforth Ave., TO East
10> Janes Party @ Cameron House (front), 408 Queen St. W., TO
10> The Shoeless and guests @ Tranzac Lounge (Southern Cross), 292 Brunswick Ave., TO
10> Soulstack @ Orbit Room, 480 College St. TO ~Funk/Soul; $
10> Petunia @ The Garnet, 231 Hunter St. W., Peterborough
10:30> Brett MacMillan @ The Hideout, 484 Queen St. W., TO ~indie Rock
Copyright © 2015 Toronto Moon Magazine. All Rights Reserved