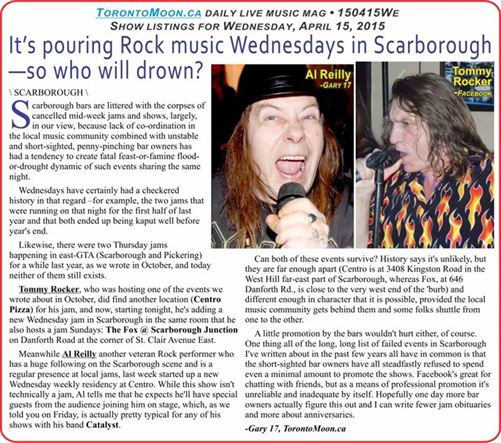 \ SCARBOROUGH \
Scarborough bars are littered with the corpses of cancelled mid-week jams and shows, largely, in our view, because lack of co-ordination in the local music community combined with unstable and short-sighted, penny-pinching bar owners has had a tendency to create a fatal feast-or-famine flood-or-drought dynamic of such events sharing the same night.
Wednesdays have certainly had a checkered history in that regard –for example, the two jams that were running on that night for the first half of last year and that both ended up being kaput well before year's end.
Likewise, there were two Thursday jams happening in east-GTA (Scarborough and Pickering) for a while last year, as we wrote in October, and today neither of them still exists.
Tommy Rocker, who was hosting one of the events we wrote about in October, did find another location (Centro Pizza) for his jam, and now, starting tonight, he's adding a new Wednesday jam in Scarborough in the same room that he also hosts a jam Sundays: The Fox @ Scarborough Junction on Danforth Road at the corner of St. Clair Avenue East.
Meanwhile Al Reilly another veteran Rock performer who has a huge following on the Scarborough scene and is a regular presence at local jams, last week started up a new Wednesday weekly residency at Centro. While this show isn't technically a jam, Al tells me that he expects he'll have special guests from the audience joining him on stage, which, as we told you on Friday, is actually pretty typical for any of his shows with his Catalyst band.
Can both of these events survive? History says it's unlikely, but they are far enough apart (Centro is at 3408 Kingston Road in the West Hill far-east part of Scarborough, whereas Fox, at 646 Danforth Rd., is close to the very west end of the 'burb) and different enough in character that it is possible, provided the local music community gets behind them and some folks shuttle from one to the other.
A little promotion by the bars wouldn't hurt either, of course. One thing all of the long, long list of failed events in Scarborough I've written about in the past few years all have in common is that the short-sighted bar owners have all steadfastly refused to spend even a minimal amount to promote the shows. Facebook's great for chatting with friends, but as a means of professional promotion it's unreliable and inadequate by itself. Hopefully one day more bar owners actually figure this out and I can write fewer jam obituaries and more about anniversaries.
-Gary 17, TorontoMoon.ca
SHOW LISTINGS for Wednesday, April 15, 2022
Listings preceded by an asterisk (*) are repeating weekly events. (Double asterisk indicates repeating event with different hosts/guest/etc.) Admission prices followed by a slash and minus (/-) after the amount indicates door charge with availability of cheaper rates for some purchases. /+ indicates stated price is minimum.
Names of subscribers appear in bold and underlined and, where applicable, include a live link to their websites. Advertisers' listings are in larger, highlighted type, include live link to website and also have ad icon included in listings.
5-8> Concord Jazz Quintet @ Gate 403, 403 Roncesvalles Ave., TO West ~Jazz
6> Jenie Thai @ Cameron House (front), 408 Queen St. W., TO
6:30> Ethan Ardelli Quartet @ The Rex, 194 Queen St. W., TO ~Jazz
* 7> jam with Tommy Rocker's Classic Rock Band @ Fox at Scarborough Junction, 646 Danforth Rd., Scarborough
7> Snaggle featuring Brownman Ali @ Monarchs Pub (Eaton Chelsea Hotel), 33 Gerrard St. W., TO ~Jazz
7> The Autumn Portrait with guest Brett Caswell @ Dakota Tavern, 249 Ossington Ave., TO West; $7
*7> open mic night with Tanya Joy Senior @ Col. McGrady's Pub, 44 Brock St. W., Uxbridge
*7-11> open jam with Wayne Buttery Band @ The Beacon, 146 45th St., Wasaga Beach
7> Christine Atril Blues Band @ Black Horse Pub, 452 George St. N., Peterborough ~Blues
*7:30-10:30> The BTBs @ Relish, 2152 Danforth Ave., TO East ~Jazz
7:30> Mike Smith Group @ Tranzac Club (Southern Cross), 292 Brunswick Ave. TO
**8-10:30> Hump Night Blues with Dave McManus & Cleave Anderson + special guest tba @ On Cue Billiards, 349 Jane St., TO West ~Blues
*8-12> Girls Night Out Jazz singers jam with Lisa Particelli, Peter Hill et al @ Chalkers, 247 Marlee Ave., TO North-West
*8-12> All-ages jam with band featuring Dave Girdlestone of Soul Funkshun on guitar & host Kevin Reid @ Sixth Line Pub, 1500 Sixth Line, Oakville
*8> Howard Ross hosts "Big Mojo" Blues jam with guest performer Pat Carey on sax @ The Hub, 15 Simcoe St. N., Oshawa
**8> open stage with 9 p.m. feature by D'Arcy Wickham @ Fat Albert's, 25 Cecil St. (Steelworkers Hall), TO ~Roots
*8-1> open jam with Wednesday's Child feat. Johnny Bootz Hutt @ Lola, 40 Kensington Ave., TO
8> Sugar Brown @ Cameron House (front), 408 Queen St. W., TO
8> Mark Weston @ The Only Café, 972 Danforth Ave., TO East
*8-11> Fraser-Daley @ Inter Steer, 357 Roncesvalles Ave. TO West ~Roots/Blues
8-1> Three Dads 10th anniversary party @ Timothy's Pub, 344 Brown's Line, Etobicoke South ~vocal-rich acoustic Pop
*8-2> Paul & Curtis @ Roc'n Doc's, 105 Lakeshore Rd. E., Port Credit ~Rock/Pop
8-1> Terry Gillespie with the Fraser Melvin Blues Band @ Moonshine Café, 137 Kerr St., Oakville ~Blues; $
*8-12> acoustic jam with Tony Paglia & Aaron Soloman @ Jake's Boathouse Brampton, 59 First Gulf Rd., Brampton
8> Bruce & Gorrie @ Simcoe Blues & Jazz, 926 Simcoe St. N., Oshawa
*8-12> open mic with Kevin Ker @ Aw Shucks, 15230 Yonge St., Aurora
*8-11> open mic @ Frank's Pasta, 426 King St. E., Cobourg
*8:30> Al Reilly's Catalyst @ Centro Pizza, 3408 Kingston Rd., Scarborough ~classic Rock
8:30> Nicole Coward concert @ Concert Window.com ~Folk
*8:30-10:30> Mediterranean Stars featuring Ed Roth on accordion @ Castro's, 2116 Queen St. E., TO East ~instrumental Gypsy Jazz
8:30> Julian Taylor; Lynn Miles; Ron Hynes for Songwriter Series @ Hugh's Room, 2261 Dundas St. W., TO West ~eclectic songwriters; $25
8:30> Sue & Dwight @ Free Times Cafe, 320 College St., TO ~Folk revival; $10
*8:30> open mic with Jadzia Skye & Michael Oesch @ Chez Helene's, 1437 Kingston Rd., Scarborough
*8:30> Crazy Strings host High Lonesome Wednesdays with opening acoustic act @ Silver Dollar 486 Spadina Ave., TO ~Bluegrass
*8:30> Something Country @ The Endzone, 1900 King St. E., Hamilton ~Country
*8:45> Bradley & The Bouncers @ Reservoir Lounge, 52 Wellington St. E., TO ~Jazz/Blues/R&B
9-12> Blues Night with Julian Fauth & guests @ Gate 403, 403 Roncesvalles Ave., TO West ~original Juno-winning Blues
9> Rucksack Willies @ The Local, 396 Roncesvalles Ave., TO West ~Country/Folk
9> Josephy Wy/Im; Landon Stanson; The Hotel Bible; Delta Will @ The Painted Lady, 218 Ossington Ave., TO West ~indie
*9> open mic with Sean Barker @ Monarch Tavern, 12 Clinton St., TO
*9> open mic jam with Jack B Nimble @ Blarney's Gate, 1151 Dundas St. W., Mississauga
*9?> jam with Michael Zane @ Shakers, 580 Kerr St., Oakville
*9-12> jam with Damage Control @ St. Louis Bar & Grill Ajax, 11 Harwood Ave. S., Ajax
*9-1> open mic jam with Whiskey Birds @ Sweetz Lounge, 5289 Hwy 7, Woodbridge-Vaughan
9> Test Their Logic @ The Garnet, 231 Hunter St. W., Peterborough
*9:30> open stage with Nicola Vaughan @ Black Swan (downstairs), 154 Danforth Ave., TO East
9:30> The Cookers @ The Rex, 194 Queen St. W., TO ~Jazz
*9:30-2> jam with B-Sides @ The Unicorn, 175 Eglinton Ave. E., TO North
9:30> Angie Nussey @ C'est What, 67 Front St. E., TO ~songwriter; pwyc
9:30> The Carson Freeman Diversion @ Shore Grill, 71 Lakeshore Rd. E., Port Credit ~Pop Rock
10> Joey Wright @ Cameron House (front), 408 Queen St. W., TO
10> Petunia @ Dakota Tavern, 249 Ossington Ave., TO West
10> Paul-Julien Tanti & Jess @ Tranzac Club (Southern Cross), 292 Brunswick Ave. TO
*10-2> Blues-Rock jam with Bruce Domoney @ Grossman's, 379 Spadina Ave. TO
10:30> The Undercovers @ The Hideout, 484 Queen St. W., TO ~indie Rock
*10:30> The LMT Connection @ Orbit Room, 580 College St. TO ~Funk/R&B; $10
Copyright © 2015 Toronto Moon Magazine. All Rights Reserved