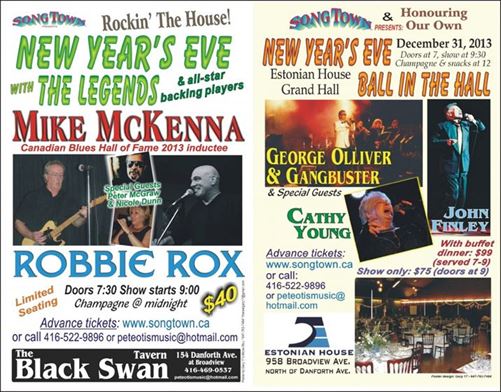 I've told you on several occasions this year about some of the memorable shows put on by Toronto promoter/impresario Pete Otis, who's mined the city's rich talent pool to both help promote up-and-coming artists as well as given a few shots of adrenalin to the careers of some of its iconic veterans.
Beginning with a 2012-13 New Year's Eve show at Black Swan Tavern (154 Danforth Ave. near Broadview) featuring Mike McKenna of legendary McKenna-Mendelson Mainline fame —and a newly minted inductee into the Canada South Blues Hall of Fame just last month— Otis and his SongTown enterprise have gone on to stage an unbroken string of successful showcases for other revered names and uplift the profiles of lesser-knowns in venues across the city.
In addition to the jam-packed New Year's kickoff event at the Swan, 2013's impressive roster of Otis spectaculars includes: co-presentation of an Honouring Our Own concert toasting Brent Titcomb as part of the 2013 Winterfolk Blues & Roots Festival at the then-Delta Chelsea Hotel in February (as well as presenting a showcase of songwriters whose material he's helped promote through four compilation cds); staging HOO shows for George Olliver's 50th anniversary at St. Clement Hall in April and a reprise one for Juno-winning singer-songwriter Cathy Young at Hugh's Room in June; mounting three Purple Onion Reunion shows (two at Cadillac Lounge, one at El Mocambo) featuring a rotating cast that's included McKenna, Luke & The Apostles, Olliver, Young and Keith McKie of Kensington Market; a 40th anniversary show for Robbie Rox at Lula Lounge in November; the second annual edition of his weekend SongTown Toronto Music Festival in October at Black Swan featuring a cavalcade of singer-songwriters as well as a showcase highlight with Olliver and The Apostles; co-presentation of the two-show Spirit of Yorkville revival festival prequel night-and-day event at Heliconian Hall in November; and a fine new innovative Words & Music co-presentation of poets and songwriters at Black Swan earlier this month. (Two other planned shows had to be cancelled at the last minute: an Honouring Our Own for Yorkville veteran Chick Roberts after the subject took ill, and a show featuring McKenna's all-stars with Steven Ambrose, Peter McGraw and others at Seven44 last weekend due to a lack of electrical power at the venue caused by the ice storm last weekend.) In addition to all that, Otis has performed at many of the shows with his own DejaBlues band and led another very productive songwriters' junket to Nashville that included pre-booked performances at several venues by the artists involved as well as a recording session for one of his own tunes. And did I even mention that all this took place despite him being hospitalized for several days this spring after a heart attack?
Surely, you'd think, that's more than enough of an impressive year and most normal promoters might be well content to rest on their laurels and enjoy the holiday season to cap what's been a huge surge forward in the momentum of his project. But not Otis, who seems to be putting the "imp" back into "impresario".
The irrepressible presenter is staging not one but two gala New Year's Eve shows involving many of the same talents with whom he's worked so successfully all year. And the two shows, while quite different in tone and presentation, are located close enough together that he actually plans to take part in them both!
McKenna will be back at the Swan, where he kicked off 2013 with a band doing a reprise of the MMM hits, but this time he's teamed up with shock-Rock songwriter-humourist Rox, plus highly regarded guest singers McGraw and Nicole Dunn, all backed by an all-star house band.
Meanwhile, around the corner from the Swan at Estonian House at 958 Broadview Ave., Canada's "blue-eyed Prince Of Soul", Olliver, will appear with his Gangbuster band along with special guests Young and a musical lion of the early "TO Sound" scene: singer John Finley of avante-R&B masters John Lee & The Checkmates.
Tickets for the Swan are $40, while at Estonian House it's $75 per person for the show and snacks or $99 for the show and a sumptuous dinner –but people planning on attending the Estonian event as part of a group can take advantage of a special 4-for-3 offer that gets one free full-night ticket when three are paid for.  Both shows, btw, include bubbly and the inevitable hats and noisemakers. And if last year's event, which I attended, is any indication, both are also guaranteed to give you something else for your money: a pricelessly positive start to the new year, a chance to reconnect with old friends and great memories to carry forward.
More info and advance tix (moving quickly) for both shows are available at www.songtown.ca, by emailing Otis at [email protected] or by calling him at 416-522-9896.
-Gary 17