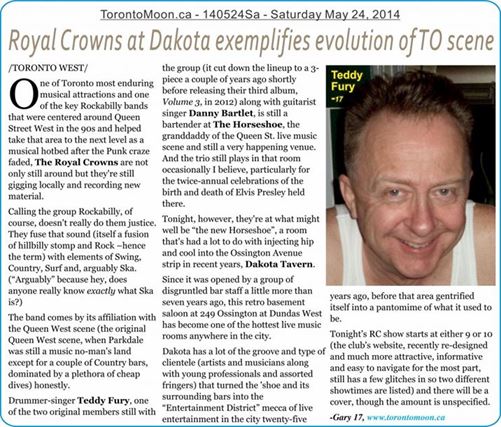 140524Sa
Royal Crowns at Dakota exemplifies evolution of TO scene
/TORONTO WEST/
One of Toronto most enduring musical attractions and one of the key Rockabilly bands that were centered around Queen Street West in the 90s and helped take that area to the next level as a musical hotbed after the Punk craze faded, The Royal Crowns are not only still around but they're still gigging locally and recording new material.
Calling the group Rockabilly, of course, doesn't really do them justice. They fuse that sound (itself a fusion of hillbilly stomp and Rock –hence the term) with elements of Swing, Country, Surf and, arguably Ska. ("Arguably" because hey, does anyone really know exactly what Ska is?)
The band comes by its affiliation with the Queen West scene (the original Queen West scene, when Parkdale was still a music no-man's land except for a couple of Country bars, dominated by a plethora of cheap dives) honestly.
Drummer-singer Teddy Fury, one of the two original members still with the group (it cut down the lineup to a 3-piece a couple of years ago shortly before releasing their third album, Volume 3, in 2012) along with guitarist singer Danny Bartlet, is still a bartender at The Horseshoe, the granddaddy of the Queen St. live music scene and still a very happening venue. And the trio still plays in that room occasionally I believe, particularly for the twice-annual celebrations of the birth and death of Elvis Presley held there.
Tonight, however, they're at what might well be "the new Horseshoe", a room that's had a lot to do with injecting hip and cool into the Ossington Avenue strip in recent years, Dakota Tavern.
Since it was opened by a group of disgruntled bar staff a little more than seven years ago, this retro basement saloon at 249 Ossington at Dundas West has become one of the hottest live music rooms anywhere in the city.
Dakota has a lot of the groove and type of clientele (artists and musicians along with young professionals and assorted fringers) that turned the 'shoe and its surrounding bars into the "Entertainment District" mecca of live entertainment in the city twenty-five years ago, before that area gentrified itself into a pantomime of what it used to be.
Tonight's RC show starts at either 9 or 10 (the club's website, recently re-designed and much more attractive, informative and easy to navigate for the most part, still has a few glitches in it, so two different showtimes are listed) and there will be a cover, though the amount is unspecified.
-Gary 17, www.torontomoon.ca
LISTINGS

:
Listings preceded by an asterisk (*) are repeating weekly events. Admission prices followed by a slash and minus (/-) after the amount indicates door charge with availability of cheaper rates for some purchases. /+ indicates stated price is minimum.
Names of subscribers appear in bold and include a live link to their websites where applicable. Advertisers' listings are in larger type, include live link to website and also have ad icon included in listings.
*12-3> Julian Fauth's Blues Brunch @ Axis, 3048 Dundas St. W., TO West ~Blues
*12-3> Danny Marks @ The Rex, 194 Queen St. W., TO ~eclectic Jazz/Blues/Rock
12:30-2:30> Sarah Frances @ Humble Beginnings, 3109 Dundas St. W., TO West ~acoustic Roots/Blues/Pop
1-4> Songbird Sessions with Jeff Hale; James Carroll; Maria Ryan in the round 2152 Danforth Ave., TO East ~original songwriters
1-4> open mic with host Erika Werry @ Full Of Beans, 1348 Dundas St. W., TO West
*2-6> jam w. Tom Finocchio @ Sam's Place, Barton-Chestnut Sts., Hamilton
**2-6> Saturday Blues Sermon with James Anthony & special guest Raoul Bhaneja @ Black Swan Pub Burlington, 4040 Palladium Way, Burlington ~Blues
*3-6> Danny B's House Party Band feat. Michael Keys on piano @ Blue Goose, 1 Blue Goose St., Etobicoke South ~R&B/Pop
*3-7> jam with Michelle Deneault & Redder @ Port Credit Legion, 35 Front St., Port Credit
3-5> Amy Campbell & The Road Less Travelled with guests Layah Jane; Oliver Johnson @ Tranzac Club (Southern Cross), 292 Brunswick Ave., TO ~Roots
3> The Hot Five Jazzmakers @ C'est What, 67 Front St. E., TO ~traditional Jazz; $5
*3-7> open stage jam @ Moonshine Café, 137 Kerr St., Oakville
3-6> Chris Cuddy Acoustic Unit @ The Red Garnet, 231 Hunter St. W., Peterborough
3> Jerome Godboo Band with guest Mark Crissinger @ Liquid Lounge, 159 Syndenham St., Brantford ~Blues
3:15> CIUT live broadcast from Steve's Music with Jessica Mondello (3:15); Eric Mohr (3:50); Dave Mathews (4:25); Mena Hardy (5:00); Social Potion/Carmen Toth (5:30) @ Steve's Music, 415 Queen St. W., TO and online at http://tunein.com/radio/CIUT-895-s31201/
*3:30-6> Johnny Wright @ Outriggers, 2232 Queen St. E., TO East ~R&B
*3:30-6:30> Climax Jazz Band @ Seven44, 744 Bayview Ave., TO North ~Jazz; $
3:30> Toronto Jazz Orchestra @ The Rex, 194 Queen St. W., TO ~Jazz
3:30> Ivory feat. The Ewan Farncombe Quartet @ The Pilot, 22 Cumberland St., TO ~Jazz
*4-8>

The Bear

Band & guests @

Southside Johnny's

, 3653 Lakeshore Blvd. W. Etobicoke South ~Rock-R&B
*4-7:30> Ronnie Hayward Trio @ McQueen's, 993 Queen St. E., TO E. ~Blues/Roots
*4-8> The Meteors with special guest Peter Graham Mifsud @ Timothy's Pub, 344 Brown's Line, Etobicoke South ~Blues/Rock/R&B
*4> Susan Latimer @ Simcoe Blues & Jazz, 926 Simcoe St., Oshawa ~songwriter
5-8> Bill Heffernan & Friends with guests The Queen St. Cowboys featuring Glen Hornblast @ Gate 403, 403 Roncesvalles Ave. TO West –Rootsy Pop
5-6:45> David Love Band for Brampton Rotary Ribfest @ Gage Park, Wellington St. @ Main St., Brampton ~vintage melodic Rock
5-8> Arthur Renwick @ The Local, 396 Roncesvalles Ave., TO West ~Rootsy Pop
5> Rick & Gailie @ Black Horse Pub, 452 George St. N., Peterborough
6-8> Nelson Sobral with Shikha @ Not My Dog, 1510 Queen St. W., TO West ~indie Roots-Pop songwriter
6:30> Scott B Sympathy @ Tranzac Club (Southern Cross), 292 Brunswick Ave., TO
7-11> Bob Dylan tribute with James Clark; Caitlin Burgess; Kelly Burrows; Myke Mazzei; Garage Baby; Sue & Dwight; Shawn Clark @ Cest What, 67 Front St. E., TO; ~celebration of Dylan's 73rd birthday $8
7-9> Gabrielle Paipillon cd release with Graydon James and the Young Novelists @ Dakota Tavern, 249 Ossington Ave., TO West
7:30> Whatever Sticks featuring Susan Martin @ Cornerhouse Louge, 6403 Main St., Stouffville ~Pop Rock
7:30> The Bacchus Collective @ The Rex, 194 Queen St. W., TO ~ Jazz
8> The Last Forgiveness feat. David Hines & Lynette Fairweather @ Free Times Café, 320 College St. TO ~Pop; pwyc
8> Joanne Mackell @ Cameron House (front), 408 Queen St. W., TO ~Country
8-12> Vanessa Marie Carter @ Moonshine Café, 137 Kerr St., Oakville ~$10
8> Tania Joy Senior; Tamara Williamson Band @ Wasted Space, 74 Celina St., Oshawa ~Roots
8:30> album release for Bob Dylan tribute On a night like this with Wendell Ferguson, Robert Morgan, Hap Roderman, more @ Hugh's Room, 2261 Dundas St. W., TO W. ~$25/-
9-1> Mark Yan & Barry Mulcahy Duo @ Black Swan, 154 Danforth Ave., TO East ~Pop Rock
*9-close> jam with Tommy Rocker's Classic Rock Show  @ Liverpool Arms, 776 Liverpool Rd., Pickering
*9-1> karaoke with Rob MacArthur @ Tudor Rose, 700 Harwood Ave. S., Ajax
9-1> Melissa Boyce Jazz & Blues Band @ Gate 403, 403 Roncesvalles Ave., TO West
9> Chris Staig & The Marquee Players @ The Local, 396 Roncesvalles Ave., TO West ~Rock 'n' Roll
9-1> Brad James @ Black Dog Pub, 87 Island Rd., Scarborough ~Pop/soft Rock
9> James Anthony with special guest Raoul Bhaneja @ Blue Goose Tavern, 1 Blue Goose Rd., Etobicoke South ~Blues/R&B
9> Ray Darren Band @ The Corral, 433 Simcoe St. S., Oshawa ~Country
9-1> Jack de Keyzer Band @ Simcoe Blues & Jazz, 926 Simcoe St. N., Oshawa
9> Wild T & The Spirit @ Memories, 290 Dunlop St. W., Barrie ~rockin' Blues
**9> Niagara Rhythm Section with guest Mark Crissinger @ The Old Winery, 2228 Niagara Stone Rd., Niagara-On-The-Lake ~R&B/Blues
9:30> Southern Fried @

Linsmore Tavern

, 1298 Danforth Ave., TO East ~tribute to Lynyrd Skynyrd & The Allman Brothers; $7 adv/$15 door
**9:30-11:30> Hey Lucy! @ Relish, 2152 Danforth Ave., TO East ~original songwriter ~Rootsabilly
*9:30-2> karaoke with The English Rose & The Mad Scotsman @ Winners, 2181 Lawrence Ave. E., Scarborough
9:30> David Bacha Band @ Shooters & Shots, 37 King St. E., Bowmanville ~heartland Rock
9:30> Something Extra @ Seven44, 744 Mount Pleasant Blvd., TO North
9:30> The Bluffers @ Stone Cottage Pub, 3750 Kingston Rd., Scarborough ~Pop Rock
9:30> Michael Theodore 5-piece trio & 50th birthday celebration @ Timothy's Pub 344 Brown's Line, Etobicoke South ~Pop Rock/Top 40
9:30> Phil & John Show feat. Phil Naro @ The Harp, 55 Lakeshore Rd. E., Port Credit ~Pop Rock/Top 40
9:30> Jennifer Little's Tangerine Tornado @ Sixth Line Pub, 1500 Sixth Line, Oakville ~Rock
9:30> Back Stage Pass @ Gator Ted's, 1505 Guelph Line, Burlington
9:30> Off The Wall @ Black Horse Pub, 452 George St. N., Peterborough
9:45> Heavyweights Brass Band @ The Rex, 194 Queen St. W., TO ~Jazz
*9:45> Tyler Yarema & His Rhythm @ Reservoir Lounge, 52 Wellington St. E., TO ~Jazz/Blues
10-2> Kat House @

Southside Johnny's

, 3653 Lakeshore Blvd. W. Etobicoke South ~Rock/Top 40/R&B
10> Ride The Tiger @ Orbit Room, 480 College St. TO ~Funk/Soul
10> The River & The Road @ Cameron House (front), 408 Queen St. W., TO
10> Mike Gennaro @ Tranzac Club  (Southern Cross), 292 Brunswick Ave., TO
10-1> The Extra Mile @ Bar Radio, 615 College St., TO ~Roots; pwyc
10-2> The Royal Crowns @ Dakota Tavern, 249 Ossington Ave., TO West ~Rockabilly
10-2> Rich Henderson @ Fionn MacCool's Ajax, 36 Kingston Rd. E., Ajax ~Pop Rock
10-2> Covered In Paint @ Roc'n Doc's, 105 Lakeshore Rd. E., Port Credit ~Rock/Top 40
10> Whitney Paget @ The Red Garnet, 231 Hunter St. W., Peterborough ~
10:30> Elevation feat. Shawn Brady @ The Hideout, 484 Queen St. W., TO ~U2 tribute
10:30> The Crimps @ The Dickens, 423 Elizabeth St., Burlington ~Pop Rock
Copyright © 2014 Toronto Moon Magazine. All Rights Reserved